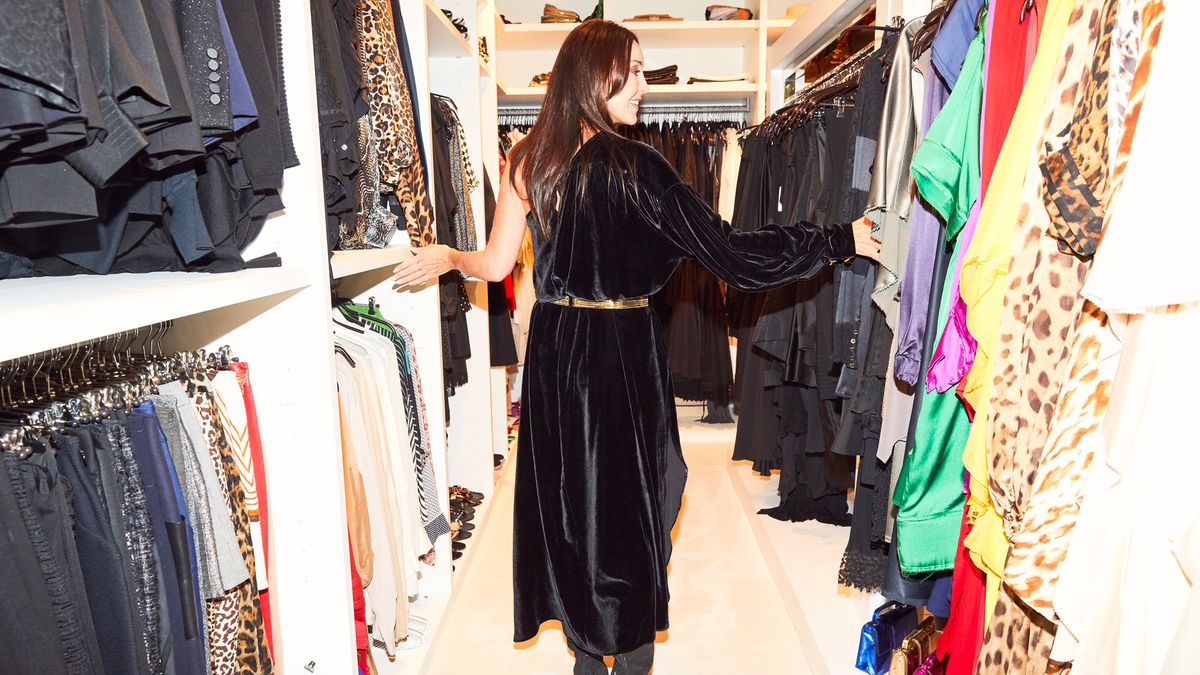 Fashion
Three experts share their tips for selling pre-owned fashion.
Couple the advent of Marie Kondo's materialistic minimalism with the newfound importance of extending the lifecycle of everything in your closet, and you have a spike in fashion resale, or at least the desire to do so. The question then arises, where to begin? Well, that all depends on your preferences. If you don't want to deal with the hassle, drop your stuff at your local thrift store or ship it to The RealReal for hands-off transactions. However, if you want more control in the process of curating your own personal store (and the money you make from it), you may need a little guidance.

Each platform has a slightly different offering and therefore caters to different audiences. Amy Jovel sells designer or luxury clothing, handbags, jewelry, and shoes for women on Vestiaire Collective. What began as a hobby has since evolved into a full-time job. If you are dealing outside of luxury, a platform like Poshmark caters to a greater range of brands and price points. Lifestyle influencer Rachel Dinh uses the service to empty out excess closet overflow—a product of the blogger lifestyle. Her offerings range from Zara to Free People to Theory. If you are looking to sell strictly vintage items, Etsy may be your best option as they only allow pre-owned items that are at least 20 years old. Mary-Brenda Akinyemi, who operates the award-winning Etsy shop Fashion for Fables, uses the platform as a creative outlet to curate an impressive selection of handpicked vintage. Once you've selected your platform, you can begin posting and selling. Below, expert advice from the aforementioned sellers and everything you need to know.
 

What to Consider When Pricing
"The most important qualities are the fabric, the brand, and any special details about the garment—in other words, rarity. The condition of the piece is something I also factor in," explains Akinyemi of his vintage pieces. "I am very big on fabrics. If something is silk, I will most probably price it higher than a polyester item." When it comes to items from specific designers, you may need to compare them to other items already in circulation. "If I'm not familiar with a specific brand or item, I do an extensive amount of research," says Vestiaire Collective's Jovel. "I research the comps, or comparables, to see the market price for a similar or exact item. Depending on the rarity or demand of the item, it may be worth more." Poshmark seller Dinh factors in a few different categories. "What condition is it in? Is it on trend? And is it new with tags? I think that's kind of the perfect recipe." 
Trends Matter
If something is trendy, that higher demand will be reflected in the price, so it pays to understand your market. "Let's take the
Dior Saddlebag
for example. A few years ago, you could find one for an affordable price (around $200
–
350). Since monogram mini bags are back in fashion, it is currently worth upwards of $850
–
2,000," says Jovel. "It's very important to stay in touch with what's trending and in fashion, since styles rotate about every 20 years." Akinyemi takes a less straightforward approach, focusing more on personal taste than that of the market. "Everything I have in my shop I have to like and see myself wearing. I wouldn't put something up just because it's a trend; I have to also believe in the piece. For example, I recently listed a number of basket bags. I bought them because I like them, but I was aware that there is a big market for them when purchasing them. I also look at trends in terms of seasons. I wouldn't put up chunky knits in the height of summer, but rather, say, in the beginning of autumn as I know most customers will not be looking out for knits in July." 
Focus on the Quality of Your Photos
"I think the quality of photography is very, very important," says Akinyemi. "I shoot with a real camera. As photography is one of my hobbies, it's an extension of myself and thus my store to work in this manner." If you don't have a camera, don't panic. iPhone cameras are often just as useful. "No fancy equipment needed, but quality photos are important," reiterates Vestiaire Collective's Jovel. "I shoot with my iPhone 11 Pro Max." Dinh also shoots with her personal iPhone camera. 
But Don't Forget about Quantity
"I'm lucky that I photograph my outfits for social media, so I can usually use a photo of myself I've already taken. I often get asked how something looks on a body, so hanging something doesn't really do an item justice," explains Dinh. "If you can find a stock photo online of the item that you're selling, that's really good because I find buyers resonate with that." Akinyemi underscores the same notion. "I feel the customer gets a better and more realistic idea about the item's cut and silhouette when it's on a model. And perhaps more importantly, I think it is better for the imagination to see a garment styled on a person. I also believe in presenting a piece by hanging it as it's visually more pleasing, but also because I feel it gives the customer a more accurate image of the piece." Jovel sticks to flat-lay imagery, which is customary on Vestiaire Collective. "I think they're more streamlined and look cleaner. As long as the item looks presentable and attractive, flat lay versus hanging shouldn't matter, but a clean white wall or a flat lay on a nice set of silk or cotton sheets goes a long way." 
The Logic Behind the Title
For Jovel, the process of titling an item adheres to a strict formula. "I usually use this method: brand, model, style, color, and size. I'm very descriptive and use keywords that someone may be looking for, like
vintage
,
Y2K
,
'90s fashion
,
monogram
, et cetera." Akinyemi is less methodical. "I choose a title that really describes the piece. I do try and also add adjectives or buzzwords that fit the piece. Take, for example, a '70s floral dress. I would probably add
flower power
or
boho chic
as well in the title, but I don't have a set formula for this at all." Dinh lets other platforms do the work for her. "I usually try to Google the item if I no longer have the tag on it to find the exact name that is labeled on the retail website. I find it gets more hits that way. If someone was searching a certain brand and a certain dress, your listing will be right there." Dinh also provides as much information as possible in the description to try and preempt the questions people tend to ask her. 
In Terms of $$$, You Get What You Put Into It
"You have to figure out if you want to do this as a hobby, part-time gig, or full-time job," Jovel, a full-time seller, tells Coveteur. "If you are just starting out in reselling, I would suggest listing your items from your own closet before you start spending money on sourced goods. Figure out your niche and who your customer is, follow trends, and keep your costs low in the beginning. Profits will come in, and it will give you lots of momentum to keep going!" Akinyemi has a day job but still puts a great deal of effort into curating his shop. "It brings together a lot of passions so it doesn't feel like work, but it does take up a big chunk of my weekend. I am very focused on styling, photography, and delivering a world you can dive into when you are browsing my shop, so it takes time." However, you don't have to devote an exorbitant amount of time and effort to your shop to see success. "Something I always stress is you get what you put into this platform," explains Dinh. "It doesn't have to be hours on end each day. It can be five minutes in the morning, five minutes at noon, and five minutes at night." 
A Little Personalization Goes a Long Way
"I have a big thing for personalized packaging, and so I incorporate that in my store," explains Akinyemi. "Every item sold gets a handwritten poem inspired by the garment, and I also hand-draw my logo on the boxes with colorful markers so people are excited to open it." Dinh opts for a similar approach. "I put tissue paper in it so it's like a gift. I put a thank-you note in there and I also include a little gift. Sometimes it's a face mask or something like that."
Want more stories like this?
Resale Experts on the Fashion Pieces Worth the Investment
Resale Isn't Just for Collectors Anymore—It's for Brands, Too
Fashion's ROI: The Expected Resale Value of Everything in Your Closet