What Marie Kondo Carries Inside Her Extremely Tidy Purse
Plus, all about her first line of organizing products.
Decor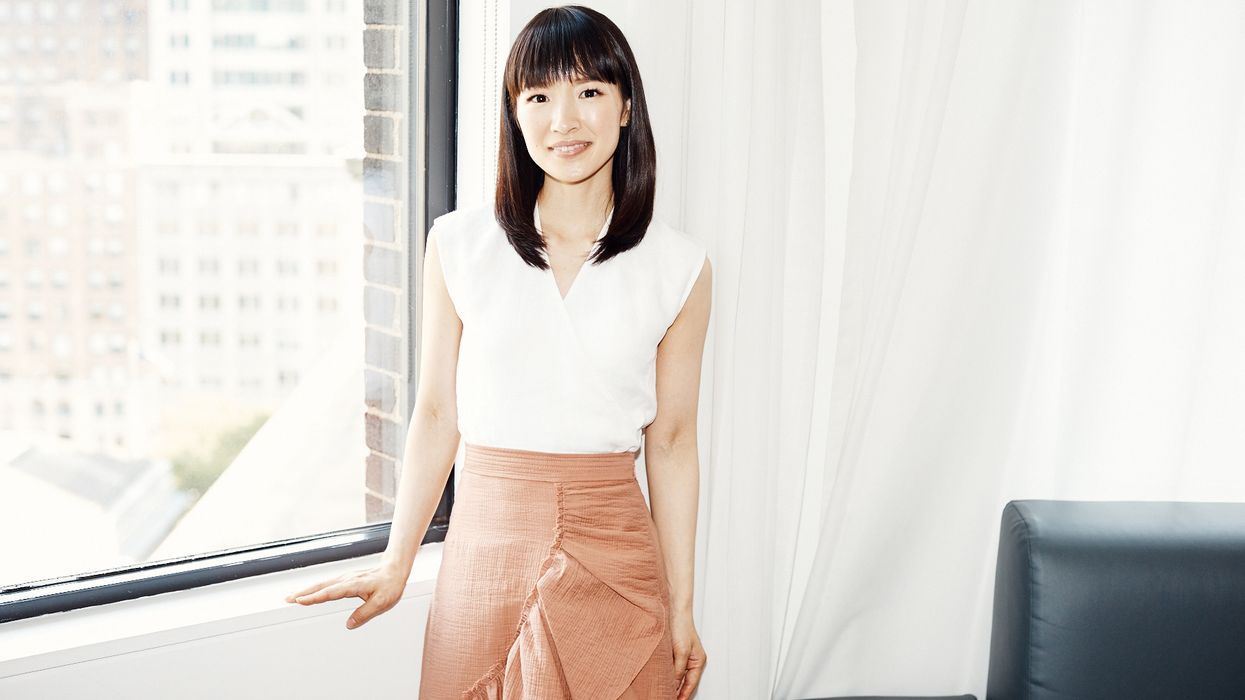 Marie Kondo has one app per page on her iPhone. If you already know her, than you will know exactly why. The purging-and-organizing method created by the Japanese author is so popular that it has become a verb—to
KonMari
. Her book,
The Life Changing Magic of Tidying Up
, turned her solo consulting business into its own mini empire, with millions of books purchased worldwide, 3 million followers on Instagram, and 278k posts on the platform with #konmari. Not to mention what the concept did for Pinterest. Personally, I've KonMari-ed
my closet
twice, my
beauty products
once, and am planning a total apartment overhaul this fall.
The idea is that by rethinking our attachment to stuff and getting rid of anything you don't really love, you can change your life. By doing so, you not only get more time—since you can find things more easily and have fewer clothes to push through every morning—but you simply have less crap to manage. This record-keeping runs subconsciously, draining memory and energy, like a background computer program. Less stuff means more brain space. The method also requires that you only keep items you love and cherish, so you are always surrounded by things that bring you joy. Yes to the tchotchke you still gush over every time you see it, and no to the tchotchke your mom got you on a vacation that you keep out of guilt and forget you even own. Kondo even purged her own hammer because she just didn't like its vibe, and just borrows one whenever she needs to. Now one app per page makes a little more sense doesn't it? 
---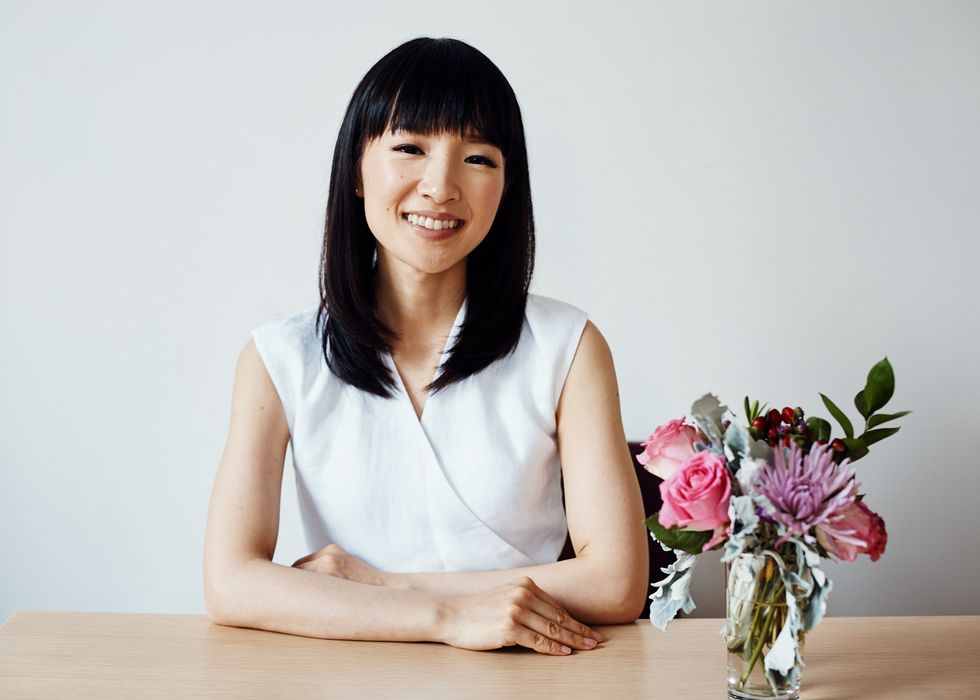 It's no surprise, then, that Kondo has taken years to capitalize on her empire by selling related merch: She's telling us to use less stuff, not more. But this summer, the KonMari company launched its first and only product (aside from the books, which they encourage readers give away to friends):
sturdy, clean boxes
in which to store items out of sight in the precise folding, stacking, and flatlay techniques she suggests. Boxes are some of the only things she found herself suggesting clients actually acquire. Each $89 set comes with a large, medium, and small rectangular box in white, beige, or petal pink. "One of the most important features of the KonMari method is that you don't just start jamming things into boxes," Kondo tells me through her translator as we sit in the Bryant Park Hotel in New York City. "You have to go through the selection process, and after you've identified which items truly spark joy for you, then you start to carefully fold the items and store them."
I, for one, find Kondo fascinating, so when we had an hour to photograph and interview her, I came with my more prying questions, including:
Can you KonMari your own thoughts?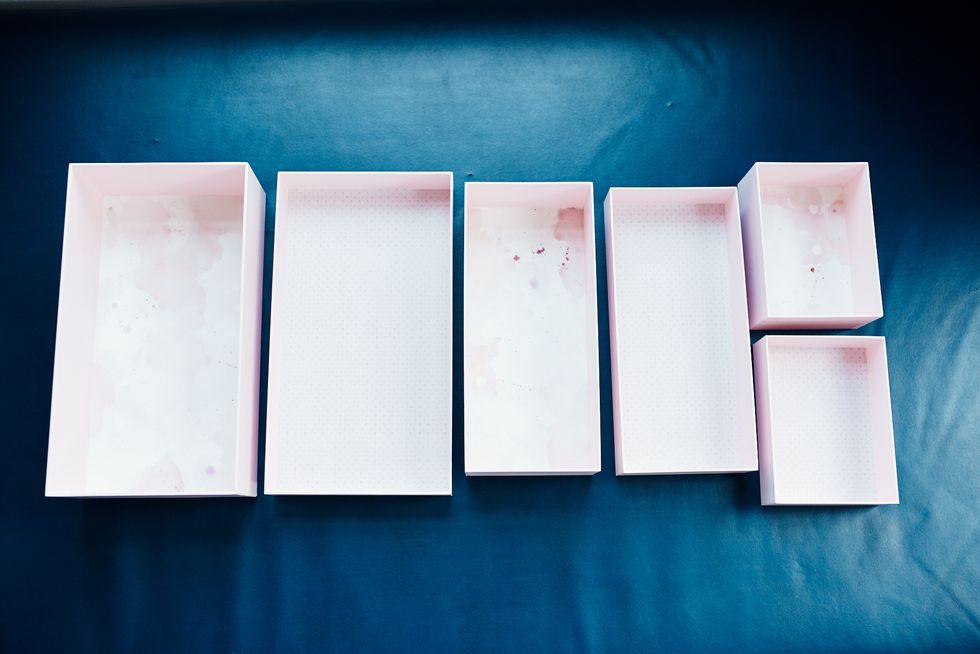 What's the oddest collection of items you have organized for a client?

"Driftwood! I asked the client to take out all the driftwood he had, and of the ones that remained that truly sparked joy for my client, he really appreciated the form or the figure of the driftwood, so we ended up displaying them as decorations."

What about the largest collection ever?

"There was a client of mine that collected earbuds or swabs, so there was quite a number of those. Twenty thousand in total."

If you weren't tidying for a living, what would be your other job?

"I love honing my skills around the home. Household chores and so-and-so. I think I would have been a very good housewife. Or some kind of a cleaning service."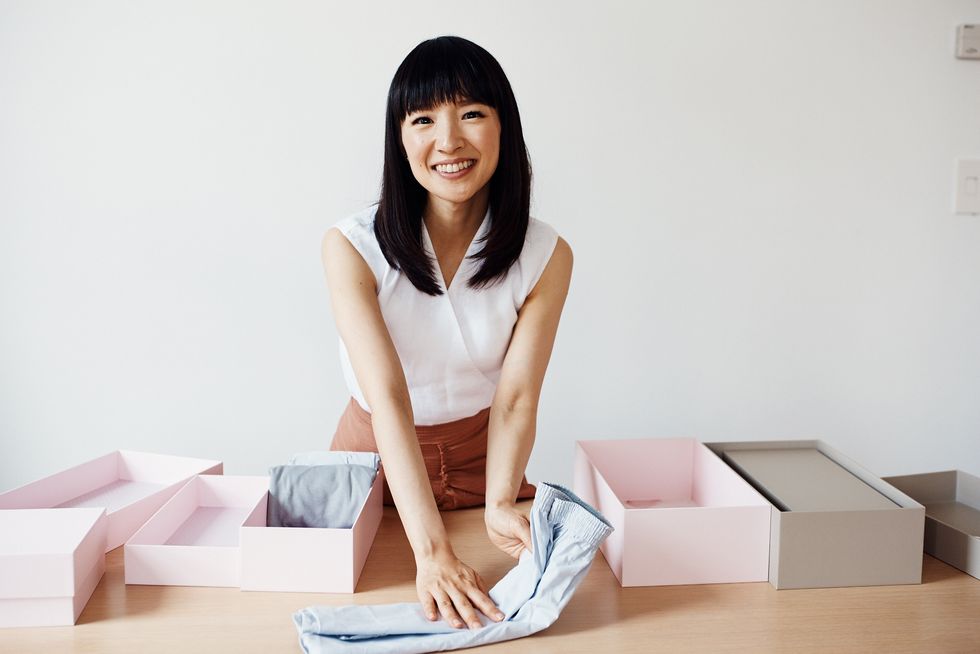 Do you have a ritual when you stay in hotel rooms?

"The one thing I do as soon as I enter the hotel room is to take everything out of my luggage and decide on the place for everything, each item, and make sure I also have a spot for the empty luggage as well. Sometimes if I'm just staying overnight, I'll keep it in my luggage, but for two nights or more, definitely."

What are some not-so-physical things you can KonMari? Can you KonMari the way you eat, the way you think?

"Whenever I find myself not sure, as if I'm losing my way in some way or I feel cloudy inside, what I do is write down all of my feelings, my emotions, my thoughts into a sketchbook. In the KonMari method you take out everything under a category and sort it out that way. I do exactly that with my mental state as well. This way I can gain a more objective stance on what I'm experiencing, and it's just a way to write everything down and categorize, and come up with a solution for each."

How many new items of clothing did you buy in the last year?

"I love loungewear, so I probably buy a little more of those, but I think officially I would say just two pieces. The first one was a navy, indigo dyed shirt dress. I had to buy the dress for my birthday. [Laughs]."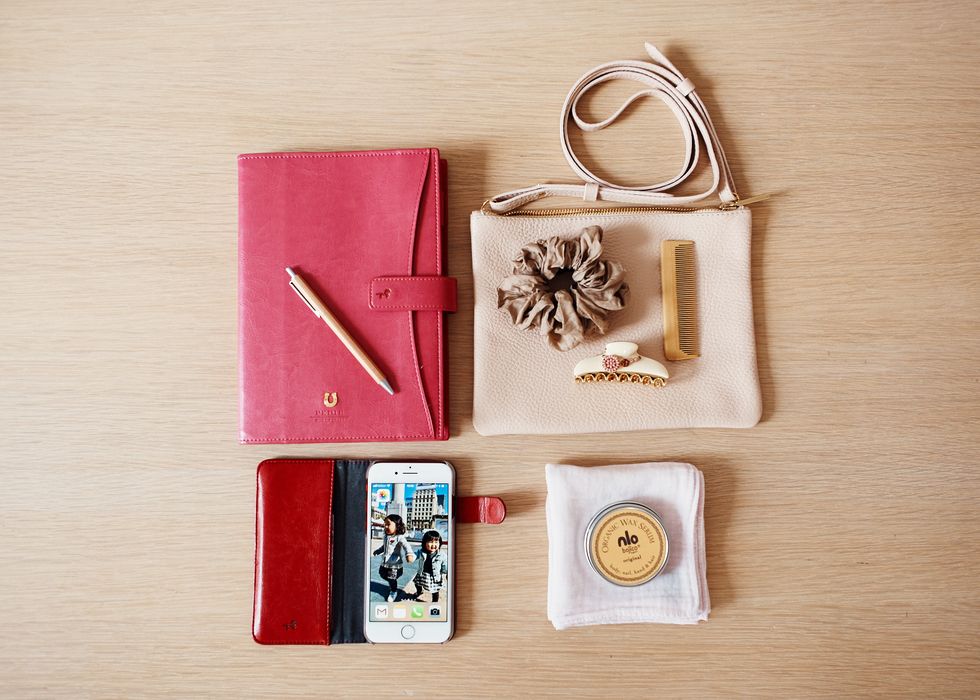 Tell me about when you decide what goes in your purse. What are the things you always have with you, what do people tend to have with them?
"So actually, full disclosure, I rarely carry bags with me. For this purpose, I try to pack a little more than I do usually. When I travel, of course, I carry a bag with me. But on an everyday basis, it's usually just my smartphone. Since I moved to the States [she moved to L.A. with her husband recently], everything you can pay by credit card, so I don't carry a wallet with me."
Is there anything special about this phone case and the reason it sparks joy?
"All the symbols really spark joy for me, and the texture as well, and the little crystal there. It has enough space for all my credit cards. This is a multi-use wax serum for anything from hair, to cuticles, to hands. It's an organic oil, this wax, and I think it's great. This is a Japanese hair comb. In Japan, it's kind of an etiquette for women to always carry handkerchiefs. So I've been doing that all the time, but in the States I was surprised that nobody carries handkerchiefs. They're not sold in stores either."
Is there a special way you organize your apps in your phone?
"I make it so that it doesn't clutter my screen. One per screen. This is a to-do list that I share with my husband, so when we go shopping we can add it to the list. It's called Wanderlust."
Want more stories like this?
That Time I Made $8,000 Cleaning Out My Closet
How to Master Minimalist Fashion in a Material World
I Always Ask These 5 Questions Before Cleaning Out My Closet