Why Dressing in One Color Is the Lazy Girl's Guide to Getting Dressed
Tonal dressing is more than just a trend.
Trends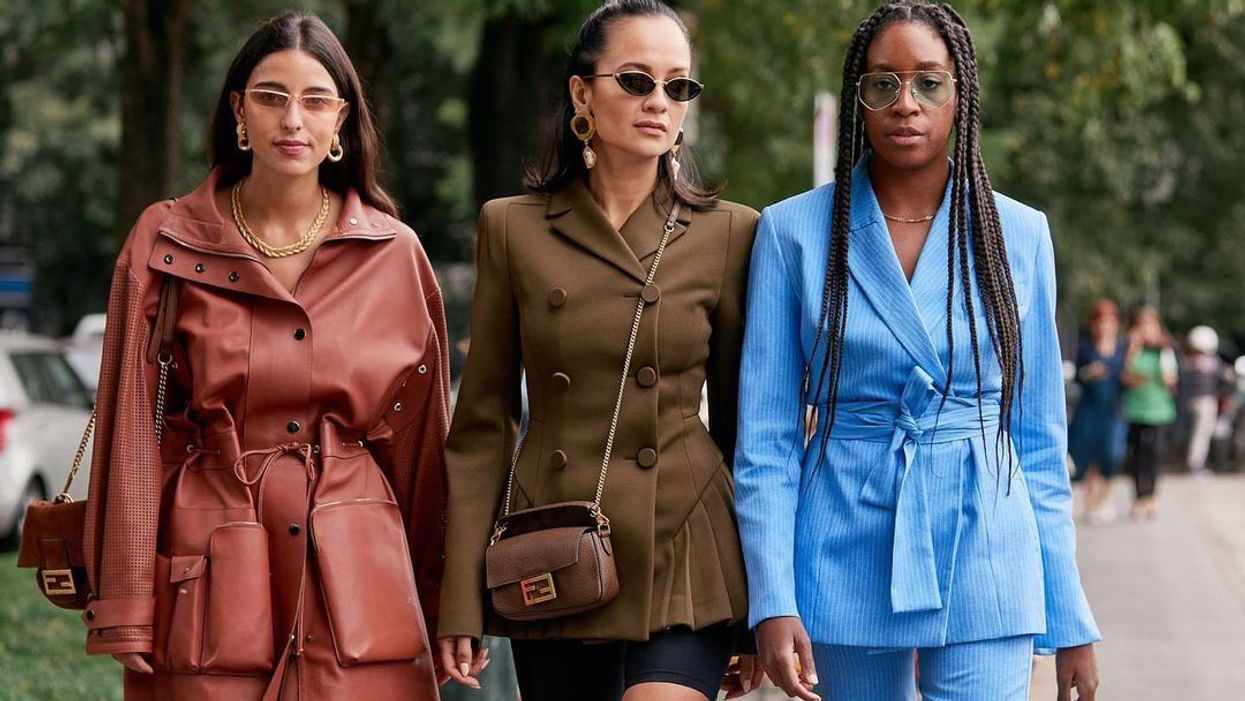 Amidst the supreme reign of color blocking in the 2010s, we learned it was against the rules to don items of the same color in one look. The prior decade emphasized a clash as opposed to a match. Recent years have ushered in the complete antithesis of this model, as our Instagram feeds are now dominated by style stars clad in one shade head to toe and, lest we forget, the coordinating separates and sweat sets made popular by the pandemic. Enter the era of tonal dressing.
There's something so alluring in committing to a single shade, which is probably why the concept was peppered throughout recent pre-fall and fall '21 collections. According to
Vince's
creative director,
Caroline Belhumeur
, "Tonal dressing is a natural part of our language, as it allows for an ease and effortlessness when getting dressed or purchasing new pieces that can naturally sit in an existing wardrobe." Their
collection
was full of easy pieces rendered in neutral, complementary tones. It proved that, when in doubt, the wearer need only select a nearby hue of the same shade to complete their look.
In recent collections, designers have executed the same notion in shades ranging from ultra-muted hues at
Vince
and
The Row
to the rest of the rainbow from Jil Sander and
Balmain
. Tonal dressing is a favorite off the runways, as well—a quick scroll through recent street-style imagery reveals its widespread prevalence. Why? Because it's extremely easy to execute. While the final product often appears expertly coiffed, the formula is rather simple. You don't have to match your shades, but simply select from the same general color family. In an ironic twist of events,
color blocking
is the new, possibly fickle—only time will tell—trend du jour, while the ease behind the tonal look has shifted it past mere trend status to a timeless, reliable trick of the trade. If you're still having a little trouble, we've crowd-sourced tips from our favorite industry experts below. 
---
If anyone is a proponent of tonal dressing, it's the infamous twin duo behind The Row. Each season Mary-Kate and Ashley remind us why we love the formula, and this fall was no different. The oversize white ensemble is effortlessly cool, and we love their use of a solid accessory like this black belt to break up the monotony of the look.
A key to dressing head to toe in one color is to switch up the textures to keep things interesting. Opt for a buttery leather under a tailored blazer in contrasting shades of emerald and pale green to keep the eye intrigued.
When you deal in ultra-modern, eye-catching silhouettes, a tonal color palette helps to dial down the eccentricity factor. At Jil Sander this season, they let the shapes do the talking by styling everything in matching hues.
We really love this Eva Chen fashion week ensemble because it doesn't look like she tried too hard. Her sweater was brown, so she selected two *sort-of* matching brown leather accessories. Simple as that.