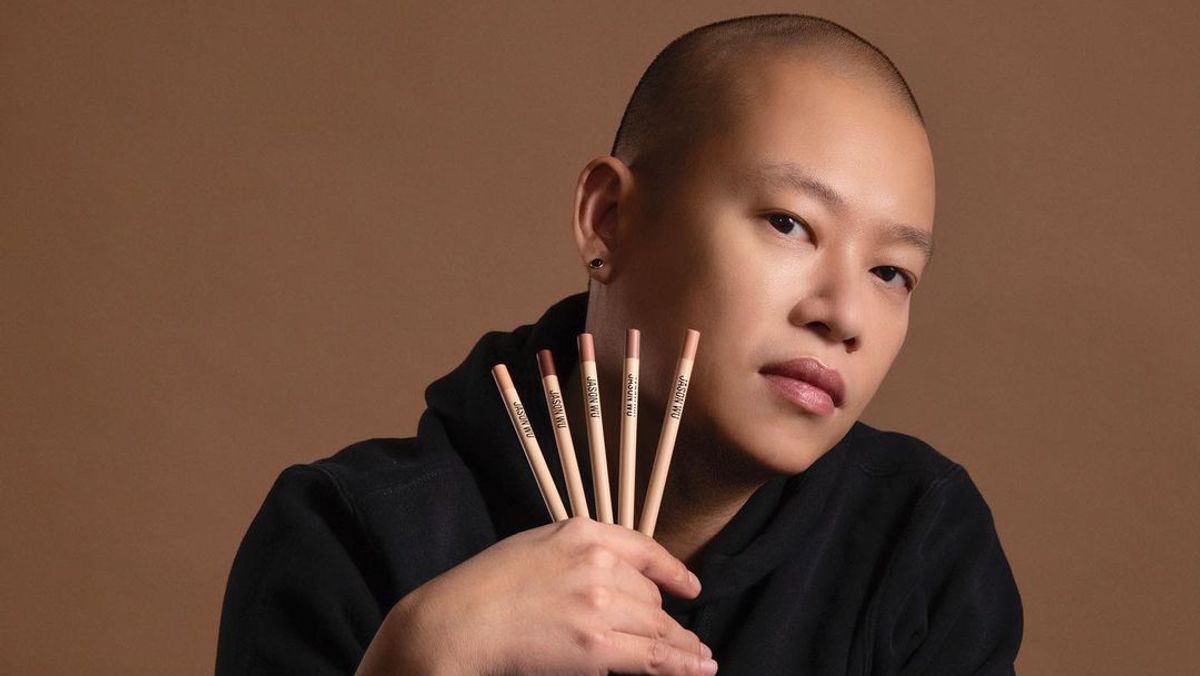 Makeup
The cult-favorite fashion designer recently launched his eponymous beauty brand.
As a staple designer for some of
Michelle Obama's most groundbreaking looks
(including her ensembles for her husband's two inaugural balls), a frequent headliner of New York Fashion Week, and one of the very few designers who have garnered (well-deserving) household-name status, Jason Wu needs no introduction. Yet, during a Zoom press meeting, when someone questions him about his celebrity status, Wu utters something a bit shocking to the rest of us tuning in: "I don't consider myself a celebrity."
Wu reiterates the point to Coveteur the next day. "I'm like a behind-the-scenes guy. I'm much more used to that environment, and I work with great, amazing personalities, but I don't really consider myself as one." However, it's impossible to ignore the fact that Wu's new-romantic garments have been worn by Obama, Indya Moore, Kristin Stewart, and a laundry list of other A-list celebrities, which, in turn, makes the irony of Wu's humility mind-boggling.
Despite the designer's inability to declare his celeb status, he continues to innovate in the fashion space, redesigning his logo in 2018 after hitting the ten-year mark, and reimagining the traditional fashion-week format well before the 2020 pandemic forced others to do the same. And after having already dabbled with fragrance in 2017, it seems only fitting that he set his sights on the beauty industry.
---
Nearly a decade after his limited-edition fashion collection that debuted (and swiftly sold out) at Target, Wu is coming back with his own line of "masstige" cosmetics via
Jason Wu Beauty
—and this time, it's permanent. Better yet, everything is priced under $20.
"When people think of me, they immediately think about my runway or red-carpet looks," Wu tells Coveteur. "And all of those looks include a full hair and makeup look. We introduced
fragrance
two years ago, and it just seemed like the natural next step to introduce color cosmetics."
Wu created the line in collaboration with
Toni Ko
's Bespoke Beauty Brands, an incubator for a variety of well-known brands like drag star Kim Chi's collection,
KimChi Chic Beauty
. Considering Ko's responsibility for founding the fast-beauty empire that is NYX Cosmetics before
selling it to L'Oréal in 2014
, it's clear that she was more than capable to steer Jason Wu Beauty towards the path of success.
"My experience working with Jason Wu is, simply put, charmed," Ko tells Coveteur. "He is a creative genius without the craziness. Jason is super chill, kind, generous, and really charming, and a bonus is his wicked sense of humor. I am so happy to have partnered with him on this project."
The professional spark between Wu and Ko is just one of the many factors that catapulted Jason Wu Beauty from a figment of Wu's imagination to full conception in record time. While most brands take about half a decade to get to stores, Wu and Ko were able to get the collection out of the prototype phase and into market in just a year and a half—pretty impressive, considering most of its inception took place during the coronavirus pandemic that caused other businesses to slow production or shutter their doors entirely.

"I've worked on different beauty products before through different collaborations, and they've always taken so long," says Wu. "The lead time is always so long because, with larger corporate companies, there's usually a lot of people to run this through before you can actually put out a product. And this is the beauty of working with Bespoke Beauty and with Toni [Ko], who is my partner in crime in this project. It's really me and Toni making all the decisions, and it's all instinctual. There was no surveying. It wasn't a decision by committee. It was really an instinctual passion project for both of us.

"It's just when it comes to my own beauty line, I wanted it to be something that wasn't surveyed to death and something that was really from the heart," Wu explains. "That's very important. So I think that's why we were able to get amazing products in such a short period of time, because we would talk about them, [and] then in the next week we would be reviewing colors already.

"There's so much in the beauty market out there already," he continues. "We want to make sure that when we introduce Jason Wu Beauty, there is real conviction in the point of view. And we really stand for something. And that the line has something to say amongst a very crowded marketplace."

Ahead, we learn more about Wu's vision for his latest beauty product, his personal beauty regimen, and how the current pandemic has changed some of his thoughts on makeup.


About 99 percent of the line is makeup, but then we have the Saved by the Patch pimple patches. Why did you decide to add those?

"It's something that we all need. We all have those days where you wake up and you have that unwanted redness and no amount of makeup can help you feel better about it. So I think that's just a really great item to have in the collection that is good for emergency cases, wherever and whenever you need it. [It has] tea tree oil, [and] it really helps to leave it on overnight. So it's just a great little tool that we found especially during our mask-wearing days."

Do you think that in the future you are going to explore skin care more within Jason Wu Beauty?

"We're not ruling that out for sure. I think, in the short term, we're concentrating on color just because we want to be very consistent with our message from the get-go. And we wanted to make sure that we didn't overextend ourselves. So right now it's amazing that we're able to introduce so many varieties of products within the Jason Beauty range. And we're always looking to expand on that as well, but we still have a lot of room to play within color cosmetics. We are just getting started."

You're most famous for your eponymous fashion label. How do you think Jason Wu Beauty and Jason Wu the fashion line stand apart from each other, and how do they coincide?

"Well, I think of [Jason Wu Beauty as] being just another facet within fashion. Obviously, one is the clothes and the other one is beauty, and the two different markets coexist, but the other big difference is that we decided to make Jason Wu Beauty completely affordable. That's very different from most of my clothes. We wanted Jason Wu Beauty to be the first designer brand to have the 'masstige' price point, so that everybody can afford it and also be a part of our journey.

"Where we collide is, obviously the aesthetic is in line with everything Jason Wu [the fashion brand]. I'm heavily inspired by the 1950s, [and] 'refined femininity' is [one] of the key [terms] within the brand that I can say [applies to] the makeup collection and my ready-to-wear collection."


Are you going to be presenting at fashion week this season?

"I will be doing something, but it will be a surprise. Make no mistake, Jason Wu Beauty will be there and well represented, though."

You pull a lot from the 1950s and florals—are there any other beauty inspirations or icons you looked to when creating Jason Wu Beauty?

"I love flowers—it's nature's best present. There's an endless array of inspiration and possibilities within floral botanicals, and there's a lot of reference to that within the beauty collection.

"I wanted to make sure that nothing was seasonal or trend-driven about my first [beauty] collection. It was basically all the basics you need within your makeup palette and your beauty bag, with the different shades of nude that work on every kind of skin tone. The possibilities are endless [for] what we can do going forward.

"For beauty icons, we always think of Lauren Hutton, and we're talking about Audrey Hepburn's brows. I love the '70s. I think Pat Cleveland is a big inspiration, as well. That era of Studio 54 fashion is still amazing. So many beauty looks came out of that era."

You're known for your modern-romantic take in fashion. What do you want to be known for in beauty?

"I think [Jason Wu Beauty] is about revealing your inner icon—your inner beauty. I think there is a lot of heavy makeup on the marketplace right now, and our approach is kind of the opposite of that. It's about a light hand. It's about really showing [yourself] through the beauty products, not being covered up by them."


When it comes to beauty, a lot of male-identifying people still aren't nearly as represented as female-identifying people. Are you hoping that male-identifying people will embrace Jason Wu Beauty as well?
"I have no hold-up on makeup. If you look on my Instagram, I've been in full makeup before, and I just think,
You know what? It's fun
. I think beauty should be for everybody. I love getting my makeup done, by the way. I really appreciate the process just because I'm so often on the other side of the chair, working with makeup artists on models and their look and everything. So experiencing it yourself, it's really transformative. A little something can really change your whole posture and your persona. You can play different characters with makeup or, the best of all, show the best version of yourself. At the end of the day, makeup is fun and beauty is fun, and that's what we want. And I think that's just one of the really great ways to stay inspired, especially when we're not seeing so many people right now."
Tell us a little bit about your beauty routine, because your skin is flawless:
"Skin care all day. I always moisturize and always wash [my] face. I think that's the most important thing people forget to do—every evening wash your face, especially in the city, where your skin can get very congested. I always recommend a great day cream and a great night cream. I like to use something heavier, like the
Sisley-Paris Night Cream with Collagen & Woodmallow
, that's a little bit heavier and richer at night. And then I love
Dr. Barbara Sturm products
as well, from her serums to her facial creams. They're really light and amazing for the daytime. But overall with skin care, it's just upkeep, and it's very important to make sure your face is clean and fresh at all times.
"I have to say though, the [Jason Wu Beauty] Brow Soap is amazing. It's great before a Zoom or a photo shoot and you just want a little lift. I don't even fill mine. I just use the brow soap by itself and it's enough."
What are some of your favorite beauty trends of the moment right now?
"It's all about the eyes right now because everyone's wearing masks, so it's very interesting to see people get very creative just with their eye makeup. The winged eyeliner is a great example of a masking beauty look. You don't want so much makeup on the lower half of your mask or your face, but the eyes can make a huge impact. That, to me, is something really simple but so dramatic at the same time."
Don't forget to shop a few of our favorite products for the new Jason Wu Beauty collection: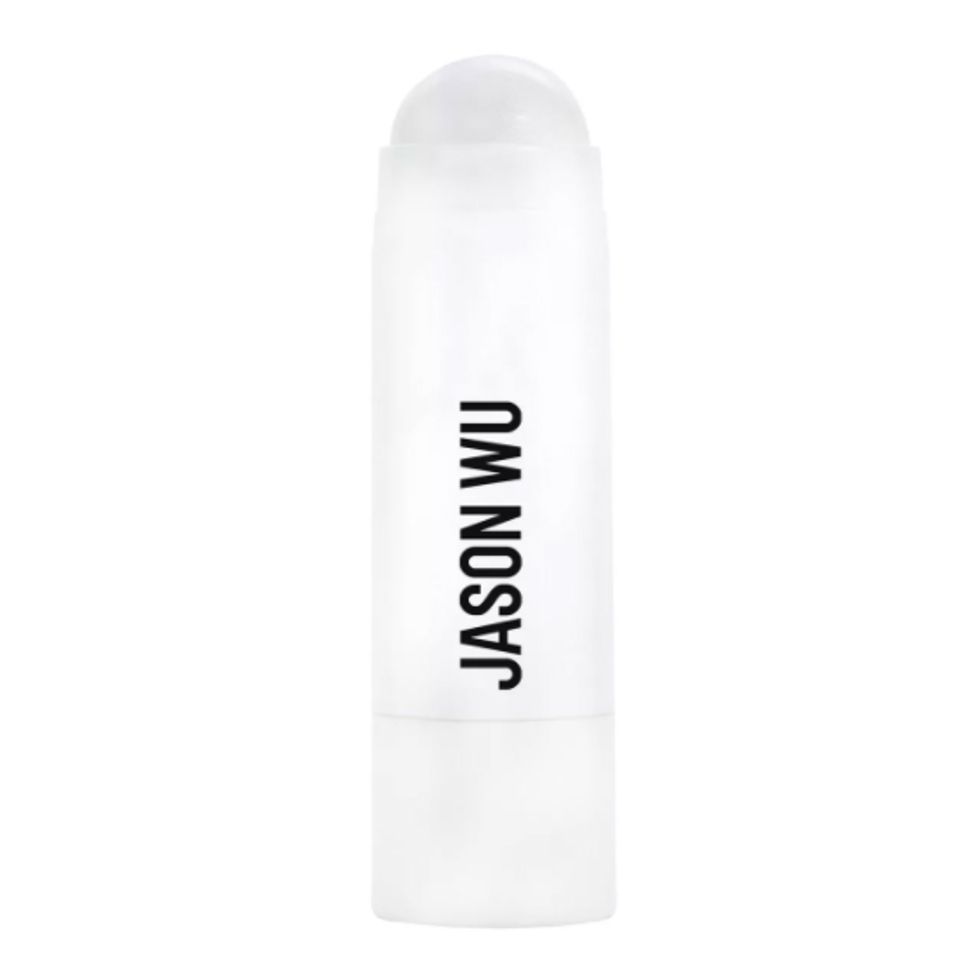 Jason Wu Beauty
Jason Wu Beauty
Jason Wu Beauty