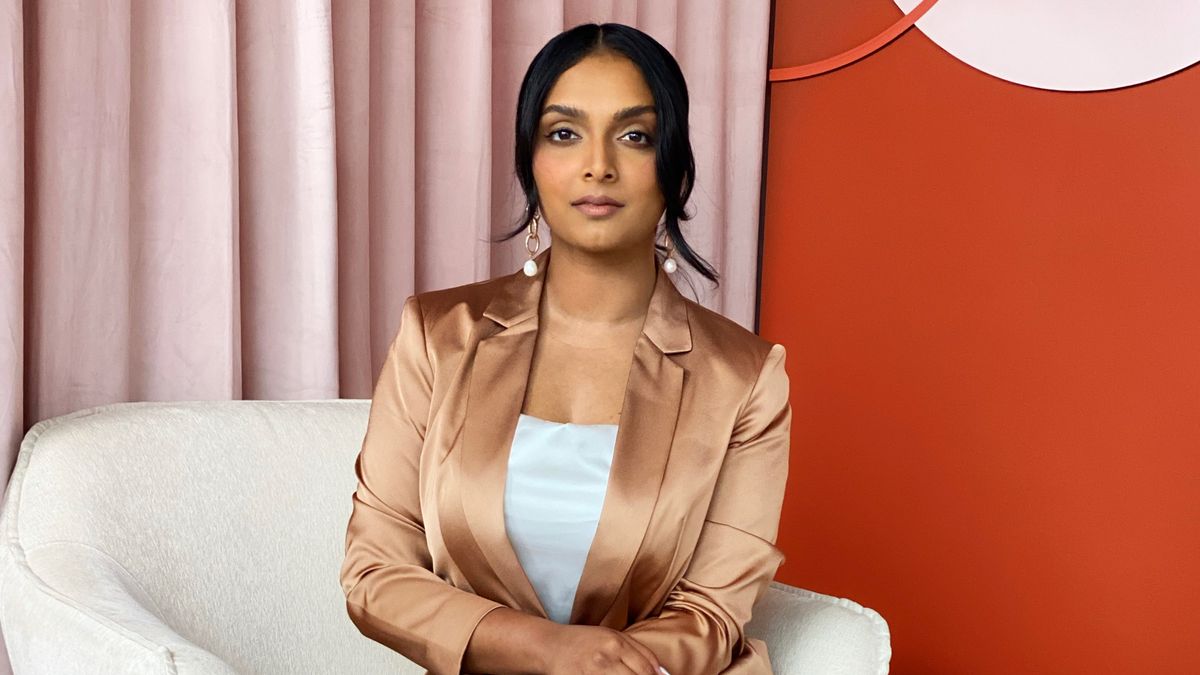 Makeup
Deepica Mutyala of Live Tinted on the future of representation in beauty.
As we say goodbye to one of the toughest years in living memory for many of us, it's a good time to celebrate
surviving 2020's end
with our bodies, health, minds, and spirits intact. But because capitalism never sleeps, it's also a time ripe for thinking about the beauty industry and its future. Deepica Mutyala has a few ideas about where beauty can and should go next, including the burgeoning legacy of her brand,
Live Tinted
, a digital community and product collection focused on inclusion and diversity within the industry.
"I think that there's still a lot of work to be done, but there's been a lot of progress made," Mutyala tells Coveteur. "I feel really hopeful. I'm hoping that leading by example will make people follow suit, and I do think it's happening. I really hope to see less performative action and more genuine action happen from brands."
The influencer and brand founder notes that there is a difference between diversity and inclusion, and she's hoping that brands and consumers understand that both are a necessity to push the industry forward, which is why she's incorporating both into Live Tinted. "That goes beyond just one campaign, one product launch, and one hire," she says. "This may make your company grow slower, and you may have to make decisions at a different pace, but it's way more meaningful and, quite frankly, it's just the right thing to do. I'm most focused on the bigger picture. At the end of the day, if we want this to truly change, we're all going to have to do our part."
Sustainability has also become central to Mutyala's mindset, as well as for the beauty industry at large. She recalls the days when her work mostly involved influencing, and when fast fashion and gifted beauty products were the name of the game. Now she's put being a clean, cruelty-free and vegan brand working to be as sustainable as possible at the very top of her core values and brand pillars. "If you're going to be a new brand in this day and age and you're not going to care about the environment, then what are you even doing?"
We spoke with Mutyala about the transition from influencer to brand founder, why eradicating colorism is a must for a more inclusive beauty industry, why
sustainability is essential
for any new beauty brand coming into the market, and more.
---
On how Live Tinted fulfills her childhood dreams:

"When I was 16, I wanted to have my own beauty brand. This was not like an 'I woke up one day' kind of thing where I said 'It would be nice if we did this' or 'I saw an opportunity in the market.' I'm back in my hometown of Sugarland, Texas, now, and I'm having a lot of reflection moments. It's kind of surreal. Things get tough and life is not easy, but I'm living out my dream. That calms me a bit and makes me realize this journey has been worth it."

On balancing her roles as an influencer and brand founder:

"As far as now balancing being a CEO and a content creator, the reality is for the last three years, I feel I have been slacking on the influencer side because what I truly care about is building this brand to change the beauty industry. That is a real thing I felt growing up, that I didn't see representation and I wanted to change that. That's why I became an influencer, and that same mentality has shifted into creating Live Tinted. So it's this weird balance, as I currently care about one more than the other, but recognize that they're both important for the same overarching goal of representation."

On how eradicating colorism spurred her motivation to start Live Tinted:

"I never wanted to build this brand based on any experience that wasn't my own. I can't speak to what you've experienced versus what I've experienced, but I think the beauty of starting this company as a community platform was that that's exactly what happened. We had people reaching out because I was talking about my own lived experience of colorism, which made me realize this is a global issue in communities all over the world, including Latinx and Black communities. This opened up my eyes and made me realize that I want Live Tinted to stand for a brand whose mission is bigger than just a physical product. I want to really make change in this industry for future generations.

"The definition of Live Tinted is living in your truest form, embracing your skin tone, and loving that skin tone. This is something that I absolutely struggled with growing up, and now my skin is my favorite part about myself. Your skin tone is a representation of your culture, your identity, and where you come from. These are all things that, because of the media growing up and the very specific lens that I looked through, that I never knew. We not only have the opportunity, but it's our responsibility to change that narrative for the next generation."

On hiring and how she's building Live Tinted:

"I recognize that I need to hire against my weaknesses and truly invest in the brand and myself. Roles like an executive assistant were always positions I did or hired part-time because, initially, I didn't value them. I thought I'd be fine. And I never valued a tool like therapy that involves taking care of myself because all I cared about was this company. Now I'm at the stage where I'm stepping back and stating that my overall happiness and investing in myself is important for the success of the company. I also feel I'm fortunate to say that. When you're starting a company, you have to pick and choose where you can [step back], and you're scrappy as hell.

"It is a much more fulfilling, meaningful way to wake up and do your job when you realize you're making a real impact in the world. I really do feel, with having these kinds of conversations, every launch we have, the investors we bring on board, and the hires we make, we have an opportunity to lead by example to create a brand that's truly inclusive in every layer of the business. In the beauty industry, there's still a lot of work to be done, but there's been a lot of progress made."


On how she's changing her mindset around influencer gifting to be more sustainable:

"At one point it was just crazy. I feel like I was a part of the problem because I was feeding into the beast of showcasing these fancy boxes, and now I can't even imagine a world where I'd do that. In my daily life, I make conscious decisions when I purchase from specific brands to hopefully encourage overarching capitalism to change their behavior on the production side. It's hard. Fast fashion has been a part of my life because, as an influencer, there were years of my life where I wasn't 'supposed' to wear the same thing twice. We are a vegan, clean, cruelty-free brand that is constantly working on sustainability. If you're going to be a new brand in this day and age and you're not going to care about the environment, then what are you even doing?

"Can we do better? Absolutely. I made a very clear statement when we started this brand that we are going to work towards doing sustainable efforts as much as possible, using PCR for our secondary packaging when we send products to influencers. We're thinking about how we can work with other brands to create mailers together. These are all active efforts going forward, and we're not doing it in a fake way either, because there is performative sustainability happening as well."

On makeup and Live Tinted's future outside the category:

"I think it is a combination of life and events of this year, but I'm also 31. So I feel I'm at a different stage of life where I want people to see makeup as a choice, not a requirement. Our very first campaign showed people with no makeup equally as happy as they were with makeup because whenever you see before-and-after pictures, people are always so sad in their before, and then their after [photo] is all glam and happy. I want to help change the way we perceive ourselves, and hopefully the beauty industry can help people feel better about themselves. In 2021 and beyond, I don't see Live Tinted as being a brand that's going to be just a makeup brand—I see us as being a beauty brand that's creating essentials for your everyday life. That's because that's how I live my life. I'm not about the tons-of-makeup vibe. So you'll see that come through with the brand."

On her daily routine right now:

"It's very bare minimum, and it of course includes a lot of our products. I would get all these eyeshadow palettes and glitter, and I was so overwhelmed. And I was thinking, if I felt overwhelmed, then how does the person who's not in this industry feel? So when we create products, we really want them to be about celebrating your hues and your skin tone. I really have a five-minute face these days."
Here are the products Mutyala can't live without right now:
"I use this as a base on my face. It's packed with a ton of skin care, squalane, and a botanical blend extract. I've never experienced a formula like it, and that was an intentional decision. It's more of a serum with a hint of glow to your skin."
"I use our Huestick on my eye, cheek, and lips to have a little bit of color. I typically like to use Rise, which is a very neutral shade for me. It's not one that's in-your-face."
Mutyala uses this gel to fill in her brows. It comes in eight hues and is infused with plant-derived oil, so it provides fullness and definition without flakes or crunchiness.
[coveteur-shopping-module module_id=3]