WWWRN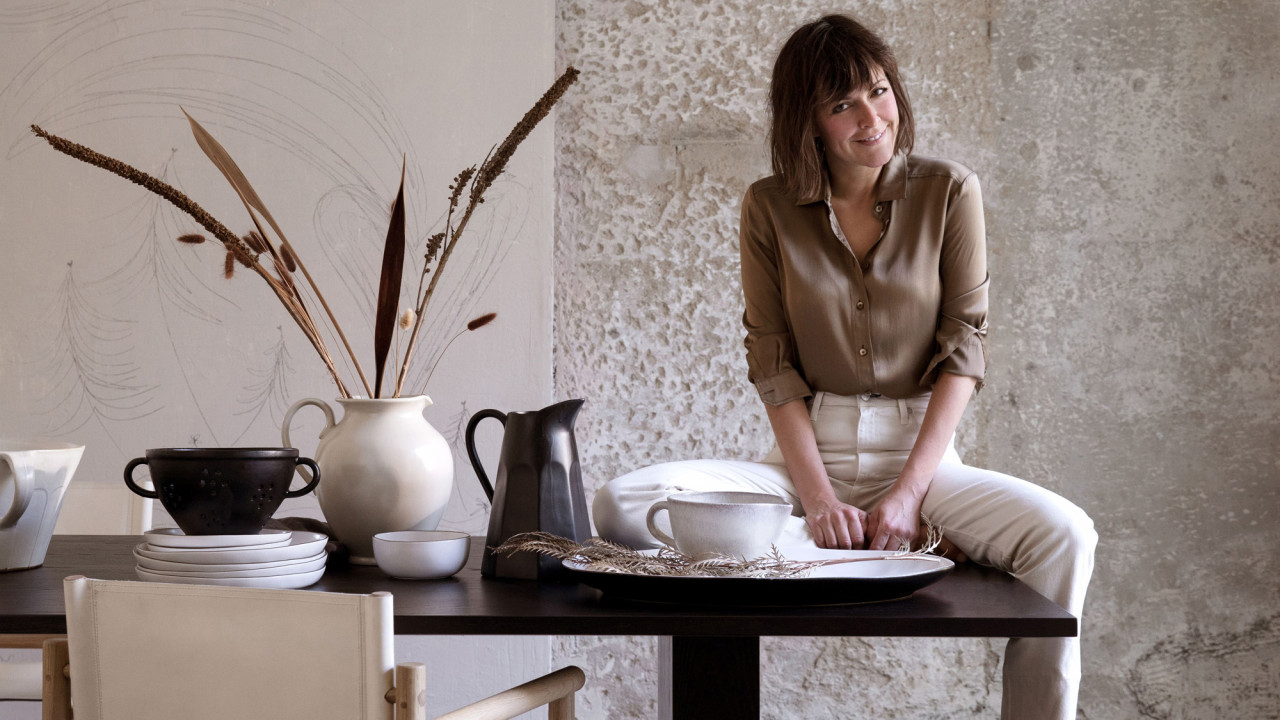 Interior Designer Tips for Adding Function to Your Space—Without Sacrificing Aesthetic
Leanne Ford shares her tips, plus, how to warm up her famous all-white aesthetic.
It's easy to pick the prettiest thing and pay no mind to utility—how it will wear, the level of comfort, durability, etc. Ever opted for that pretty pair of heels that leaves your feet in shreds by the end of the night? Us, too. Interior designer Leanne Ford, who unironically began in fashion, always adhered to that visually driven mentality until the birth of her daughter, Ever, changed that. Suddenly, practicality gained traction in her world.
This approach rooted in functionality is evident in not only her interiors, but also her new line for Crate and Barrel. Ottomans open up to reveal hidden storage. Slipcovers can be easily thrown in the wash. Dishware lends itself to multiple functions. Yet, upon first glance, the word practical would never enter your mind, as she has sacrificed nothing in terms of aesthetics.
"I now have a very educated opinion on what things should feel like, where my feet should sit, where the lean should be, whereas before I would have just only done things for the beauty of it. Now I'm like, 'OK, this table can live with a kid and be safe,'" Ford explains, specifically referring to her Crate and Kids line.
We caught up with the savvy designer to discuss adding functionality to a space, blending the old and new, and injecting warmth into her famous all-white aesthetic, which, she reveals, is much more practical than you think.
You might hate this question, but how would you describe your own interior style, if you had to put it in words?
"I don't hate that question; I just can't ever answer it well. I am always trying. I usually use what people say to me. The one that I like the most is 'easy minimalism,' which means clean and simple lines, but warm. I mean there's always exceptions to all of our rules, but I keep pretty neutral, which makes it feel minimalist on its own, but really easy and warm and welcoming."
You're known for your all-white aesthetic. How do you warm that up?
"Texture, which is layers of variations, like playing with shades of white and then also playing with what's on the walls. Is there texture on the walls? Can you add wood? Is there linen next to cotton, next to white wood? You play with that and then add in textured styles. You don't want everything to feel modern or everything to feel old. Mixing all of that in creates the warmth. And then, always, nature. I always add in some natural element like wood. That's why we did all these natural wood elements in the Crate line, but play with that against the white—those are my tricks."
What are your favorite shades of white to use?
"My favorite perfect, crisp, dreamy white is PPG Timeless Pure White, and I like Sherwin Williams Shoji White. Then I like to play with creams and how they live together."
The ultimate question: Can you have an all-white space with kids, dogs, and a super-active lifestyle?
"Yes. I think white is absolutely easier than anything else for kids and dogs and dirt because it's easier to clean, it's easier to wash. Our Ever Sofa, you throw in the washing machine. When you have these different shades and variations of color, it's harder to match."
Do you have any tips on how to add utility to a space without sacrificing style and aesthetic?
"I believe in baskets, so I throw them in every room. They can collect laundry and toys. I kind of have a basket that rotates. It will stay in the kitchen and all of my daughter's things will go in there, and then I'll just carry the basket upstairs at the end of the day. That little Snoozer Ottoman has storage, which is a great example of hiding storage where you can. Those are my saving grace to keep some semblance of order."
How do you balance modern and traditional elements in a space?
"I just like the combination. It's funny, I just bought a very traditional home and have played with what to put into it. I realized I'm putting all modern pieces into this home because traditional is already here with the walls and the panelling and the lighting. But in homes that are really modern, I bring in the traditional. So I always like the mix. I think they all just have to live together. It's what makes it feel warm and inviting and makes you want to go in that room and hang out."
What are finishing touches you always like to add to every space?
"Always bringing natural elements in. So I go scavenge the yard. I'll always go out and cut some dead branches and bring them in and put them in a pretty vase. That immediately makes your room feel special and makes it feel happy. I think that's a big move. I love throws, linens, and pillows and these kind of easy fixes that you can throw anywhere. My other thing is I always like to rearrange furniture. Especially right now, when people are feeling stuck in their houses and looking for something to do. Play with where your sofa is or where your bed is. Play with little pieces that can move between rooms. Steal from other rooms and play with it."
How do your tabletop pieces mix in with the rest of your home?
"So the tabletop stuff was another dream-come-true to do. There are pieces that I wanted to be multi-functional, like the pitcher where you can certainly put lemonade or sangria, but when you're not having people over, put it on your mantle and put those branches in it. These platters, really big, beautiful platters, let them live on your coffee table or live on your dining table without food on them. The bowls, I leave a bowl by my front door to throw keys in. Everything can live outside of the kitchen, as well."
What specific materials do you gravitate towards over and over again?
"[In terms of] flooring, I love old wood. I love the beat-up wood floors that I feel like I have to fight to keep in. People buy these old houses and they just rip up the old floors because they're quote-unquote 'trashed,' but I do whatever I can to keep those, to enjoy the patchwork and the variation and the imperfect stains. I think that's one of my favorite jumping-off points. I also even sometimes buy reclaimed wood floors to put into houses because I think that adds a lot of warmth. I'm forever into marble. I let it get beat up and get stained, and that's OK. It will look better after the first painful stain. I love terracotta. I've been using a lot of terracotta tiling. Again, these are all just earth elements that I'm bringing in the house. Those help with the timeless appeal. Simple, clean materials, and simple, clean lines. Those will just stay true."
Are there renovation faux pas you see people make all the time that you wish they wouldn't?
"I am a freedom-of-expression girl, so if you love it, do it, and ignore all of us. But I would say my biggest renovation faux pas is tearing out the good stuff. I just see so many people tearing out old bathrooms where maybe the tile was kind of fun and cool. I'm doing a project now, and our bathrooms, one is all yellow, one is all green, and one is all pink, and I'm going with it. I'm not the best at sustainability, and I can't say I'm an earth angel by any means yet, but I just say keep what you can and let it be a jumping-off point. It's what creates the good stuff. When you walk into these old homes, say, 'OK, what is good in here? Can we keep the floor and let that be where we utilize the soul and the charm? Or are these old countertops kind of cool and groovy?' Paint the wood floors. If they're so trashed that you're going to rip them up, paint them white. Give them another life."
I know you are not a trendy designer at all, but are there any new trends that have popped up recently that you're excited about?
"I don't design based on them, but I always like them as inspiration. The thing I like about trends is that they just make you think about what you have, what you're playing with, and they let you reconsider what you love."
Part of the series:
WWWRN