Series
See it through their eyes. In collaboration with Schutz.
There are some iconic New York City landmarks that everyone has a special memory attached to. Times Square, the Dumbo Waterfront, Yankee Stadium—you know the big ones. But it's also the more unassuming street corners and smaller neighborhood parks that make up every New Yorker's personal stomping grounds and act as the setting for some of life's most significant moments. Think marriage proposals and discovering a souvlaki spot that ruins all other souvlaki spots forever.
Equipped with stylish and pavement-pounding styles from
Schutz
, three Coveteur staffers are providing tours of their own favorite haunts. They're taking us to their first apartments in Bedstuy, uptown to Central Park, and many places in between that are filled with the kind of nostalgia and happenstance that you don't ever forget. Perhaps these landmarks won't carry the same importance for you, but at the very least, you might be curious to visit and find out.
---
Leya Kaufman, Head of Sales & Brand Partnerships
The Flatiron District
This is where I landed my first job in the fashion industry, so it's also where I learned all about practical but powerful personal style. I might have started my career over-caffeinated and overwhelmed with PR samples, but the neighborhood now evokes confidence and nostalgia. I remember topping work lunches off with hot chocolate from City Bakery too many days in a row. I was also always game to shift from working overtime to meeting friends for drinks at Tarallucci e Vino thanks to the stash of shoes I kept under my desk. I made a point to keep a daring pair of stiletto-heel booties, like this Schutz pair, at the office at all times! To this day, I'm so grateful for the opportunity that my first mentor gave me when she hired me for that dream role—it all started here.
Hudson River Park
Years ago I fell in love after an early morning run around the West Side Highway. Somehow I convinced this guy to meet me at 5:30 AM to see if we'd hit it off. And two years later, this is where my husband proposed. So we're always drawn back to this area together, even when we're not working out at the crack of dawn. Summer dates at The Frying Pan or Grand Banks always give us a chance to look back on those pivotal romantic moments. And long walks through the area bring back all of the memories. There's just something infinitely romantic about dressing up in sporty-chic athleisure and Schutz sneakers for a stroll with our toddler around the stomping grounds where we first met.
Central Park
In close proximity to Central Park is the biggest perk of living uptown. For a long time I would find my way to Central Park from everywhere else in New York. When I lived as far as Gramercy or Tribeca, I still couldn't stay away. I vaguely recall commuting uptown before work just to be in the park in time to watch the sunrise. But now that I'm so close, I'm in the park daily. It's the perfect space for a solo moment of reflection, a family walk, or a distanced outing with friends. I love to experience the quick shift in seasons surrounded by the trees, and I'm always drawn back to this wide-open space in the center of the city. This is still my go-to fall weekend oasis and another place that just feels like home in New York. I'll toss on leggings and Schutz booties and spend an entire afternoon there.
Shop Leya's Picks
Schutz
Schutz
Devon Blackwell, Production Assistant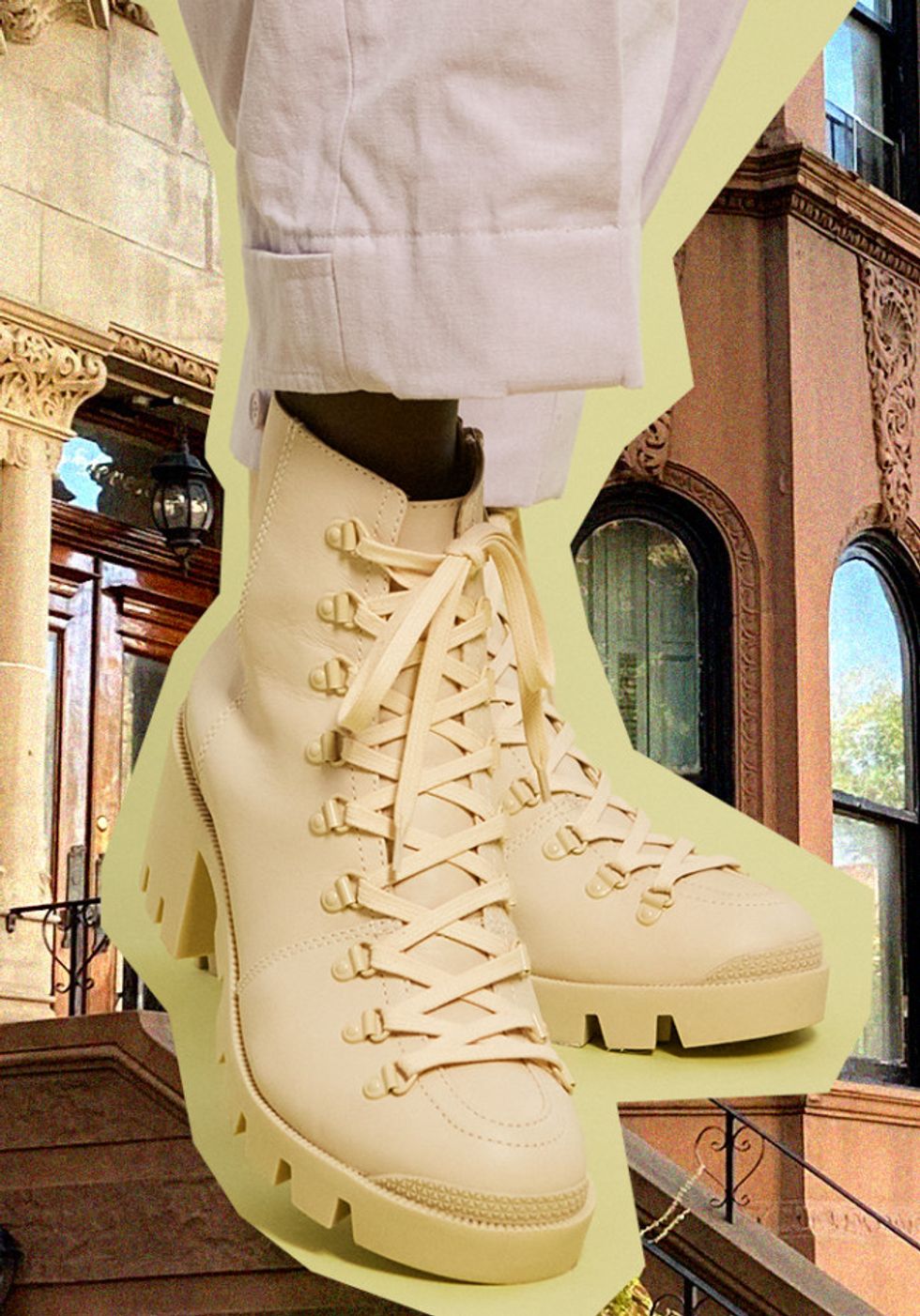 West 47th Street and 6th Avenue
It was on this street that two of my friends and I camped out for three nights just to see Harry Styles' performance on Saturday Night Live in the middle of December. Was it our cutest moment? Probably not. Was it one of our most memorable? Absolutely. Half a week snuggled up in a zero-degree sleeping bag on a busy sidewalk wasn't necessarily the most productive way to spend my time, but to this day we're able to look back and laugh at the fact that we actually did it. I remember nervously walking into the iconic studio a little starstruck in an outfit I spent a bit too much time figuring out. It still feels a bit like a dream, but it was all worth it to see our fave do his thing from the nosebleeds! I'm not sure what I'll wear on my next SNL venture, but I'll probably get a little fancy with all-black: a leather jacket and some bold Schutz heels to match.
Fulton Street and Nostrand Avenue
My first-ever NYC apartment was in Bedstuy, and although it was falling apart the majority of my time there, the dream of getting a place with my besties finally came true. Our class schedules rarely aligned, but when they did, the movie nights commenced, always consisting of plenty of Thai food and freshly baked cookies (courtesy of moi). From kitchen dance parties to regular hallway fashion shows flaunting the mountain of clothes we all shared between us, our little humble abode was enough to make New York finally feel like home. Sometimes I wish I could go back and slip on some funky Schutz heels and a fur coat just to strut down the length of our makeshift runway.
Saigon Shack
My first year in the city would've been a complete disaster had it not been for weekly trips with my best friend to MacDougal Street to enjoy a nice hot bowl of pho at Saigon Shack during the winter. We'd meet at the restaurant and wait outside for however long, bundled up in our warmest sweaters and boots, and talk about everything but the mountains of schoolwork we had yet to do. Through the aid of hot soup, all our worries would instantly wash away. Whenever we felt unsure or scared of the years to come, this was always our safe space to remind ourselves that everything would work out. To this day you can probably still spot me making my way over to this spot in the perfect pair of Schutz booties for the cozy occasion!
Shop Devon's Picks
Schutz
Schutz
Halle Lagatta, Associate Creative Producer
15th Street and 2nd Avenue
My first apartment in NYC was on this corner. When my best friends and I signed the lease, I remember feeling as though something amazing was on the horizon. And I was right. The two years I lived here were a blur filled with weekly house parties, Sunday dinners, and lots of girl talk where my roomies and I spilled our guts about the boys who had broken our hearts and our dreams for the future. My BFF and I did what any fashion-obsessed girl would do: We sacrificed our third bedroom in order to have a walk-in closet. We both were, and still are, shoe and handbag fanatics! Shockingly, sharing a room with the person who was essentially my sister wasn't an issue.
Thinking back, I'm remembering that while living there I really wasn't sure if I'd make it in NYC. Anytime I doubted myself, my friends always reassured me that we wouldn't simply "make it" but thrive. Sometimes I think about going back, rocking a daring pair of Schutz leather boots to prove to that 18-year-old girl that we did it.
Astoria Park
After bouncing around NYC, I finally found a home back in my hometown. Sort of. I was born in Queens and often stayed with my grandparents in Bayside throughout my childhood. At first I was hesitant to move out of Manhattan, but after a stroll through the park, I was completely sold. Five years later I'm still in love. Each day I try to take a stroll through the park (rain or shine). Weather permitting, I'll gather my friends and have a picnic day where we sneak in rosé in our leather handbags and eat souvlaki from Souvlaki Lady.
There's something in the air here. No one is trying to prove that they belong here, they simply do. There's a real neighborhood feel, very much a "where everybody knows your name" kind of vibe that warms my heart. Next time I take a stroll in the park, I'll keep it casual and slip these Schutz booties on underneath a pair of straight-leg jeans.
William F. Passannante Ballfield (MacDougal and Houston Streets)
In high school, one of my best friends left town and moved in with her dad. As a 15-year-old, nothing was more exciting than taking the train from my suburban town to visit her—cute handbag in tow and braces on my teeth. Together we'd run around Greenwich Village getting our palms read, sneaking into comedy clubs, and piercing our ears (and maybe noses, too).
Across the street from her dad's place was this basketball court. At night, all of the cute skater boys that we had crushes on would gather here. I remember falling for their style: leather jackets and skinny jeans. It was very different from how the boys from home dressed. Invigorated with a newfound confidence that, prior to trips into NYC, I lacked, I worked up the courage to approach one of them. Et voilà: I had my first kiss. Now that I'm all grown up, I think I'll swing by my old stomping ground wearing teenage-Halle-approved Schutz combat boots.
Shop Halle's Picks
Schutz
Schutz