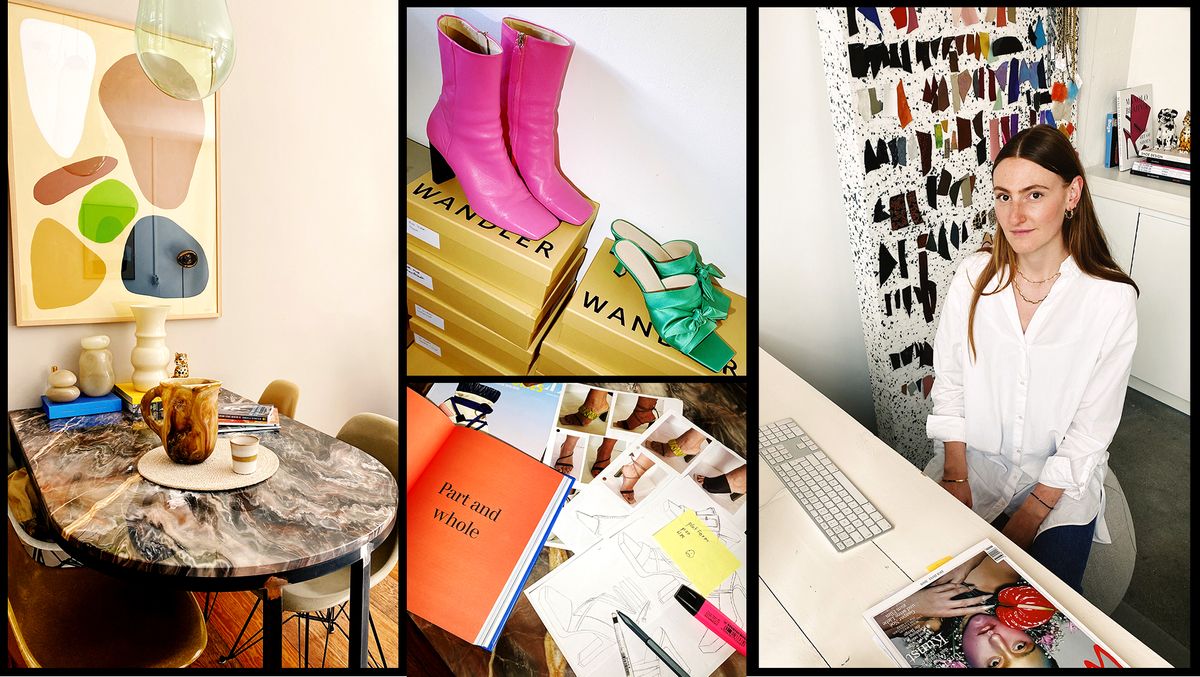 Career
Hint: It includes focusing on today.
We're checking in with friends to see how they're working from home, adapting, and generally speaking, leaning into the summer months. This week we chatted with Elza Wandler, founder of the incredibly chic leather bag and accessory brand Wandler. Known for her understated Phoebe Philo

–

esque elegance, Wandler walks us through what she's doing to stay productive while at home and also to keep those creative juices flowing! Read below to check out her fire WFH playlist and more.
Where do you find yourself having breakfast?
"At the dining table—and now also at my office desk."
Coffee, tea, or neither?
"I start the morning with an oat-milk cappuccino with one and a half shots of espresso. I also drink tea—chamomile is my favorite, and I always make a big teapot to make sure I drink enough during the day."
Do you work in silence, or do you like to have music on in the background?
"I often work with music in the background. To zone out, I listen to a lot of piano music—I love everything from Ludovico Einaudi."
What's on your WFH playlist?
"Very diverse: piano from Joep Beving and Einaudi, but also all-time classics, such as Celine Dion, to sing along to. My dance playlist: 'No Scrubs' by TLC, 'It's a Vibe' by 2 Chainz featuring
Jhené Aiko
, Trey Songz, and Ty Dolla $ign, 'Tootsie Slide' by Drake, 'Paper Planes' by M.I.A., 'Back and Forth' by Aaliyah, 'Don't Worry Be Happy' by Bobby McFerrin, '9 to 5' by Dolly Parton, 'Night Fever' by Bee Gees, and 'I'm Good, I'm Gone' by Lykke Li."
Are you incorporating movement or exercise in your daily routine?
"I walk my dogs every day and recently started exercising in the park with my team, as it's allowed again in the Netherlands to exercise outside. We do that two days a week, usually at 7:00 AM before work. I feel so good afterwards, and it's a great team bonding activity." 
---
Do you take breaks throughout the day, or grind straight through?
"I need to take a break from time to time. I'm involved in every aspect of the brand, such as design, production, and marketing, so I need to divide my time between all those facets of the business."
What is your biggest WFH distraction?
"My dogs, Luna and Billy!"
How do you stay focused and motivated throughout the day?
"I always look back on the brand's amazing journey, and sometimes I forget we launched less than three years ago. With the current size of my company and phase of my business, I find motivation in finding and maintaining the balance of how to best divide my time across all teams. I'm constantly wearing different hats, which is also one of the most exciting things about running my own business. As Wandler becomes more known, it feels like there are more eyes on me—it motivates me to keep evolving, anticipate customer needs, and meet them in unexpected ways. I think it's very important for an entrepreneur to self-reflect. I learn every day."
Lunch break, or snack all day?
"Lunch break—I love to take my time and enjoy my lunch without looking at a computer screen. It's good to take a break once in a while, too."
Do you adhere to a strict schedule, or freestyle your day?
"As I manage a team of people, I need to have structure in my day and check-in moments with everyone. It's not often that I freestyle my day—it would be nice, though!"
Who is your entrepreneurial inspiration?
"
Eva Chen
. She's not only a talented businesswoman, but also enjoys life with her children. I think she balances work life and family life very well."
What do you miss most about going into the office?
"I miss the overall energy of a full team in the office, working with them on new collections, and brainstorming ideas for the future. Can't wait to share our plans with you!"
What does your video conference wardrobe look like?
"A nice white t-shirt from Toteme, my Jacquemus blazer, and my Lizzie Mandler jewelry."
What are you reading right now?
"
Sapiens
by Yuval Noah Harari."
How do you unwind at the end of the day?
"Meditation and binge-watching
Sex and the City
."
How do you foresee this period of time impacting your industry?
"We're facing difficult times, but I think every brand is suffering, whether it be on a small or large scale. Business is not as usual, so I think everyone needs to adapt to these unprecedented circumstances, including myself. I see the solidarity amongst fashion brands and how designers encourage and challenge each other. During this time, I think it's pushed all of us to rethink creativity and to stay digitally connected. Also, I think we need to take the signs of Mother Nature seriously and rethink our roles as individuals and how businesses operate. We at Wandler are seizing this moment as an opportunity to strategically examine our business. Things will turn right side up again, and we will come back stronger than ever before."
What products are you relying on now?
"My healing stones, which I carry with me all the time: yellow calcite and turquoise."
Inspirational mantra that's helping you during this time?
"At this time, the future is uncertain for all businesses. I tend to say, 'That was amazing, how can we do better?' My dad, who is a mindfulness trainer, always reminds me to focus on today."
Photos: Courtesy of Elza Wandler
Want more stories like this?
Elite World Group CEO Julia Haart Talks Style & the Power of Being Your Own Brand
JJ Martin on the Importance of Spirituality & Finding the Beauty in Everything
What Will Fashion Look Like After the Pandemic?