Health
Black Girl Wellness: A New Cultural Renaissance
It's time to thrive.
In the midst of national and civil unrest with the recent shooting of Jacob Blake, the murders of George Floyd, Ahmaud Arbery, and Breonna Taylor, racial injustices, and COVID-19, many Black Americans are finding themselves in mental and emotional turmoil. As a result, Black women are exploring ways to incorporate intentional wellness and self-care into their daily routines. Black women across the United States and beyond are undergoing and experiencing their own cultural wellness renaissance, inspiring them to recommit themselves to self-care and wellness while connecting with their community and culture. Although mainstream wellness might be defined as taking baths and wearing face masks, self-care is also an active process of making choices that lean toward a healthy and fulfilling life.
Many Black women who search for peace and stillness are beginning to find it within themselves and with people who look like them. Although we're known for our resilience and strength, we're also prioritizing reclaiming our vulnerabilities, mental health, and pouring back into ourselves. Although the wellness industry is rapidly expanding, it still lacks the diverse representation needed to spread self-care awareness far and wide. However, Black women are starting to see themselves within the wellness space, with yoga and self-care experts like
Lauren Ash
, the founder of
Black Girl in Om
, and
Yasmine Jameelah
, the founder of
Transparent Black Girl
. Both collectives are centered on providing opportunities to Black women to discover wellness, healing, and community.
Founded in 2014, Lauren Ash's Black Girl in Om exists to hold and catalyze healing within Black women worldwide on their unique journeys towards wholeness. They support the necessary transformation, spiritual awakening, consciousness shifts, and intergenerational healing occurring within the diaspora. Ash is committed to uplifting, and intentionally leverages her platform to inspire Black women to live their best lives.
Yasmine Jameelah, founder of Transparent Black Girl and wellness collective 
Transparent & Black
, offers wellness experiences to be redefined through the lens of Black people. Since 2018 Jameelah and her team have created a safe space where Black women can embrace duality, heal, and ease into wellness. The collective was born out of a discussion of what it means to build a safe space and the greater mission of communal healing across the African diaspora through healing spaces, work, and the exploration of intergenerational trauma.
We connected with both Ash and Jameelah to get their thoughts on how crucial Black-girl wellness and self-care is, especially during this time of national unrest, and how their platforms create a safe space for Black women to speak about wellness without stigma, replenish themselves, and thrive.
---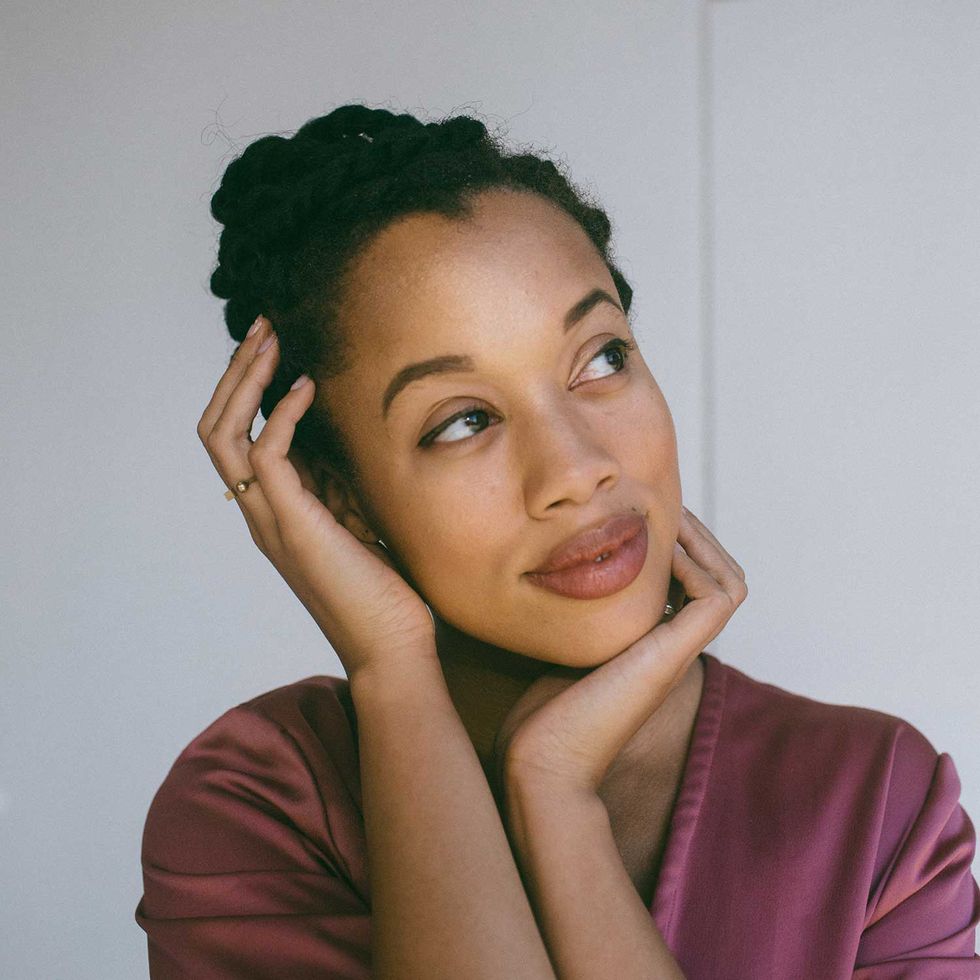 Black Girl in Om founder Lauren Ash
Photo: Courtesy of Lauren Ash
Why are wellness and healing important for the Black community during this time?
Lauren Ash:
"[The year] 2020 has marked a profound shift, one that many of us clearly perceive as a defining moment where humankind is being forced to reckon with unresolved trauma and has a divine invitation to lean in and heal in revolutionary ways. In addition to the collective global unrest that is disturbing us on a macro level, we personally, and many, many others, have either chosen to or been forced to reconcile family dynamics and say yes to taking up the charge of ancestral healing. I myself was called quite literally back to my family home, which is just 30 minutes away from where George Floyd was murdered. Needless to say, my purpose is clearer than ever before. Ancestral healing is healing the self. When one of us in the diaspora heals, we all feel the impact as we are from a collective and tribal lineage."
Yasmine Jameelah:
"A quick Google search will show you that we aren't at the forefront of the wellness industry, but our history of trauma shows you that we are who needs the most healing. Black people are the most traumatized race on the planet. We are trying to survive in a global pandemic that is killing us, while police kill us, all while having to show up to workplaces where we are overworked and underpaid."
How is your collective helping the Black community heal?
Yasmine Jameelah:
"Our community offerings allow us to communicate with our audience and show up for them through the various healing spaces that we offer. In a world where Black people have to beg for protection, their healing and safety is our priority. This year, our programming has ranged from trauma-based yoga flows, twerk classes to reclaim our bodies, healing spaces to process sexual trauma, mental health check-ins with therapists, and conversations encouraging Black men to reclaim Black boy joy and explore inner child healing. We want to continue to drive the point home that Black people's wellness is deeper than meditation and green juice. It's saying no, setting boundaries, healing from trauma, and unlearning what we were told has to be our existence and experience in this world. As a Black founder, I carry the trauma and reminders of the lack of representation with me. Still, I also carry my ancestors' resilience and my desire to see my people healed mentally, physically, and spiritually. Black-girl wellness and self-care are crucial; the joy we find as we find time to tend to our needs is refueled. Black women take care of everyone, and oftentimes nothing is left for us. We need to prioritize and normalize the need for moments of rest."
Lauren Ash:
"At Black Girl in Om, we're invested in cultivating wholeness and reclaiming ourselves as individuals knowing that we, too, heal our families seven generations back and forwards as we do so. Through The Circle, we deepen our connections with ourselves and one another, share healing rituals [and] practices, and affirm and uplift one another on the various places we find ourselves navigating. Simply: We're here to expand the consciousness of Black woman to transform—and what a year to do so."
Photos: Courtesy of Yasmine Jameelah and Lauren Ash
Want more stories like this?
Here's What Happens When You Start Your Day with a Cold Shower Shock
9 Ayurvedic Essentials That Transformed My Skin & Morning Routine
The Truth about Physical Intimacy in the Time of COVID-19