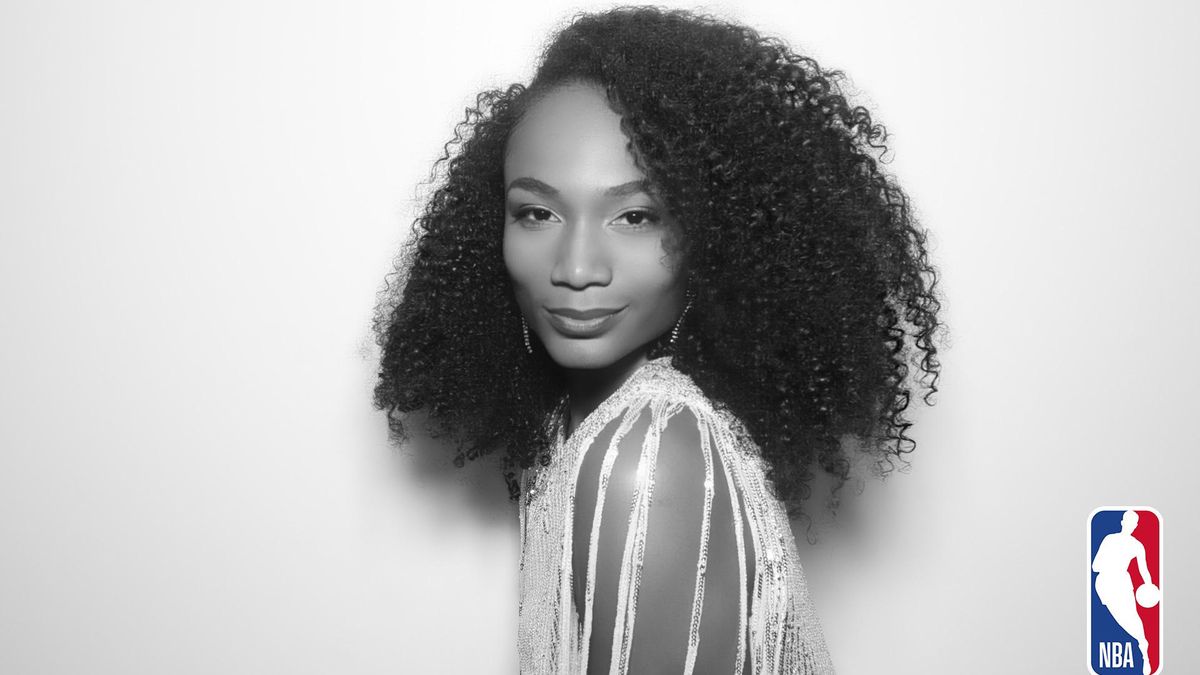 Culture
You can still be a woman and talk sports.
"While they didn't know who I was or where I came from, to see a brown face was special for those who love sports, sitting in rooms and on platforms that we don't normally sit on—especially as a woman," Cari Champion told me in our phone conversation about her experience as a sports journalist and the start of her days at ESPN. She continued to speak on the presence of Black athletes, former athletes, and analysts, but there were rarely any unapologetically Black women, which made the culture of sports journalism appreciate Champion's radiance and authenticity that much more.
Further into our conversation, when I asked about her personal experience with hypersexualization and harassment, she spoke on the
disgustingly racist rape fantasy
that occurred in 2014, when comedian Artie Lange was watching her broadcast, as a segue into the overwhelming feeling that most women in sports broadcasting cannot be attractive and have to limit themselves to pant suits to hang with the boys and be accepted. "I was very comfortable in my own skin, my sexuality, but it made the men uncomfortable. When it makes the men uncomfortable, it becomes your issue, which isn't fair," Champion notes. "If you're uncomfortable, that's your problem. I can still be a woman and talk sports. That's on you to figure it out."
---
Cari Champion
Photo: Courtesy of Cari Champion
It's no headline that women—especially Black women—have been hypersexualized by the white, heteronormative counterparts in the media industry. In the sports world, what was once a "boys' club" is now being infiltrated by Black women with brains, beauty, and top-notch branding. Sports culture is no stranger to sexual harassment, comments, and innuendos targeted against women who get the job done and look good while doing it. Beyond the fact that, according to
Quartz
, 90 percent of editors, anchors, and commentators are men, male sports columnists alone only hold approximately
22 percent
for those of color.
According to the most recent
APSE report
as released by ESPN, only 44 women were reported to be top sports columnists and reporters across the largest sports publications and websites. Only four were Black. As I continued my research about the lack of Black female (and WOC) representation within sports, my heart began to sink because of the disappointing statistics of representation. Let's make it make sense, shall we?
I had the opportunity to speak with a few of the most notable Black women sports journalists in the game about sexism, lack of representation, and how leaving their legacy is paving the way for young Black journalists to come.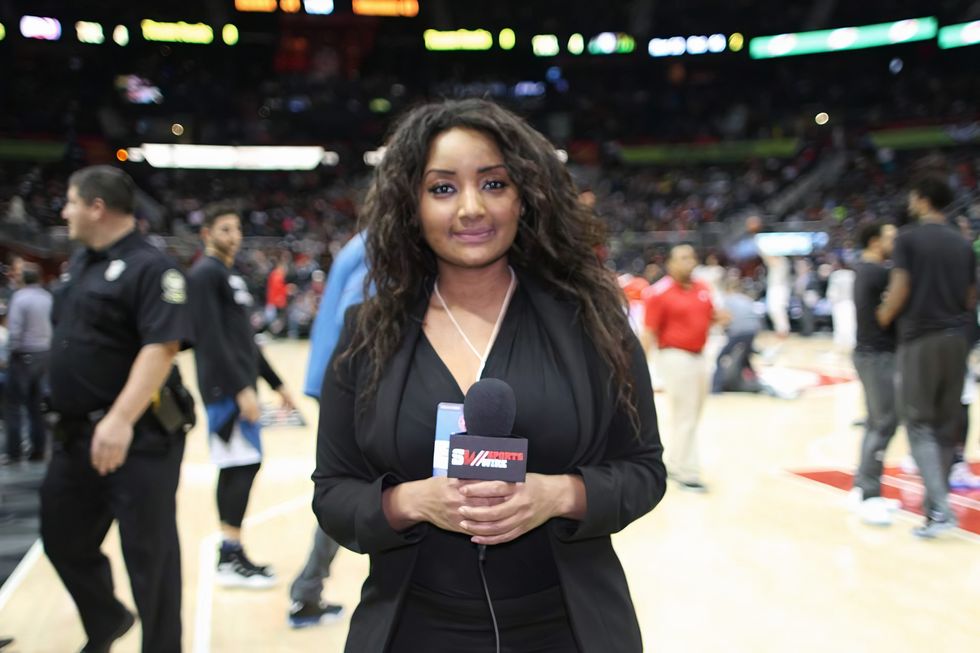 Sytonnia Moore
Photo: Courtesy of Sytonnia Moore
Sytonnia Moore
is the current co-host of KISS 104.1 FM's The Morning Groove, founder of the Moore Help Foundation of Atlanta, Inc., and one of my very first mentors when I went down to Atlanta for college. The Atlanta-based broadcaster has successfully developed a career spanning 25 years, including work for ESPN, Fox Sports South, and Atlanta Hawks Radio, while being featured on ESPN's Undefeated, NBA TV, and TNT. Leaving her mark on Georgia and beyond has been no easy task, but Moore has made it quite clear that being a Black woman in sports hasn't been any more of a cakewalk than her day-to-day life. "Being a Black woman, period, you feel like you have to work harder to prove yourself. That's constant in the sports industry, as well," she said. The Sytonnia LIVE host told Coveteur that publications, teams, and management companies can start by moving women into more primary and respectable roles on and off-screen and recommends the positioning of women in sports to be elevated through promotions, equal pay, and having more women in the front office and on the field.
Year after year, women have proved themselves to be bosses in the sports broadcasting lane, but while athletes themselves are making their voices known in the fight for equality, many still only listen to journalists as though they're a whisper. From social-media bashing to hypersexualizaton on-air by obscene colleagues, women—especially Black women and WOC—require more positive representation in the sports broadcasting booth, and male-dominated companies and media outlets need to do a much better job.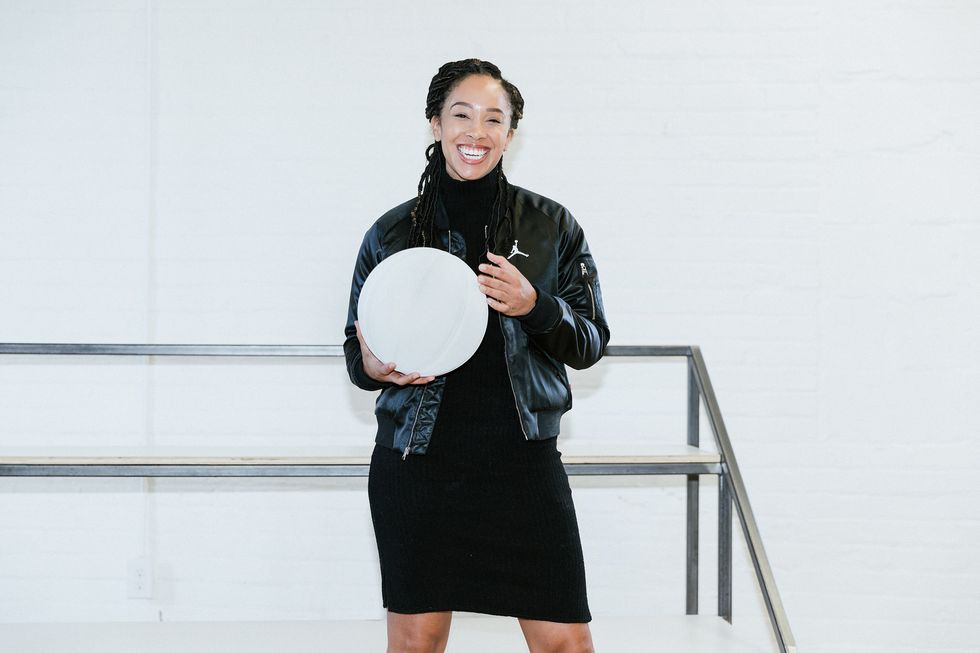 Meghan McPeak
Photo: Courtesy of Meghan McPeak
"Whether it's social media or even walking down the street and being recognized, women that cover sports are held to a higher standard. Our knowledge is put into question—we are quizzed as to what we know, and even when we show a better knowledge of something than those questioning us, we are still not given the benefit of the doubt," added play-by-play broadcaster
Meghan McPeak
. As a sports journalist for the WNBA's Washington Mystics and G-League's
Capital City GoGo
, McPeak praises women such as Terrika Foster-Brasby and LaChina Robinson (both Black women) of the 
Around the Rim
 podcast who created a lane for themselves in women's sports.
How often do these women experience sexual harassment, innuendos, and lewd comments in the sports workplace? "All of the time. But, as women, we must reclaim our power and realize we do not have to tone a damn thing down for anyone," exclaimed on-camera talent and social media manager
Arielle Chambers
. Known to friends and colleagues as "Ari," she can be found as the powerhouse behind
HighlightHER's Instagram account
, a division of House of Highlights. As both social and talent for the Bleacher Report, Chambers takes it to her personal social media account to be vocal about the role of women in sports, from the WNBA to the under-representation of female soccer players.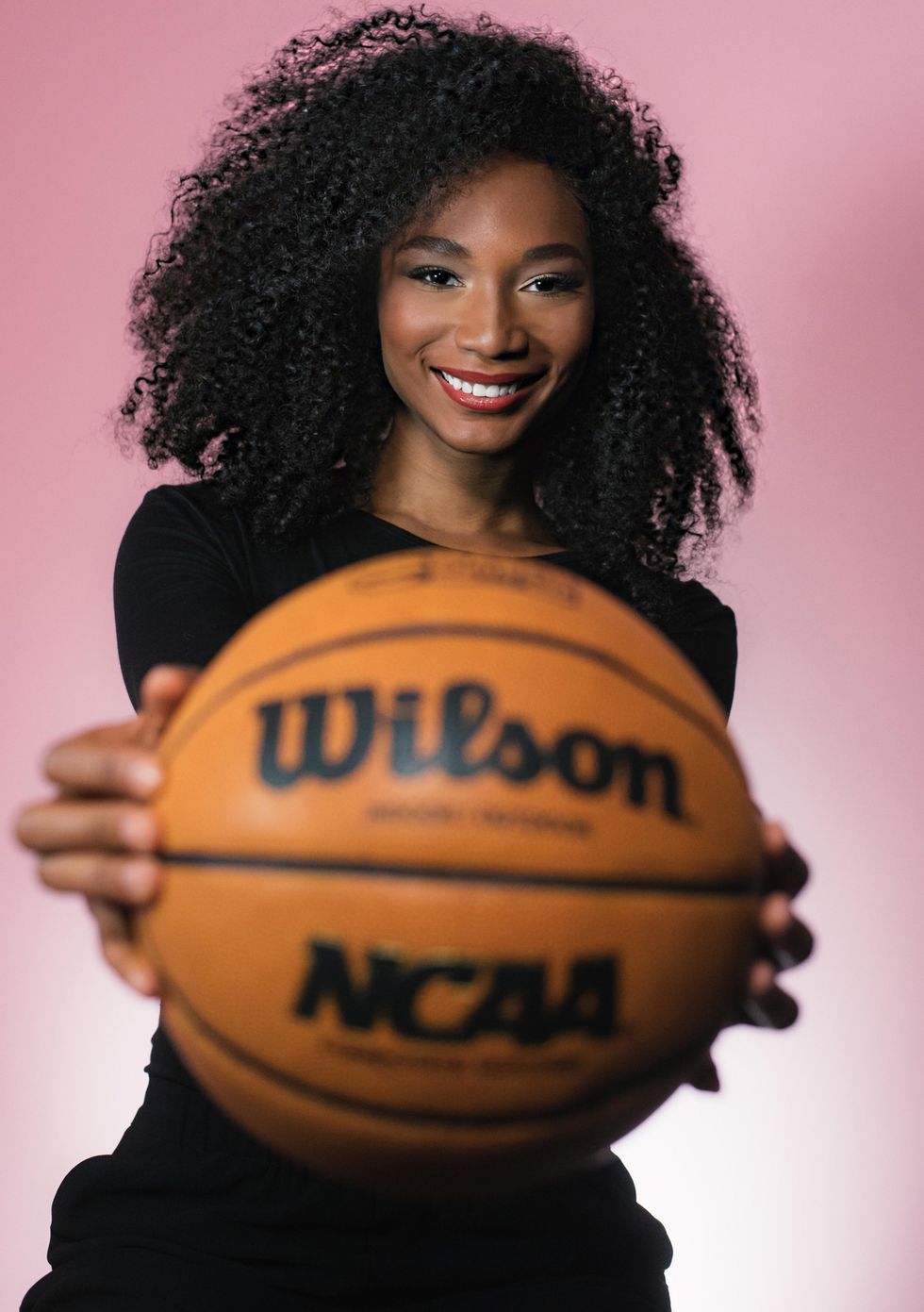 Arielle Chambers
Photo: Courtesy of Arielle Chambers
"Our bodies are ours, our sex appeal is ours, our knowledge is ours. It is not our fault people can't handle [or] are not ready for it. It is not our responsibility to carry that burden. As long as we're well versed in our beat (the team or sport we cover) and do our job well, no one can say a thing," Chambers continued. Though the odds are stacked against her, she uses that to fuel her passion to put more Black women at the front lines of sports media to give little Black and brown girls an example to be what they want to be. "I hope that there will be NO DOUBT in a Black child's mind that they can make it in sports journalism," Chambers added.
Similarly, sports and entertainment emcee
Bria Janelle
is all about the mantra of "each one, teach one" and paying it forward. "My hope for the future of sports media is that the gatekeepers continue to embrace the next generation of talent and take us under their wings and mentor us so that we are able to push the culture forward with dignity and class," the
MADE for the W
co-founder and
AEBLHOOPS
in-game host told Coveteur. She recognizes the power of women who have come before her and allowed her to gain the confidence to become the woman she is today.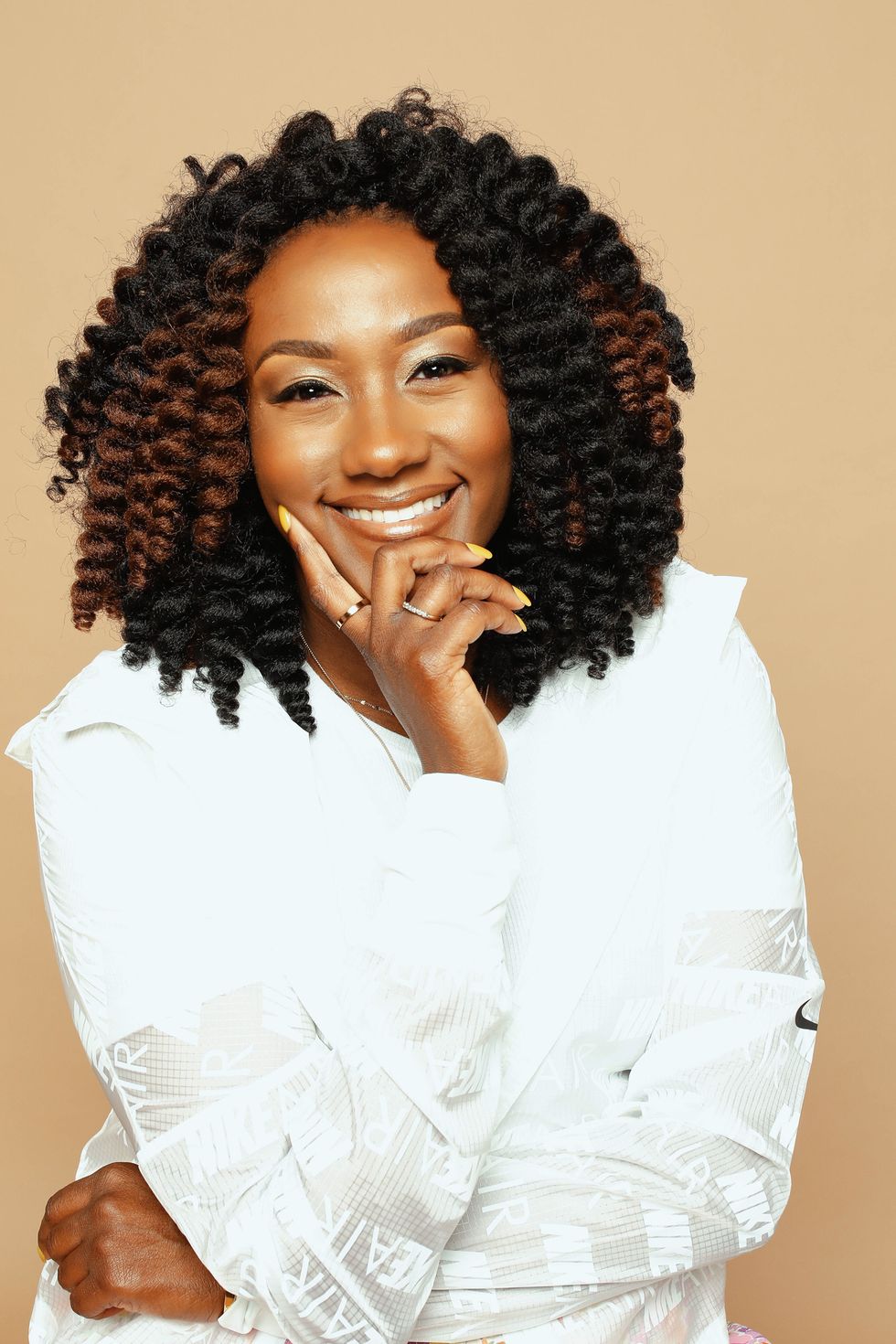 Bria Janelle
Photo: Courtesy of Bria Janelle
The McDonald's All-American in-game host recognizes her line of work as a Black woman in sports media as being an extremely rewarding experience despite adversity, especially as the only female emcee in the country who is the voice of a summer Pro-Am. "I feel like I am held to a higher standard because most men feel like they should be doing my job and can do my job better than me," she shared. Though she was bothered at first by the heckling and discomfort towards her professionalism, she turned to another influential Black woman in her life for sound spiritual advice
—
her mother. "She reminded me of my favorite Bible scripture," Janelle said, referring to
Jeremiah
29:11, "and challenged me to go harder, so I did just that."
Unfortunately, women are challenged to go harder in every aspect of life beyond athletics. Gaming and e-sports are another swept-under-the-rug topic of discussion when it comes to recognizing Black women as essential players in the game—no pun intended. "There aren't a whole lot of Black women in the bigger e-sports broadcasts; however, of course I deal with anonymous racist and sexist comments. This toxic behavior is common in the e-sports and gaming space, unfortunately," said
Erin Ashley Simon
about her experience.
Erin Ashley Simon
is a gaming and culture producer, broadcast talent, and e-sports host, and can currently be found on the weekly
Grass Routes podcast
. In addition, she has been seen on REVOLT TV, Cheddar Sports, and
The Wall Street Journal
. "In the gaming industry, the overall representation of Black women in video games wasn't the greatest and still needs to get better. Representation is still a problem, not only in games, but in publishers, developers, and more. There's still a lack of Black women in e-sports broadcasts," Simon notes. "The industry has to not have diversity be this pat-on-the-back buzzword and really needs to focus on inclusion initiatives."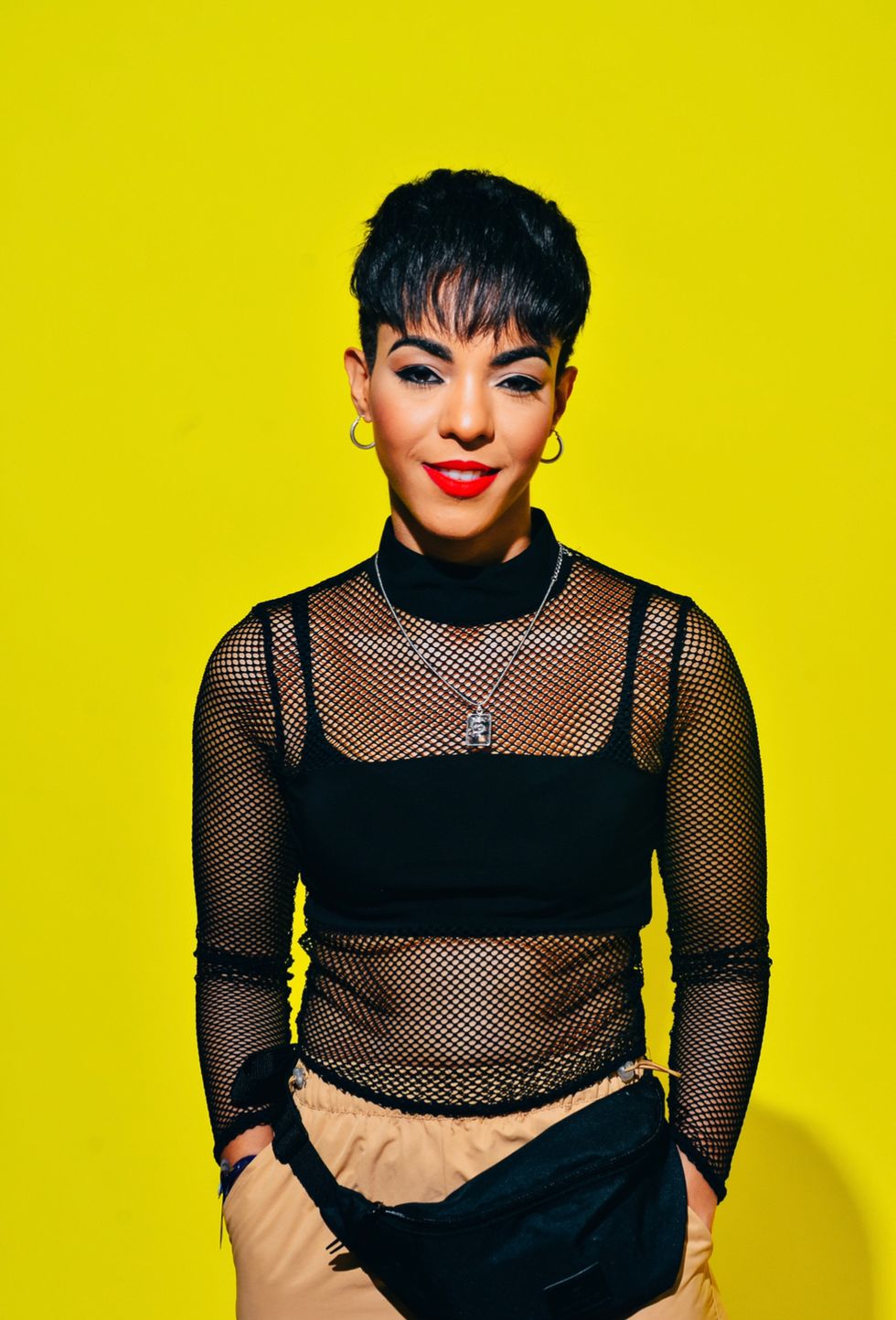 Erin Ashley Simon
Photo: Courtesy of Erin Ashley Simon
In order to make progressive strides in the sports media industry—let alone the sports industry as an entirety—Black women need the support from all angles top to bottom. "Sincerely and comprehensively empower them. [The year] 2020 has made the term
ally
 as popular as it has ever been in daily conversations," said sports commentator and basketball analyst
Monica McNutt
. She continued by adding that people need to grasp the true meaning of being an ally, which includes standing in discomfort and adversity aside from her without question. "I'll never be able to take off my race or my gender
—
this is my daily existence
—
but where you can, if you're truly 'bout this life,' stand with me and act. Speak up for me when I don't have a voice. Don't be a bystander as I'm mistreated. Allyship costs."
McNutt believes in the power of assessment by means of analyzing your staff and then doing the same analysis on the athletes or your target audience—are the numbers adding up? She urges workplaces to truly practice the essence of diversity by covering and serving a wide range of people to create a better organization. "I've heard people talk about the idea of diversity making newsrooms and organizations better, but the very approach that, usually, white men in positions of leadership have to that idea speaks of their privilege. They can pat themselves on the back for achieving the lowest modicum of diversity. Leadership that is sincere in this practice is literally the life blood of and vital to my career. It is imperative that the urgency match the moment. The bare minimum is not OK anymore."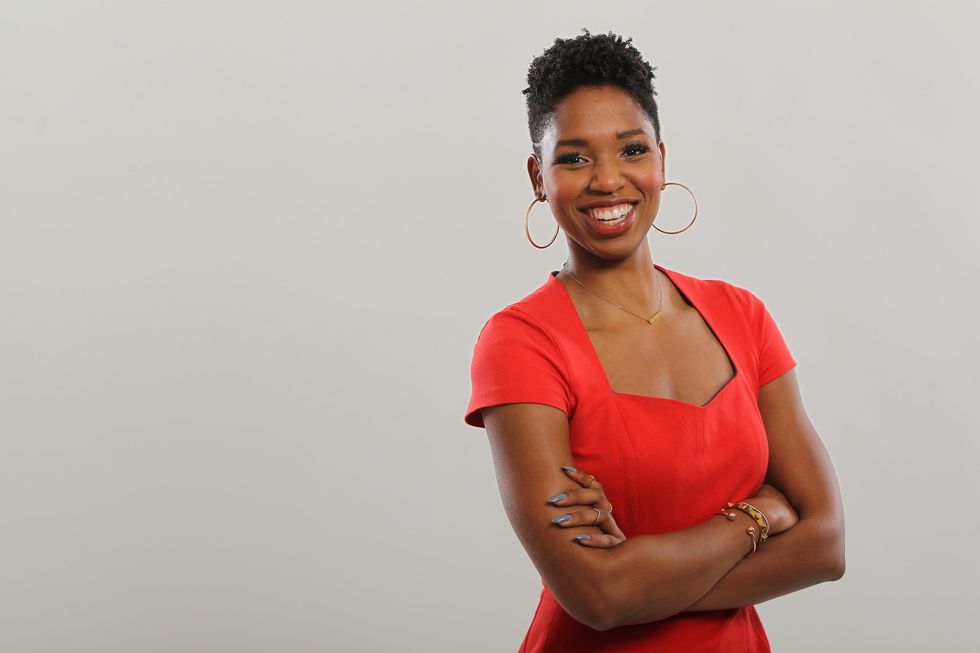 Monica McNutt
Photo: Courtesy of Monica McNutt
Champion encourages management teams, sports centers, and media outlets to do more work at the root of the problem. "We still need to have more power and more say. There are a handful of ways exceptional Black women executives that I absolutely love are doing some amazing things, like
Tara August
over at [Turner Sports]." As she continues to praise August for dominating, Champion brings me back to the point that it is an autonomy because, while we see beautiful presentations on screen, a lot of us may not have the voice to speak up and feel comfortable behind the scenes when it comes to the issues that Black women face daily.
Champion's newly announced forthcoming show on VICE TV with Jemele Hill,
Disruptors with Jemele Hill and Cari Champion
, is one demonstration of powerful Black women in sports being given the platform to be their smart and unstoppable selves—but the work doesn't stop here. Beyond seeing Black and brown faces on camera, Black and  brown voices need to be heard offstage in order to encourage more of us to own teams, produce our own shows, and be in that front office we always see the heteronormative white male sit in. "That's true domination, and that's taking over the sport in a way that's truly amazing," Champion said.
I couldn't agree more. We—Black women, alliances, accomplices, teams, media outlets—have some serious work to do. Who's in?
Top photo: Courtesy of Arielle Chambers
Want more stories like this?
Female Basketball Players Work Twice as Hard, So Why Are They Paid Less?
How to Amplify Mental Health Amongst Black Journalists
This Art Collector Wants You to Know Your Artists