Working from Positano with Designer Carla Sersale
Now, this is dreamy.
Career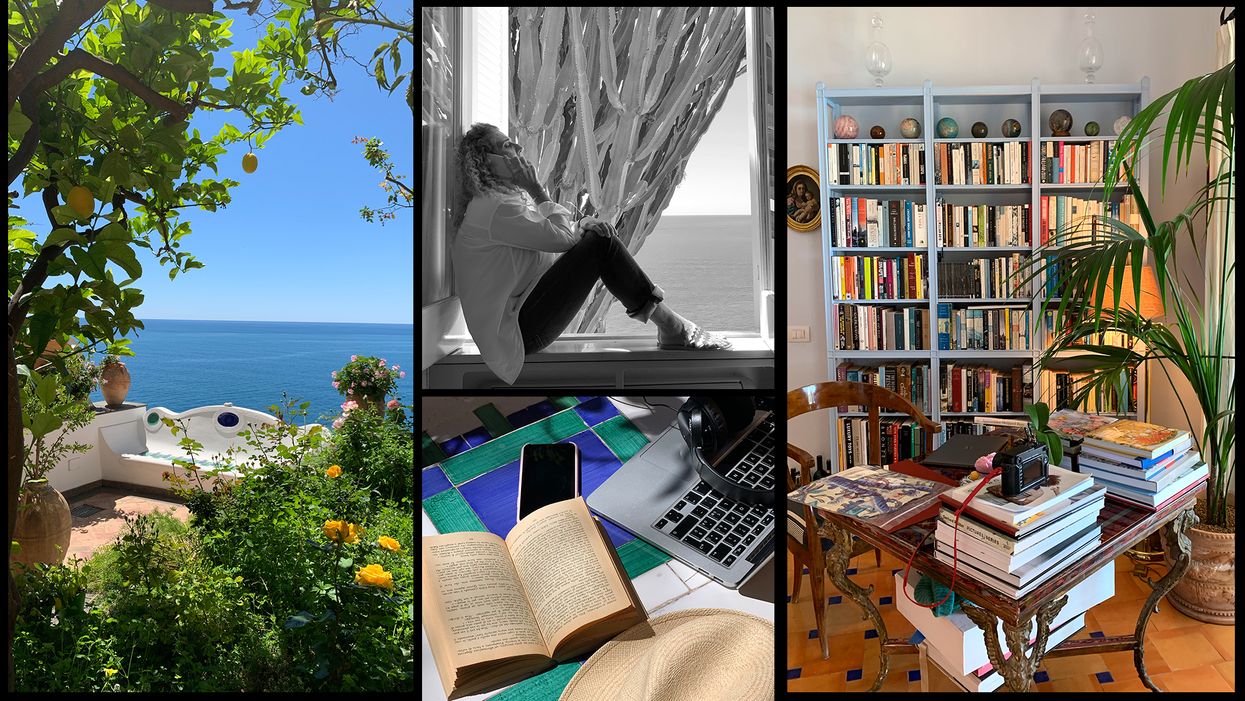 Each week we're checking in with friends to see how they're working from home and leaning into the summer months. Today we're chatting with Carla Sersale, the brilliant mind behind Emporio Sirenuse. Carla's boutique is situated next to Le Sirenuse in Positano, and her home office boasts a divine view of the Tyrrhenian Sea. Check out her video below, take a deep breath, close your eyes, and pretend you are beside her, basking in the glory of the Amalfi Coast. And be sure to take a peek at the items she's loving below to get your own little slice of Positano.
Working with music blaring, or in silence? If music, can you share some songs from your WFH playlist?
Carla Sersale:
 "I work in silence. But I take breaks and listen to music. Last month, Mia Moretti did a live set on
@lesirenuse
, and I am now obsessed with the playlist. It's available now on
Spotify
.
Lucy Wrubel
, an old friend and DJ from Dallas, did another gig. We have an endless supply of great playlists."
Do you take breaks, or grind straight through?
CS:
 "I start late, as my husband and I both love our breakfast ritual, and now that the hotel is closed, we have it on the balcony together every morning. I then start working around ten-thirty and keep going till about five. Then I am done for the day and have a cup of tea. No lunch. But from the tea we go straight into the aperitivo.
"Sometimes I still go to my office, and Antonio also goes to the hotel. Sometimes I am busy shipping out online orders that luckily keep coming in. As all my collaborators are now working from home, I do pretty much everything that needs to be done."
Are you integrating movement into your day (a walk, a workout?), or keeping it lax? Coffee, tea, or neither? How do you drink your coffee/tea?
CS:
"Walks or jogs outside are strictly forbidden in Italy. We can look at the beach from home, but it is totally and sadly empty, as nobody is allowed to go.
"I try to work out on the treadmill at the hotel at least twice a week for 40 minutes—then I stretch with yoga movements, and I'm done. I take a double espresso in the morning and one more coffee instead of lunch. No milk, no sugar."
Biggest WFH distraction?
CS:
"Two stray cats that we've adopted in this lockdown that are too adorable to be left alone."
How do you stay focused and motivated throughout the day?
CS:
"With difficulty." 
---
Taking a lunch break, or snacking all day?
CS:
"No lunch breaks. No snacking either. But in the evening I always make an effort to cook something delicious in my mini kitchen, where there is room for one person only, standing. It's a daily challenge, and I love it. This house was meant to be just a pied-a-terre for us to sleep in and go to the hotel for breakfast, lunch, and dinner, entertaining friends there as well. We've done so for the last six years since we moved in. In this isolation time, we are lucky that the fish here is fresh and quite amazing, and so are the veggies, the locally sourced chicken and sausages… Everything is so good, and I discovered that cooking is very soothing and gratifying."
Do you adhere to a strict schedule, or freestyle your day?
CS:
"I freestyle. I am not too good at disciplining myself."
Who is your entrepreneurial inspiration?
CS:
"The Maramotti family in Reggio Emilia, who founded Max Mara, started from nothing at the end of WWII. All their decisions were guided by their work ethic, and that I find admirable. Sustainability wasn't a word used in those years, but their growth could only be described as sustainable and ethical. Max Mara is now a multibillion[-dollar] empire; it is still in the family's hands, and they remain a rare example of understatement."
What do you miss most about going in to the office?
CS:
"I still go to my office in Positano, though not every day. What I miss is going to Milan, where I have a showroom and an office, and working with my niece and creative director. I miss the organic way of brainstorming with her in the same room, reviewing samples, fabric swatches. I find it very hard to be confined in one place relying only on Zoom and WhatsApp. Even though these are precious tools."
What does your video-conference wardrobe look like?
CS:
"I tend to dress in jeans and a top—I continue to do so on Zoom. No need for corporate attire. I love 7 For All Mankind jeans, but I also have Levi's and Citizen of Humanity's. One of my Le Sirenuse Positano shirts or tunics is ideal to wear all day over them."
Working in your pj's, or a power suit? Maybe a combo of the two?
CS:
"Before isolation, I still spent my days in jeans or, in the summer, in shorts (usually
Le Sirenuse
's, as they are the best!) with a white t-shirt or matching tunic on top. But then I was always changing at night into some nice dress (also usually from my collection) to go to Franco's bar or the champagne bar to start our evening. I admit that now I don't change. My husband and I reunite in the late afternoon and feel very lucky to have each other, even in this more domestic environment, where we do not change for dinner."
Favorite thing you're reading right now?
CS:
"I am reading Vasyli Grossman's
Stalingrad
. This is the 900-page prequel of the more famous
Life and Faith
(that I had already read). Grossman was a passionate war journalist. He covered WWII and the Russian response to Hitler's invasion. But in these books, he majestically describes the suffering as a consequence of the war and in Stalingrad's infamous siege. His characters are as real and profound as Tolstoy's, and it is a pleasure to read."
Favorite thing you're listening to right now?
CS:
"We started listening to jazz, something we've never done before. And the more we listen to it, the more we love it. Also, every morning we listen to a couple of turtle doves that always sing from the palo borracho tree in front of our home. We love them passionately, like there were our pets."
How do you unwind at the end of the day?
CS:
 "A drink! A glass of champagne or wine or a gin and tonic…with bread sticks and olive tapenade or parma prosciutto. Sometimes we meet friends on Zoom, but otherwise it is just us. But we never miss a day! Together with our breakfast on the balcony, this is the best time of the day."
What's your inspirational mantra that's helping you during this time?
CS:
"Take one day at a time. Impossible to make any plans, so don't even try."
How do you foresee this period of time impacting your industry?
CS:
"We are all now in survival mode. When we'll finally return to normality, we will see what needs to be done to start over. For sure, we will all get more digitally organized, both as a working method and with selling online. There are also talks of shuffling the fashion calendar in a more sustainable way. We will see. It is a challenge, and in a way it's exciting. We need to keep working as hard as we can just to remain afloat and hope for the best."
Five items you're loving right now (products, at-home workout items, comfy clothes):
CS:
"I live in my
Veja sneakers
. I workout in
Vaara gear
. I've been wearing
Eau d'Italie's Easy to Love fragrance
, which is my favorite. When I'm cold I wrap [myself up] in an old cashmere shawl by
I Pezzi Dipinti
. We have just launched a collaboration with Ancient Greek for summer, and I've been wearing
the Niki Onda style
almost every day, as it
'
s comfortable and easy to slip on."
Emporio Sirenuse
Vaara
Eau d'Italie
I Pezzi Dipinti
Le Sirenuse