In the Kitchen with Christina Chaey
The "soup enthusiast" cooks up a bowl of vegan goodness.
Food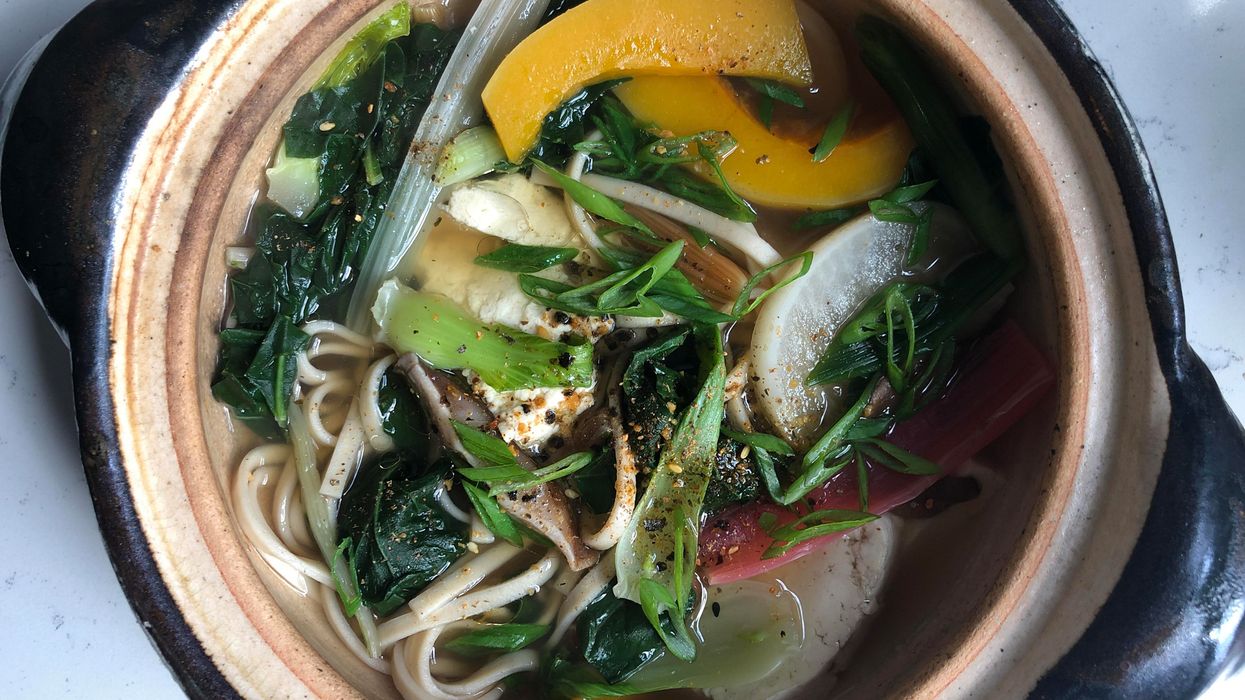 In this episode of
In the Kitchen
,
Bon Appétit
's
Christina Chaey
, a self-proclaimed "soup enthusiast," does just what her title suggests: She cooks up some delicious soup flavored with a rich mushroom dashi that can be created with a melange of leftovers and ingredients you most likely already have in your refrigerator. Christina's recipe will save you a trip to the grocery store and soothe your soul in one fell swoop. Check it out below.
---
---
Fridge-Cleanout Donabe with Mushroom Dashi
Serves 1–2
---
"This comforting mélange of vegetables, tofu, and noodles in a simple broth is meant to use up whatever vegetable bits and bobs you have in the fridge. It's naturally vegan, and with buckwheat soba noodles and tamari in place of soy sauce, it's gluten-free, too."
INGREDIENTS
3 dried shiitake mushrooms
1 3 x 4-inch piece dried kombu seaweed
3 ounces dried or fresh udon, ramen, or soba noodles
1 tbsp mirin
1 tsp soy sauce
Kosher salt
3 ounces butternut squash, peeled, seeded, sliced into ½-inch-thick half-moons
3 ounces turnip, scrubbed, sliced into ½-inch-thick half-moons
A big handful of leafy greens such as kale, Swiss chard, spinach, baby bok choy, or Napa cabbage, torn or thinly sliced
A small handful of Swiss chard stems, blanched
A handful of shiitake mushrooms, stems removed, thinly sliced
3 ounces firm tofu, cut into ½-inch-thick slices
Scallions, whites and pale-green parts cut into 2" pieces, dark green tops thinly sliced
Toasted sesame oil, for serving
Shichimi togarashi, for serving



Directions
Mushroom Dashi
1. Add mushrooms and kombu to a clean jar with two and a half cups of cold water.
2. Cover and refrigerate at least eight hours and preferably overnight, until the dashi takes on a golden hue.
3. Strain dashi, reserving the soaked mushrooms for another use.
Noodles and Assembly
1. Cook noodles according to package directions.
2. Drain and rinse under cold water.
3. Shake off excess water and set aside.
4. Pour dashi into a 1.5- to 2-quart donabe or saucepan and add mirin and soy sauce, and season with kosher salt.
5. Bring dashi mixture to a simmer over medium heat.
6. Add squash and turnips, cover, and cook until vegetables are almost tender, about five to seven minutes.
7. Carefully uncover and add greens, Swiss chard stems, mushrooms, tofu, and scallion pieces. Cook for one to two minutes more, until greens are wilted and tofu is warmed through.
8. Serve topped with reserved scallion greens, a drizzle of sesame oil, and shichimi togarashi.