In the Kitchen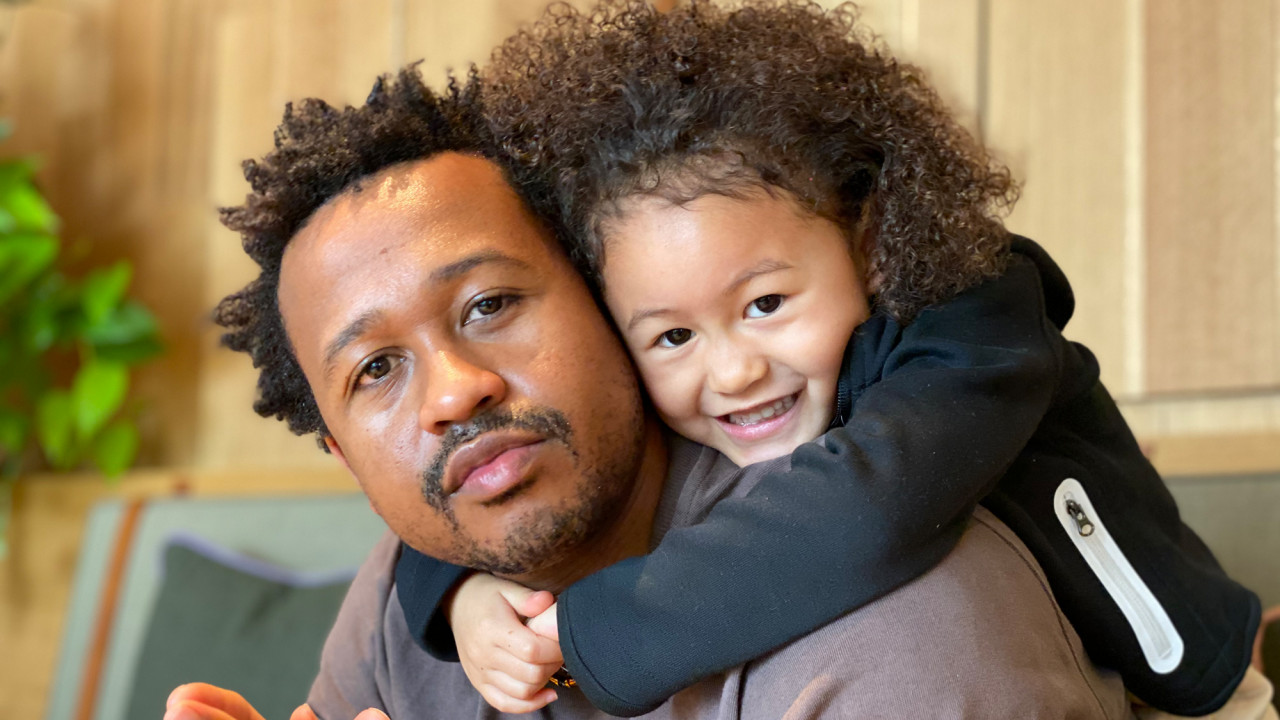 In the Kitchen with Ghetto Gastro's Malcolm Livingston II
The chef whips up his signature pasta dish—alongside a *very* important sous chef.
In this episode of In the Kitchen, we follow Ghetto Gastro's Malcolm Livingston II and his adorable daughter Elli as they cook up their "Wholly Trinity." We're not sure what's more delicious, the finished dish or Elli's cheeks!
Along with sharing this delicious recipe, Malcolm would also like to highlight the Food Bank for NYC to support those most in need during this difficult time.
---
Malcolm Livingston II
'

s Wholly Trinity
---
Whole-wheat spaghetti, caramelized onion, mushroom, and artichoke
Serves four
Ingredients:
1⁄2 pound whole-wheat spaghetti
1 yellow onion, halved and then slivered
extra virgin olive oil as needed
6 preserved artichokes
4 garlic cloves, crushed
Handful or more of mushrooms of your choice; slice thin and save trimmings
1 tbsp non-dairy butter
1⁄3 cup cashews
¾ cup hot water
1 tbsp red miso paste
pasta cooking water
oil for frying
Italian flat parsley, chopped
sea salt and freshly ground black pepper to taste
drizzle of extra virgin olive oil
Directions:
1. Heat a large pot of salted water on the stove to cook your spaghetti.
2. In a pan over medium heat, sauté the sliced mushrooms in two batches with a touch of olive oil. Season with salt and black pepper and some of the crushed garlic; reserve on a plate.
3. Add some olive oil to the same pan used for the mushrooms and sauté the onions until caramelized, seasoning with salt and pepper. When the onions are caramelized, add in the mushroom trimmings, last remaining bit of garlic, artichokes, and butter, and cook for about 3–4 minutes.
4. Add the soaked cashews with the soaking water to the pan and bring to a simmer.
5. Transfer the mixture to a blender or food processor; blend until smooth.
6. Use some of the boiling pasta water to thin out the sauce. Add 1⁄2 cup of water at a time to get the right consistency. Transfer the sauce to a pan off the heat and reserve.
7. Heat a pan with oil to 375°F. When oil is heated, add half the pasta and fry for 40 seconds. Remove pasta, drain off excess oil, then add to the boiling salted water and cook for one minute. Add in the other half of the uncooked dry pasta and cook according to package directions or al dente.
8. On low heat, stir the sauce with the miso paste, cooked mushrooms, and a touch of pasta water until the miso is dissolved and the sauce is fluid. Do not overheat or boil; just warm through. If your sauce gets too thick, just add a touch of pasta water. Season with salt and pepper. Once pasta is cooked, reserve some pasta water and drain.
9. Add the drained spaghetti to the sauce and stir to coat; add half the chopped parsley. Plate the spaghetti, drizzle with extra virgin olive oil, and add sea salt and black pepper to taste. Garnish with chopped parsley.