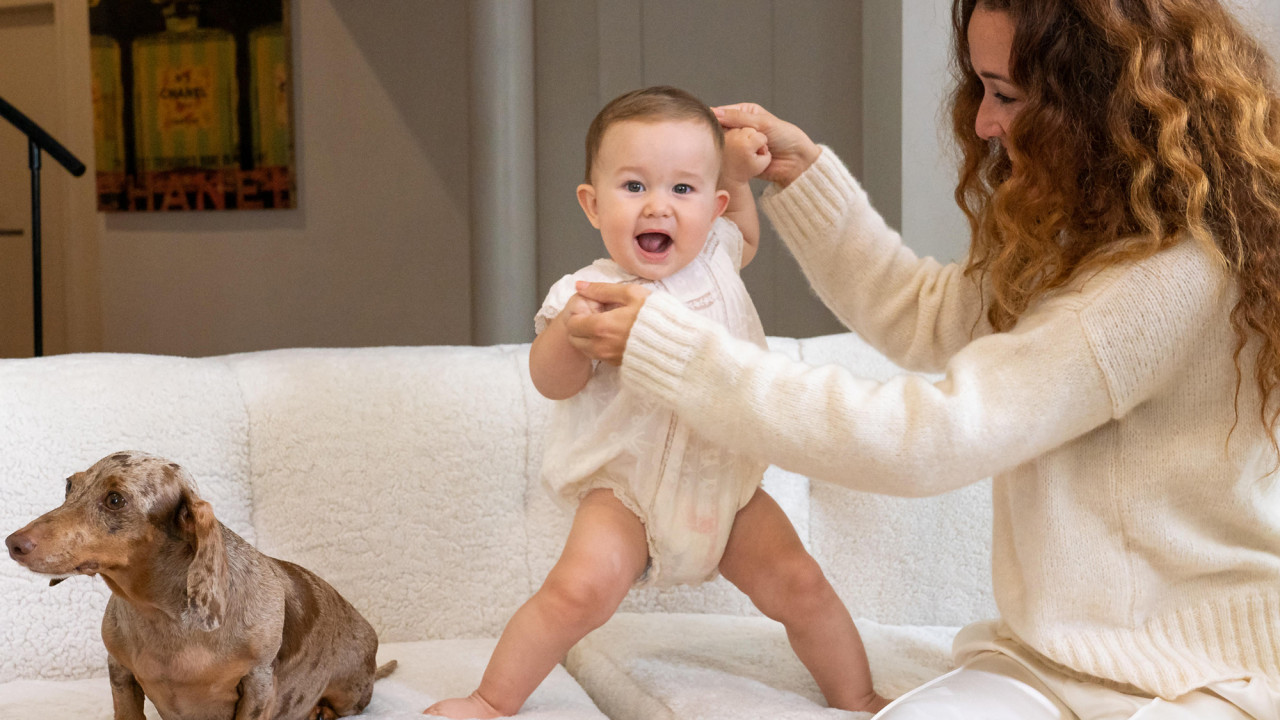 6 Women in Fashion Talk WFH with Kids
Let's just say flexibility is key.
By now we've all accepted working from home as the "new normal." We've established routines for ourselves to maintain some semblance of regularity during this time of looming uncertainty. With kids, however, working from home isn't as straightforward, and those kids' schedules you so optimistically laid out in the first week of quarantine aren't so easily executed. Zoom meetings are interrupted by sibling fights. Your six-month-old's nap schedule dictates your own. Just as you're about to get on a call, your toddler whimpers for lunch. You've run out of breakfast food, and the next Amazon delivery isn't until next week, so…ice cream? If you haven't lost your mind, patience, or temper at least once by now, can we have your therapist's number?
For the majority of you that have, we've asked a few of our favorite stylish moms what they're doing to survive working from home with kids. And while glamour is typically part of their daily lives, let me just say that none of them have figured out a glamorous way to do this. In fact, almost each one will advise you to just let go. At the end of the day, you're just as much a participant in this as your kids are, so meet them halfway and know that most of the decisions you make during this unique time won't affect your kids in the long run. Ultimately, keeping them home, safe, and healthy is all that matters. There's a silver lining, too. More shared family time means getting to know your kids better and getting to watch them grow up before your eyes. You'll eventually look back on these days and cherish these moments with them. But for now, here's how to get through them with some tips from moms we trust.
"In trying to make the new normal work for me, my biggest lesson has been to just let go and show my kids that we all have to be flexible. iPads when they wake up? Sure. Dye my hair pink? Why not. Eat dessert after every meal? Absolutely. While, yes, a schedule is nice, this is a different time, and it calls for allowing some things we typically wouldn't as parents. I also take all my work phone calls from either my kids' bunk bed or hiding in my bathroom…cheap shampoo on full display. What's helped me and my family the most is that I've dedicated myself to trying one New York Times cooking recipe a day, and the idea of looking forward to meal time together over home-cooked food is a true miracle in our house."
"I'm surviving by taking it one day at a time. Do not plan the entire month. Every day is going to be different, so I'm learning to embrace it! Also managing expectations and being realistic with myself. For example, I acknowledge I can't work as many hours as I can in my office, and that's OK. I've had to divide an eight-hour work day in half. I work four hours each day, and the other four hours we have quality time with our son. But we are not machines, so maybe one day you work two hours instead, and that's OK! This is a complicated situation, and we are doing the *best we can.* When I'm working, I lock myself inside my room, but when I'm out, it's all about my kid; no guilt. I'm also realizing how patient I have to be. Your kid feels everything, and now more than ever they need to hear sweet words, how much we love them, and they need to laugh with us and sing and dance and play! Getting creative is also important. I know we are tired and we have a lot on our plate, but it's not our kids' fault, and they have so much energy. I research different activities and art projects over the weekend to do during the week—@mothercould has amazing ideas on their Instagram page. Making regular tasks fun is also something we've been experimenting with, like involving him in the cleaning and cooking and even helping us with the laundry (he loves throwing the clothes into the washing machine). For the kids, this is all a fun game; for you, it's incredible because you still need to get all of this done, and it's less stressful because they're [enjoying it]. Once you have your system down, it's all about your time. I'm using his nap to read a novel. Yes, I have a million things to do, but this hour and a half is for me to unwind. At 9:00 AM every other day I am also trying to exercise with The Class or Tracy Anderson. My kid dances with the music, and some days I can't finish the hour class, but even if I get 20 minutes done, I feel so much better!"
"I think what's kept our whole family sane is making schedules for everyone. My husband and I each have allocated work time and allocated childcare time throughout the day. Likewise, our children, particularly our six-year-old son, have an hourly schedule that starts at 8:00 AM with making beds, brushing teeth, and getting dressed. We might not have anywhere to go, but I think the act of changing clothes sets the tone for the day ahead. Roman is in kindergarten, so he has school during the week, which is a mix of Zoom meetings with his class and assigned activities to do at home (i.e., we are now his teachers). We typically don't allow screen time during the week, but in this new reality, screens are essential on so many levels—schoolwork, for one, [and] also for connecting with friends. Virtual play dates are a thing! They really help the kids feel less isolated. We are also allowing regular movie nights to give me and my husband a small break at the end of the day and keep us sane! The only condition is that we choose the movie. It's been a really nice opportunity to introduce some classic old films, like E.T. Our daughter Paloma isn't yet two, so she's too young to watch things or do many of the same activities as Roman. It's another juggling act trying to tend to both children physically and emotionally when they're at such different stages. Luckily, her brother is her hero, so if he is reading a book, she's happy to be his audience. I've always said that boredom fosters creativity, but nothing has proven that more true than being in this somewhat open-ended existence. The brilliant and beloved children's author Mo Willems has been doing a daily lunchtime doodles livestream from his studio (I highly recommend it!), and it has ignited such a passion in Roman. He's been writing and illustrating his own books. In terms of my schedule, my husband and I each have designated work spaces, and I find that I am hyperefficient now that I have more limited windows of time. Though I miss having somewhere to go—I miss the human connections—it's allowed for a lot more introspective thinking. And I'm incredibly grateful to have this time with my family. I am very much looking forward to all of us returning back to work, school, life as we know it (and to having a nanny again!), but I'm also really appreciative of this precious time to witness my children growing up."
"We are very lucky to have a little house in Bellport that we escaped to about three weeks ago, so we have an outdoor space and more rooms for me to duck and cover to when I have to take a conference call. It's a little bit like hide-and-seek, with me hoping for not so much of the seek. Given my son is out of school, we have opted to move his bedtime to later, which he loves, so that I can get up early in the morning to work undisturbed. I have some clients in Europe, so this timing is ideal for my calls with them. My son can be demanding, so I usually negotiate with him when I'm working on something time sensitive. If he gives me 30 minutes to work, then I will build a train track with him after. He loves trains, and I love working with him on complicated patterns, which I find somewhat cathartic in the middle of a stressful day, so it's win-win. At this point over three weeks in, I'm not ashamed to say we fall back on the TV and specifically his favorite movie, Cars. The beauty is he can watch it over and over again and still squeal with delight as if it's the first time. We all come together and eat lunch together at the table, and I love that—it gives the day some structure and alleviates any guilt I feel for not being present too much in the morning. I also try to dial into Google hangout calls by phone; it's just much easier to mask the chaos at times—between nursing my daughter and an overenthusiastic toddler that thinks nothing of chiming in or bringing his meltdown to the meeting, it can be disruptive. And of course the mute button has become my very best friend in all of this!"
"It's a challenge to homeschool the kids while working remotely, I'm not going to lie. Week one was the hardest until everything got into its rhythm. Gloria, my 10-year-old, is very organized and manages her schedule without any supervision in her room. She studies and takes it seriously, as if she was in school. She just leaves the room when the school day is over. My son is six years old, and oh my!—he can barely sit still, so he requires hand holding. He has definitely seen a dark side of his mummy, because my patience is not like his first-grade teacher. From Monday to Friday, I start the day with him at 8:00 AM, so it allows a full hour of devoted school time before I jump on my calls. That's when we go over his schedule, and we work on writing work. When he has a break, I start my day. Kids like consistency, so every day we keep the same routine. As a family we know that from 8:00 AM to 2:00 PM, it's quiet working time, and they have been following. They like the structure. Routine has been key to giving them some stability during this time. That's what we are thriving on the most as parents."
"We have set a schedule that coincides with our girls' school schedule, so I try to take on design work at the same time they are engaged in theirs. We have also been exercising at the same time they do their recess and gym and setting fun family activities like biking, running, or swimming. My girls have been very excited to share their arts and crafts, and they use our LoveShackFancy prints as inspiration for their arts projects. It's been so wonderful to spend all this time with them doing DIY projects from home. While I know it can be hard sometimes, I feel like we are all doing the best we can, so whatever you can do is better than nothing at all. And of course it's never too early for a glass of wine. Take a moment for yourself. While we never could have imagined we would all be in this place, try to appreciate your time together as a family. I am learning what my girls are doing in school, and they in turn are learning about my work life. Every day is bring-your-kids-to-work day, and I'm sure one day we'll look at this time as completely magical."
Top photo: Courtesy of Alejandra Alonso Rojas
Want more stories like this?
Friends of Coveteur on What They're Doing to Take Care of Themselves Right Now
How 6 Coveteur Staffers Approach Working from Home
How to Stay Grounded While Working from Home