WWWRN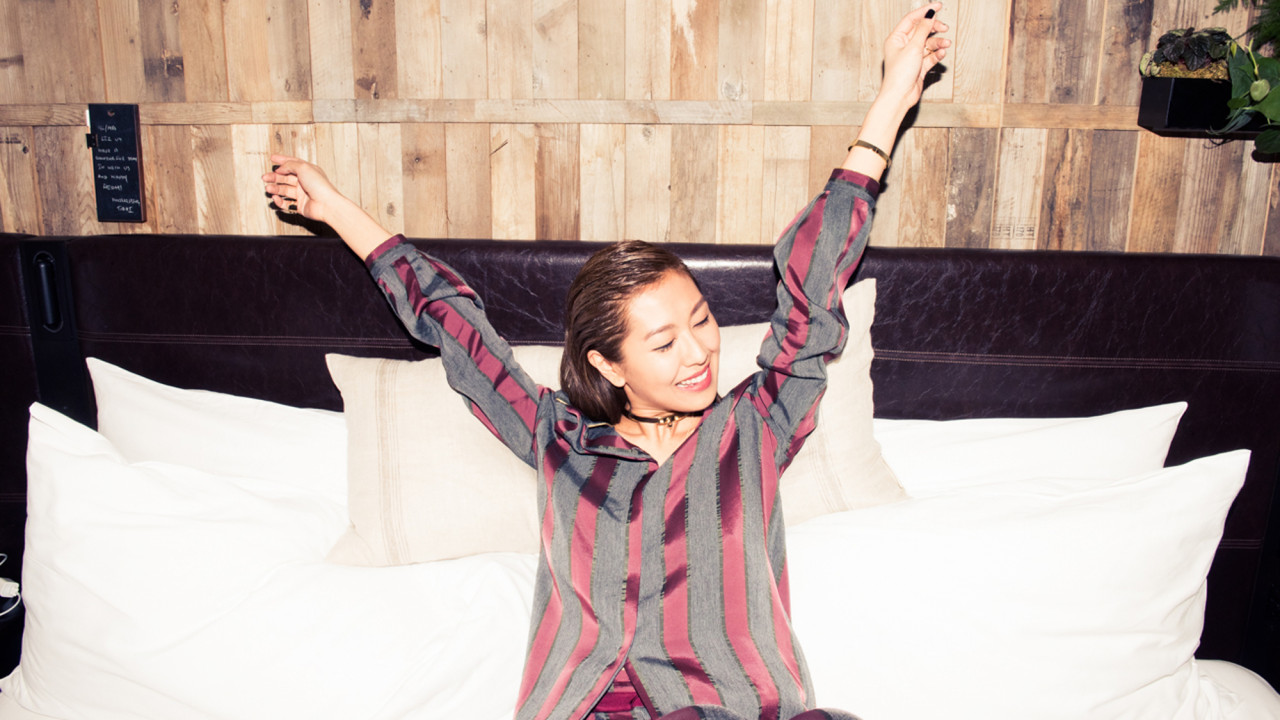 Pajamas You'll Want to Wear All Day Long
Our editors are weighing in.
Due to our current WFH situation, there has been a lot of buzz surrounding how important it is to actually get dressed during the day to stimulate productivity, despite the fact that many of us seldom leave our couches. We applaud all of your eye-catching WFH outfits (especially those that involve denim). That being said, the reality is that there are still days when we've glanced at the clock mid-afternoon only to realize we are still in pajamas. That is OK, too. Somehow this seems like less of a conundrum when we have a nice pajama set to lounge around in versus our old college t-shirt and boxer shorts (no shame if that is you). Here are all of the pajamas our editors are sleeping in, hanging out in, cooking in—there are no limits.
---
Jessica Teves
Head of Content
1. Lonxu Womens Satin Pajamas: Cozy, chic, bargain—what more can I say?! These are the best, truly.
2. Aerie Gamechanger Henley Tank: I have these in a variety of colors and love how soft the henley material is on my skin—perfect for sleeping and, well, now just basically living in all day long. I tend to size up, since I like my fit a bit on the looser/long size.
3. Cosabella Savona Chemise: When the weather warms up and I'm not looking for anything quite as cozy, I typically turn to this delicate chemise. It's not too fussy for everyday, but the floral lace is a nice detail that somehow feels luxurious while wearable.
---
Hannah Baxter
Senior Beauty Editor
1. La Ligne Bonne Nuit Pajamas: Although I am a huge proponent of wearing ratty concert t-shirts and my partner's gym shorts to bed, I am slowly coming around to the idea of fancy pajamas, especially when I'm at liberty to wear them all day, every day. There is no denying that this 100-percent-cotton set is the most comfortable thing I have ever put on my body, period. Get them now—you won't regret it.
2. Richer Poorer Femme Boxer: Underwear? Jammies? These cutie-pie boxers are basically both. When you just want a streamlined sleeping outfit, I cannot recommend these highly enough.
3. Asceno Milan Sky Stripe Oversized Pyjama Shirt: You deserve to wear a silky, slippery shirt to bed just as much as you deserve to impress your coworkers over Zoom with your seemingly professional attire. This bad boy does both. Good luck trying not to splurge on a set of pajama pants or shorts to go with it.
---
Leah Faye Cooper
Editorial Director
1. GINIA Silk Chemise with Pintucks and Lace: A few years ago I started treating myself to nice sleepwear, and it's really elevated my after-work mood. (You can read all about that here.) I've since become a fan of a handful of sleepwear brands, among them GINIA, which makes the most beautiful chemises. I'll take this one in every color.
2. Ugg Fuzzette Slippers: I've been more than content with my sole pair of Ugg slippers for the past few months, but now that they're the only shoes I'm wearing, I'm compelled to get a new style. These are no doubt as fluffy and comfortable as the ones I already own, which I love.
3. Eberjey Iona Enchanted Teddy: These ruffled accents are divine. I'm going to look amazing on my couch in this.
---
Camille Freestone
Freelance Writer
1. Lunya Resort Linen Silk Shirt Set: Recently, I've found joy in sleeping in actual pajamas versus whatever t-shirt was closest when I went to bed. I have to admit that it is a nice feeling to like what you're wearing even when you go to sleep.
2. For Restless Sleepers Ade Pajama Shirt: In a perfect world, this is what I would wear to bed every night. Plus, you can *technically* wear it as a top when you finally leave the house again.
3. Sleepy Jones Paloma Pajama Short: Although I have started wearing legitimate pajamas, there are still some nights when the old t-shirt comes into play. For those times, I like to have a few good pairs of pj shorts on hand since it is physically impossible for me to sleep in pants.
---
Isabella Sarlija
Editorial Beauty Fellow
Part of the series:
WWWRN