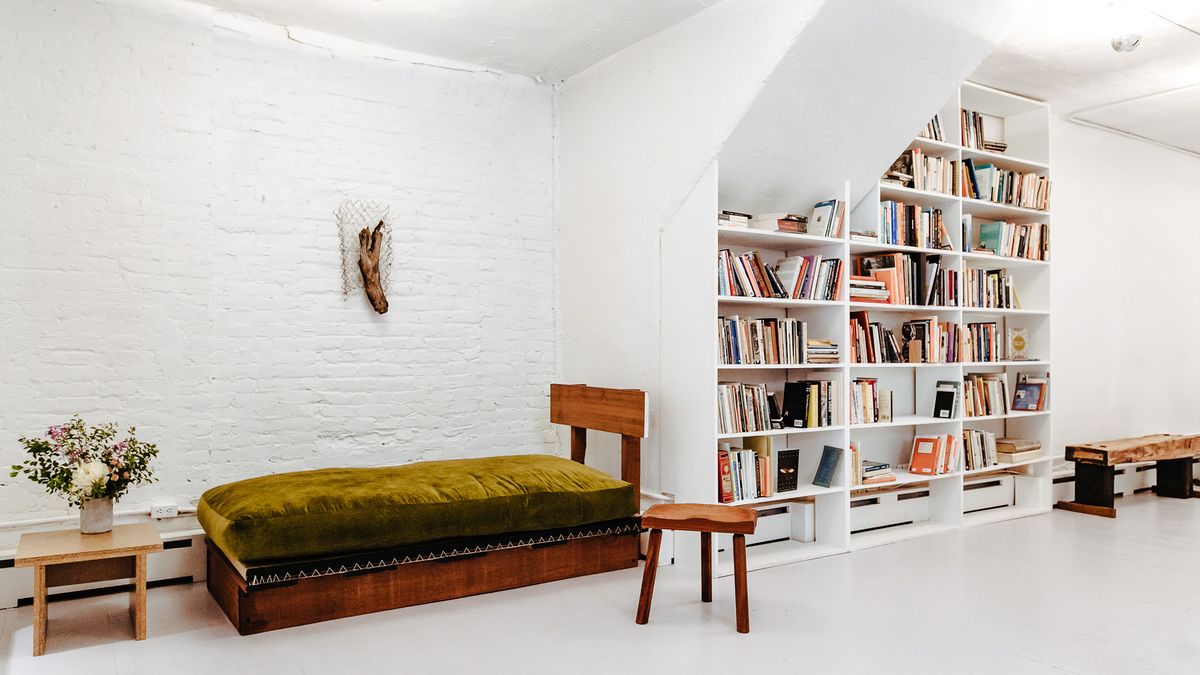 Interiors
The founder of Reset on mindfulness, Wishbone chairs, and why you need a focus crystal on your desk.
The first thing I noticed about
Reset
was the thoughtful interior design. Reset is a very special space in Nolita that combines executive career coaching—generally considered very left-brain—with ancient practices, including sound meditation, breathwork, and astrology, which all have more right-brain vibes.
Unlike some career-focused spaces that might take their cues from the corporate world, stepping into the floor-through space feels like stepping into your coolest friend's apartment. For example, the stools in the studio are a collaboration between designer
Bode
and furniture and interior designers
Green River Project LLC
, both cooler-than-thou downtown brands that manage to temper their hipness with a refreshing down-to-earth quality.
I discovered Reset last year, when founder Liz Tran invited me in to experience an astrology reading in her brand-new space. In this wellness-obsessed culture we've found ourselves in, it should come as no surprise that mindfulness and other spiritual-based practices have (finally) infiltrated the workweek, but Tran approaches all of this with a delightful sense of groundedness—and a twinkle in her eye. (She also gives an amazing reading of the stars, though she has stopped doing one-on-one sessions, mostly because her executive coaching work has been so productive.)
Tran, who has led workshops for corporate teams including Facebook, Instagram, Viacom, Outdoor Voices, and Anne Taylor in the space, says the connection between mindfulness and corporate life has become legibly stronger as time goes on. "It's been a wonderful surprise to see just how much interest we get from companies and to see the culture of work really changing," Tran tells us.
Perhaps a healthy part of the magic of Reset's physical space is the abundant crystals, which range from an 800-pound smoky quartz from Madagascar to a delicate collection of sparkling crystals floating on dainty shelves. "I always have what I call a 'focus crystal' on my desk," Tran says. "When I am about to dig into a meaty project, I'll hold the crystal while I meditate and set my intention to focus and connect to my deep well of knowledge and creativity. Then I place the crystal right in front of me. When the crystal is on my desk, I know that it's time to focus, no matter what."
If you're based in New York, do yourself a favor and, uh,
reset
at Reset. From a weekend-long "
urban retreat
" featuring deep meditation, yoga, movement, breath work, astrology, and fresh, healthy meals, to an
astrology and Feng Shui workshop
to help you design "strategies and rituals for the home to help manifest goodness in your life," the space is teeming with opportunities for literal and figurative pause. And if you live elsewhere, Tran has created
online workshops
with intriguing titles like "Meditation for Mood" and "Get Paid: A Money Manifestation Class for Women."
Click through to discover Reset's space and the gems therein—and when we say "gems," we mean that quite literally.
---
1 / 8
"The chair was made by
Green River Project LLC
, and that is a 300-pound rose quartz by the front desk. Rose quartz is known for its 'heart-opening' properties, which we felt were apropos for the entryway. The studio is filled with crystals because I wanted Reset to feel like an escape from the city. We live in such an artificial world in New York City—everything is synthetic or manufactured. So we wanted to counteract this by filling Reset with materials that are pulled straight from the earth with very little alteration. Even though we are located right in the heart of Nolita, it truly feels like an oasis, because we have so much calming crystal and wood in the space. And, of course, crystals are powerful for cleaning energy. With New York City filled with so much stress and anxiety, we brought in a lot of dark crystals to absorb negative energy and lighter crystals to magnify positive energy."
Photo: Courtesy of Reset