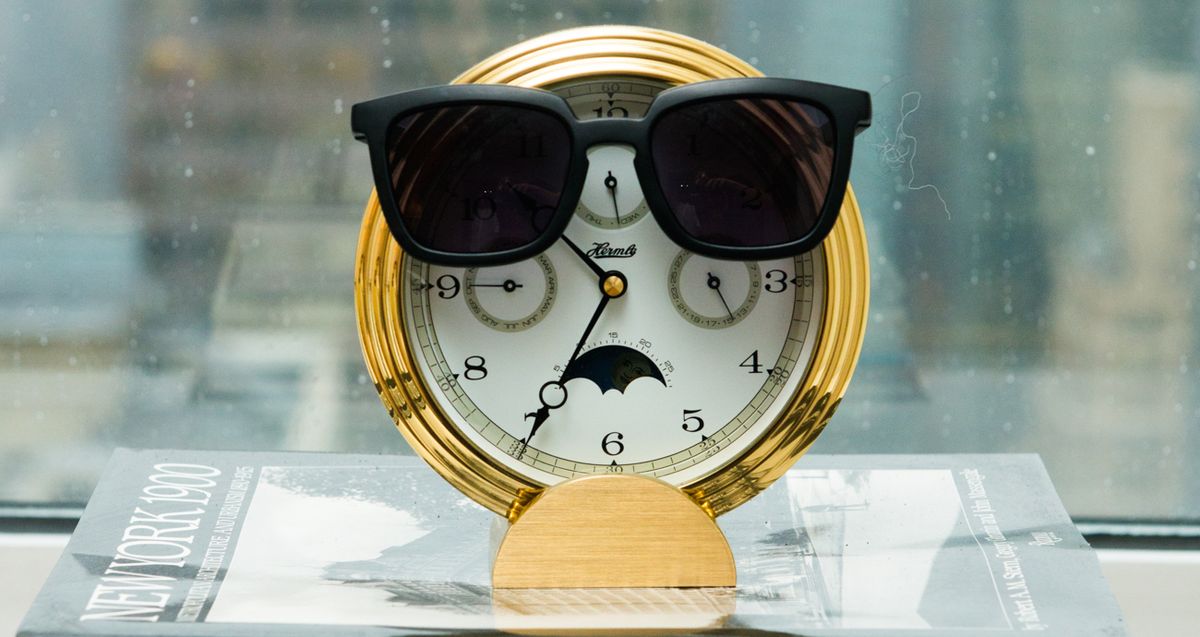 Wellness
I Tried Group Meditation and This is What Happened
BRB. Self-Reflecting.
To be quite frank: I'm a meditation skeptic. Despite growing up playing guinea pig to every new hypnotherapy and meditation trick that followed my therapist mother home from work, I can't say I ever really warmed up to the concept (read: I complained). Don't get me wrong, I can curl up with a book for days on end (insert a beach and margarita between the lines), but the act of just sitting and breathing? Or worse, chanting to myself? Yeah, not so much.
---
In spite of my disinterest, however, the cool kids have conceded that soul searching is the new SoulCycle, so I figured I should give it a fair shot, too. And, like, Gisele does it, so VS here I come, right?
 
First things first was finding a free beginners class, which took all of about two minutes and all-knowing Google to do. Apparently the meditation world is eager for newcomers. But then I hit a wall—what does one wear to group meditation? Do I need to cover my shoulders? Should I wear exclusively Lululemon/stretchy yoga clothes? Are stretchy pants too revealing? Should I wear those (classic tourist) elephant print pants I got in Thailand? Are skirts allowed? To add fuel to the fire it was 92 degrees with about 85% humidity. *Snaps* for summer. Thankfully years of "conservative" Hebrew school uniforms and dressing for my bat mitzvah had taught me something, and I landed on a black sleeveless flowy long dress—perfect parts Grecian goddess and, well, Amish.
 
Given that my sartorial struggles had taken so long, I had to do a sort of half run/speed walk to the class, arriving both sweaty and stressed. Meditation, meet your match.
THE CLASS
The class was held in a basement room at my local library and consisted of a semicircle of chairs filled with both men and women, a mix of ages and ethnicities. No warm-toned candles, no beaded pillows and blankets, no slightly-too-strong choke-inducing incense, and absolutely no reason to have been stressed about what to wear.
 
The group faced our guru for the evening, a clean-cut, middle-aged man with highlighted hair, incongruously wearing a tight T-shirt, skater shoes, and some questionable pukka shell and beaded necklaces, with a guitar by his side. If I knew B4-4 would be leading my spiritual awakening, maybe I would have come sooner.
The 2000s boy band-member lookalike introduced himself and began by handing each person a card that contained two ancient Sanskrit mantras written on it, explaining that he would teach us three easy mantra meditation techniques.
 
The first method, aimed at "relaxing and rejuvenating" oneself, consisted of sitting in our chairs feet flat on the floor, eyes closed and palms up, focusing on our breath. For each deep breath in, we chanted the words "gauranga nitai-gaur" on the way out. While the process was quite straightforward, I found that I took longer breaths than the group, which meant I was having to constantly play catch up to say the mantra in tandem with the others. So chill. This was only an hour class, so we did about ten minutes of this before moving on to the next technique.
We were then each given a strand of wooden prayer beads, a tool (or fashionable accessory for some) used in several religions to help mark the repetition of chants, and in this case, our five word mantra. Sitting with our eyes closed and breathing as we did before, we chanted "gopala govinda rama madana-mohana." Starting at the "head" prayer bead—ie. the one that joined the necklace together—we held it between our thumb and forefingers and sang (well, like, murmured) the mantra before moving on to the next bead.
 
I'd like to momentarily pause to mention that chanting five non-English words from memory while simultaneously ~relaxing~ is not an easy feat. What ever happened to a good ol' "om?" Despite my poor linguistic attempts at pronouncing the mantra from memory and simultaneously disrespecting all the divine spirits, I actually really enjoyed the touch aspect of the prayer beads. Excellent for those of us verging on the ADD arena. Do Adderall and meditation mix?
 
Despite that momentary positivity, I was only about three quarters around the strand before I got restless. Thankfully, we were only doing one round, a mere fraction of the time a seasoned meditator would do.
The third technique involved the guitar. Yes, my new-age Aaron Carter was finally getting his chance to shine. Using the same five word mantra as before, which I'd finally managed to memorize/pronounce (*pats on back*), we sang along as our leader strummed away to a soulful beat. It was all very Peter, Paul and Mary and had me wishing my hair was about ten inches longer and I was lying in a field in 1968.
 
Thankfully everyone in the room could carry a tune to a bearable degree, so the singalong was actually quite lovely. Like the past two techniques however, I lasted about six mindful minutes before my concentration and patience disintegrated. Maybe we could switch up the tune? Some group beatboxing? No? No.
 
To my ailing focus's demise, the spiritual singalong continued for another ten minutes or so, which in turn felt like an abso-fucking-lute eternity. We eventually reached the final note and we sat in silence for a moment, and then were bid adieu. Oh, not before being told we could buy our great leader's CD. Because of course.
Okay, so maybe I didn't have my spiritual awakening, almost keeled over out of boredom and likely won't be the next Goop, but I got a cool(?) necklace and got to revisit my boyband fan-girl years. Will I try this at home? Maybe. Some wine and soothing tunes never hurt anyone.