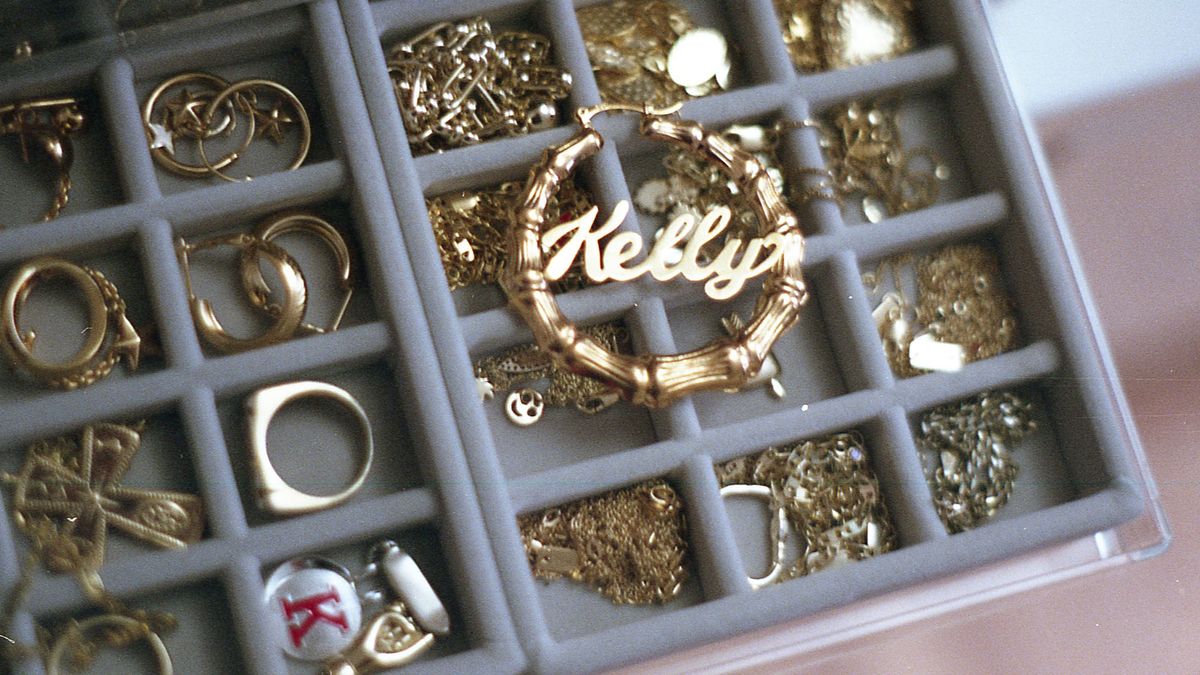 Designers
The Jewelry Brand Celebrities Are Flocking To for Custom Pieces
On the ears, hands, and necks of the likes of Beyoncé, Dua Lipa, and Sza.
If you're a lover of jewelry, you may have taken note of one particular New York-based brand that has been taking over. 
Shami
, by twin brother and sister duo 
Kelly
and
Mark Shami
, is behind Alexa Demie's nameplate necklace and hoop earrings, 
SZA
's red-and-gold
S
 pendant necklace, and
Ella Mai
's custom
"
Boo'd Up
"
hoop earrings (among many others).
The Shami siblings have jewelry in their blood—their father owned a jewelry store on 47th Street. After several years of planning and plotting (while both working numerous jobs), their namesake brand finally came to fruition in 2017, and not too long after, Shami has been spotted everywhere. After many days spent scrolling through the
Shami Instagram
and
website
, we caught up with Kelly (who handles all of the brand's design elements) to get the backstory on the brand, discuss a few collaborations, and find out what's next for them.
---
Shami is Kelly's second jewelry brand:
"When I was around 18 years old, I moved out of my parents
'
house and engulfed myself in work while also attending the School of Visual Arts. I worked many corporate creative jobs, but always felt connected to jewelry. I had worked frequently with my father growing up, who has been a retail and wholesale jeweler for over 35 years. I worked summers, holidays, and weekends at my father's store on 47th Street, where I learned a lot about the terminology and crafting of jewelry. During my time of going to my internship, job, and classes, I developed a small line of jewelry and saw a good response. I was super proud and loved the feeling. Aside from art, jewelry always felt natural and sentimental to me. It is an art form even more than a fashion form for me personally. After that I took a job at a music company, which took up a lot of my time. I never stopped designing jewelry and conceptualizing collections, therefore it only felt right to rebrand and create a new line with what I learned over the years."
They wanted to honor their father and everything he taught them:
"Shami is a line that I created with my twin brother, Mark. We [were] working on it for a long time before it launched. It was always an unspoken understanding that we wanted to work on a jewelry brand together to honor our father. Being first-generation kids in America really made us appreciate our father's business and his dedication to it. I grew up always wearing a nameplate, rings, earrings, and more—it was usually what I was gifted for holidays and special occasions. For my brother, he learned the business side over the years from our father. The time was right in 2017, therefore we went forth and launched Shami.
"We are both owners of the brand, but we play different roles. I handle the design, creative direction, and anything to do with branding. Mark is super intelligent on the business and money front, therefore that is his world. We do collaborate a lot, [and] Mark always comes to me with great creative and product ideas. It works really well."
What it's like to work with family:
"When it comes to being in the office or meetings, we tap into business-partner mode. I feel like our sibling relationship easily shifts from best friends to professionals. I am also best friends with his girlfriend,
Danielle Guizio
. The three of us are really close, and we value each other's advice and opinions."
The most surreal moment since launching the brand:
"Working on the
Nike collaboration
was definitely the most surreal. It all happened so fast, and we worked really hard to deliver the pieces and custom packaging. The collection sold out instantly at [the] ON AIR: Air Max Day event in Brooklyn last March. I still wear those pieces almost every day."
On custom pieces:
"We frequently do custom pieces for clients. We do many special pieces for musical artists, film [and] television, or for people [we meet] through stylists. Those processes are always fun because they are collaborative. I start by sketching pieces with descriptions of material to be used. I have the client give me feedback, and we move from there. I love seeing custom pieces come to life and live in photographs and people's jewelry collections.
"We manufacture most of our collection here in New York. Some other pieces, depending on weight and design, are manufactured in Taxco, Mexico, which is known for its sterling silver production."
Her dream collaboration:
"I would love to collaborate with the New York Yankees. I see a lot of illegal Yankee logo jewelry, which is sort of a cult favorite amongst jewelry shops around New York. I would love to have a small collection to be sold in the stadium. Maybe even one day I would love to design a World Series ring."
Who she'd love to see in her jewelry one day:
"I would love to make jewelry for Serena Williams. She is a big inspiration to me. I love when athletes aren't afraid to wear jewelry while competing."
What's next?
"I am always working on new ways to create new personalized styles. I don't remember the last time I was ever not wearing some type of nameplate. It's a staple for me, and I think people are drawn to something [that is] personally theirs. We are also working on a small line of cut-and-sew graphic shirts that are made in the USA. We want to tell the story of New York's Diamond District through our products."
Photos: Courtesy of Shami
Want more stories like this?
Ih Nom Uh Nit Is the Brand Every Celebrity Already Knows—But You Don't (Yet)
Fashion Editors Are Obsessed with This New Shoe Brand
You'll Lose It Over This New Brand's Woven Bags