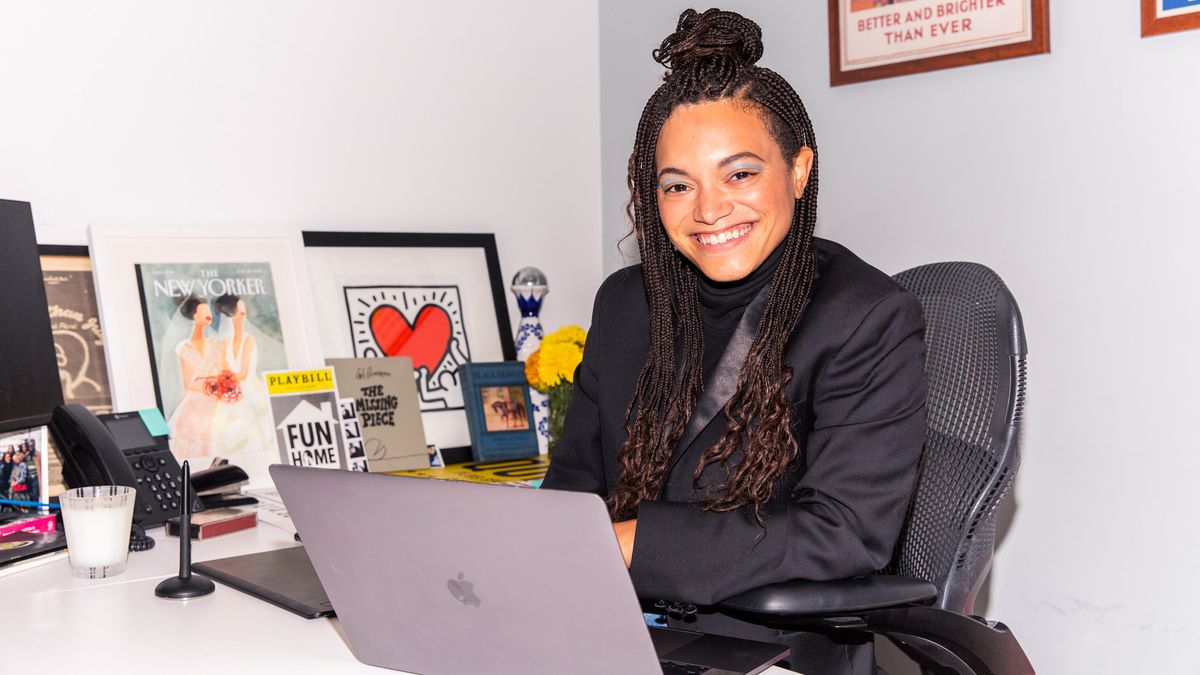 Career
Them's Whembley Sewell on Shaking Up the Media Industry
Hint: It involves cowboy boots.
Tim Buol
It's only been a year since Condé Nast promoted
Whembley Sewell
to Executive Editor of
them
, making her one of the youngest people ever to hold such a title at the media giant, but you wouldn't know it by looking at her office. She, like most people with a creative mind that hums incessantly with ideas, has already bedecked every wall with posters (mainly vintage finds from her namesake Wembley Arena in London) and stocked her bookcase with everything from contemporary-fiction favorites to a hot pink karaoke microphone—you know, for especially long days. It suggests an ease of someone who has had the time and resources to stretch out a bit; but, as any publication head in the industry will tell you, there is precious little of either these days. That doesn't seem to faze Sewell, however, who happily discusses everything from her graphic blue eyeliner ("I stole it from my girlfriend") to the colorstory design for an upcoming issue. One gets the sense that she's learned, even at her young age, how to weather the storm.
---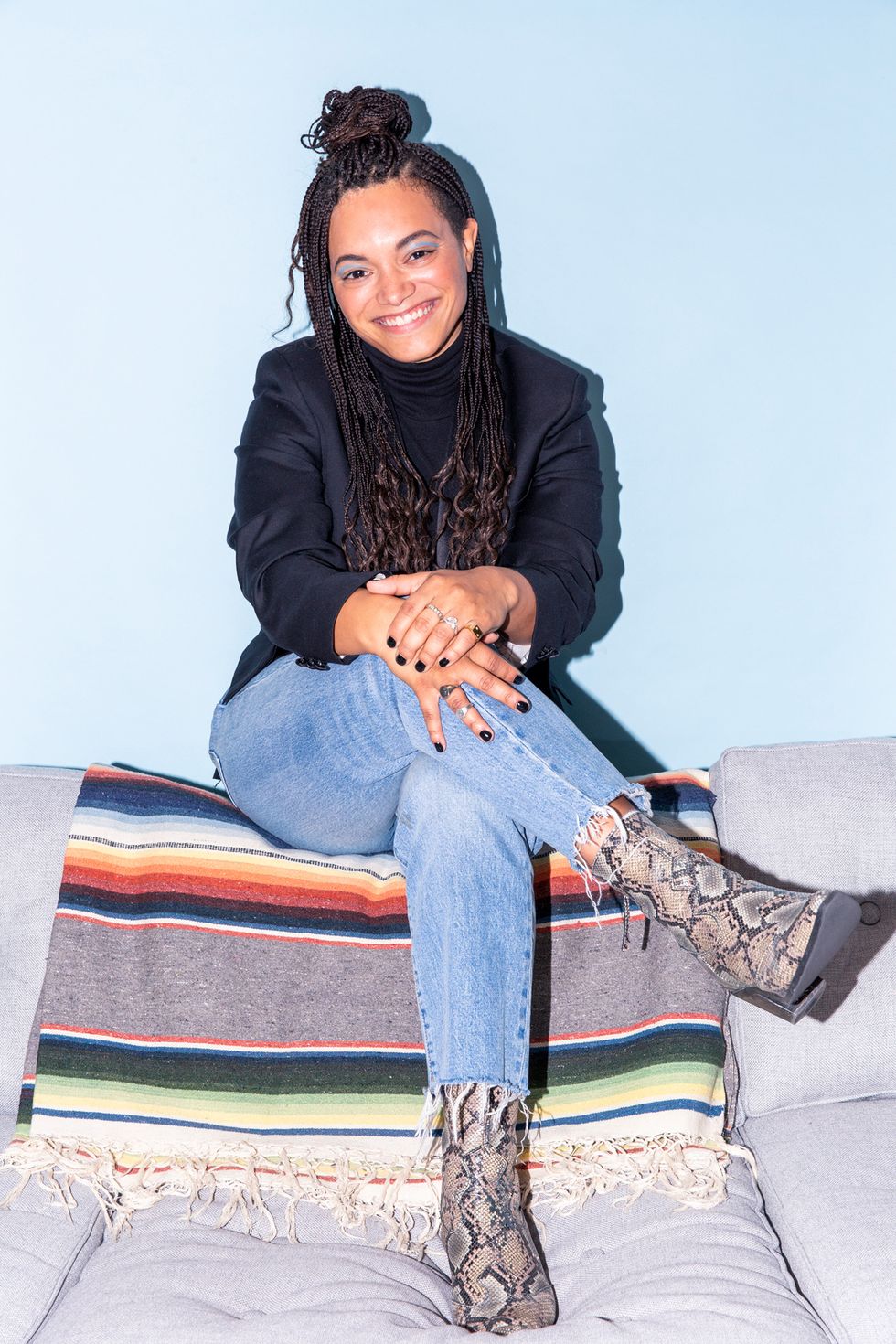 "I really wanted to be an actress," she says as we take our seats on the couch, where we imagine many a frazzled writer has been invited to vent about their day. "And I think I slowly realized that it [was] not going to pan out." In true millennial fashion (although she stresses that she's on the Gen Z cusp), she took her talents to Twitter, where her humorous commentary caught the eye of a few people at Syracuse University, her alma mater. They suggested she start exploring various social media projects on campus, working with student organizations on comedy shows and celebrity interviews. That eventually led to her first job in media, at Discovery Communications, before landing at Refinery29 and later Teen Vogue, where she developed new ways of utilizing social platforms to enhance each brand's voice.

Just a few years and an endorsement from Anna Wintour later, and Sewell is now at the helm of Condé's youngest title. "Right now [them is] an emerging platform; we're very new," she iterates, "and I think we need to approach how we operate as such. Even in the name, them, it's like, 'Oh, you're one of them—you're one of a wider group of people.' But I think saying 'Hey, this is who we are, this is our platform, this is what we're building for us' is how it should be—at least that's how I feel in my heart."

Her vision has already guided the publication toward enormous growth in the last year alone, and as traditional media still struggles to find its footing, an executive editor with her digital chops (and mid-'90s birthday) might just be the torch that lights the way for the rest of the industry. More on her first year in the role, the power of an LGBTQ lens in all media, and her seriously cool version of the power suit, below.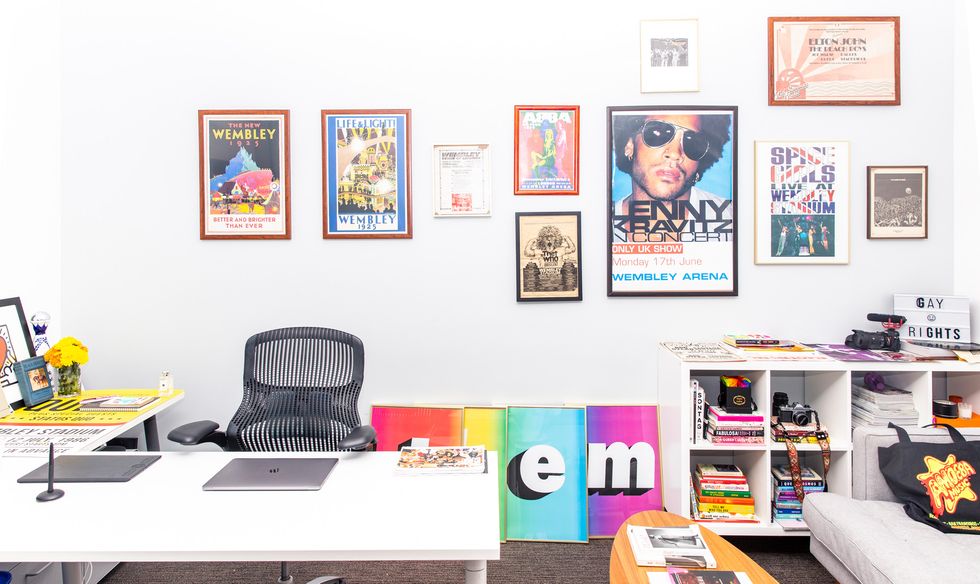 On stepping into the top job:

"My mom has always been one of my biggest role models—I think a lot of people feel that way—and she was like, 'Never change who you are to fit into anyone else's idea of what success or beauty or a woman should be. And I think that has stuck with me every step of the way and allowed me not to bend in really difficult situations, and has helped me stand up not only for myself, but I think [also for] a lot of other people."

On the importance of an LGBTQ publication at this point in history:

"I think a lot of times people separate things into LGBTQ issues and other people's issues, or issues that only specifically pertain to black people or only pertain to this group of people who make under this amount of money, and I don't think that's true. I think if you want to be a citizen who's aware of the world, who cares about other people, you need to be constantly taking in information about the entire world around you and be really well informed. Part of what we do is make sure that everyone can be the most informed person, regardless of how they identify, about things specifically going on in the LGBTQ community."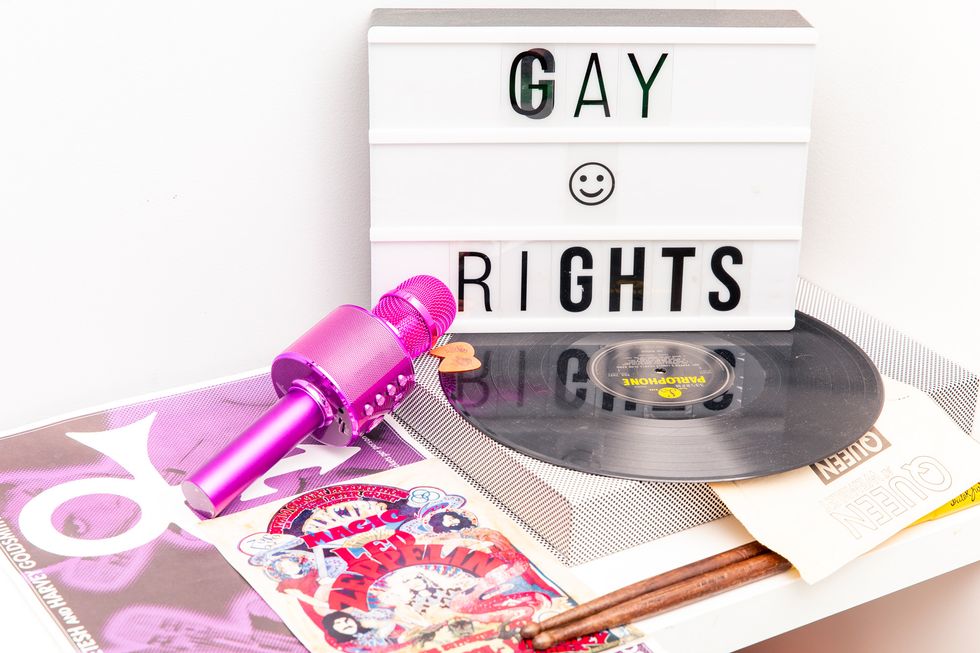 On what the them lens means for readers:

"We don't strictly cover 'LGBTQ-related' issues. It's just about life through the lens of the LGBTQ community, and the fact of the matter is when I think of my most fashionable friends—my friends who always know the coolest music to listen to, my friends who always know what's next—it's usually my queer friends. And so I often think of them as not only a place for people to become more informed about things that are shaking the lives of other people, but a place where you can learn what's up and what's next, and things to be excited about and things that are really shaping our culture and the way we express ourselves."

On the projects she's most proud of so far:

"Covers are a new thing that we're doing, and every single [one] has been decided with such intention. Growing up, I was not always out or anything like that, [but] I did read queer media. I would go into the back corner of a Barnes & Noble and scarf down whatever was out there. And a lot of times on the covers it was gay men, and most of our cover stars have been women—women who don't have the traditional body type that's supposed to be the ideal standard of beauty. We had a cover star who's an up-and-coming trans-masculine actor.

"Turning what it means to be a cover star on its head has been really amazing to me. And to see people feel empowered to bring faces and voices and experiences to the forefront that, again, may not have been celebrated traditionally has also been really cool because I find that a lot of places would cover them a few months later, so it's nice to be at the forefront of what's seen as cool instead of 'these are marginalized people over there in the corner who just need to have their own avenues of engaging with each other.' Like, no. Whatever we're covering and whatever we're celebrating and really passionate about is going to end up everywhere eventually, so that has been a really cool experience to witness."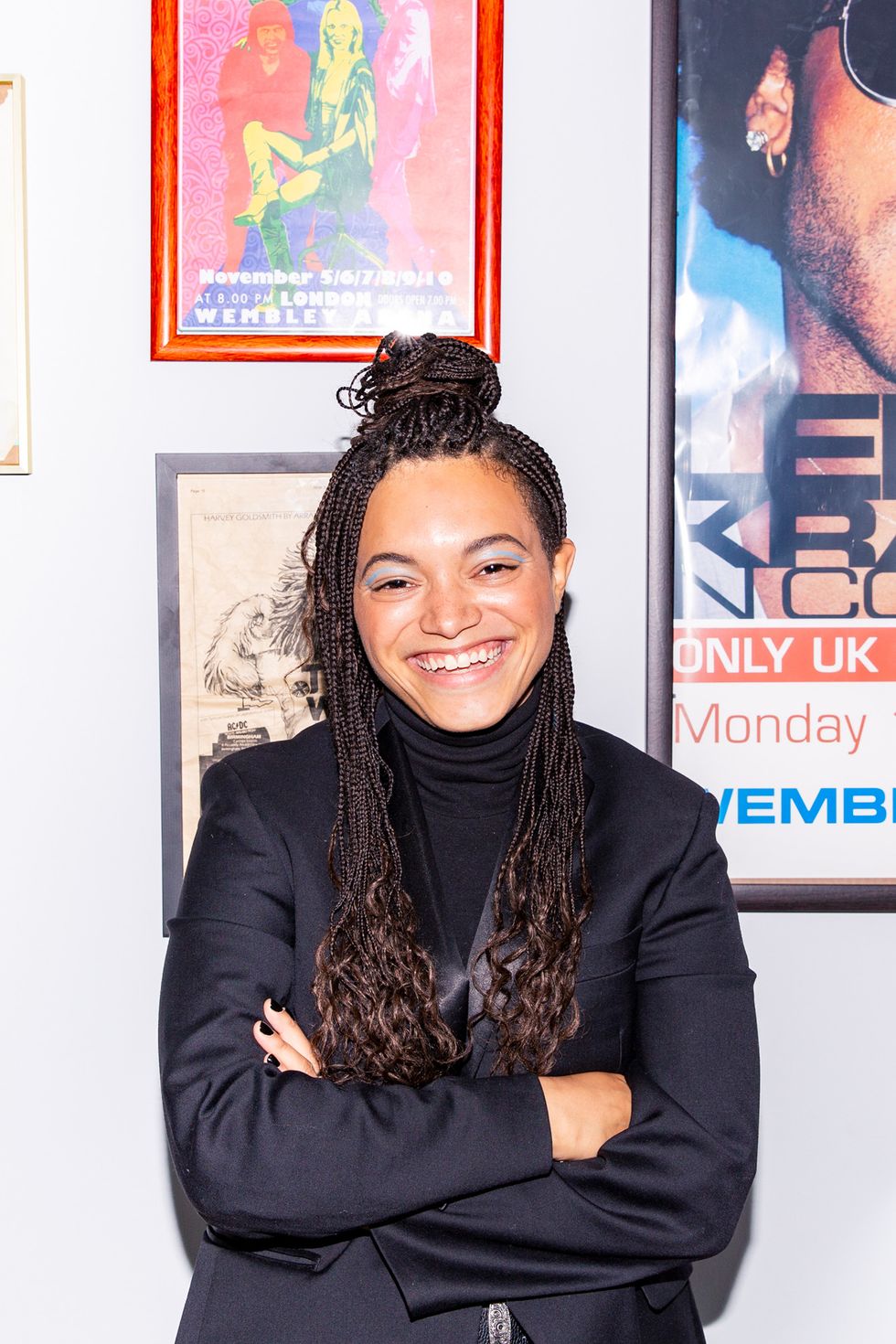 On her career icons:
"Ava DuVernay is one of the people that I really, really look up to. I think what she's done with
ARRAY
and how she's built a space for people to tell stories—not only just to tell stories, but to tell them in a way that is absolutely excellent—has been amazing. [And to show] that you don't have to settle and you don't have to pick up scraps for any bit of representation or anything like that—stories that people from all walks of life really feel. That has been incredibly motivating to me. And of course it has been incredibly helpful to have the support of the people in this building, specifically Anna [Wintour]. Anna has been such a huge champion of the brand. Both of them are people that I look up to."
On her day-to-day schedule:
"It's always different, but we start it off by talking about stories that are coming out. I help our staff writers pick which stories make more sense to publish at the top of the day. And because my background is social-first and rooted in strategy and audience development, I work closely with our social editor to see what's coming out on Twitter and Instagram Stories. We have this really active hashtag that we started when the brand was founded called #oneofthem, and we'll look through people who are tagging their photos to see [who we should feature]. How can we tell stories that are not just coming from our Twitter feeds in the morning to create community-based things for people to engage with? That's actually one of my favorite parts of the job—finding people in unconventional ways and making people outside of this room feel seen and supported."
On growing the them community:
"That #oneofthem hashtag feels a little bit like a movement, so it's been amazing to watch people be really inspired. I know it's tough to call social media a safe space in an age where a lot of people don't see it as such. I think it's tough for a lot of people, and it's an experience that makes a lot of people feel self-conscious and things like that—but to see that flourish based on the way people engage with one another and watching that happen outside of what we've created is one way that I've seen it grow in a really beautiful way. And again, if we're going to be a social-first, community-based platform, that's what it has to be all about."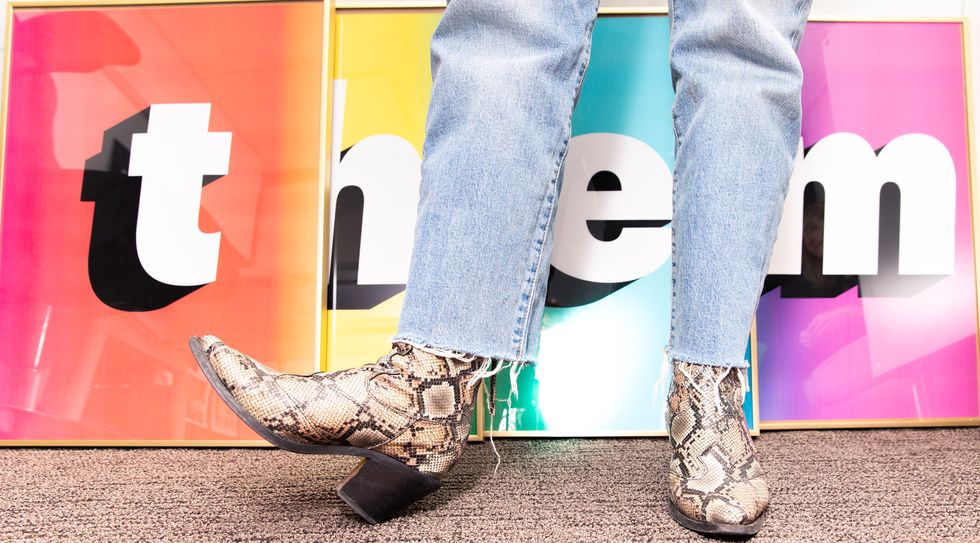 On the impact of her position:
"Every day is a pinch-me moment. The rooms that I'm able to be in, the ways in which people have really taken this seriously and supported it and championed it, that's a pinch-me moment. The fact that this exists. To be completely honest, I wasn't fully out until I took this job, so again, on my own I'm having the same journey as a lot of my audience, at the same time, so I'm fully in it. And just to be able to live openly, love openly, is a pinch-me moment, and I can't detach that from the work I do."
On her go-to outfit for a big meeting:
"I like to dress down a tux, basically. I like a tuxedo blazer, usually with a band tee—I have all those band posters—and usually a more fun pant and cowboy boots because it's like the Wild, Wild West out here, truly."
On her prediction for the future of media:
"I think there will be more brands like [them]. From what I've seen, things that take the time and care to [define] a really specific set of values and really get behind what is going to be the defining culture [will succeed]. And if Gen Z is not seeing it, they're going to make it themselves. I think it's about supporting young creatives as well and not taking those platforms for granted. Finding a way to mold that with what people are doing."
Want more stories like this?
Dreaming of Your First Birkin? Caitlin Donovan Can Help with That
9 Fashion Insiders Get Real about Their Personal Budgets
How to Make Wellness a Priority at Work