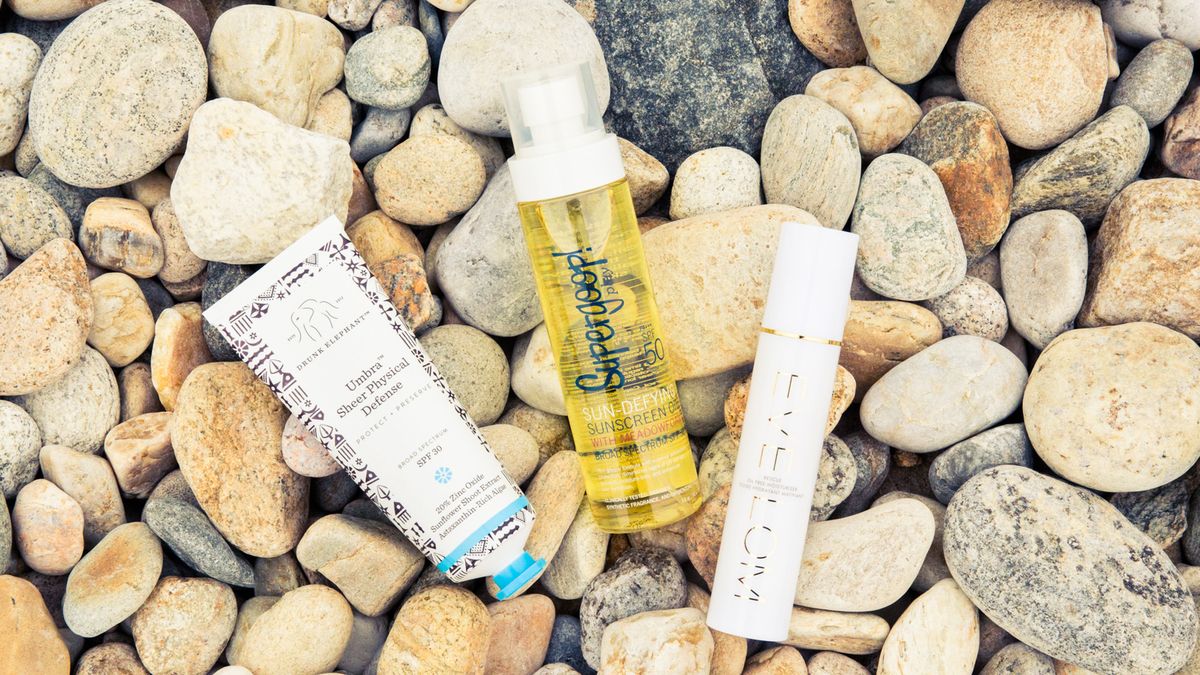 Skin
Supergoop's latest launch is essential for healthy skin.
We've lost count of the number of times we've had to remind our friends and family about the importance of sunscreen. It truly is the best anti-aging skin-care product on the market, and as much as it might be sexier to pick up a new targeted serum, there's really no point in treating fine lines, wrinkles, and dark spots if you're not going to do the bare minimum to prevent against them. So consider us glued to our soapbox from now until you apply your SPF every.single.day. The number one reason we hear women resist their daily dose of sun protection is because they don't enjoy the texture, or because it doesn't sit well under makeup. Fair and valid points, all of them. Happily, companies are hearing our cries for better formulas (especially for mineral sunblock) and responding in kind.

Supergoop! is at the forefront of this sun-care revolution, and their newest release is primed to make our getting-ready routine easier than ever. Bright-Eyed is a 100 percent mineral eye cream loaded with broad-spectrum SPF 40 and blue light protection, as well as plenty of brightening and hydrating ingredients for soothed and even skin.

For the hours you sit in front of a computer at work, the added wild butterfly ginger flower keeps blue light damage at bay, while an extract from the South African resurrection plant (bonus points for incredible ingredient names) provides long-lasting hydration and improves skin elasticity. Gentle ingredients like these, as well as green tea extract for antioxidant protection, are essential for the extremely delicate eye area. Remember—tap in the product, never pull or tug. That can cause irritation and fine lines, aka the exact opposite of why you use eye cream in the first place.

If dark circles are of concern, a blend of probiotics, pomegranate, and caffeine work to brighten and reduce residual puffiness. Unfortunately, most under-eye darkness is genetic, and no cream or potion can get rid of it entirely, but if you had a late night out or one too many cocktails, this will help you fake a restful night's sleep so your boss won't suspect a thing.

Best of all, the lightweight texture refuses to crease our concealer or cause our mascara to transfer, even after a full day of work. There's no sticky residue either, so any excuse you have for not applying your SPF before you leave the house just flew right out the window. And although it's a mineral formula (meaning the added minerals physically block the sun's rays rather than absorbing and neutralizing), there's no white cast thanks to the peachy tint. So even though it's December, remember that sun care is still important. If it's light outside, you need sunscreen, no matter your skin tone. Period. Consider this your new year's beauty resolution for 2020.

Supergoop! Bright-Eyed is available today, December 27, on supergoop.com and sephora.com and retails for $36. 

Want more stories like this?

7 Sunscreens That Won't Break You Out
The 8 Best Sunscreens for Women of Color
Can Wearing SPF Actually Reverse Skin Damage?