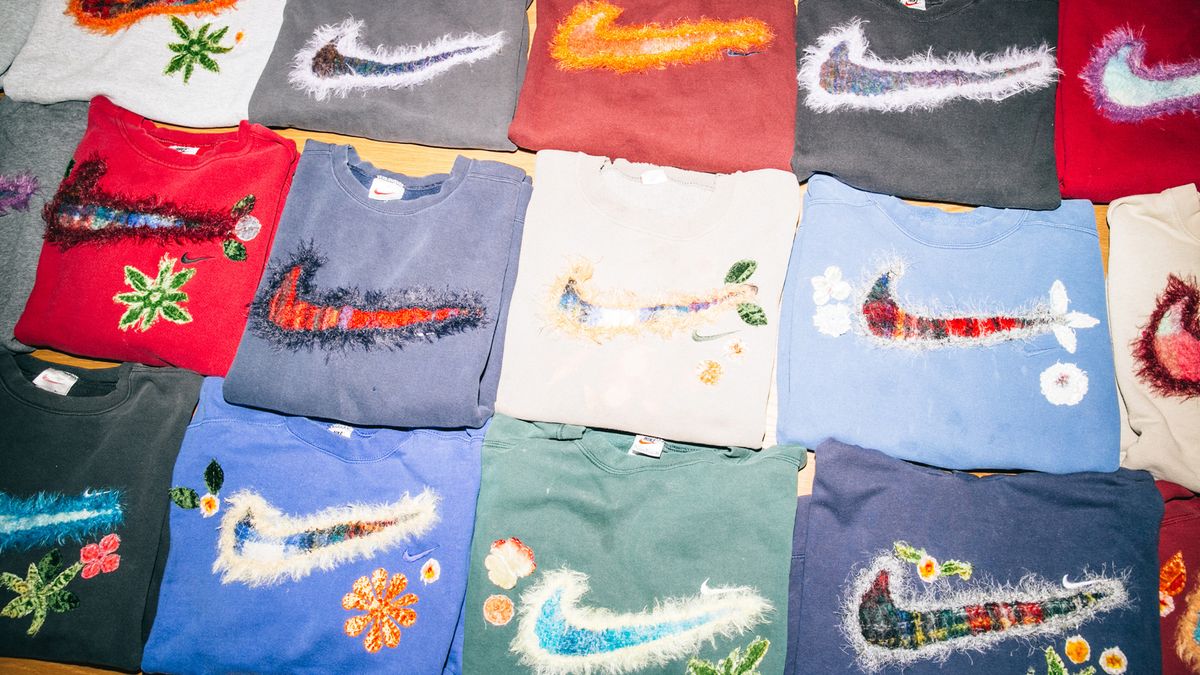 Designers
Bentgablenits have a brand-new mohair collection dropping this week.
Renata Kaveh
It's an unlikely come-together for the trio behind
Bentgablenits
, a reworked vintage brand that took Instagram by storm this past July. You have moms Brenda Bent and Karen Gable, the interior design duo behind
Bent Gable Design
who have brought to life some of Toronto's most successful restaurants (think Lee, The Thompson Hotel Diner, and Rosalinda), and 24-year-old
Angelo Nitsopoulos
(or Nits, as everyone calls him), a self-proclaimed fashion and sneaker lover.
They've figured out the perfect formula to leverage their skills: Nitsopoulos sources vintage Nike hoodies and crewnecks, and Bent and Gable rework them by adding their own versions of Nike Swooshes using rope, silk flowers, knit details, and most recently, mohair. The mohair collection launches this Friday
on the brand's site
at 3:00 PM EST (and is made up of 38 pieces), each of them detailed with their own unique mohair Swoosh and packaged with a small Barbie brush so that the mohair will sit *just right* when you wear it. We met with Bent, Gable, and Nitsopoulos at the Kimpton Saint George to chat all things Bentgablenits, including how they got started, the sourcing of their materials, and the item that may come next.
---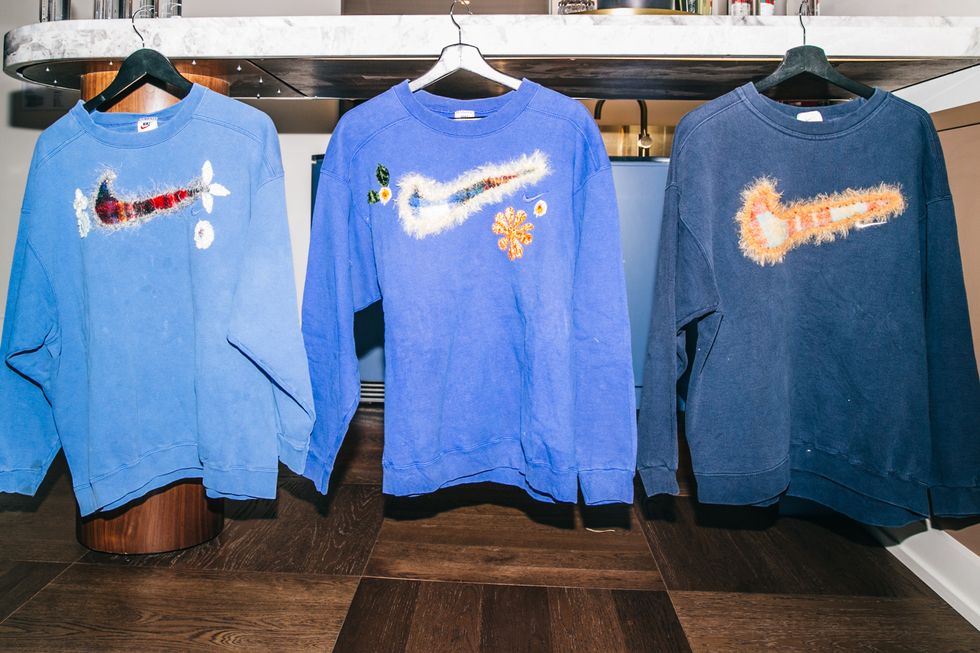 How it all started:

Angelo Nitsopoulos: "My best friends are Kai and Levi [Bent-Lee], [Brenda's] sons, and I met Karen through Brenda."

Brenda Bent: "Karen and I were making a birthday present for a friend of ours—we all make each other birthday presents because all of us do creative stuff. Nits came over while it was still lying on the table, and he said, 'We could really do something with that.' We had just finished doing an interiors job, so we thought, why not?"

Both Bent and Gable have past experience in fashion and interiors:

BB: "The fashion part was huge—that's what we went to school for and what we did to make a living. I think it developed our eye. We have similar taste and then sometimes dissimilar taste, which complements each other."

Karen Gable: "We know how to put things together and how the fashion industry functions. [With] interiors, it's all a sense of design, and you're still dealing with basic things like colors and fabrics. We've always brought fabrics into [our designs] because we love fabrics, so it was an easy crossover."

BB: "And then in the case of Nits, he's much younger and understands the online world. Now it's direct-to-consumer—that part is fun and very different for us; he's introduced us to that whole world which has been huge and more instantaneous success."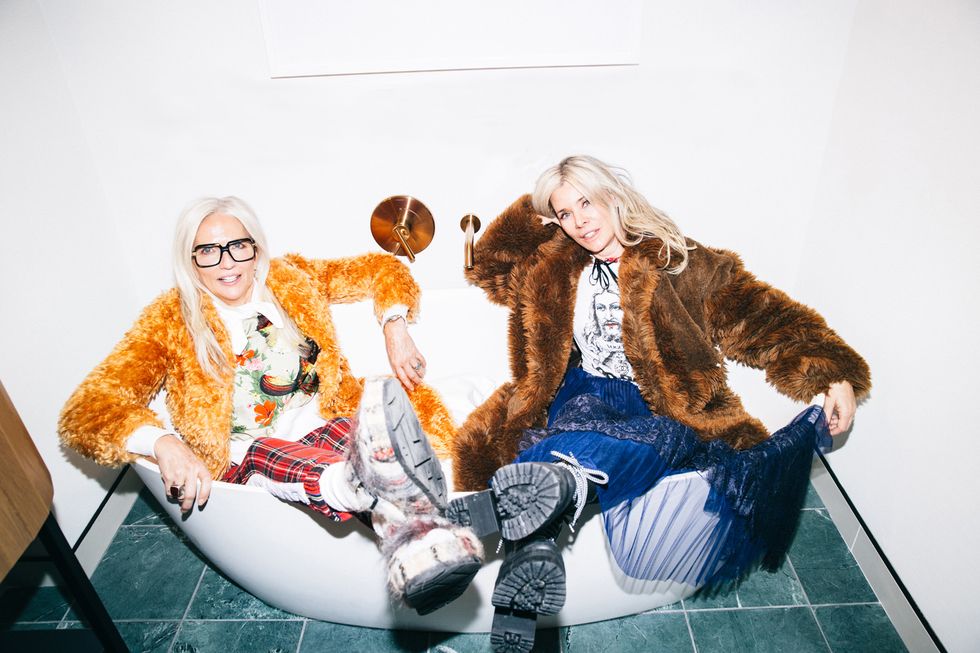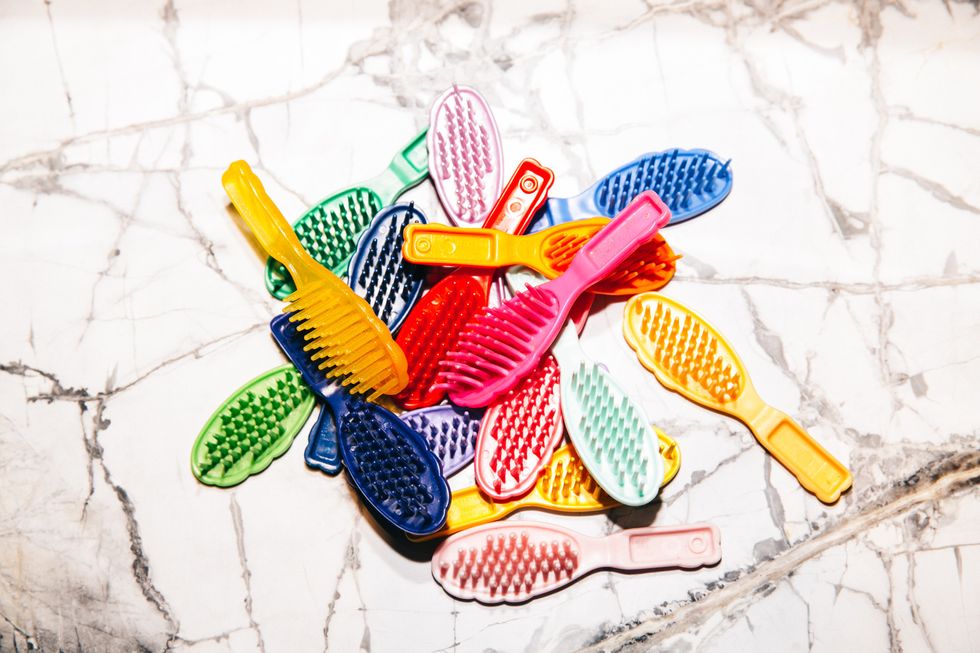 How they source their vintage pieces:
BB:
"It's based on collections. Right now we probably have over 100 Nike shirts. We have friends that will go to Value Village and send us pictures, so that's cute, but when it comes to large batches, that's Nits' job."
AN:
"I know some vintage collectors that I go through. When we first started, I was sourcing one-offs through eBay or Grailed, and [it] was too time-consuming. There's a vintage guy in Woodbridge that I use, my buddy in L.A. helps—it's hard finding [them] in Canada. A lot of the vintage Nike is in the States and overseas. Canada has some stuff, but I can't go and find 40
–
50 pieces here, it's just too hard."
On their various collections:
AN:
"One year Nike released flagship [sweaters] in certain cities like New York, San Fran, Portland—they're called NikeTowns, so we did a NikeTown collection. Then we did the Mini Swoosh collection. We had some batches [in between], which are random one-offs. The mohair is a step up."
BB:
"It's more fashion."
AN:
"I don't want to sound cringe-y, but it's like art on a sweater—it's really fashion-forward. It's that Christmas-type, cozy mohair."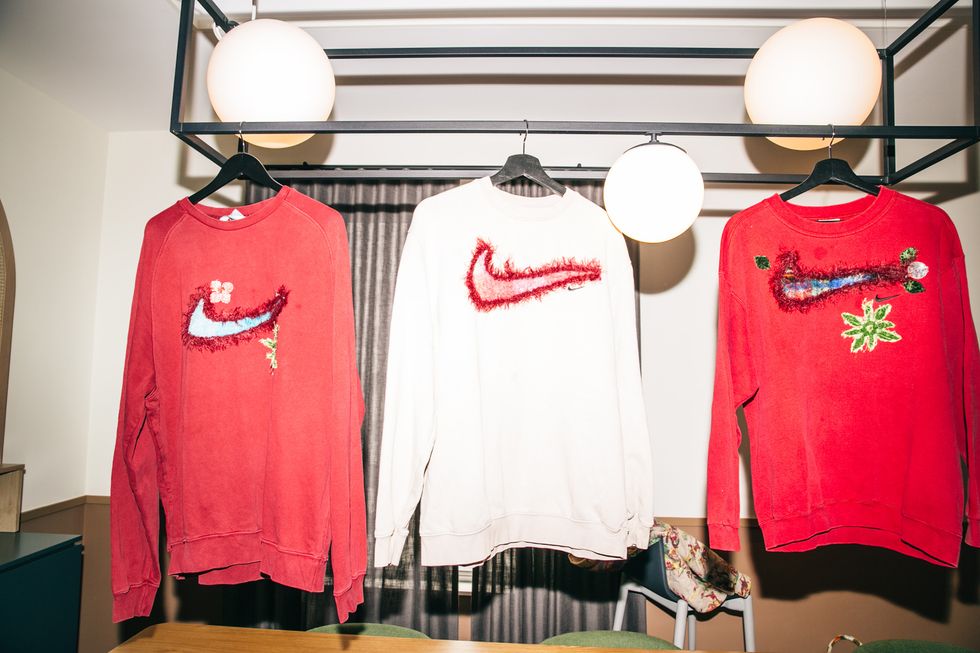 What the creation process is like:
BB:
"[There are] a lot of steps. We get together, decide which color we're going to put on each sweater and which trim. Sometimes Karen models it, and we decide [the Swoosh] is going up or down. We then send it to a seamstress, and she sends it back to us stitched on. Then we have to choose the trim that goes around it, [the seamstress] sends it back again, and then we tack the rope on and Karen hand-stitches that on. [Final step] is putting the flowers on."
KG:
"This mohair is all hand-stitched."
On the sourcing of materials:
KG:
"All our vintage trims and flowers, we source from the States. We have a friend who lives in Denver, and she has this great antique [store]. She looks for us, sends us stuff."
BB:
"All the velvet stuff is from the
'
40s and
'
30s, probably millinery, and we [purposely] washed them so they got all screwed up."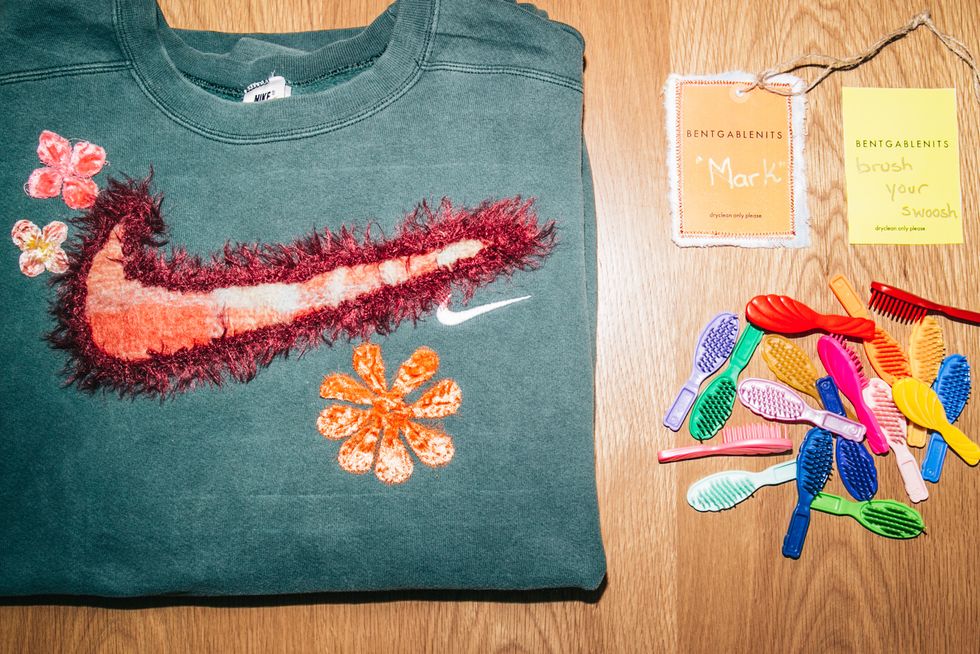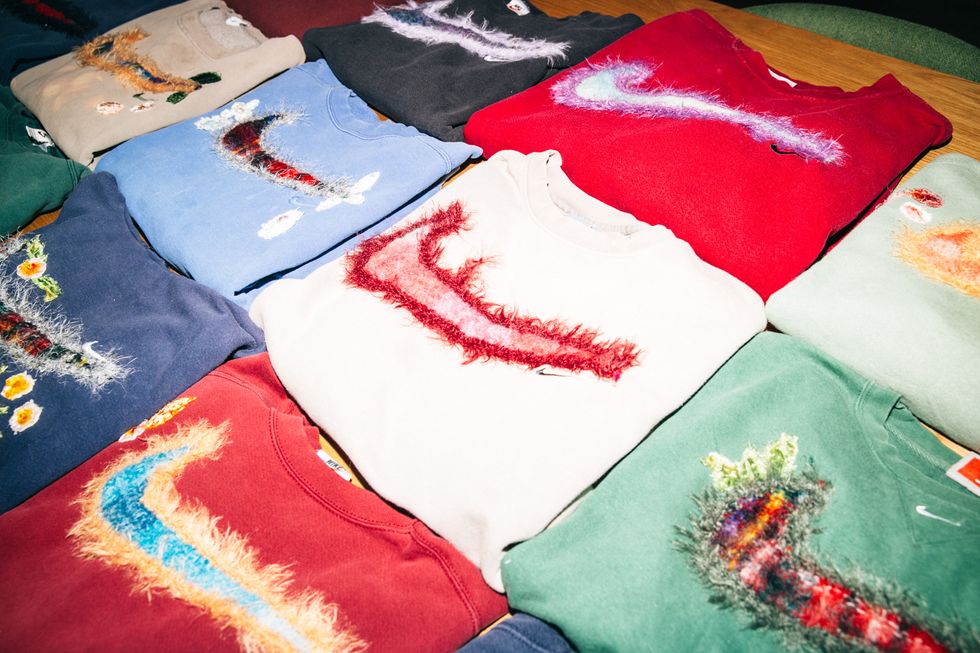 Where the idea to attach a small brush to each sweater came from:
BB:
"Nits is so neurotic; we were talking as a group, and he was like, 'What if the mohair gets this, gets that, etc.' So I was like, 'We'll just put a brush in.' I sent them a picture of a Barbie brush, and they liked it. Nits thinks people are going to use it."
AN:
"I'm so OCD with that Nike Swoosh, the mohair has to be flowing the right way, everything has to go the right way."
KG:
"People like them too; they're cute."
Their relationship with Nike:
AN:
"We've had calls with Nike L.A., Toronto, Chicago, New York, Portland. I'm familiar and friends with a lot of people that work at the head office in Portland, and they love what we do. Hopefully one day we get a collab, we would love to do something with them."
BB:
"One girl got four of our sweaters to take into a design meeting, and the head Nike creator loved it, so we sent him a sweater."
AN:
"Yeah, one of the head creative directors that works at the head office in Portland hit us up, so we sent him one. I think the thing with Nike is they appreciate people who do stuff like this. We're not moving 50,000 units; they appreciate the handiwork, the hours of work that go into it, the story behind it as well. Nike loves a story."
BB:
"It's pretty hard to hit someone with a cease-and-desist if they're using old clothes."
AN:
"Sustainability is huge, as it should be, and I think that's what they love, too. We're reworking stuff that's been worn who knows how many times and bringing it back to life."
The list of celebrities who have worn the pieces is endless:
AN:
"Kevin Durant, LeBron James, Bella Hadid, Travis Scott, Drake, Stormi (soon), Daniel Arsham—he's been a really good supporter. Oh, and Ruba, I love Ruba. A lot of streetwear people have them, like the creative director of Undefeated."
If they'll ever venture into other clothing items:
AN:
"Oh yeah, pants for sure."
BB:
"We have plans and a little bit beyond Nike. Old pants are hard to source, that's been the problem."
AN:
"Sourcing Nike sweatpants is really hard, I don't know why it's slim-to-none."
Want more stories like this?
Meet the Designer Making Heels for Sneakerheads
P.J. Tucker on the One Sneaker Everybody Should Own
Common Good Is the Collective Giving Young Toronto Creatives a Chance