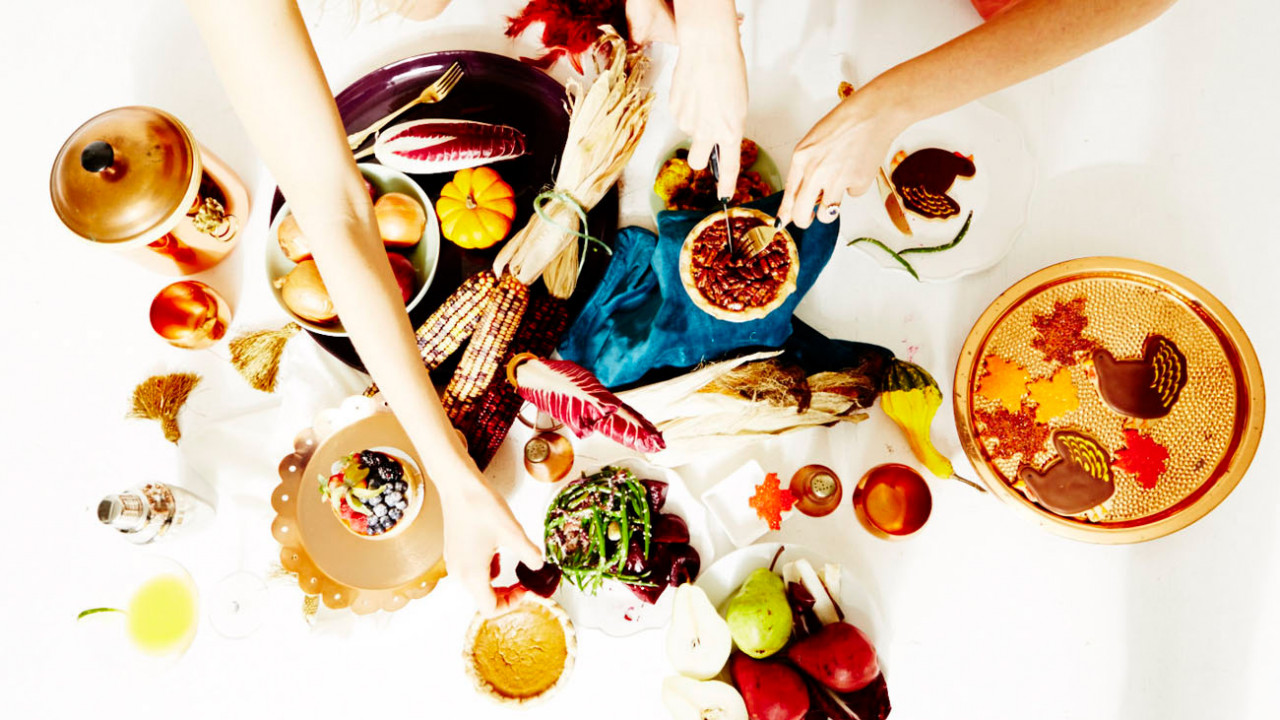 How to Mentally Prepare for Thanksgiving
It's about more than pumpkin pie and setting the table.
How is it already time for Thanksgiving again? It feels like last week that I piled into a car with my boyfriend and his family to make the annual trek from Washington, D.C., to Pittsburgh for one night, only to turn around on Black Friday and drive back to D.C. (That doesn't factor in the travel to D.C. from New York, mind you.)
Though the dinner itself is always glorious—no matter if I spend it in Pittsburgh with my boyfriend's fam, or with pals for a Friendsgiving (my tradition when I lived 2,000 miles away from family, in Santa Fe, for seven years), or with my own family—there's something about holidays that always packs an emotional punch. The good news is, there are a few things you can do to prepare for the big day.
In honor of the spirit of Thanksgiving, start with a gratitude list. I can stand behind this one; I write one almost every day and share it with a few friends, who reciprocate. There's something so special about waiting on line at the grocery store, catching up on what your friends are grateful for or jotting down a few things that stand out from the day to send out—though you can definitely do this one solo.
Science stands behind it, too. In one study, psychologists asked three groups of people to write a few sentences each week. One crew kept gratitude journals. Another noted things that had irritated them. The control group just wrote down things that had happened that had affected them. After 10 weeks, surprise, surprise: The group that focused on gratitude were happier.
Or, as researchers put it, "Those who kept gratitude journals on a weekly basis exercised more regularly, reported fewer physical symptoms, felt better about their lives as a whole, and were more optimistic about the upcoming week compared to those who recorded hassles or neutral life events." So if you're stressed about seeing your great-aunt Mildred and fielding her questions about why on earth you're not married yet, try some gratitude, stat.
Speaking of exercise, getting your heart rate up on Thanksgiving morning will do wonders for your well-being as the day goes on. Not only will going for a run/dipping out to a yoga class/hitting up Pilates/dashing off to a spin class release endorphins, it's also an excellent way to get away from your family for an hour if you need a break. No one can argue with a Thanksgiving Day boxing class, and when you return, you'll feel less like punching someone in the face. Win-win!
We would be deeply remiss to discuss coping strategies for Thanksgiving without mentioning meditation and mindfulness. Even if you don't have a regular meditation practice, a few minutes of mindfulness can go a long way. WTF is that, you may ask? Mindfulness can be as simple as counting your breaths, starting with one and going up to 10, and repeating a few times.
Or you could take a short walk and count your footsteps, or simply observe your feet as they hit the ground, one by one. If you're in the mood for the kind of meditation most people think of when they think of meditation, try resting for just two minutes, eyes closed, in a comfortable seated position—which doesn't have to be cross-legged, by the way.
When you breathe in, focus on an intention, such as love. When you breathe out, focus on something you want to release, like fear. Two minutes later, you may not feel enlightened, but you'll likely feel at least a teensy bit calmer. There's science behind this too.
Bottom line: To not just "get through" Thanksgiving, but actually enjoy or even savor the day (hey, a girl can dream!), it's on you to get your mind right before gathering with loved ones. If you're in the right mind-set, your chances of a beautiful Thanksgiving are far greater. And that's something we can all be grateful for.
Want more stories like this?
A Meditation Guide for Beginners
What Happens When You Pay Attention to Your Breathing?
David Lynch Thinks Transcendental Meditation Can Save Your Life