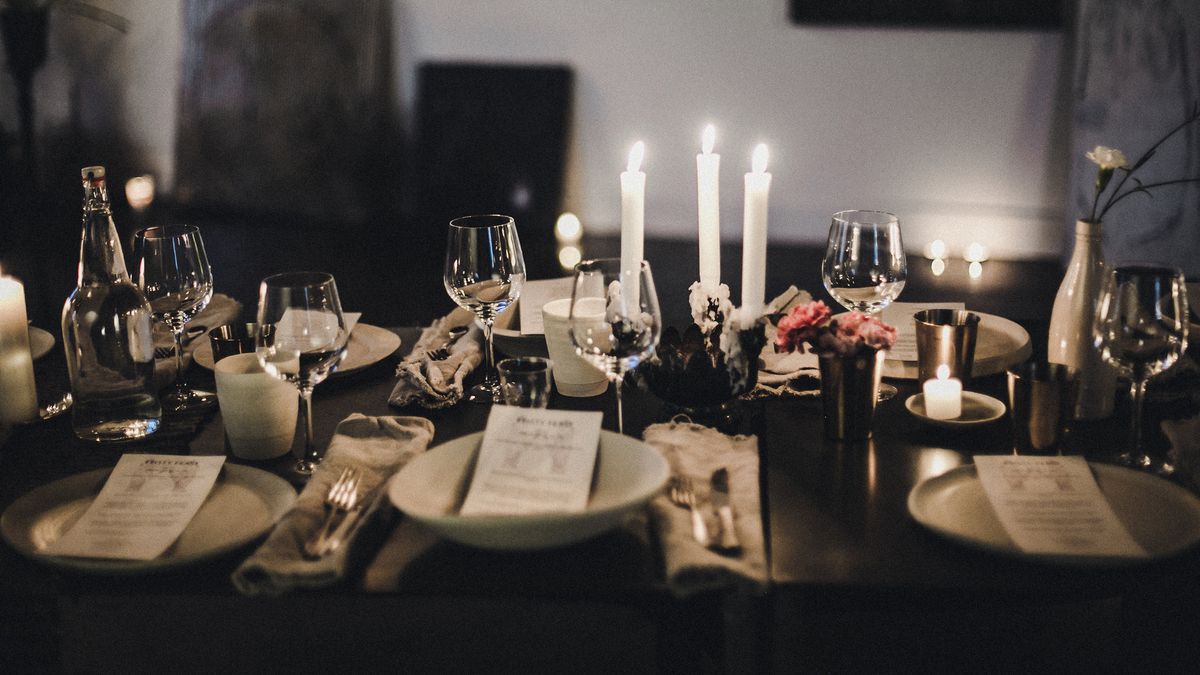 Entertaining
You'll be thankful for these tips.
Britney Gill
If there's one thing I've noticed thus far into my twenties, it's that I find myself wanting to spend more time with my close friends and a little less time with my family. That's not to say I don't appreciate my family—because I do—but Thanksgiving with them has become more work than play, if anything. And to show my appreciation to my now second family, I decided to host my first Friendsgiving in NYC. It was filled with nothing but love, laughter, and incredible memories. Below are a few helpful tips I learned about throwing the ultimate Friendsgiving.


---
Who to Invite

This may seem like an obvious step—just invite your friends, right? Wrong. This may be the most crucial step of all. It's important to invite a group of friends that will easily mesh with each other and offer great conversation throughout the night. Nothing is worse than an awkward silence during dinner! Once your guest list is set, confirm with your friends to ensure that they're coming, and plan ahead for any possible plus-ones.


What to Eat
As the host, you get to set the tone for dinner. You don't have to stick to a traditional Thanksgiving meal of turkey and stuffing—that'll be especially time-consuming (unless you're into that sort of thing). You'll want this to be a fun, stress-free night, so I recommend spicing things up and making a main course that is meaningful to you that your friends will enjoy. Personally, I used this as a way to bring my culture and friends together by making my mother's traditional Jamaican jerk chicken as the main course.
It's also important to keep in mind that some of your friends may have a few dietary restrictions. Take them into consideration, and offer a dietary-friendly option if available. I made a small portion of jerk tofu that was a hit for my vegan friends! Also think about turning this fun-filled evening into a potluck. It'll be a fun way for your guests to try different foods that everyone is sure to enjoy. It also helps to take some stress off you, especially when you
'
re expected to have multiple dishes. When doing a potluck, just remember to confirm with your guests that they are in fact coming and bringing their delicious food.
Last but not least, have a backup plan! Let's be real here, we're not Michelin-star chefs here, and accidents do happen. Prepare for those, and have a backup dish idea ready to go. Just in case you do have to whip up something quick at the last minute, I recommend making something simple that'll take no longer than 30
–
45 minutes.
Here are some ideas
.
What to Drink
Actually, *this* might be the most important part of the evening. Your Friendsgiving doesn't have to be a traditional sit-down dinner—it can be a lively party with plenty of delicious cocktails. I recommend making a signature drink to have ready as soon as your guests arrive. Try a ginger-cranberry twist on the
classic negroni
or a slow-cooker
mulled wine
to save time. Make sure to have beer, wine, and spiked seltzer on hand—a personal favorite of mine is Smirnoff's Spiked Sparkling Seltzer.
How to Decorate
Decorating will probably be the most fun and less stressful step of all. Whether you're aiming for an intimate gathering or a lively party, add your personal touch through decorations. No matter your table size, have a traditional plate setting along with a simple
flower arrangement
in the center. My favorite are white flowers, preferably roses, and with a hint of orange tulips to really bring the table together. If you're expecting a lot of guests, I recommend placing your main dishes on the table and doing buffet style for smaller sides to keep crowding as minimal as possible.
Keep in mind that your guests most likely won't just stay at the table, so prepare to decorate throughout your home. Pick a color scheme, and stick to it. Add fall-colored accent pillows, table and cocktail napkins, and lightly
scented candles
to give a very warm and welcoming atmosphere.