WWWRN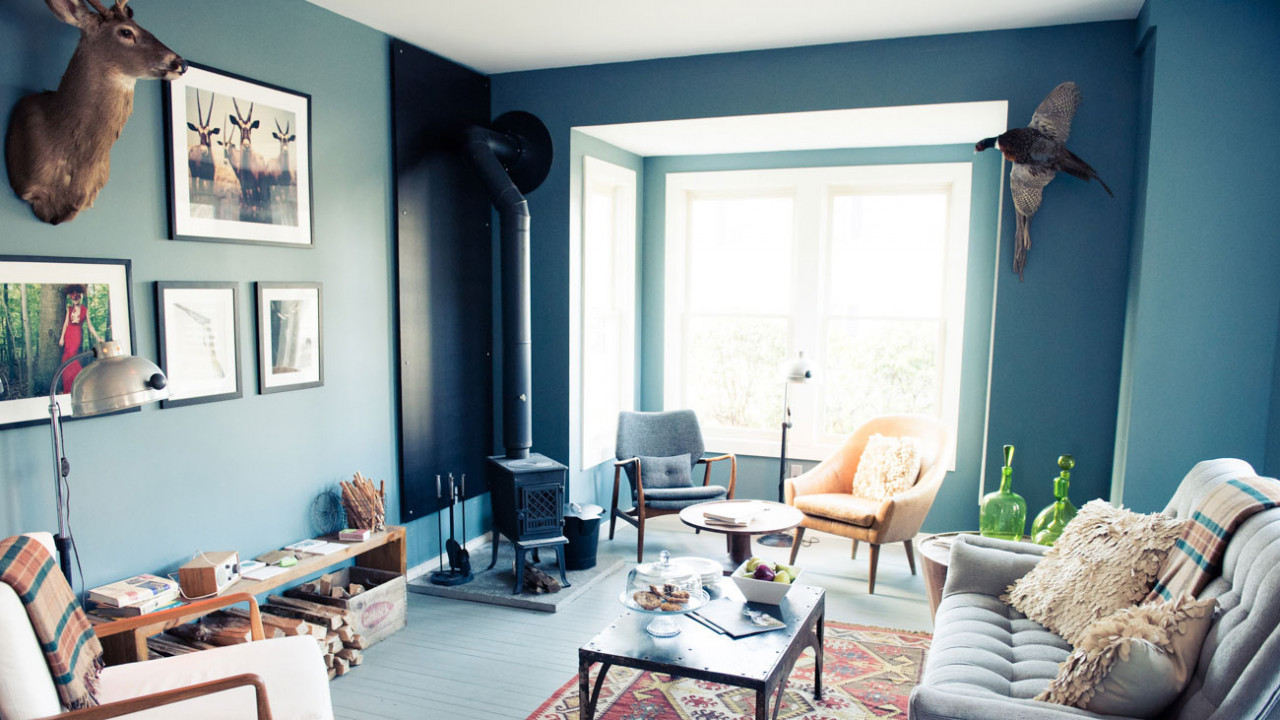 How 6 Coveteur Staffers Set Up for Hibernation
It's a hygge artform.
We're certainly not the first to say it (or write it), but it's getting cold out. Shocker! That means we're receding into our warm, Diptyque-scented living rooms with cozy throws and humidifiers until April. Since we've already mastered the art form from years of experience, here's how Cov staffers set up for hibernation.
---
Noah Lehava
Director Lifestyle, and Talent
1. Bazilika Wool Suit: Once I've stripped off my 463,636 layers of slush-splattered winter gear, all I want to do is to climb into the coziest outfit I can. Enter Bazilika's wool sweater and trouser set, which is so good I'll likely wear it out, too.
2. Tom Dixon Stone Large Scented Candle: Have you even hibernated if you haven't breathed in bergamot- and sandalwood-scented air for five months? Added bonus if your candle doubles as decor.
3. Smeg Drip Filter Coffee Machine: I typically limit my coffee intake to one a day during the week, but on weekends, I love to sit on my couch, eat a real breakfast, and have an entire pot of coffee to myself. It's my ideal indulgence.
---
Jodi Taylor
Editor
1. Nanor Debonair Candle: I'm a huge sucker for candles and have three or four burning at all times in my home. Not only that, but I love anything Canadian-made, so I fell for Nanor candles the second I saw them. This particular scent is musk, amber, and cedar, aka the warmest and most comforting scent ever. The second I light it, I want to wrap the largest blanket around me and cozy in for the night (which is exactly what I do, to be honest).
2. Casper Weighted Blanket: If I could pile 20 blankets on me every single night and not sweat my life away in the process, I 100 percent would. Instead, I'm thinking I'll just invest in a weighted blanket. Duh, right?
3. Talentless Premium Sweatpants: It takes me approximately three and a half minutes to change into sweatpants once I set foot inside my door (comfort is clearly key for me). I recently tried a pair of Talentless sweatpants (yes, as in Scott Disick's brand), and let me tell you, they're mad comfortable. So comfortable that they've now become my work sweatpants, my chilling sweatpants, and my travel sweatpants.
---
Taylor Ford
Head of Social Media
1. The Dyson Humidifier: I truly love living in an old East Village walkup aside from one major thing: the radiator. Even turned off, the clanking dragon fills my bedroom with intense heat that dries out my skin and wakes me up for "waaaaaattterrrr" SpongeBob-style multiple times a night. Cue Dyson's sleek humidifier that monitors temp and humidity to maintain a comfortable sleeping environment and hydrated skin until spring.
2. AmorePacific Dual Nourishing Lip Serum: See above. With a Sahara-like apartment, I'm constantly reapplying all kinds of balms, sticks, and lip masks to keep this pucker moisturized, but AmorePacific's Nourishing Lip Serum really does more than the trick and is pretty enough to wear out in place of gloss.
3. Great Jones Family Style: I can't say I'm an expert or even a mediocre cook, but the Great Jones Family Style set could inspire me to become one. The gorgeous green Dutchess oven sitting atop my stove adds a cozy element to my kitchen (even if it's just for boiling some water.)
---
Hannah Baxter
Senior Beauty Editor
1. WTHN Ear Seed Kit: I've been trying to get into acupuncture lately, for both relief of back pain and generally calming my mind. My first session at WTHN's studio was great, but for the days I can't bring myself to leave the warmth of my apartment, this ear seed kit will substitute nicely. It utilizes the traditional Chinese medicine practice of acupressure on various points on your ear—plus, they look like little gems, so it's a very glam wellness session.
2. Bogus Studio Throw Blanket: You can never have too many throw blankets, in my opinion. I've been craving bold color blocking throughout my home these days, so this style will be a lovely addition to my collection. Catch me napping in style.
3. Donni Sherpa ½ Zip: Obviously, cozy fleecy clothing is a must for a proper hibernation, which is why all I want to wear lately are Donni's thermals and zip-up shirts. This chocolate number is coming home with me ASAP.
---
Annie O'Conor
Audience Development Manager
1. TNA The Oversized Crew: If I'm hibernating, I need a sweatshirt that is extra soft and loose with some volume so I can move from my bed to my couch with ease. This Aritzia crew is brushed fleece, which ensures that I'm toasty when my apartment's heat fails me. So whilst you're hiding from the world, you'll be comfy in this tie-dye crew neck and looking good, too.
2. Smeg '50s Retro Electric Kettle: This Smeg '50s Retro stainless-steel electric kettle in the sweetest shade of mint green is at the forefront of my morning routine, afternoon pick-me-up, and night regimen. Turn it on, and almost as instantly as the water is ready, you're one step closer to being warm and cozy and hidden from the outdoors.
3. Miroco Light Therapy Lamp: Just because I want to be inside doesn't mean I don't miss enjoying some of that extra happiness the sun gives me. Brighten your mood and your room with this compact LED therapy light.
---
Gabby Sgherri
Editorial Intern
1. Faux Fur Throw: This is the ultimate hibernation blanket. The faux fur is oh-so soft and fuzzy. Throw on some Netflix, order your favorite takeout, and snuggle up with this cozy blanket.
2. Aera Facial Steamer: One of my favorite ways to relax during the colder months is with a spa night chez moi in the coziest pajamas. This Aera facial steamer is the perfect way to clear your pores before using your favorite face mask. You can also add essential oils like lavender to relax or eucalyptus if you're trying to clear a stuffy nose.
3. Aimé Leon Dore x New Balance Logo Sweats: This is the cozy collab my winter wardrobe needed, and I could not be more obsessed with the grey French terry sweatpants. Whenever I'm at home, I'm in sweatpants (comfort, duh), but these ALD x New Balance sweats are comfy enough for home AND stylish enough that I don't feel like a mess while going for a mid-hibernation snack run in them.
Want more stories like this?
We're Ready to Wear All of These Boots
Kuzyk Is Making This Season's Most Enviable Coats
15 Rings We're Currently Adding to Our Shopping Carts
Part of the series:
WWWRN