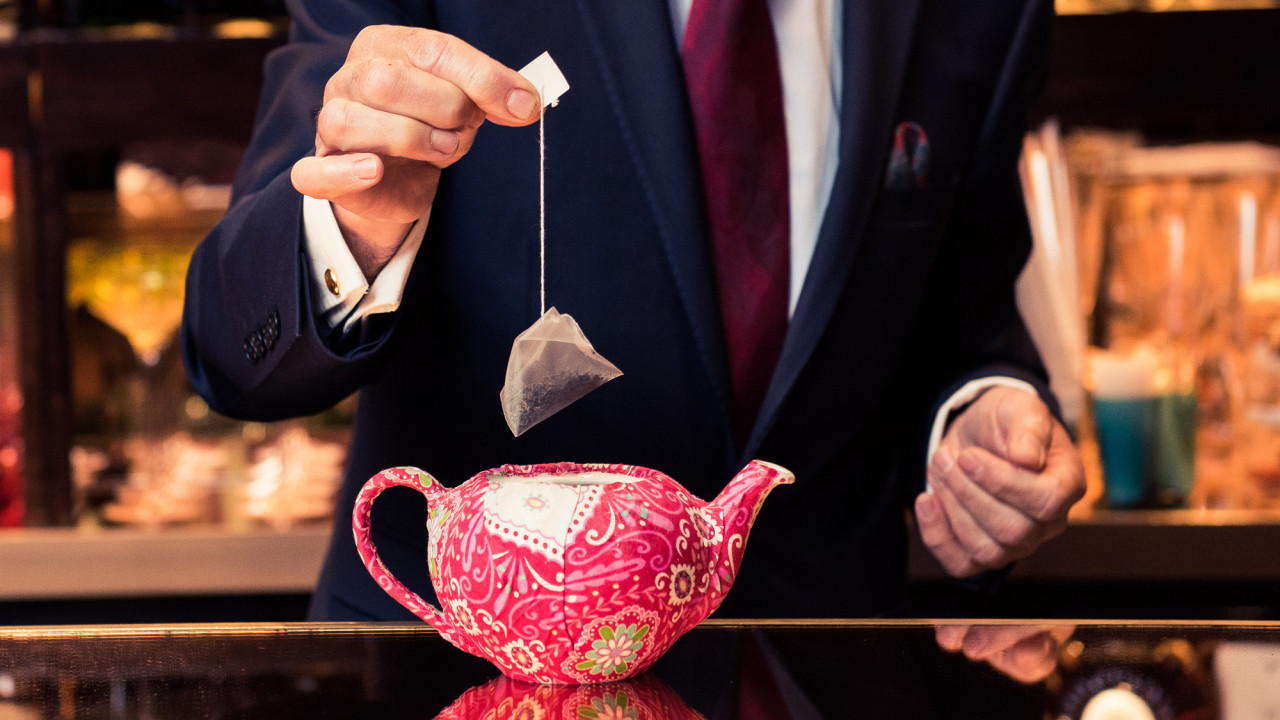 You're Drinking Tea Wrong
Tea bags are passé—and might be leeching microplastics into your brew.
When you make tea, you boil some water, pull a bag from a little cardboard box, and throw the bag and the water into a mug, right? Right—but also, apparently, that's wrong. Not only are tea bags passé, according to tea connoisseur Henrietta Lovell, but the bags themselves often contain billions of microplastic particles, which are released posthaste into your brew upon the addition of boiling water. (Plus, tea water shouldn't be boiling. It should enter your cup at the exact temperature of 75 degrees Celsius.)
If that all sounds like a lot—it is. Let's start with the most horrifying part: the microplastics. In a new study, researchers from McGill University in Canada came up with a sobering statistic. Analyzing what happened when they placed four different types of commercial tea bags into boiling water, they concluded that 11.6 billion microplastic particles, and 3.1 billion tinier nanoplastic particles, were released by each bag, as CNN reports.
As a comparison, this is thousands of times higher than the measure of plastic found in other studies of beverages and foods thus far. And we don't really know what ingesting microplastics does for us yet, but a study from 2017 hypothesized that ingesting plastic over the course of time could be toxic. We're not scientists, but to that we say: duh.
We may still be learning about microplastics, but what we know about them so far isn't good, and it's safe to say that we probably don't want to consume several billion of them every time we infuse a bag of Earl Grey in water. So—what to do?
That's where tea guru Henrietta Lovell comes in. The author of the just-released book Infused: Adventures in Tea says the way in which the average person drinks tea is incorrect, and it's messing with taste, quality, and probably your ingestion of microplastics. (She doesn't say that last part, but we're just inferring it.)
So should we throw all of our tea bags in the trash and run screaming from the kitchen? Well, sure. But more specifically, have a look at each of your teas, one by one. Microplastics in tea can come from polypropylene, which is utilized by many companies to seal the bag. That's what was being used in the new study. You may have to do online research, but if you find your tea bags were sealed with polypropylene, they're leeching microplastics into your lovely tea.
Some tea bags are made of fancy plastic mesh material, which seemed really nice when you bought it, but it turns out it is loaded with microplastics, too. Those are easier to identify, but possibly harder to part with, since they probably cost more.
The real solution, though, other than throwing out all your tea (drat), is to basically follow Lovell's dictum: Heat water to 75 degrees Celsius for green tea or 80-85 degrees Celsius for black tea (so you'll need a temperature-controlled electric kettle), and dunk three grams of unprocessed, loose tea leaves in water for 90 seconds. And then—bliss. And no microplastics.
Want more stories like this?
What Is Intuitive Eating?
Beauty Foods You Need to Have in Your Cupboard
The Spices Missing from Your Diet That Will Change Your Beauty Routine