Makeup
Shiseido celebrity makeup artist Vincent Oquendo has all the application tips you need for glowing skin (yes, that still looks like skin). In collaboration with Shiseido.
Makeup
Vincent Oquendo
Director of Photography
Sam Osborn
Earlier this spring, we were lucky enough to have
Shiseido celebrity makeup artist Vincent Oquendo
—the man behind the face beats of
Bella
,
Gigi
,
Winnie
, Indya, and
Hailey
, to name just a *few*—break down his process for creating an over-the-top Met Gala–inspired beauty look. There were gorgeous lips and cheeks, there was brightly colored mascara, and there were some pretty dramatic brows that we won't be forgetting anytime soon. But on the daily? We might require something a little more…
wearable
. Just a bit.
So while we had time on set with the buzzy makeup artist, we figured we'd put in one more how-to request—this time, his step-by-step process for achieving a flawless complexion.
---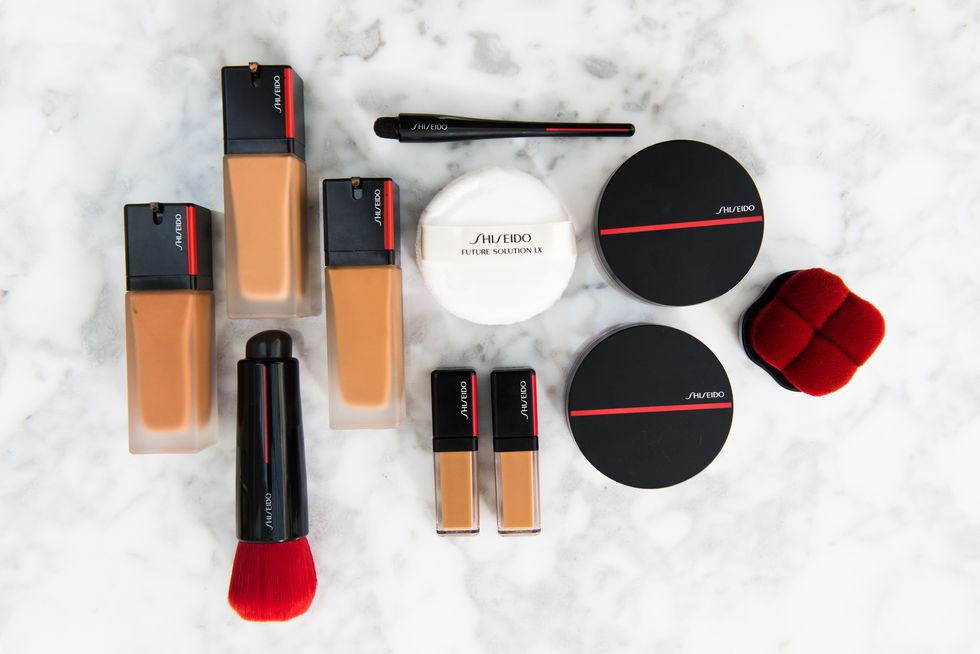 HOW-TO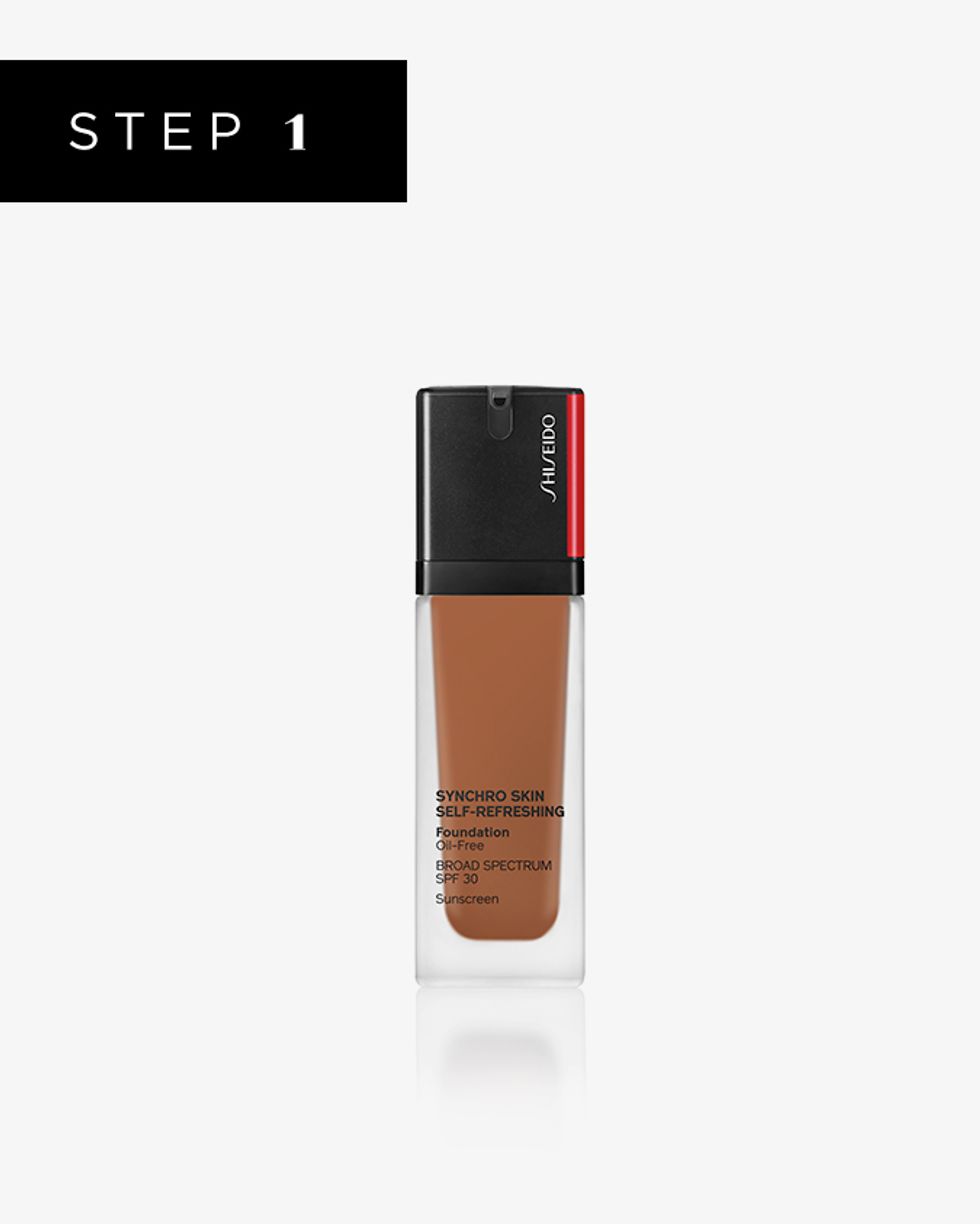 FIND YOUR SHADE
"I like to start with a liquid foundation. This is one of my favorite foundations, the
Synchro Skin Self-Refreshing by Shiseido
. I like this particular foundation because it's waterproof, has a 24-hour wear, and there are 30 shades, so it's great for any of my clients, whether they're very fair or have a deeper complexion. If I'm doing one of my clients for the red carpet, I don't want to worry about their foundation creasing in their nasolabial folds [or] under the eyes. I love this particular formula because it creates that barrier, so it keeps the skin looking fresh.
"I [use] one pump of a paler color, and one of a warmer color—the reason being that your face has highs and lows, so you want to play that up and buff it into the skin.
TIP:
"Whenever you're color-matching your skin, you want to swatch it on your face. I'm using the silicone tip of the Daiya Fude brush to do this. What you want to do with your fairer color is use it right underneath the eyes, because it's going to give you that bright complexion."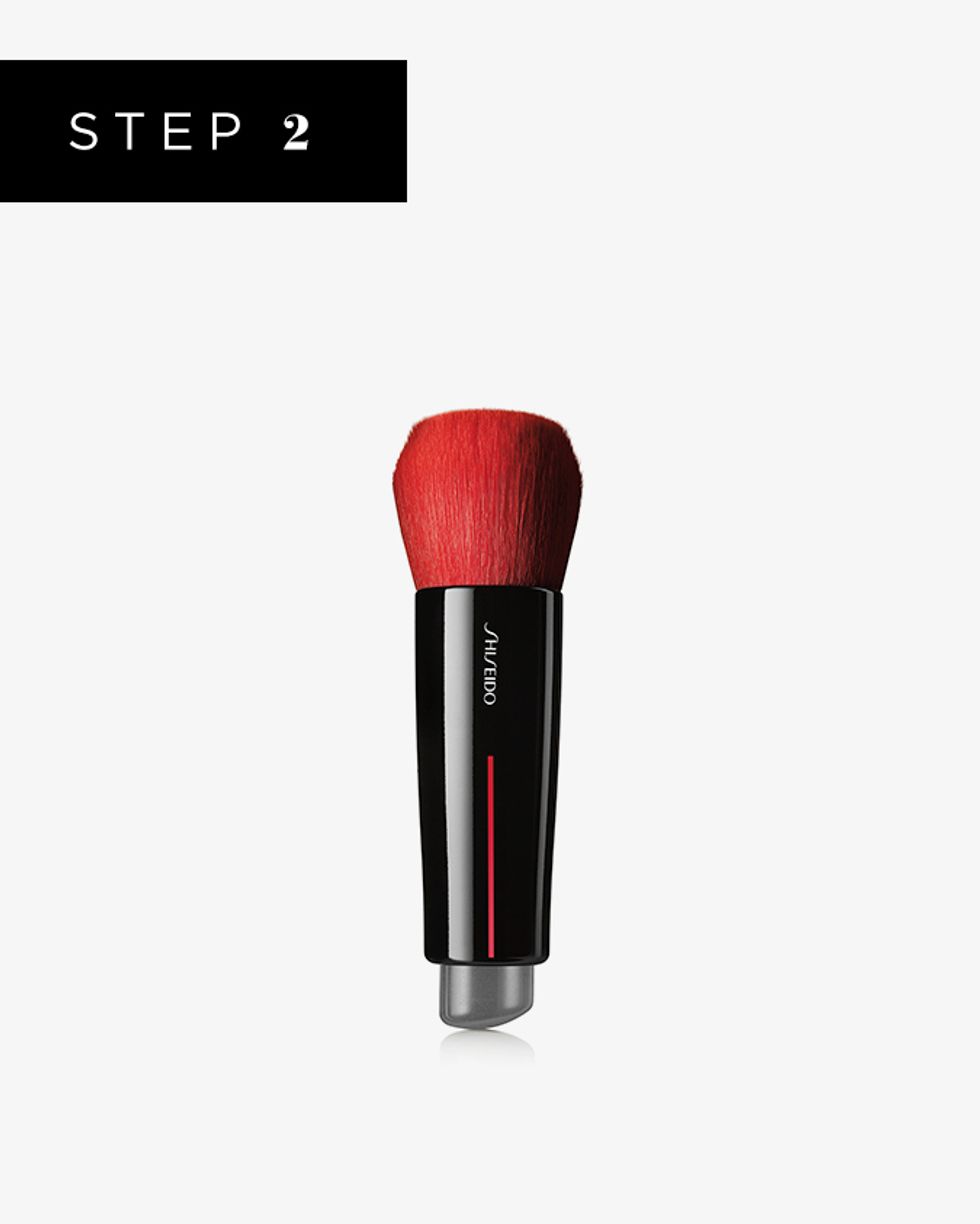 BUFF, BLEND, REPEAT
"I use the
Daiya Fude
for its buttery finish. The diamond shape hugs the contours of your face and gives you that perfect airbrushed skin. Your foundation should essentially disappear into your skin. You just buff, buff, buff, and the foundation does all the work for you. I'm just buffing because why not? You don't necessarily have to do all this work for it."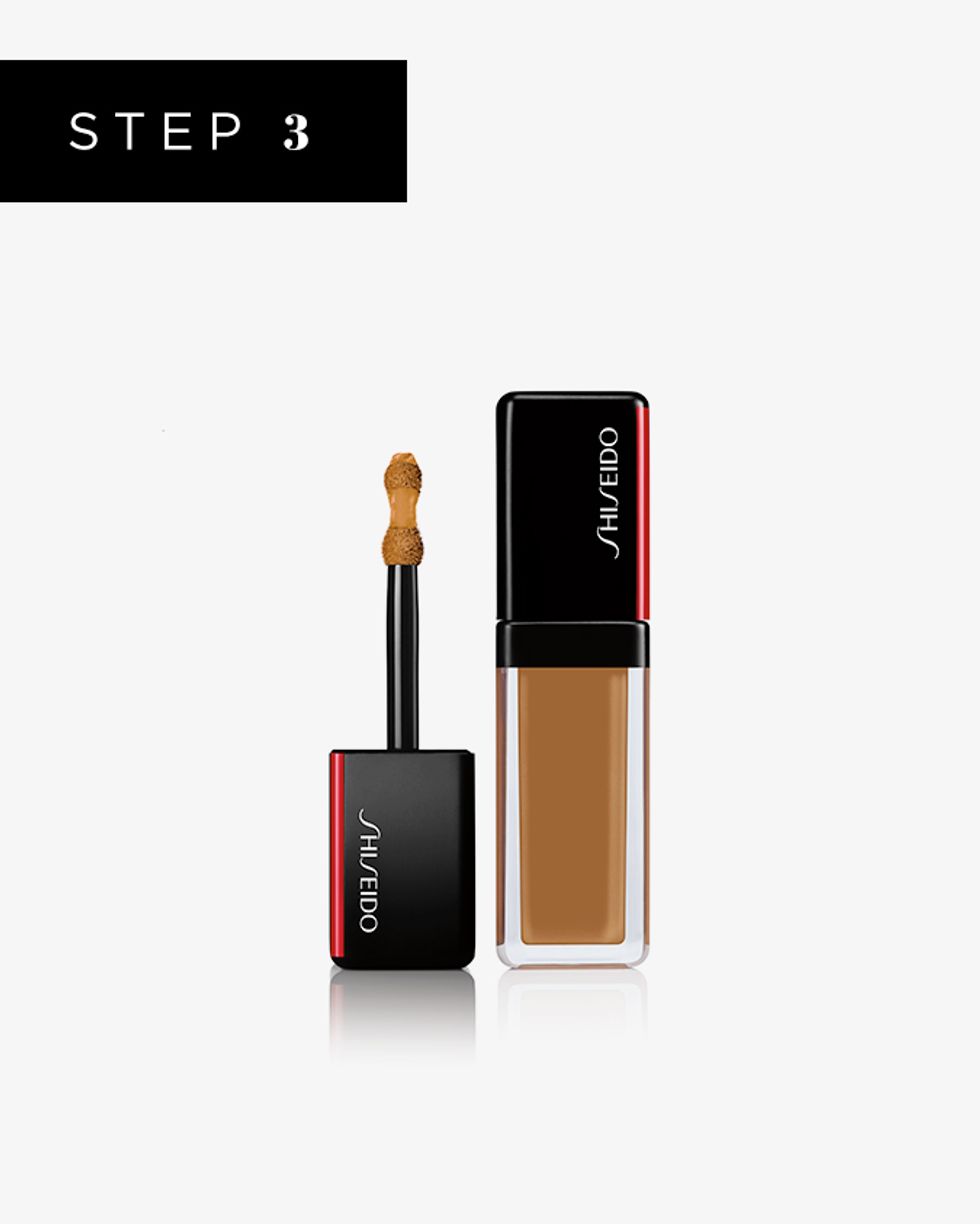 CONCEAL
"I love the
Synchro Skin Self-Refreshing Concealer
[because] it blends well and it has that lightweight texture. That's important for concealer, because you want your concealer to be really lightweight but still give you that medium-to-full coverage, especially when we're talking about underneath your eyes.
"On Fatuma, I've applied the products with the peanut-shaped applicator, and I'm blending it in with the Tsutsu Fude brush. This is the new brush by Shiseido, and it does all the work for me. It has those synthetic hairs and that beautiful rounded tip, which is great for getting into all the crevices."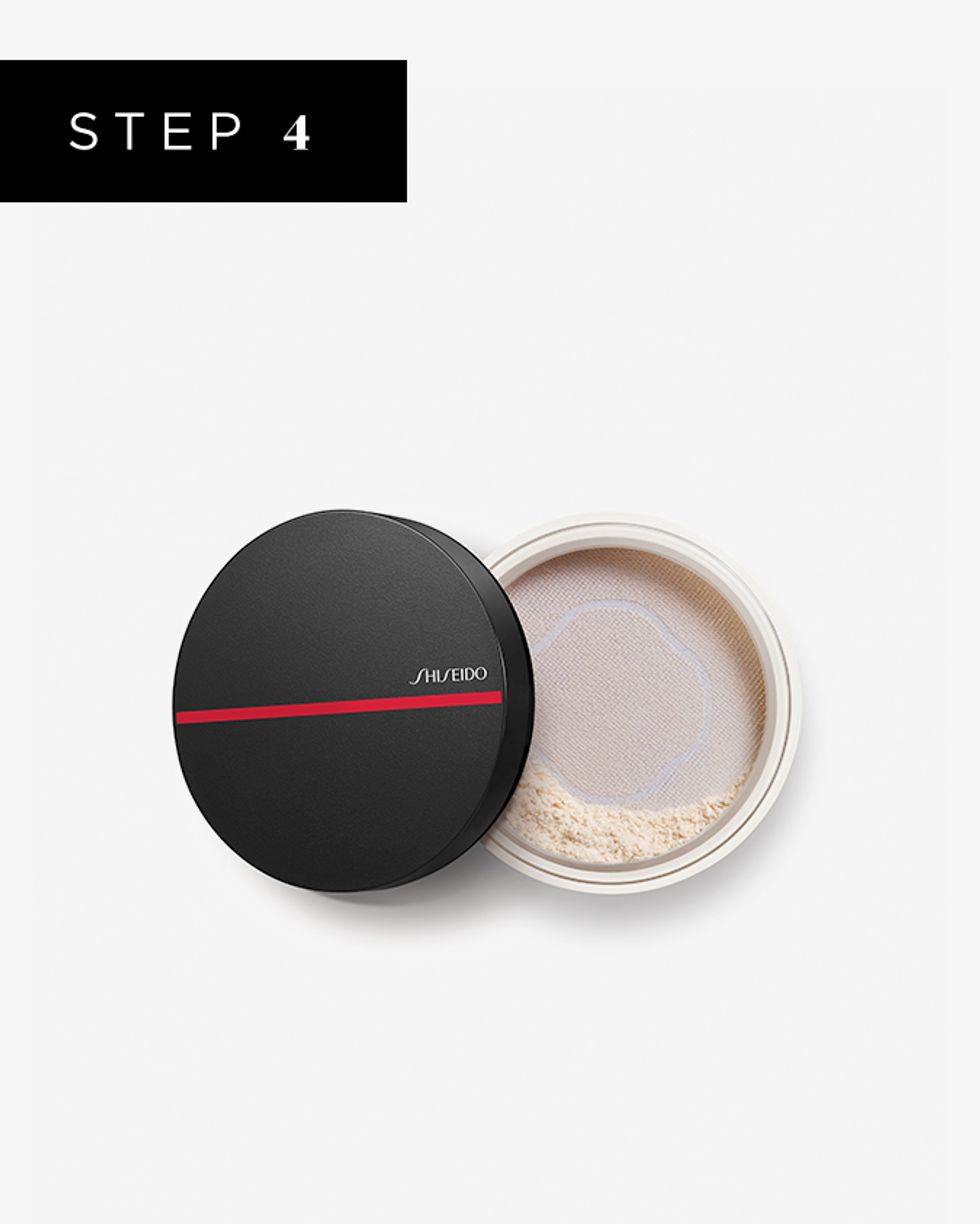 PERFECT WITh POWDER
"Now we're going to set the look with our new
Shiseido Synchro Skin Invisible Silk Loose Powder
. We're going to buff that all over the skin to set the foundation. I love this product because it comes in two finishes. You have your matte and your radiant. So what you can do is put your matte [finish] all [over] your face, and then highlight with your radiant. It gives you a very subtle highlight without looking too cakey."
USE A FINISHING BRUSH
"I'm finishing up with the
Hanatsubaki brush
. I don't have any product on the brush, and I love this because it's like four separate brushes [in one]. It just hugs all the crevices of the face. Before I send all my clients out onto the red carpet, I always finish with a brush like this because it just melts the makeup into the skin so it really looks like skin."