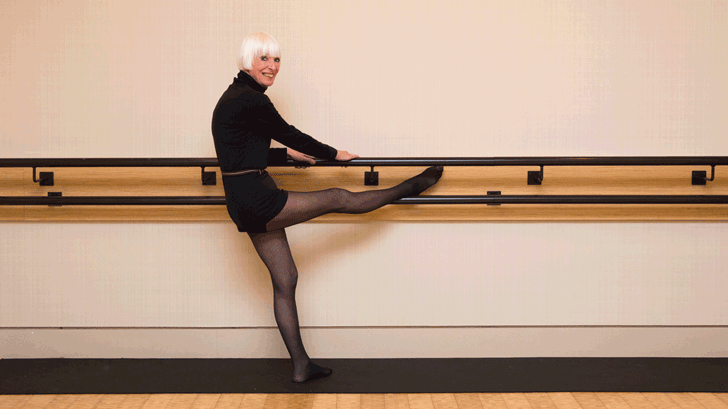 Fitness
This 84-Year-Old Still Does Barre Better Than You Do
Esther Fairfax is more flexible than we'll ever be.
Alec Kugler
Let us tell you, all it takes to get us motivated to go to the gym is witnessing an 84-year-old Esther Fairfax lift a leg over the barre. She's been practicing the dance-based technique for 56 years, since her mom, Lotte Berk, developed the method over half a century (!!) ago. Just let that sink in. "I started my training with my mom at the age of 28, when I was still carrying my baby weight from my last child. I was so thrilled I could go to her classes and get my shape back. I loved it so much that I asked to start training others," Fairfax tells us as she reaches to touch her left foot. Watching Fairfax stretch and contort is enough to make you want to do everything she's been doing for, well, ever. So we had her show us her favorite moves she swears have kept her young.


---
---
Move #1:
Good Dog
"Facing the barre with soft knees, tilt. Slide one leg on a diagonal with a soft knee. Lift the leg, but not all the way to the hip. Imagine someone standing right behind you; gently rotate the leg behind the imaginary person. Then stretch and pump up on a diagonal, but still do not lift the hip. Change legs.

"The results will be that your bottom will get a lift, making it more perky and firmer!"


---
Move #2:
Tarts Position
"Sit against the wall under the barre. Your inside leg should be bent in with the kneecap flush against the wall. The outside leg is out to the side, slightly bent. Your shoulder is leaning against the wall, and your hand is on the floor by your bottom. Roll the hip in, and also turn the outside leg in, taking the outside arm up and over onto the barre, holding to add support. That
'
s the correct position to start (always with the hip rolled in). Now lift the foot off the floor and repeat many times. Then lift the whole leg up and down, repeating many times, making sure that your hip stays forward. Repeat on the other side."
Want more stories like this?
Are 10,000 Steps a Day Really Necessary?
Beauty Foods You Need to Have in Your Cupboard
You Probably Don't Know Enough about Ovarian Cancer