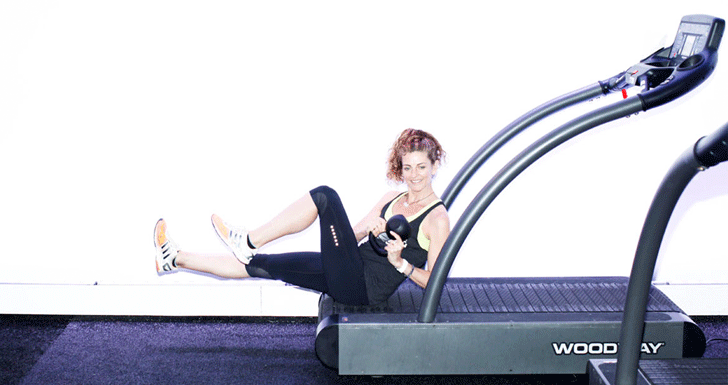 7 Exercises to Do on a Treadmill
The machine in your mom's basement isn't just for running.
Summer is coming to an end, which means that our waterfront morning yoga sessions and rooftop meditations are reaching their final days. Thanks to Mile High Run Club, and founder Debora Warner, the gym namestay was turned into a fun, interesting, and, a great *full-body* workout. With a few tweaks, you can get more than just a leg and cardio workout and incorporates arms, chest, and more too. Here she shows us how to use the treadmill for more than just running.
---
Move #1
HIGH KNEES
"Lift one knee up in front of the hips at a time, jogging the knees up quickly while the opposite arm swings back. Lifting the knees fires up the hip flexors before a run."
---
Move #2
BUTT KICKS
"Stand tall and snap the heels back quickly toward the butt, keeping the knees beneath the hips to activate the hamstrings in the back of the leg."
---
Move #3
HILL TECHNIQUE
"Shorten your stride, increase the stride rate (or cadence), and exaggerate the arm swing while climbing a hill. Proper hill technique promotes good form and builds strength specifically in the quads, glutes, and calves."
---
Move #4
KETTLEBELL STEP UPS
"Have your kettlebell is in a rack position in one hand. Place the opposite foot on the treadmill and drive the opposite knee up to parallel. This movement works the stabilizers around the ankles, as well as the quads, glutes, and core."
---
Move #5
SQUAT TAPS WITH OVERHEAD KB PRESS
"Hold the kettlebell with the bottom facing up (or by the horns). Lightly tap the bum down to the back of the treadmill while pressing the kettlebell overhead as you stand and push the hips forward, engaging the glutes. It's great for shoulders and lower body."
---
Move #6
RUSSIAN KB TWIST WITH BICYCLE
"Hold the kettlebell with the bottom facing up (or by the horns). The body is in a V-position, and the back is straight. Keep the chest out and twist from side to side at the same time as you bicycle the legs in. This is a great oblique exercise."
---
Move #7
STRAIGHT ARM PLANK WITH SHOULDER TAPS