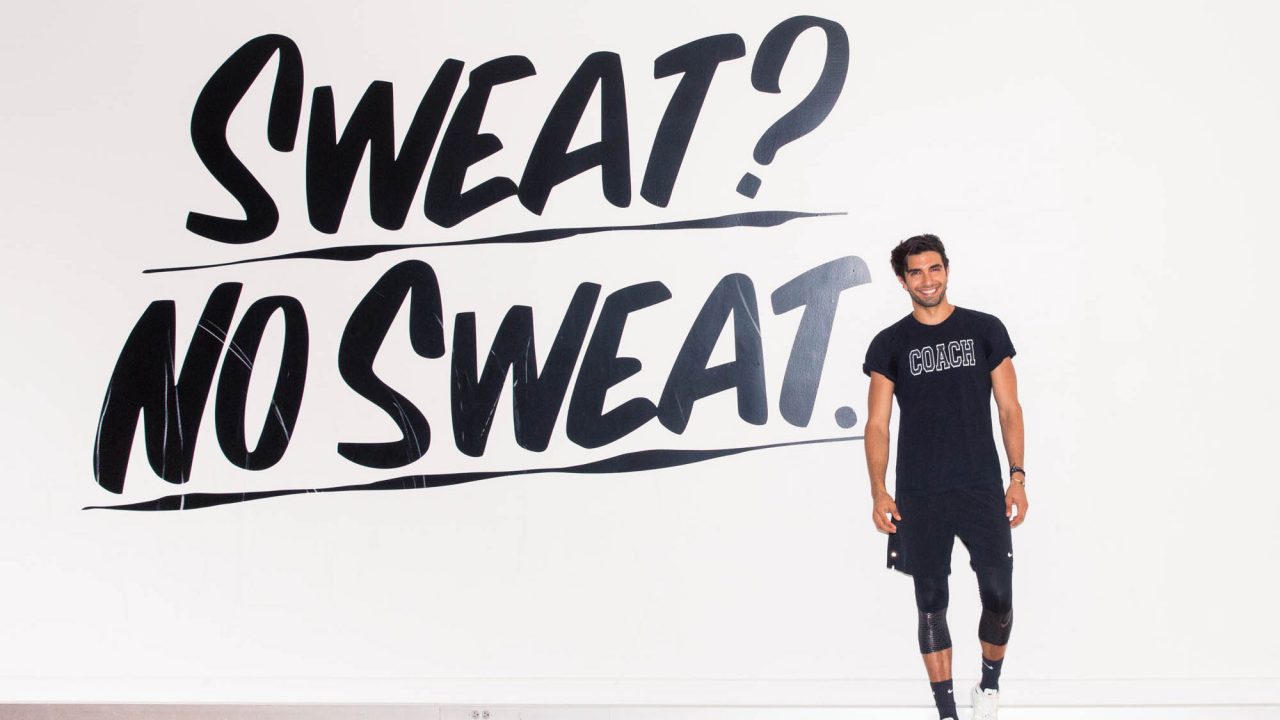 Allow This Super Hot Trainer to Make Your Day
Akin Akman is a superhuman (although you *can* do these moves at home, too).
In the immortal words of Gwen Stefani circa 2004, this shit is bananas. As in, we're a little intimidated to try the crazy/awesome/next-level moves superhuman and trainer Akin Akman shows us right here. But that also doesn't mean we can't set the intense exercises as our fitness goals! So we had him give us the play-by-play of how to get to this level of fitness. At the very least, the moves he demo's just for us are very fun to look at.
* Disclaimer: use extreme caution if you plan on trying these at home!
---
Move 1:
Handstand Shoulder Taps
"Start practicing by doing a handstand against the wall for support. Once you feel comfortable and strong enough, slowly try to move away from the wall. It will take a few tries, but keep going for it! Make sure your core is strong and tight (and you feel comfortable in a handstand) before adding in the shoulder taps."
---
Move 2:
Handstand Walk
"Similar to the Handstand Shoulder Taps, you want to build your strength by practicing on a wall. Once you feel comfortable and secure, engage your core and try walking with your hands. Always have someone around to spot you!"
---
Move 3:
Handstand Push Up
"Here's how to do a handstand push up.
1. "Face the wall in a standing position.
2. "Kick up so you're in a handstand position against the wall.
3. "Engage your core, glutes and thigh muscles.
4. "Lower yourself and touch the top of your head to the ground.
5. "Push back up and repeat."
---
Move 4:
Burpee into a Handstand
"Turn it up a notch! Pull your legs to the back of your arms [ed note: similar to a crow pose] and push your legs up into the air into a handstand. At the top, do a quick push up and come back down to a burpee."
---
Move 5:
Roll Up Pistol Squat
"The pistol squat is one of my favorite moves to do at bootcamp. The roll up move is a progression to the pistol squat. Start from standing on your right leg, squat down and roll backwards onto your mat. Propel your body forward and try to roll back up onto the right leg. For modifications, consider using a box and sit on it one legged to stand."
---
Move 6:
Pistol Squat with Weights
"Once you're comfortable with pistol squats and the roll up addition, consider doing them with weights!"
---
Move 7:
Crocodile Walks