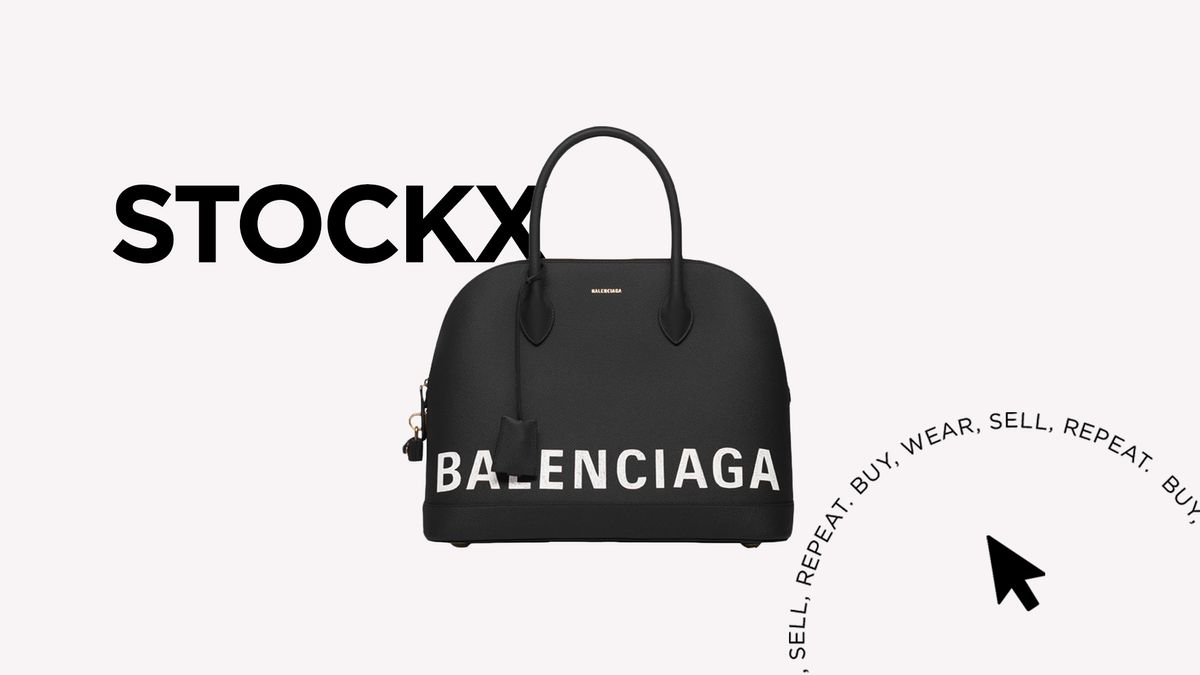 Fashion
Tips from the pros on how to sell your rare collabs and designer goods. In partnership with StockX.
Graphic
Rachel Pickus
You've finally done that huge closet clean-out you've been meaning to get to for months and found that you have some pretty awesome pieces you've just grown tired of. Maybe you want to sell them so that you can fund your new purchases for a little refresh. Or maybe you got your hands on a 1-in-100 bag that you want to flip for the big bucks (we don't judge). Whatever your reasoning is, you want to get the most money for your resale, right? With that in mind, we went to the pros at StockX, who've made a *pretty big* business in resale, to give us the best tips for selling your goods online.
 

What makes a good resale product?
"There are several elements that can make a handbag or accessory highly resalable on StockX,
"
the handbag team at StockX tells us. "Scarcity in the market is a huge factor
—
anything that is somewhat rare, sold out, hard to get, produced in smaller quantities, or is generally just hard to find. We've been seeing a lot of collections release in smaller production runs where demand outweighs the supply.
"A great example is Virgil Abloh's pieces for Louis Vuitton. The clients accessing these bags often have outstanding relationships with the brand and a client advisor who are able to reserve items for them to purchase. These exchanges make products more and more scarce in the marketplace and harder for people to get, which translates into excellent resale value. These items are likely to sell above retail.
"Classic handbags that are also known to maintain value are excellent resale products. CHANEL, Hermès, and Louis Vuitton are a few of the brands with classic silhouettes that have withstood the test of time. Most of these brands increase in retail price year after year due to inflation and rising costs of production and materials. An example is the CHANEL Jumbo Classic Flap Bag, which currently retails for $6,200. In 2009, this bag retailed for $2,695. On the resale market today, we see an average sale price of around $4,235. Depending on when the bag was purchased, there is potential to make back your original investment and then some."
---
How to get the most money

The handbag team at StockX offers this: "We cannot stress enough the importance of taking care of your luxury purchases. StockX only sells bags and accessories in excellent condition so you can get the most money for your item. Always handle your bags with clean hands, avoid setting them on the floor, and always store your bags with care. Stuffing your bag is very important in order to maintain its original shape. Use acid-free tissue paper or soft materials like scarves or cotton t-shirts. I also suggest storing your bag in its original box, if at all possible. If not, an upright position in its original dust bag or a cotton pillowcase is best. Don't hang expensive bags from hooks, as this may ruin the handle shape. Check the weather before you leave the house, and rotate the usage of each bag to help decrease wear and tear. Always save the original box, dustbag, accessories, authenticity cards, and even the receipt for the best resell value.

"Paying attention to trends and knowing when to sell is another way to get more for your money. Recently, we have seen a big resurgence in vintage silhouettes. Brands are repurposing these items, which, in turn, are driving the resale value of older styles. It's like the stock market; you have to know when to buy and when to sell. Fashion trends cycle in and out—right now mini bags are in, but up next, oversized bags are due for a comeback."



How to figure out the listing price

"StockX provides all the necessary data to accurately value an item. There is no need to look through multiple listings; all of the historical sales data needed can be found on the product page of any item. Each product page lists all current Asks (listings for sale), all current Bids (offers to buy), and every sale in the history of the item on StockX. Additionally, we use all of this data to provide you with a 12-month historical average sale price. When determining the value of your bag, I suggest taking into account the historical average, as well as a few of the most recent sales, to set a price you are comfortable with that is in line with the fair market value."
What to know about selling on StockX
"One of our biggest differentiators is price transparency. Using our historical data, both buyers and sellers can see how much an item on our market sold for in the past and how much it is selling for right this second. This transparency allows sellers to set the right price without having to dig through multiple listings and competitor sites. Other resale sites set the price for you or make you do all the digging on your own, leaving you without the proper tools to get the most money for your item.
"Secondly, StockX operates as a completely anonymous marketplace. This means both buyers and sellers have a lot less work to do. Buyers don't have to do hours of research on a seller's history and rating, and sellers don't have to take photos or write witty descriptions of the items they are selling. We take care of it all. At StockX, we're all about return on investment, and that includes your time! Additionally, there are no authenticity questions or concerns here; buyers trust us. We have a team of luxury experts that get up close and personal with every item to make sure it's 100 percent authentic.
"Lastly, and most importantly, the money. StockX offers highly competitive fees, unlike other resale and consignment sites that take up to 30 percent of your earnings (gasp!). Sellers never pay for shipping; you simply print off a prepaid label and drop it off to be mailed out. We offer faster payout; when we receive an item and deem it authentic and in excellent condition, the payment gets transferred immediately. Other sites can take weeks or months to get you your money."
Mistakes to avoid
"There are a few common mistakes we want sellers to avoid. First, make sure you locate the correct product page for the item you are trying to sell—confirm the size, color, material, and lining. Second, don't misrepresent the condition of your items. We only accept bags in excellent condition, so we highly suggest taking good care of your items. Check out our blog post outlining the different elements we evaluate when determining whether your bag is in excellent condition. ​​Lastly, please use the data to accurately price your items. Be realistic; if you price too high, it won't sell."
Want more stories like this?
24 Sneakers Releasing This Month
A Walk Around the Block with Christian Louboutin
Hussein Suleiman Talks His Clothing Brand Daily Paper