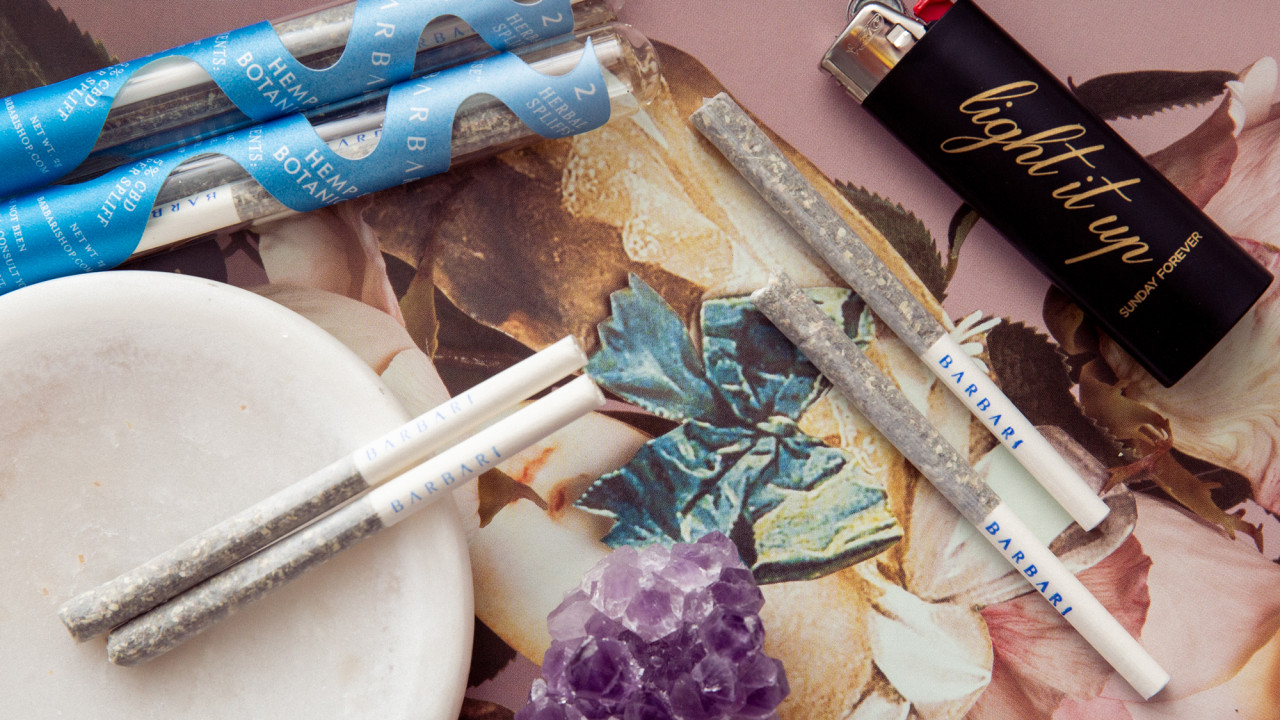 CBD Spliffs 101
What they are, where to find them, and how they'll make you feel.
CBD is chic. It seems you can't go to a boutique fitness studio or a gourmet grocer without being plied with CBD options, and they're all cute—somehow all of the companies shilling cannabidiol in its various forms got the memo that their audience values nice packaging. The drinks are cute. The soaps are cute. And, of course, the spliffs are especially cute.
Next month, Barbari launches their first pre-rolled CBD spliff, an elegant cone of organic flower hemp, peppermint, jasmine flower, raspberry leaf, and sage. It's delicate and floral, and it is designed to help you focus and "support productive moments," says Meryl Montgomery, who launched the cool-girl CBD startup with Valarie Sakota two years ago and gave us a first look at their new product. Their herbal spliffs incorporate targeted herbs "that contribute to the entourage effect of the hemp to uplift and invigorate," Montgomery says.
We'll pause here to explain the difference between smoking CBD and smoking THC, because it should be noted that they look and smell exactly the same. If you light up one of Barbari's spliffs outside your workplace to get your productivity on, you should be prepared for some strange looks. That's because hemp bud and cannabis bud are in the same family, but hemp has less than 0.3 percent THC, which is the psychoactive part of cannabis. Marijuana contains more than 0.3 percent THC, and, you know, gets you high.
CBD first gained popularity in the form of an oil, which you usually buy in a tincture bottle. It's also relatively easy to find in vape form. But rolling and lighting up some CBD hasn't been second nature to CBD aficionados until more recently. And how many times have you smoked peppermint, jasmine flower, raspberry leaf, or sage?
"We are finding that it does take a bit of education to onboard consumers on knowing that you can smoke other herbs and what to expect," Sakota tells us. "Hemp is becoming more popular as a smokable in recreationally legal states," she adds, with people commonly mixing "high-CBD, low-THC strains." But in states where THC is banned, or for people who want CBD for its unique focusing properties, an herbal spliff sans marijuana makes sense.
Sakota likens the experience of smoking an herbal CBD spliff to smoking a cigarette. When it's time to get some work done, she can "go outside, chill out," and return feeling centered. And if you want to get more creative, the spliffs have an "interesting effect when you mix with alcohol," Montgomery says. "It allows you to drink [in moderation] and not get too inebriated," thanks to its ability to lend a bit of extra concentration. A little boost of focus is always a good thing in our book.
Want more stories like this?
A Brief History of 4/20
Inside NYC's New CBD Destination
14 CBD Beauty Products That Actually Work