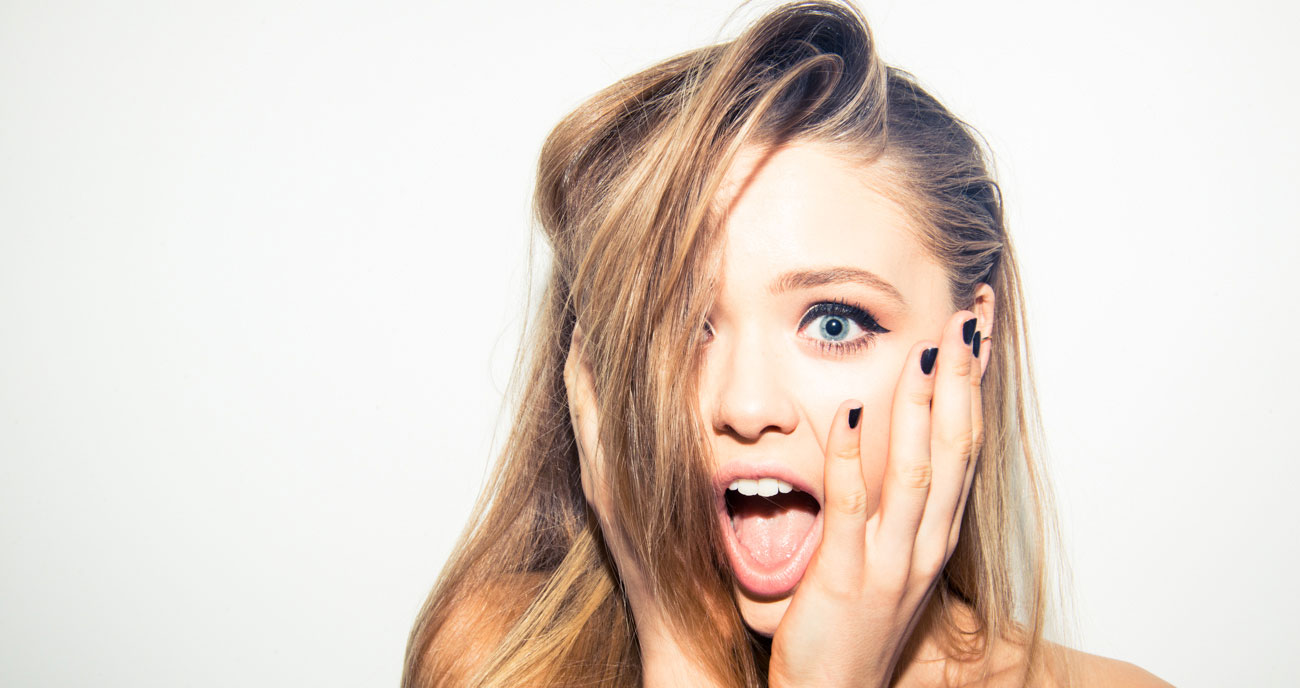 How I Learned to Love (or Honestly Just Be Okay with) My Hair
From bleach blonde to balayage and back again.
Like pretty much every woman on the planet (unless you're, like, Adriana Lima or something), my relationship with my hair can only be summed up as…agonizing. I mean, is anyone really truly happy with their hair, save for the precise moment they catch themselves in the mirror upon leaving the salon with a really great blowout, fresh cut, and shiny new highlights (provided, of course, that your stylist or colorist didn't just completely fuck up your self-esteem vis-à-vis some truly poor communication)? When I think of the last dozen or so times I've complimented any woman I know on her hair, it's usually received with a string of complaints or protest about how the current length, color, texture is just…off. But why?
My personal hair history is varied. I spent my entire adolescence (and, if we're getting really real, childhood) pining for blond hair, a longing spurred on by girlhood beauty icons ranging from Stacey McGill to Baby Spice to Brigitte Bardot (the media intake of my youth was varied, clearly). It was the heyday of Britney/Christina/Jessica Simpson/Mandy Moore—blond signaled beauty. I'd spend my weekly allowance on pretty much any drugstore product seen in YM (R.I.P.) that promised shimmery, buttery brush-on highlights or basically anything that would get me that much closer to the flaxen hair of my dreams. And then the real highlights began. It started innocently enough, with family members giving me a highlight or two while at-home highlighting their own hair, until I was finally deemed old enough to receive a coloring session of my own. I don't remember exactly how old I was, but I do know it was well before freshman year and that once the peroxide touched my strands, it was pretty much game over. (Can we talk about how I wasn't allowed to wear nail polish for a painfully long period of time but was having peroxide slathered all over my head before high school? Cool rationale, mom.)
As it turns out, the slope from just a handful of highlights to a full-blown head of blond hair is a slippery one. As in, halfway through high school, I found myself as a full-on, bleached-out, banana-peel-yellow-blond (with the occasional dabble in a Manic-Panic-y rainbow hue). And I loved it. I swore up and down that I finally felt most like myself, that I would never go back, and I started to think of my native brunette as, frankly, boring. In a way, I became addicted to the cycle of leaving my colorist on a perfect-non-brassy-shade-of-blond high, the endless search for deep, deep conditioners that would soothe my tragically fried ends, and slathering my hair with the most potent purple shampoos money could buy (Clairol Shimmer Lights FTW) and can vividly remember the feeling of every high and low as I'm writing this. Which, if you think about it, pretty much sums up how a lot of women (hopefully not just me?) occasionally feel about their own beauty routine and product-purchasing habits: you're chasing something—maybe your own personal prettiness peak—that you don't even really know exists. It's an easy way to indulge your tendency for obsessive self-improvement via something that's ultimately a cheap thrill. To put it one way, Philosophy's Hope in a Bottle is some extremely apt, all-too-real shit that kind of strikes a nerve.
My hair story comes full circle the way all good ones do: with me coming back down to earth. You see, maintaining extremely blond hair as a young person is all fine and good when you're under your parents' roof and your mom (hi, again!) is obsessive about you maintaining a non-brassy shade with minimum rootage. When I moved out and went to university, I was met with a harsh reality: I was rich in naive confidence but poor in actual, tangible cash. Convinced I could DIY any new growth in my apartment (cool tip: don't do this!!!!), I developed a collection of at-home hair-dye tools and was left with my fair share of horror stories, a ton of breakage and really weird demarcation lines and rings. And so? I accepted what I thought was defeat and went back to my natural (ish? I honestly forget) brown. That was about five years ago, and just a few months ago, I let myself go in for balayage-y blond highlights for the first time. Because with age comes the abilities to exercise restraint (although my bank statement and liver will tell you otherwise) and dip your toe into the ocean that is self-acceptance (this is corny AF and the jury's honestly still out on it, but I'm trying here, okay?). And you know what? This summer is the first time in a long time I've gotten compliments on my natural(ish) hair color and texture—air-dried, even.
We want to help you attempt to feel good (or even start to just feel okay) about your hair, too—whether that's through tips and tricks that let you leave the house with your hair wet but arrive at work looking polished, interviews with women we know speaking to their relationship with their hair, how to deal with curls, going blonde as a woman of color, and then some. Because if anyone knows it's a process (and a long, arduous one at that), it's us.
Want more stories like this?
How 7 Editors with High-Maintenance Hair Make It Through Summer
18 Products We Love for Shiny Summer Hair
12 Shampoos for Soft Frizz-Free Waves