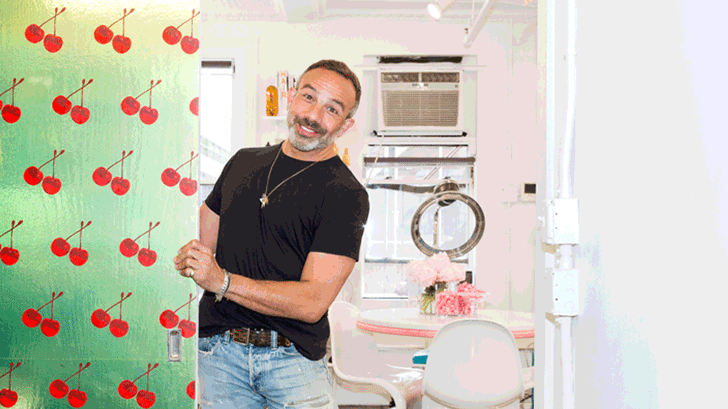 Interiors
Inside a New York Hair Salon Filled with Scratch-&-Sniff Wallpaper & Vintage Treasures
Michael Angelo's Wonderland Beauty Parlor is beloved by fashion insiders.
Alec Kugler
After stepping inside
Wonderland Beauty Parlor
in Manhattan's Chelsea neighborhood, you're guaranteed to experience two things: first, a complete inability to focus on any one spot in the meticulously designed and intimate space; second, an infectious smile courtesy of Wonderland's owner, designer, and lead
hairstylist
,
Michael Angelo
. Such is the case when we visit him at his newly opened salon, where trees from the High Line are visible just outside the second-story window. "We just moved in, and it feels so good," he exclaims as we inquire about everything from the two-foot stuffed cheetah at the reception desk to the scratch-and-sniff cherry and banana wallpaper (you read that right) near the wash stations. The atmosphere is undeniably fun, as if you've wound up backstage at the
Paris shows
and the theme is the Coney Island boardwalk.
When we finally finish exploring every nook and cranny and start asking about his eclectic design tastes, Angelo is quick to explain his vision. "If you look around the room, there's Cyndi Lauper and Madonna everywhere," he says, motioning to several photographs and prints throughout the studio. If those weren't enough to convince you of his encyclopedic knowledge of photography, his impressive collection of
Vogue Italia
will certainly do it. Not to mention he's been one of the biggest names in the fashion and
beauty industries
for years. It's all a treat for the eyes, as well as your hair (and nails and brows).
With everything from the bejeweled Mickey Mouse statues to the jar full of pink Starbursts on the center table seeming to have a backstory, Wonderland feels less like a place of business (although you can receive a full afternoon of glam here) and more like your most fabulous friend's
living room
. Check out the rest of the interiors below.
---