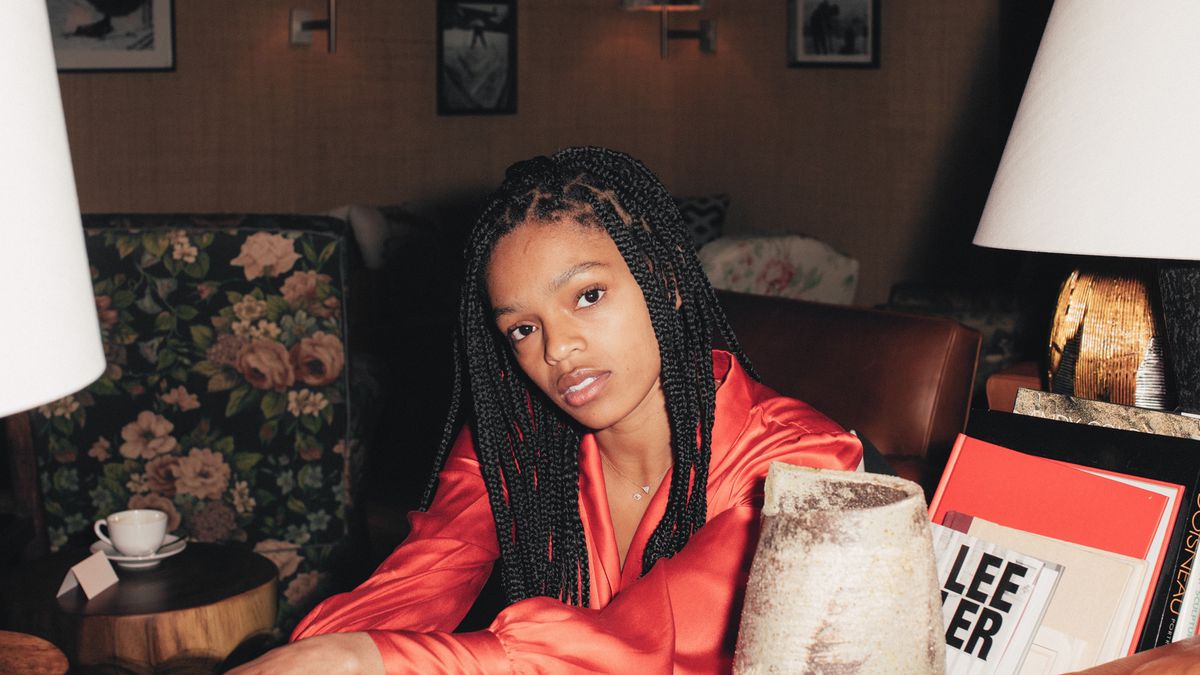 Models
Catching up with the model and artist as she makes a foray into music.
Ben Ritter
Last month
Selah Marley
accomplished an elusive feat in the art world: She created a work that people were compelled to see.
A Primordial Place
, Marley's sensory installation of floral- and foliage-filled landscapes, drew droves of attendees to Brooklyn's City Point, garnered attention from publications like
Paper, 
and dominated 
Instagram feeds
. "I was shocked at the turnout, and also at how positive the feedback was," she says. "It was great." In keeping with her tendency to hop from project to project, though—one day she's
modeling for CHANEL
, the next she's
releasing a short film
—when we meet with Marley, the daughter of Lauryn Hill and Rohan Marley, she's prepping for her first live musical performance. Tonight she's landed at Le Chalet, the après-ski-inspired bar at Saks Fifth Avenue's buzzy new French restaurant,
L'Avenue at Saks
. "This is my first real performance, and it's nerve-racking," she says between sound checks. "Because I come from a family of performers, there's a big precedent set before me. People expect a lot, and that gives me a ton of anxiety. But it'll be fine…I hope." It was more than fine—it was excellent.
More on our conversation with the emerging artist ahead.
---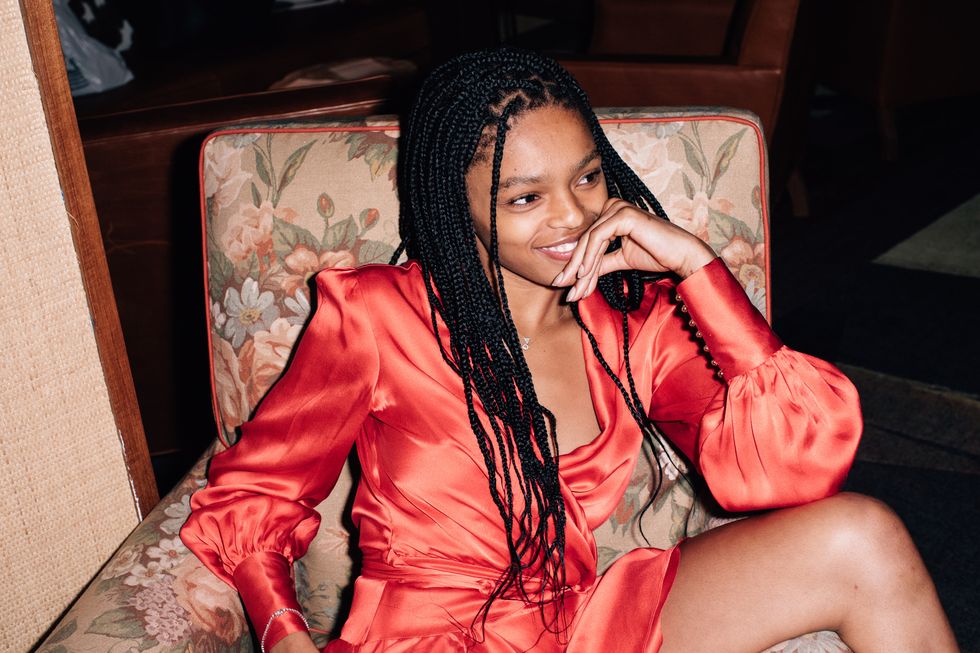 A Primordial Place
was a huge success. How did that come about?
"I'm a big daydreamer, so it's not unlike me to create worlds in my mind. I've always liked making worlds, whether they're tangible or through film, and that was one that I wanted to create. It was just a vision of a place, and it went through many different phases. At one point it was a play—it was a lot of different things. It was stressful to a certain degree; manifesting is not an easy process in the slightest. But the turnout was way more than I expected."
Who's on your short list of favorite musicians?
"I'm more of a song person than I am a musician person; however, I would put Frank Ocean on that list, and I'd put Kanye on that list. I won't say my family because that's not really fair, but some of my favorite songs are "Eternal Sunshine" by
Jhene Aiko
, "Magdelena" by Duendita, "Summer" by Brockhampton, "Moment to Myself" by Diana Gordon,
Damn
—that whole album–by
Kendrick Lamar
, "Chamber of Reflection" by Mac DeMarco, "Naked" by Malia, "Cranes in the Sky" by Solange… I had a really big PartyNextDoor Phase, actually; and everything on
Z
by
Sza
."
Does performing in front of people come naturally to you?

"Not at all. I enjoy singing, but singing in front of people gives me severe stage fright."

What are some of your interests outside of working on your art?

"I used to really love astrophysics. I went to NYU for science and spirituality, actually, until I dropped out. I love trapeze, I did pole dancing for a second, and I like aerial silks. I love being suspended in air, so between trapeze, aerial silks, and pole dancing, that's all kind of similar."

Why did you decide to leave school?

"My modeling career had just started taking off, and I didn't like how confining and restrictive it was. You kind of get locked into one thing. As soon as I got there I felt like I was just stalling until I figured out what I wanted, so I left. I've contemplated going back several times because of the validation that comes with it. Since I dropped out, there have definitely been times when I've felt like I wasn't really doing anything, or that whatever I was doing wasn't valid."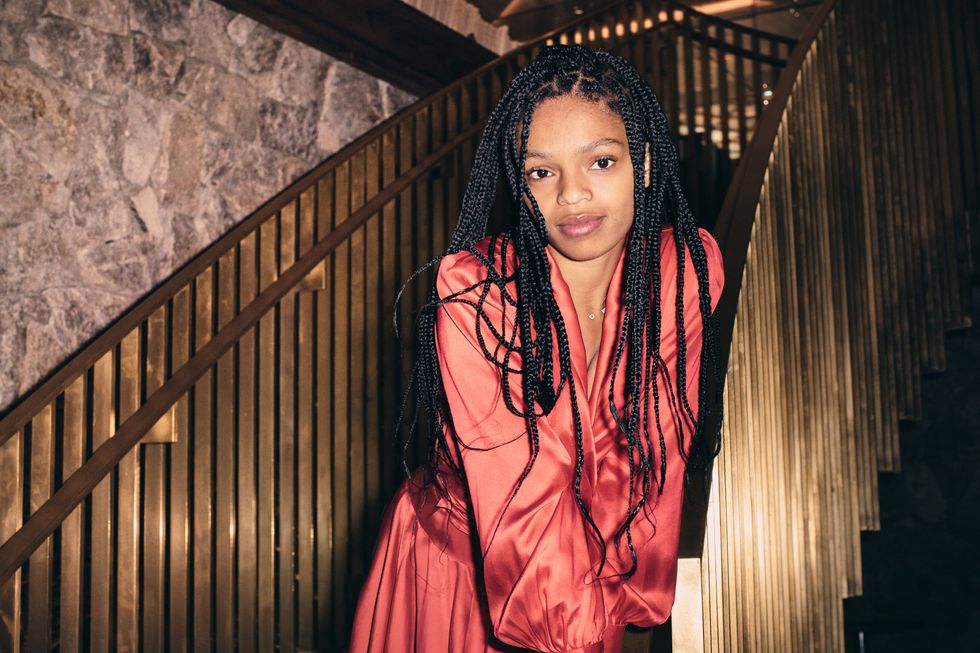 You're fairly active on social media. What are your thoughts on it as a whole? Do you enjoy it?
"I recognize the business of social media, but at the same time I'm a very open person, so I like to share, and it is fun interacting with people. Though I sometimes feel like I have to post. There's that whole if-it-wasn't-on-social-media-it-didn't-exist pressure."
What are you working on now?
"I have another installation idea and an event idea, but as beautiful as [
A Primordial Place
] was, it was really expensive. I may have to get sponsored to do something like that again. I'd usually have a stronger answer, but I'm actually taking a break for a second. Maybe I'll release music, but I'm not sure. Eventually I want to start a fragrance company and get into skin care. I've always been interested in skin care, but I have to take my time with that. There's a lot of chemistry involved."
Want more stories like this?
At Home with Tonya Lewis Lee
Nimic Revenue Is Going to Flood Your Playlist This Summer
Jane Levy on Being Horror's Secret Sauce & Her Newest Musical TV Drama