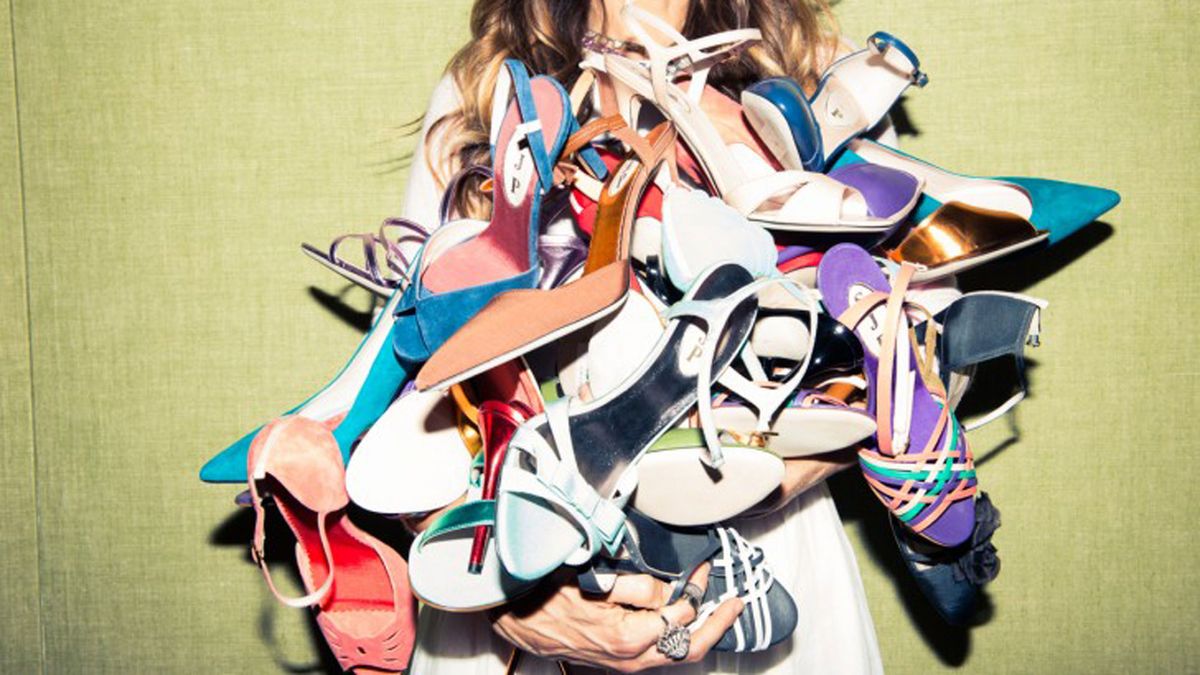 Trends
High-Heeled Flip-Flops: Friend or Foe?
Read our editors' opinions on this controversial shoe trend.
The fashion industry loves to take pieces that were previously considered a faux pas and transform them into the must-have item of the season. There have been quite a few examples lately: fanny packs, dad sneakers, tourist shirts, etc. Each of these tends to stir up more than a little controversy, especially from those looking at them from an outsider's perspective. The flip-flop is the latest hot-button trend on our radar, which we saw all over the SS19 runways, but this newest iteration is slightly more elevated
—
literally.
Many a luxury designer has released their version of the flip-flop heel—think Gianvito Rossi and Yeezy. Ignore the '90s throwback platform version you
'
re likely imagining, because these are a much sleeker option with a slim heel. They do slightly coincide with the rise of the
"

barely there

"

shoe trend
, but can the high heel shake the stigma that we typically associate with flip-flops (namely, that they
'
re cheap and somewhat lazy)? For today's debate, we polled a few people in our office for their opinions on this controversial shoe du jour.
---
Leah Cooper
Editorial Director

"I owned a pair of bejeweled heeled flip-flops in 2006, and when I wore them—with low-rise True Religion jeans and an Arden B. halter top, of course—you couldn't tell me anything! It was such a great look...at the time. While I'm all for embracing the return of this trend if it suits you, these days, I prefer flip-flops sans heels, and only at the beach."


Hannah Baxter
Editor

"I'm actually a major flip-flop fan thanks to the Olsen twins, but it's taking me a bit longer to embrace the high-heeled version. With multiple brands debuting their take on the style this spring, I'm starting to see people I admire styling them so they appear modern and cool. Still, I can't justify spending much more than $50 on a pair of my own. I'll stick with my dollar-store style and instead invest in the perfect slouchy trousers and paper-thin white tee to wear with them for the warmer months ahead."


Rachel Pickus
Social Media and Affiliate Coordinator
"Since most of my childhood was influenced by the early 2000s, I can't help but find flip-flop heels oddly nostalgic. Sure, there are a LOT of things wrong with a heeled flip-flop, but I think that's the fun in it (cc: low-rise jeans and velour tracksuits)! I'm definitely not shelling out $500+ for a pair anytime soon, but if they're good enough for
Britney
, they're good enough for me."
Valeriya Chup
Beauty Fellow

"I don't think I want to withstand the pain of a flip-flop in between my toes combined with wearing high heels."


Jodi Taylor
Editor
"
No amount of money could ever make me even pretend to like high-heel flip-flops. Flip-flops in general are not my forte, so I'm sorry guys, I can't get behind this one. No matter the brand, colorway, or style of them, I'm sitting this one out.
"
Nandi Howard
Production Fellow

"It's strange, because I feel like high-heel flip-flops are a vintage trend that is coming back. I absolutely adore them, though! When I studied abroad in London, a lot of the English women were rocking them, and I came back to the States with like, three or four pairs."



If you're up for it, shop a few of our favorites: