Fitness
How New York's Fashion Industry Elite Get Fit
The founding trainer of the city's favorite workout studio, Dogpound, gave us a tutorial alongside model Lorena Rae.
Model
Lorena Rae
and
Dogpound
trainer
Rhys Athayde
have been working out together for almost two years. And when we say working out together, we mean Athayde—who is Dogpound's founding trainer and Chief Experience Officer—has been keeping Rae motivated and at her strongest form possible over those two years. "Lorena is already one of the most motivated people I've ever worked with," he tells us. "The key to staying motivated is knowing how far you've come instead of looking at how far you have to go. She does a great job of this, while also remembering that she always has room to improve!"
Given the fact that Rae is a model who can be traveling around the world on any given day, she and Athayde have developed a strong relationship so that they communicate outside of training sessions to keep track of progress and goals. "Based off that information, plus knowing her workload, we can gauge the difficulty and structure of the sessions," Athayde informs us. Curious as to what their frequent sessions look like, we sat in on one. And brought it home for you guys, because that's just what we do. Below, a typical day in the gym for Athayde and Rae.
---
---
Move #1
SLED SPRINT/DRAG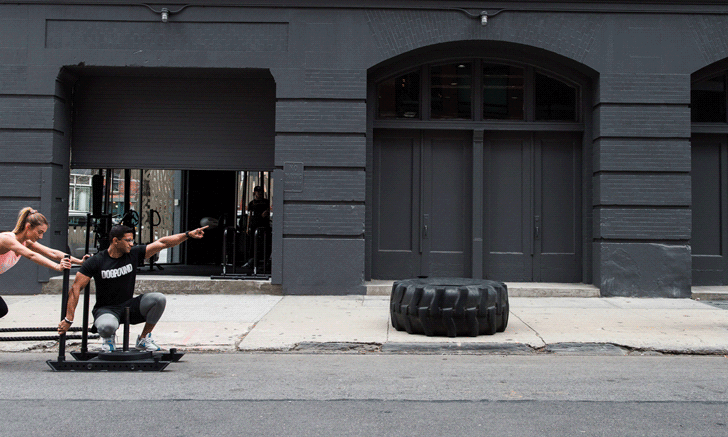 "Attach a TRX or strap with handles to the sled, and load the desired weight."

Sprint: "Grip the handles either at the top or bottom of the sled. Set your feet into your running stance, and drive through the forefoot as you enter into a run. Keep your spine neutral and lock your arms out as you drive. Continue to breathe and engage your core throughout the exercise."

Drag: "Grab the TRX or strap. Enter into a squat position, and step backwards slowly, with arms extended. Engage your abs and breathe throughout the exercise."


---
Move #2
BATTLE ROPES: ALTERNATING WAVES WITH BOSU LATERAL SHUFFLE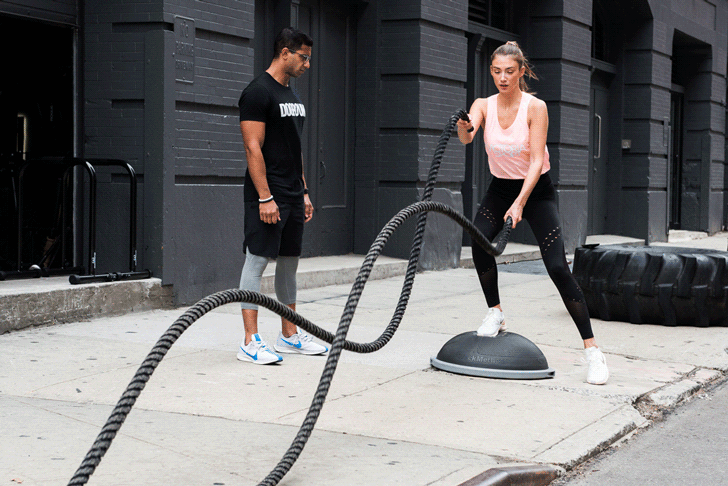 "Grab the battle ropes. Alternate your arms up and down with consistent force. Feel free to switch between small and large waves. Simultaneously, place one foot on the Bosu ball with your toes pointing forward. Engage in squat stance. As you push weight down on one foot, bring your other foot into the middle as your anchoring foot shuffles to the ground."


---
Move #3
LYING STABILITY BALL HAMSTRING CURLS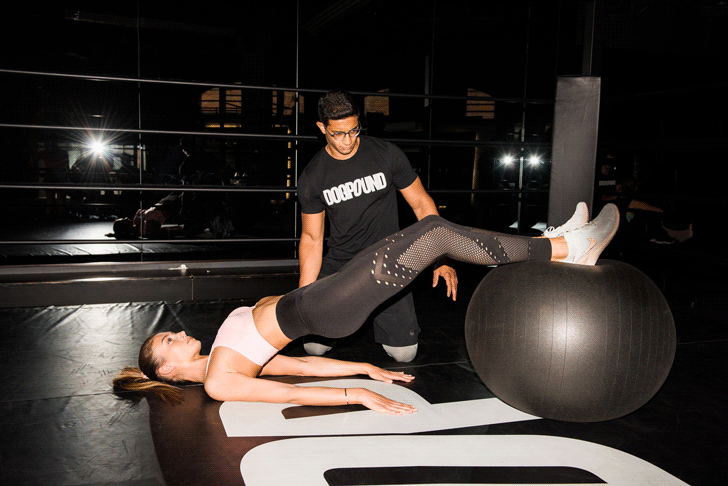 "Lay flat on your back on a mat, and set your heels on top of the stability ball. Bridge up, and maintain this bridge for the duration of the exercise. Pull the stability ball in by tucking your knees toward your chest. Extend the legs out, and repeat."


---
Move #4
BANDED CLAMSHELLS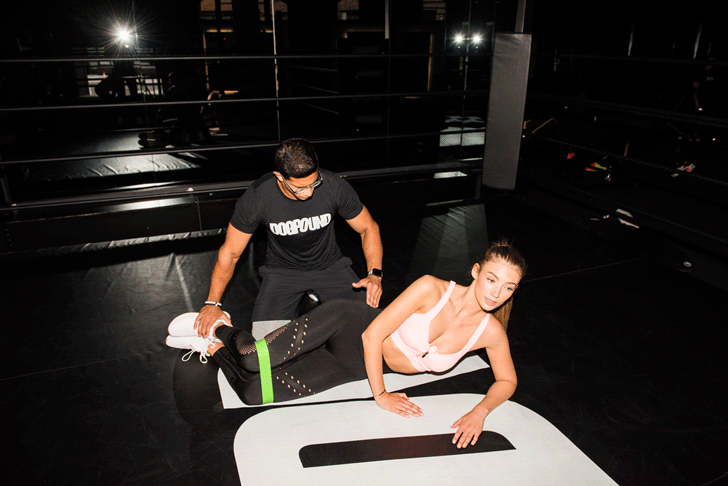 "Put a resistance band above your knees, lay on your side, and stack your feet. Bring both knees up to 90 degrees/hip level on the floor. Either lay on your shoulder or elbow, and anchor your other hand on the ground in front of you. While keeping your abs engaged and hips and feet stacked, raise your top knee as high as possible without dipping your lower back, rotating the hips, or lifting the anchoring knee or feet. Bring the knee down to rest slowly. Repeat on the other side."


---
Move #5
BANDED SQUAT JUMPS