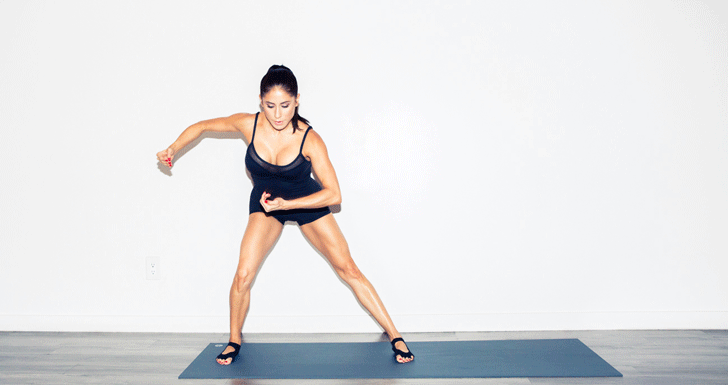 Leg-Toning Pilates Moves Made for Cut-Off Season
Bring on the 501's.
Anyone else notice how your feed has slowly shifted from cozy layers and matcha lattes to denim and crop-tops (are these not going away?)? And there's really nothing like seeing exposed skin to get you to the gym. Right? It's with this in mind that we headed to West Hollywood's Hot Pilates to train with Cindy Leos, a Cov-alum favorite (Cassandra Huysentruyt Grey, Anastasia Soare, Kelly Sawyer and Katherine Power, to name a few of her devoted fans), whose hardcore toning exercises are a surefire way to get our limbs ready for cut-off season.
---
Move #1
Booty Builder
"This sequence focuses on the legs—hamstrings, inner and outer thighs and booty with an added arm sequence to challenge coordination, balance, and concentration.
"Begin with legs and feet parallel, and inhale. Take a take a wide step with your right foot to the outside of your body and lunge toward the floor in deep plié with the right leg. Keeping your knee directly over your ankle joint with your weight in the heel to activate the hamstring and booty. Keep your left leg straight, which will help stretch and lengthen the left inner thigh. Your arms should be in 'L Position,' left arm reaching to the floor and right arm reaching to the right side in 'T Position.' Exhale. Push the floor away with the right foot to balance on the left leg while laterally raising the right leg with your arms reaching long in 'T Position' arms. Inhale.Reach your right leg behind your body and cross your left leg for a deep curtsy, hinging at the hips with 'L Position' arms, right arm reaching directly in front of your shoulder and left arm staying in 'T Position.' Exhale. Squeeze your booty as you extend/straighten the left leg while laterally extending your right leg with arms in 'T Position.' Then return to right side lunge. Repeat this Booty Builder sequence 10x, then immediately flow into Side Leap Curtsy sequence for added sculpting, toning and fat burning."
Tips: "Make sure to hinge forward at the hip joint when lunging and curtsying. Keep your feet parallel while lunging, and make sure your knee stays directly over your ankle joint when lunging, with your abs pulled in and up."
Muscles of focus:
· Hamstring strengthening and lengthening
· Inner and outer thigh toning
· Butt lifting
· Core stability
Modifications: "This move can be done with arms and hands in prayer position in front of your chest to make it more intense. To lessen intensity, make lunge and curtsy plié smaller. Work within your limits."
---
Move #2
Side Leap Curtsy
"Start in a deep curtsy position with your right leg reaching back and crossing behind the left leg with your arms in 'L Position.' Right arm is extended forward, reaching to the floor and the left arm is extended to the side in 'T Position.' Push the floor away with your left leg while extending your right leg out to the side and leap up in the air with arms out in 'T Position.' Land on your right leg, crossing the left behind the right to a deep curtsy with 'L Position' arms. Reach your left arm reaching towards the floor and keep your right arm in 'T Position' reaching to the side. Repeat this on the left to complete 1 set. Repeat this sequence 8x, then return to 'Booty Builder' starting with the left leg to step out to a side lunge then flow to side leap curtsy."
Tips: "Use plié to leap in the air to the opposite leg. Articulate through the feet and land softly and engage your abs."
Muscles of focus:
· Legs sculpting
· Thigh toning
· Booty sculpting
· Heart Strengthening
· Fat burning
Modifications: "This sequence can be done without jumping and can be done with no hinging on curtsy. Keep shoulders above hips throughout exercise."
---
Move #3
Oblique V-ups
"Begin sitting on your left hip, with your left arm extended and your palm flat on the floor at a diagonal (make sure to keep shoulder down and away from the ear). Your legs should be extended out diagonally, slightly in front of your body, and slightly externally rotated with feet in a Pilates V. Scoop your abs in and up to lift your legs to a V position with your right arm reaching to your toes. Make sure to scoop your tummy in and up towards the spine while lengthening out of the crown of your head. Inhale. Keep abs pulled in as you lower legs so that they hover off the floor while raising right arm to the ceiling. Exhale. Draw your abs in tighter as you float your legs back to the V position with your right arm reaching toward your toes. Do 10 repetitions and immediately flow into Inner Thigh V lift for 10 reps, then repeat on right side."
Tips: "Move with control, not momentum. Keep your pelvis stable so that it doesn't rock. Connect to your core, and feel your abs lifting and lowering your legs. Keep lengthening through the crown of the head and keep shoulders down and chest open."
Muscles of focus:
· Abs and obliques
Modifications: "Your supporting arm can be lowered so you're on your forearm, and your legs can be bent."
---
Move #4
Inner Thigh V Lift
"Continue from Oblique V up. Begin by sitting on your left hip, with your left arm bent and your elbow directly under your shoulder. Your forearm should be on the mat, with your palm pressing flat onto the mat. Make sure to keep shoulder down away from you ear. Extend your legs out diagonally, slightly in front of your body, and externally rotate them in a Pilates V. Scoop abs in and up to lift legs to a V position with your right arm reaching to your toes. Scoop your abs in and up, while lengthening out of the crown of your head. Inhale. Lower your left leg to a hover off the ground. Exhale. Draw abs in tighter as you engage the inner thigh to lift leg your leg back up to meet your top leg. 10 Repetitions then switch sides and begin with Oblique V Up's."
Tips: "Move with control, not momentum. Use inner thigh to lift inside leg. Make sure to keep pelvis stable, no rocking of the pelvis. Keep Abs pulled in and up. Keep lengthening through the crown of the head. Keep shoulders down and chest open."
Muscles of Focus:
· Abdominals and Obliques
· Inner Thigh firming
Want more stories like this?
A 30-Day Workout Challenge You Can Do from Your Living Room
A Full-Body Workout You Can Do Anywhere
The Best Workouts to Do According to Your Wedding Dress