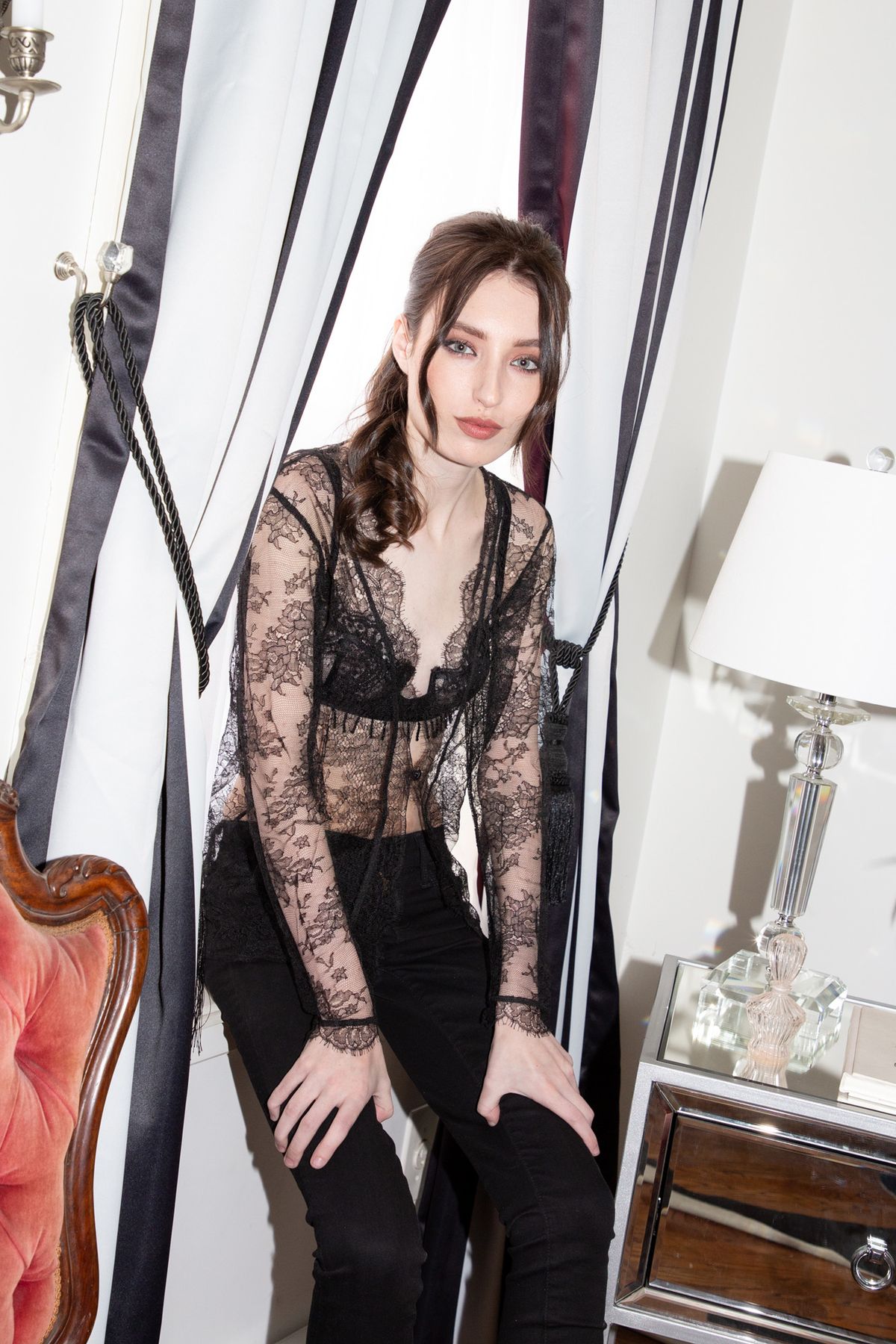 Closet
Kristin Prim's wardrobe is the lace-and-leather-filled stuff of dreams. New York.
Alec Kugler
Hannah Baxter
For most people, putting together an outfit means considering how the outermost layers of clothing complement each other. Far less thought, if any at all, is spent on the pieces no one else can see (save maybe a lucky partner). But for lingerie designer and entrepreneur Kristin Prim, the hidden bits are the most vital part of a look. "I don't love fashion, which is pretty funny," she says when we stop by her Brooklyn apartment to dig through her
lingerie collection
and wardrobe. "I don't look at runways; I love a very particular type of fashion that empowers women. And the same with lingerie. I own a very particular type of lingerie. So honing on both of those kind of sectors in fashion and luxury is how I ended up here." As we discover combing through her racks of
structured blazers
, Victorian-style blouses, and, of course, her many drawers of bras and sets, Prim is no stranger to the power of an all-black ensemble. She's an avid collector of lace and silk Agent Provocateur, as well as glam Italian designers like Versace, Valentino, and Armani. And despite her petite frame, her style always conveys a sense of quiet power—like a woman who knows what she wants and never apologizes for it. Although she's still in her early 20s, the New York native has already had the type of career aspiring creatives dream about. She launched a print fashion magazine,
Prim
, when she was 14 (!!), an art book a few years later, and an advisory website that featured everyone from Janet Mock to Moby. Now at the helm of her own brand,
Lenoir
, Prim is championing the growing movement of
lingerie made for women
by women. "I wanted that line to exist in order to empower women but not lose its sensuality," she says of Lenoir's debut 11-piece capsule collection. "Some women dress in a sexual manner just for themselves. It makes them feel powerful and important and independent." That is a fashion philosophy we can definitely get behind. Click through to learn how she developed her bedroom-meets-boardroom line of lingerie, why she thinks independent designers are about to overrun mass-market brands, and the pieces she'd advise burgeoning lingerie devotees to buy to start their own collection. Plus,
shop pieces inspired by her closet here
.