WWWRN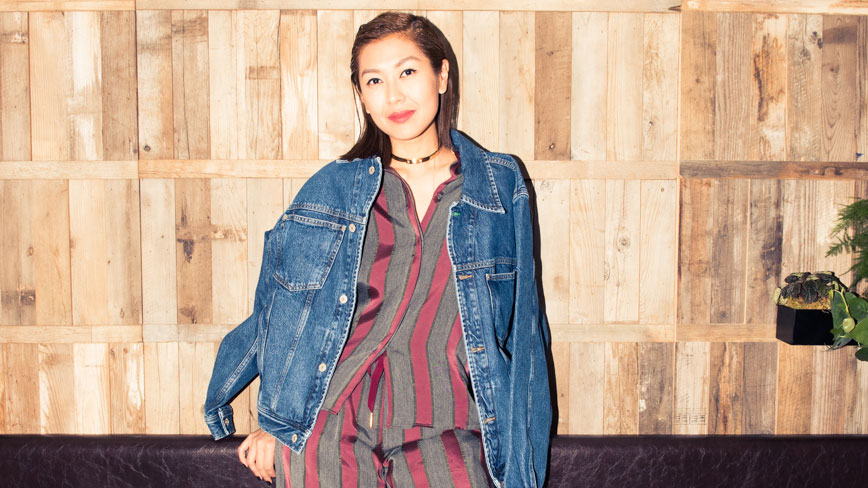 5 Loungewear Looks We'd Wear as Daywear
Comfort and style aren't mutually exclusive. In collaboration with Z Supply.
There's no reason that your clothes can't be equally comfortable and cute at the same time. That's the beauty of loungewear's rise as a street-style staple; joggers, t-shirts, hoodies, jumpsuits—no matter what style you prefer, you can create a killer daytime look with ease. To discover all the best ways to wear your favorite cozy pieces, we polled Coveteur HQ to see how our editors put together their most fashion-forward outfits. Check them out below.
---
Hannah Baxter
Editor
1. Z Supply The Knit Denim Jogger: I absolutely love a relaxed-fit pant that can take me from lounging on my couch to running out for coffee, to meeting a friend for lunch. Why would I ever not want to be comfortable? These knit denim joggers will go with everything I own—a sound investment, in my opinion.
2. The Elder Statesman Tie-Dyed Cashmere Sweater: My two great loves: tie-dye and cashmere. Throw this over joggers, and you have the perfect cozy outfit.
3. Nike Blazer Mid Rebel: The ultimate loungewear-meets-daywear look requires sneakers, obviously. I've always loved Nike Blazers, and this off-white zip style is calling my name.
---
Katie Becker
Beauty Director
1. Z Supply The Cotton Slub V-Neck in Leaf Clover: A soft V-neck is my go-to to pair with a skirt, possibly tied in the front, or tucked into high-waisted jeans for a date. It's comfy-sexy, which is nearly impossible to find.
2. Live the Process Knit High-Waisted Pant in Black: I think they're perfectly fine for a brunch or grocery run. Or work….? I'll let you know how it goes. My only hesitation about these ultra-soft pants is that once I put them on, they will not be coming off.
3. White + Warren Cashmere Travel Wrap in Cinnamon: I already own this wrap in Charcoal Heather and Sand Wisp Heather and practically live inside them, whether I'm on a plane, at my desk, or commuting in the winter. Now I'm keen on this burnt cinnamon shade.
---
Jodi Taylor
 Associate Editor
1. Twenty Montreal Maddux Jersey Boot Leg Pants: These may just be the most comfortable "joggers" that I've ever put on my body. Ever. Which is why they're my go-to for any and all of my travel and why I need to buy a few more pairs. These must always be in my life.
2. Twenty Montreal Maddux Jersey Turtleneck Hoodie: Surprise—it's a set! So naturally, I need to stock up on the hoodie as well. One extra of the grey to add to my wardrobe, and one of each in burgundy and navy because I never want to travel in anything else. Ever.
3. New Balance Grey 990v4: Because being cozy is important. And because you can't beat a good monochrome look.
---
Noah Lehava
Director, Lifestyle & Talent
1. Sleeper "Black Tie" Pajama Set: When I got my first pair of feather-trimmed Sleeper PJs, I thought I'd get a single wear out of them. Boy, was I wrong! To date, I've worn them to a wedding shower, a rehearsal dinner (different wedding, I should note), fancy dinners, work cocktails, and a cozy movie night in with my GFs. If I'd known I could get away with wearing loungewear out for so many occasions, I'd have stocked up long ago.
2. Eres Midday Robe: Weekends are definitely my off-duty days where I love to wear the coziest items and do a whole lot of nothing. But having a dog means that hibernation still entails at least three lengthy walks a day, so I'm always on the hunt for lounge-y clothing that I can pull off outside. Hey, you never know who you're going to run into. I've learned that the hard way. Plus, this is so polished and sleek, I could wear it to the office and dinner, too.
3. Joseph Mongolian Cashmere Hooded Sweater: Two words: Mongolian. Cashmere.
---
Ivanna Martinez
Social Media Associate
1. Z Supply The Elizabeth Premium Fleece Pullover: A pullover is winter's equivalent to the white summer tee. You can dress it up, dress it down, take it to the gym, or wear it on a date. The sleeves on this one give it a unique flair, and I especially like that it comes in three colors. I may need them all.
2. Olga Piedrahita Palazzo Pants: I'm a big fan of winter white; there's something so classic about it. And I love a wide-leg Palazzo, especially with a fun print. Basically, these are perfect.
3. Tabitha Simmons Swing Boots: These are so exciting! I love how the style is pretty standard but the stitching is a bit unexpected. Another great take on winter neutrals.
Want a cozy wardrobe of your own? Head to our Instagram Stories and enter to win a $1,336 spring wardrobe chock-full of goods from Z Supply, DL1961 Denim, GREATS Brand, B-Low The Belt, and St. Eve Jewelry. 
Want more stories like this?
The New Luxe Sneaker Brand You Should Get Familiar With
The Unexpected Boot Trend That's Also Crazy Comfortable
12 Pieces of Lingerie We Want to Wear Everyday
Part of the series:
WWWRN