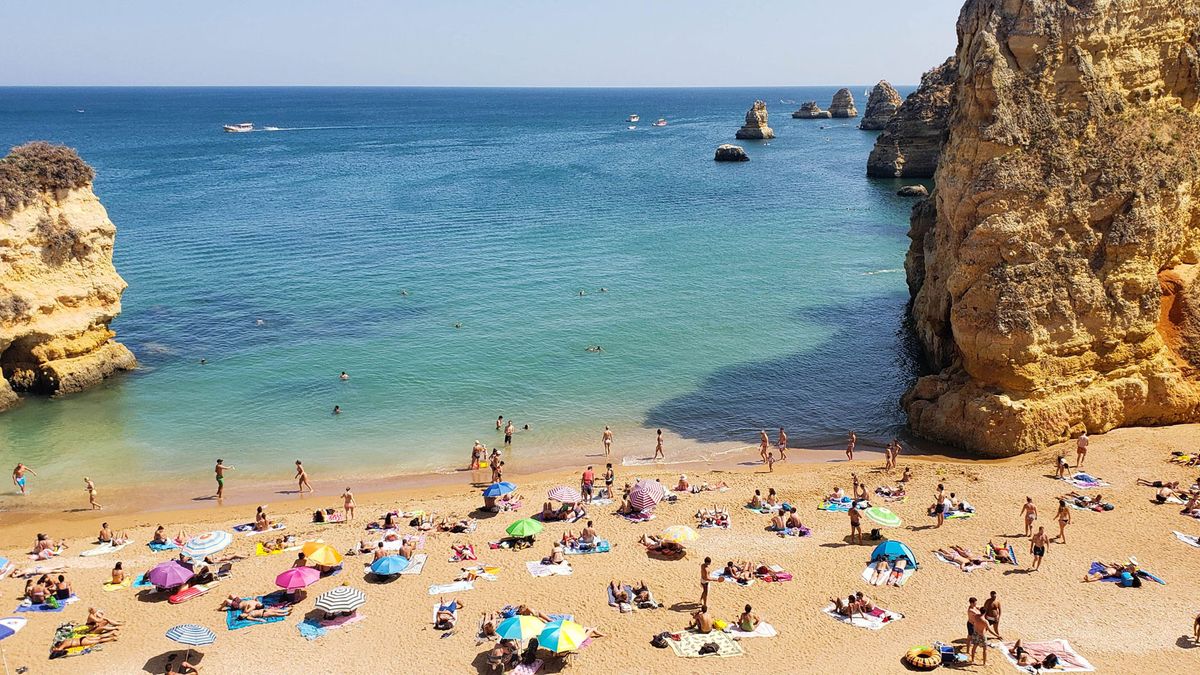 Travel
The Perfect 7-Day Road Trip Itinerary for Southern Portugal
From Lisbon to the Algarve and all the beaches in between.
Noah Lehava
If the past few summers of being bombarded with images of Portugal's inimitable cliff-lined beaches and 50 shades of blue water on your feeds wasn't enough to convince you to book a trip to Southern Portugal as soon as possible, then are you even human? Narrowing down where you want to go in the Algarve is overwhelming (what a hard life, choosing between beach towns, eh?), so we made what we think is the perfect week-long road-trip itinerary to take you from Lisbon to Lagos to Carvoeiro and back to Lisbon, with a few incredible pit stops along the way.
---
Day 1
Early Afternoon: OK, so you just landed and rented your car. Queue up the playlist, and take the easy-breezy route down to Lagos. It's about a four-hour drive from Lisbon, and the view isn't anything special, but just you wait.
Evening: Once you're nestled into your AirBnb or hotel, head out to dinner at Adega da Marina—be prepared to wait in a snaking line—for a no-fuss meal. We're talking paper placemats and soccer memorabilia, but the food is good and satiates a jet-lagged appetite.

Night: If you get a third wind, like we did, grab an Aperol on a rooftop at any one of the bars in town. One Aperol might turn into five, and next thing you know, you're twirling your drawstring Attico bag all the way to the taxi line at six in the morning.
Day 2




AM: Grab an iced coffee at one of the many tiny coffee shops that line the cobblestone streets of Lagos—we never had a bad cuppa, and there's nothing like a Portuguese java jolt to hinder a pounding headache—and a quick breakfast. Once you get on the road, make a quick pit stop at any local grocery store and stock up on the essentials, i.e., fancy cheese, dry-cured meats, fresh, crunchy bread, and cold beverages for your beachside picnic.
Late Morning: Head on the coastal route from Lagos to Sagres, the farthest southern beachy point you'll travel to in your few days in the Algarves. It's a 35-minute drive with no stopping, but we suggest pulling over and heading out to the cliffs. Jaw, meet floor. Eventually, you'll hit Praia do Beliche, a quiet little sandy oasis away from the crowds of Lagos. It's a steep climb down some sandy stairs, so take off your flip-flops and hold on to the railings. Once you make it down, post up for the afternoon by the turquoise water and high cliffs to nurse your digital (and otherwise) hangover.
Late Afternoon: If you're feeling like you need some vegetables, the cute little family-owned restaurant on the beach makes a simple and delicious chicken salad.

Night: We won't judge you if you decide to eat your leftover charcuterie and stay in. But if you do decide to head out for dinner in town, Cervejaria Dois Irmãos has some pretty solid petiscos (aka small bites).
Day 3
When You Wake Up: You're finally acclimating to the South Portugal pace, which means no alarm clocks.

Rest of the Day: Start your day at one of Lagos' many beaches. You can't go wrong, but make sure not to miss Praia de Dona Ana, which was one of our favorites (if we had to choose). When the tide is low, you can spend the day walking from beach to beach (each offers different vibes, sand, and views), or rest your tushy in one spot with a good book and a bottle of wine you picked up at the store on the way over. Whatever you do, don't look at your phone today.
Day 4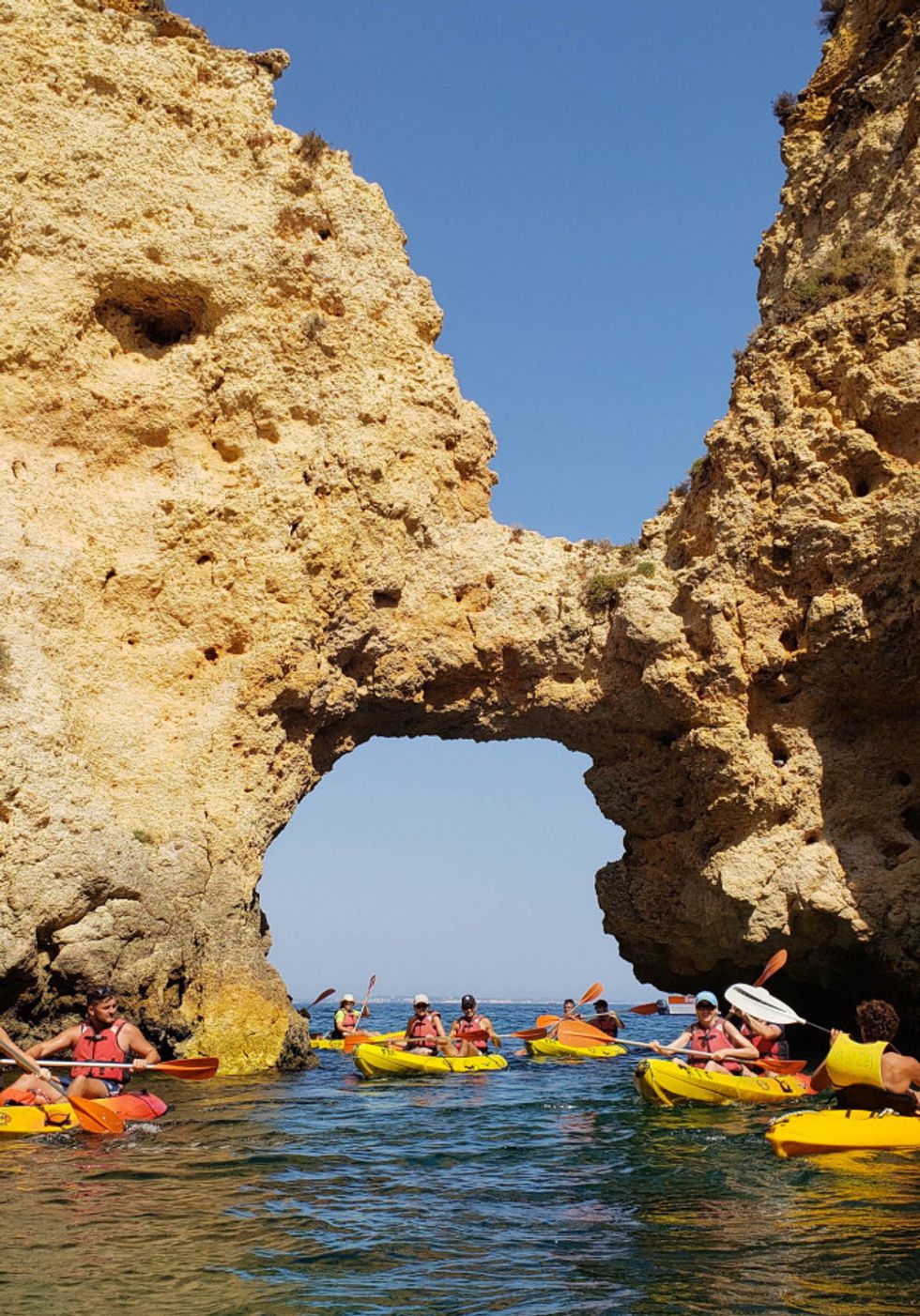 AM: Now that you've squeezed in two solid days of beach, you might be itching to get out on the water for a little activity. Head to the boardwalk in the early morning to the many local vendors offering day excursions—there are some incredible options. We had a great experience with Kayak Adventures Lagos. Our tip: Go for the kayak tour through the caves versus the boat tour. You'll be able to maneuver in all the nooks and crannies along the coast. It's a great workout, so make sure to pack water and wear lots of SPF. Waterproof pouches for your phone or camera are also essential, because let us tell you, it's picturesque.
Afternoon: Now it's time for a refuel at Mimar Snack Bar, which has a menu chock-full of delicious homemade pastas and salads, and maybe a glass of ice-cold Pinot. Now that you've gotten your energy back, spend the afternoon into the evening exploring the town. Get lost in the narrow streets, and stumble on the cute little boutiques and art galleries hidden within them.

Night: Haul up for a fun night at The Green Room for cold bevvys and burritos and some good random convos with fellow travelers.
Day 5
AM: You may not want to leave, but it's time to hit the road and head to Carvoeiro in Faro. It's only a 40-minute drive on the highway, but once you get there, be prepared for narrow and steep roads and not much parking if you're staying right downtown like we did.

Afternoon: A few hours at the beach (are you sensing a trend here?) and roam around the town. It's much smaller than Lagos, so one night here might just feel like enough.

Night: We happened to be in Carvoeiro during a nightly market, which brought in live music and dancing in the square and artisans from the area. Grab a cold beer from the supermarket close by and ice cream, and enjoy the warm Portuguese night.
Day 6
AM: Grab an iced coffee or a juice, and make your way to Carveiro's coastal boardwalk. It's immaculate and features incredible views of town and the cliffside. The ocean breeze is almost all you need to get the day started. Venture down any time you can for surprising viewpoints. You'll eventually reach Algar Seco, a cavernous terracotta-hued formation revealing watering holes and teetering rocky edgewalks. It's a sight to be seen.

Late Morning: Time to head up the coast and slowly make your way back to Lisbon. You took the fast way down from Lisbon to Lagos on day one, but taking the country's national N120 road is a must at least one way. Veer off course into Aljezur, a quaint little town, and, you guessed it, beach!
On the Road: Take your time, and make stops wherever you feel like it. After all, that's the beauty of a road trip—freedom! That's exactly how we stumbled on one of our favorite spots, Odeceixe (where we ended up staying the night), and found some amazing and affordable pottery fields peppered all the way along our route.
Day 7