Stephanie Shepherd Swaps Cereal for Veggie Soup in the AM
She's obsessed with on-the-go protein shake OWYN and is a sucker for spaghetti. In collaboration with OWYN.
Nutrition
Opening the door to
Stephanie Shepherd
's fridge was like something out of an episode of MTV
Cribs
. Except instead of color-coordinated bottles of vitamin-infused water and champagne, there were shelves stocked with immaculately lined Swell water bottles,
OWYN
protein drinks in every flavor (the new Golden Milk turmeric one included), and beauty serums. A true wellness lover
'
s fantasy.
Shepherd began her career as Kim Kardashian's personal assistant, climbing the ranks to COO of Kardashian West Brands, and is now stepping out into her own spotlight. From cementing herself as a health and wellness expert to collaborating with J Brand, the Ohio native has really stepped into the next phase of her career. Which Shepherd divulged over cold-brew OWYN protein drinks (naturally) and gushed about her favorite supplements and healthy tonics, guilty pleasures (which we're so in line with), and what's next. 
---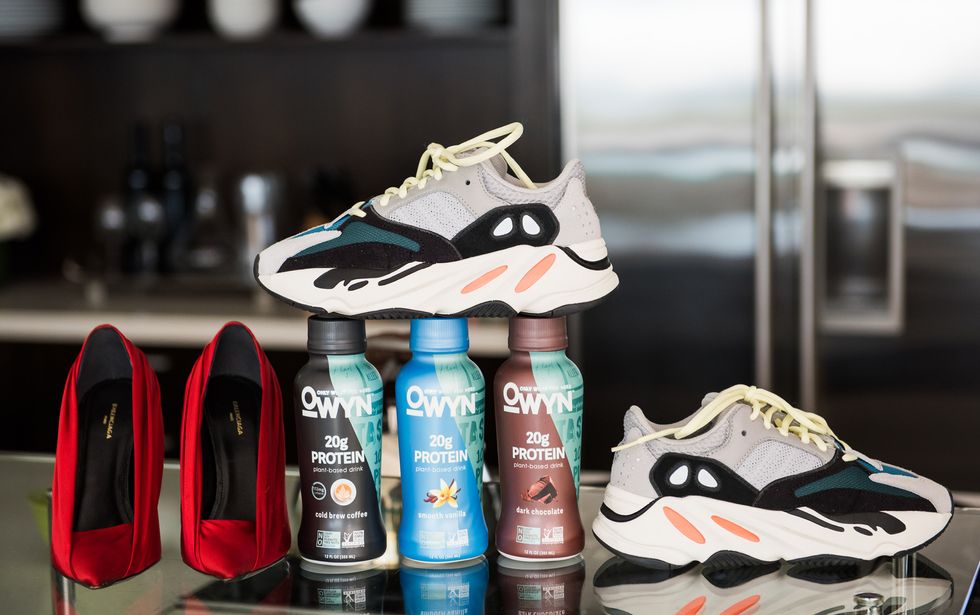 The first thing she does every morning:

"I have meal delivery, so I bring in my meals from my kitchen side door. I've been doing Kooshi Gourmet, and they have so many different meal plans; paleo, keto, vegetarian. It's really good. I've found that doing a meal plan really helps to keep me on track, so that's been my go-to for the past couple of months."

Go-to breakfast:

"I'm weird with breakfast. I normally like to do soup for breakfast, like vegetable soup. On the weekends, I'll do avocado toast with smoked salmon and a side of pancakes. [laughs]."

Take hydration cues from her:

"I force myself to drink kombucha, and if I'm on the go, or after a workout, I love having the OWYN protein shakes. They're already mixed, so I don't have to go through the trouble of [making a shake]. There are so many different flavors that I can just grab one and go, and that really works for me when I am in a rush, which nine times out of 10, I am [laughs]."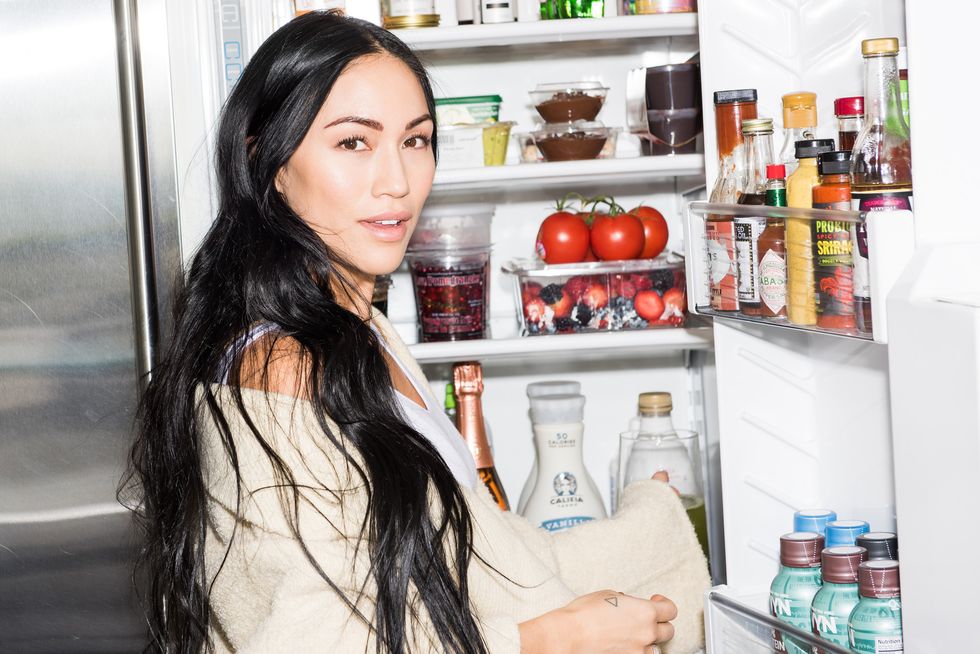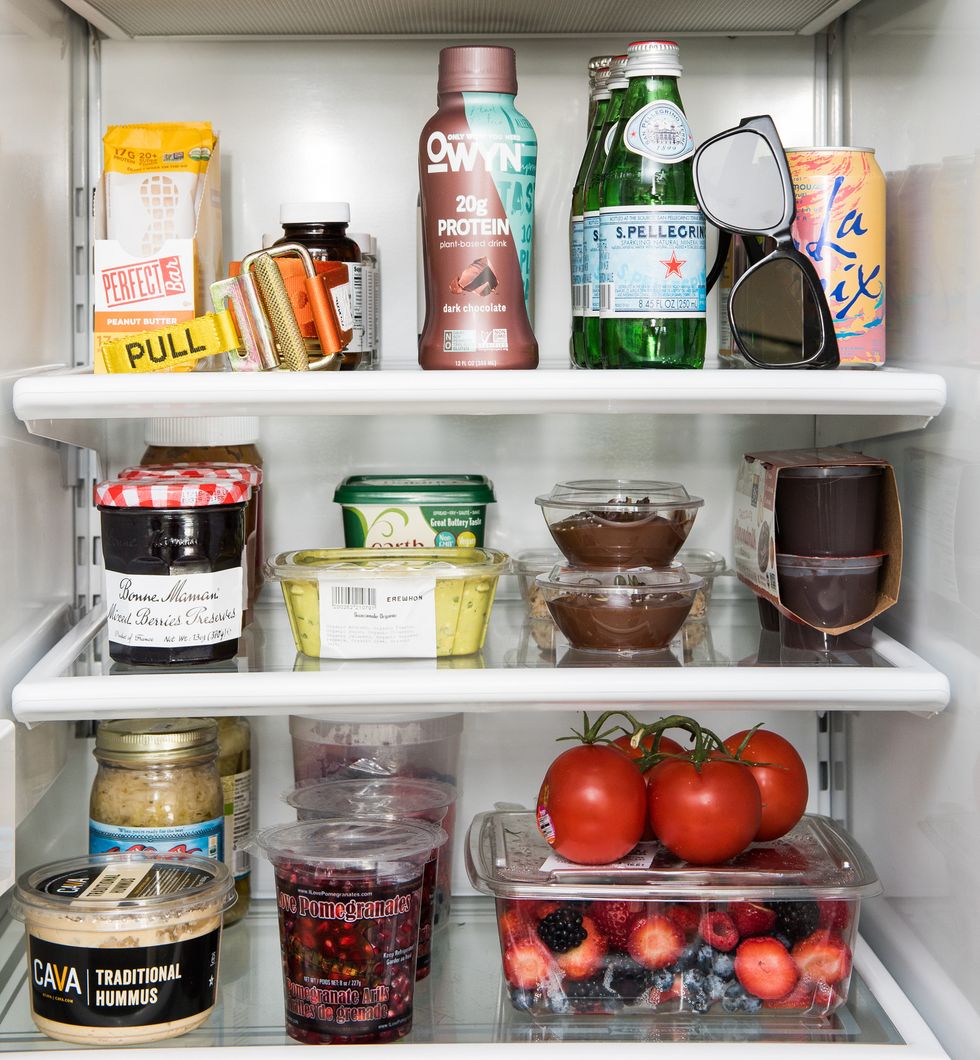 Her favorite way to caffeinate:

"If I do, I'll drink a tea. I love a brown rice green tea or an iced tea, but I get really hopped up on caffeine, so I try to not drink it."

The one thing you'll always find in her fridge:

"Probably coconut water or [alternative] milk because we make a lot of smoothies. I'm big into the drinks—we always have more drinks than we do food.

"I feel so passionately about people switching from their plastic water bottles. We [have] Just Water at our house if we have guests over or meetings happening. All of their stuff is recyclable, and it's made in the States. Then we have Swell and glass bottles in our fridge that we use. I really, really want to advocate for people to stop using plastic water bottles."

Go-to meals pre- and post-workout:

"I'm supposed to eat something before I work out, but nine times out of 10, I don't. I like to work out on an empty stomach. If anything, maybe I'll have a couple of apple slices, and then after I'll do a protein shake. If I'm on the go, I'll do an OWYN protein shake, and at home I'll do my avocado smoothie or a regular protein shake with some avocado. I eat a lot of avocado."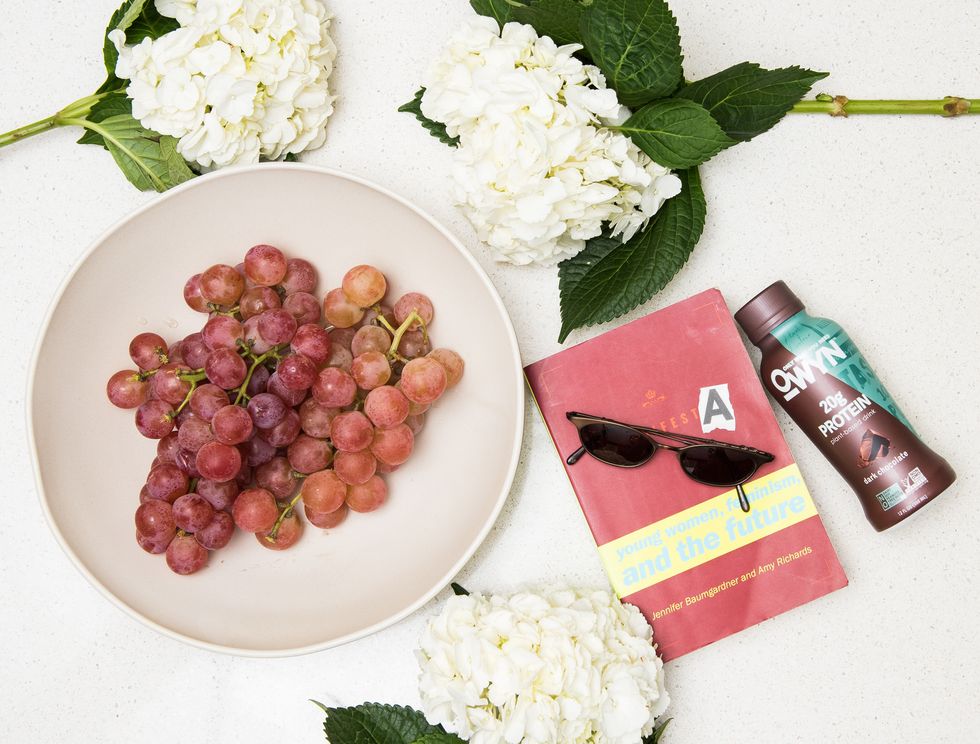 Her ideal smoothie:
"
Kourtney [Kardashian]
put me onto this avocado smoothie, and I know it sounds really disgusting because you're thinking, how could avocado in a smoothie be good? But it actually is
so
good. I'm more the avocado smoothie. It's one avocado, a cup of coconut milk, a plant-based protein, MCT oil, [and] a small teaspoon of manuka honey. It makes this delicious smoothie. I'm dying to have it right now as we're talking about it."
The weirdest thing in her fridge:
"It might be weird that I keep skin care in my fridge. Do people do that? I keep a serum and a couple of Patchology under-eye patches [in there]. You have to keep your skin care cool."
Favorite healthy food spots in L.A.:
"I love Crossroads, they have an amazing brunch. Obviously all of their food is good, but they have a really good breakfast sandwich, and [vegan] fried chicken and waffles that taste
exactly
like fried chicken and waffles—it's so bomb. I do a lot of salads, so I'll do a lot of Tender Greens, a lot of Sweetgreen on the go. I like Hugo's—I get the veggie casserole.
"I'm trying to look at my Postmates and see what I order. I really do order a lot of Tender Greens. They have such a simple kale salad that makes me super happy. I'm a big TG fan."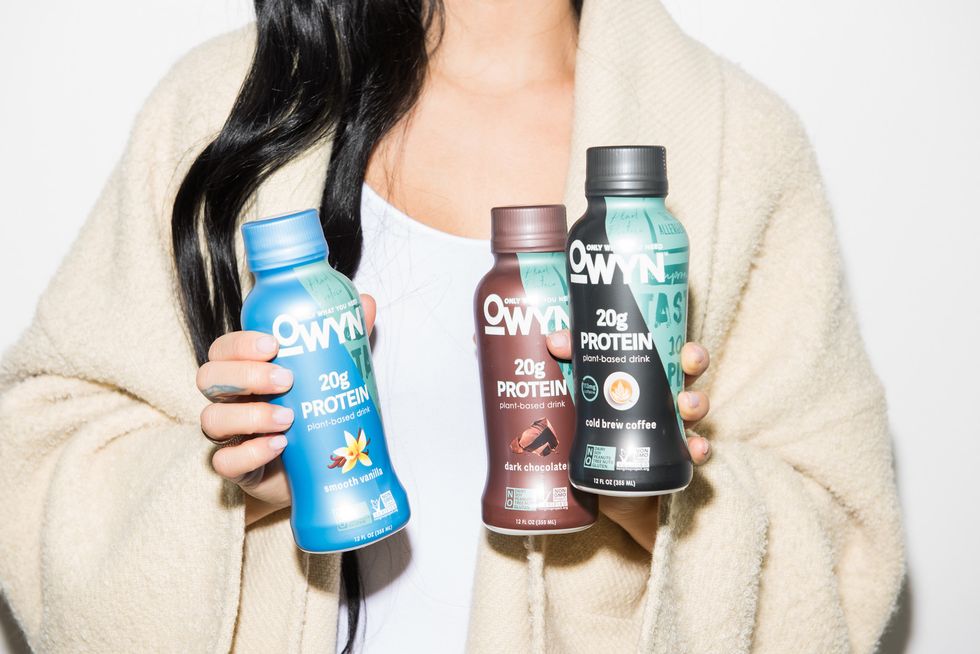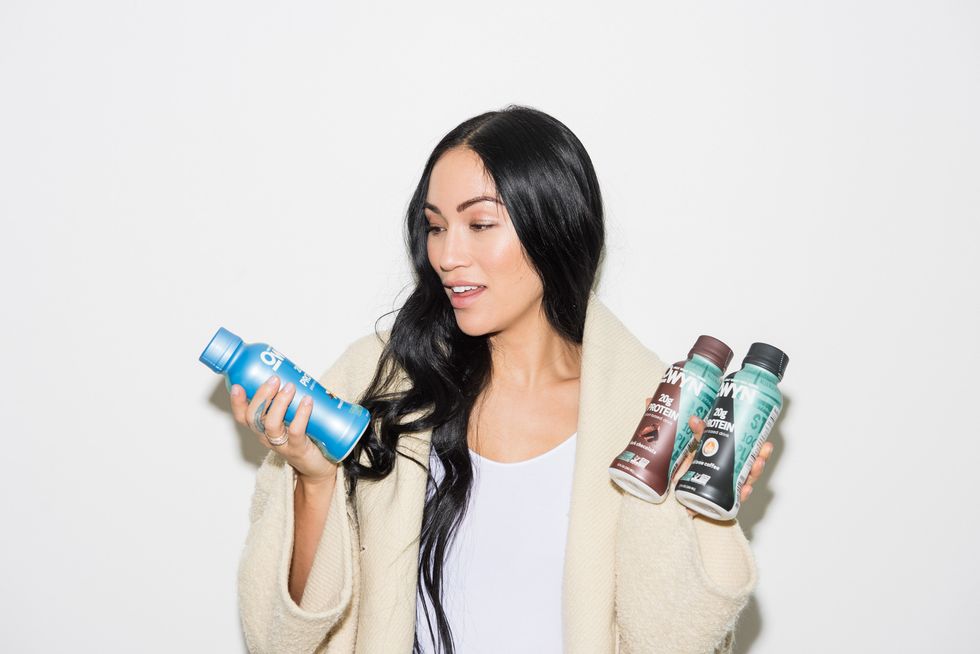 She has a strong supplement game:

"I definitely take my vitamins. I have one of those vitamin holders that you can get on Amazon, and it has Monday, Tuesday, Wednesday, Thursday, Friday, Saturday, Sunday, and then you can pop the individual compartments out, and it has morning, afternoon, evening, and bedtime. Mine are completely full. I definitely am a supplement person.

"I've taken the Ouai supplements. There is one I've really been getting into called Regime London. I love the Olly chewy vitamins, the melatonin ones; they really help me fall asleep, and it's a gummy, so it doesn't feel like you're taking a vitamin. When you're taking too many pills, it gives you that feeling in your throat. I really like the Sakara Life stuff, as well. They have a really good powder [Super Powder] that you can mix into your drink [and] it doesn't taste bad. They have really good chocolate probiotics, too."

And guilty pleasures:

"I could snack and eat all day long. I definitely have a soft spot for pastas and desserts and cheese. I try not to eat cheese because I don't do dairy, but if I am really going to cheat, [I will]. I really love a dessert, I can't help it. It takes a lot in me to turn down a dessert, but I found these So Delicious ice cream bars—they kind of look like those old-school Mickey Mouse chocolate bars with almonds and ice cream in the middle. They're so good, and so if I'm trying to be strict but I'm going to do something sweet, I'll do that or an almond milk chocolate pudding."

The one dish she could never live without:

"Spaghetti, 100 percent. It's literally my kryptonite. I just love spaghetti so much, I could eat it for every meal."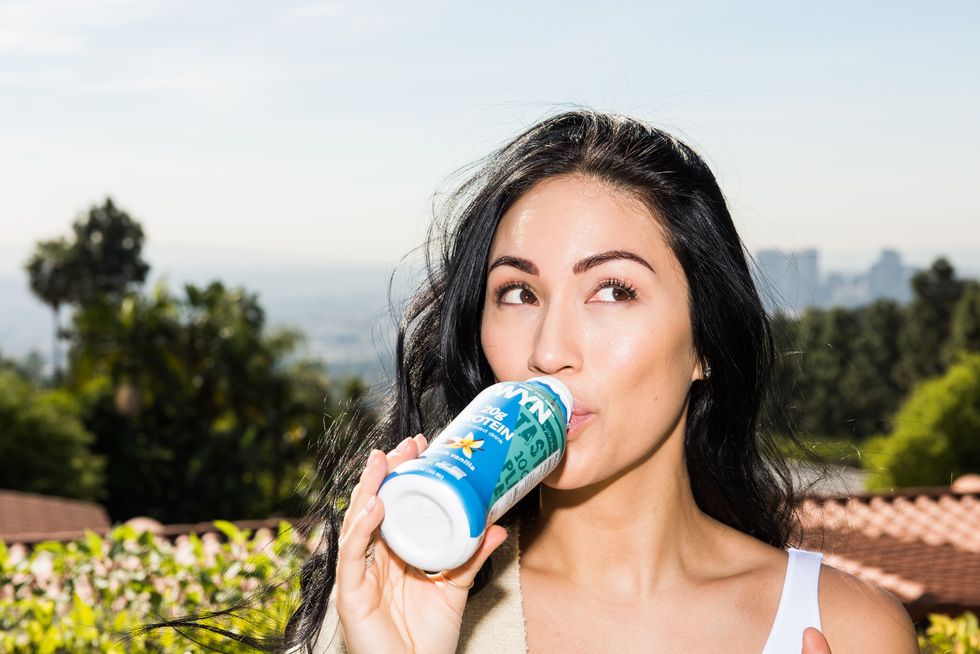 Who she'd choose to be a co-host on a cooking show:
"My mom. A hundred and ten percent. She's the reason I'm not a good cook. She's such a great cook that I never had to be. I was the one that ate everything, and she was the one that made everything—that was our partnership growing up. She was so good at it, and I was in such awe of her. She's literally the best. When I was in high school, my friends would come over to my house just because they knew that my mom was cooking. She would have dessert parties after Thanksgiving, and all of the kids would come over after their family's Thanksgiving. She'd have 20 different kinds of desserts."
Her favorite places to be pampered in L.A.:
"I love the Korean spa, that's probably my favorite. It's full-service: You can get a scrub, get your hair washed, go in the Jacuzzi, lay in the stone room, get a massage, go eat ramen—it's my dream place. Recently I've been going to Joanna Vargas for facials, which I've been loving. I frequent Dr. [Jason] Diamond because he gives me my PRP facial, which I can't live without. Another good facial place is Skin Worship. They do reiki feeling and chakra cleansing, which I think is really cool."
What's in store for 2019:
"I hope a lot of things. I've been planting a lot of seeds this past year and mapping out a plan and hopefully manifesting things that I see for myself. God willing, I think I'll be very busy and hopefully come out with some more collabs, maybe work on a couple of shows. We'll see what happens!"
Get 20% off orders of $25 or more with the code coveteur20.Want more stories like this?
The Restaurateur Behind New York's Best Egg Sandwiches Stocks Her Freezer with Kit Kats
Philippe Chow on His Guilty Pleasure & the One Dish He Can't Stand
This Is the Most Popular Kitchen on Pinterest