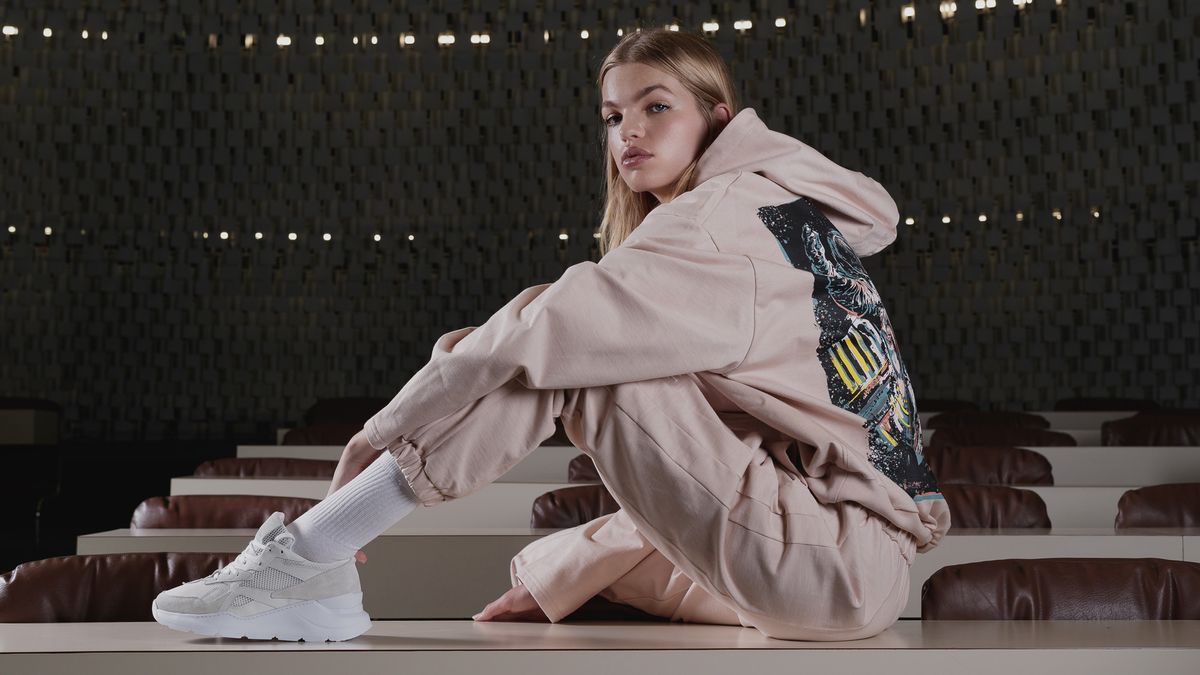 Designers
Allow creative director Chaz Jordan to get you acquainted.
It was love at first sight when we came across ready-to-wear brand 
Ih Nom Uh Nit
. It's hard to pinpoint where we saw it first, though—everyone from
J. Balvin
to Janet Jackson, 2 Chainz,
Hailey Baldwin
, Michael B. Jordan, Usher,
Steve Aoki
, and 
Luka Sabbat
have worn the L.A.-born brand. Creative director and founder Chaz Jordan introduced
womenswear, kidswear
, shoes, and accessories to the mix since launching Ih Nom Uh Nit as a menswear brand in 2015. Jordan has thought of everything. Not only can you grab your favorite tracksuit or graphic tee from Ih Nom Uh Nit, but you can also snag a sequin-embroidered floor-length dress to round out your wardrobe. Below, read about Jordan's career highlights and hurdles, the story behind the name Ih Nom Uh Nit, and what's next for the brand (hint: it involves Netflix).
---
Ih Nom Uh Nit is his second brand:

"The thought of starting a brand first came in college, around 2007-2008. Kid Cudi was just out, Kanye released Graduation, and I felt the need to create something. That's when I started my first brand, testing out design and production to make way for what would one day be Ih Nom Uh Nit."

And as it turns out, the brand name isn't really a name at all:

"I wanted a name that was as strong as my previous brand, Au Courant. After extensive research nothing seemed to fit, so I chose not to have any name at all rather than settling. That's where the name Ih Nom Uh Nit comes from: the phonetic spelling of the English word innominate, which means 'without name.'"

Who the Ih Nom Uh Nit shopper is:

"At this moment, Ih Nom Uh Nit is not bound by gender, so anyone can find a piece that suits them. [Our] shoppers have an awareness of today's social zeitgeist and pop culture and want a style that reflects it. They are financially sound and embrace our two most important creative elements: an appreciation for quality, and designs that represent human identity."


The most surreal moment of his career so far:
"Wow, there are so many moments where I can't believe where Ih Nom Uh Nit has taken me—it's tough to pick just one. Going on tour through Europe with Lil Uzi and The Weeknd was an experience of a lifetime that I could never have ever predicted. Our late nights in Paris, hours spent on the road, and being surrounded by creatives has impacted me and the brand in ways I can't even put into words.
"Another moment that made me think,
Is this really happening?
came when I had my first meetings in New York with
Vogue
in the iconic Cond
é
Nast building. That's when I truly realized the potential I held with Ih Nom Uh Nit."
And the most challenging:
"With any creative, the most challenging part of our career is the beginning and getting discovered. You work your absolute hardest, and for what? At times it seems like it's all for nothing, but you keep at it and finally reach that turning-point moment that catapults you to where you are now. Without any industry support or celebrity backing, I was doing this on my own for over four years before I had my moment."
How he manages to design across three categories: men

'

s, women

'

s, and kids

'

:
"As cliché as it sounds, it comes naturally. I was in Italy two weeks ago in our office, designing the upcoming men's fall/winter '19 collection, and it took me a day and a half to finish the full collection renderings. I was feeling super inspired this season, and ideas were flowing. When I have an idea or become inspired for a collection, it all comes at once, and I can usually design within a few hours. It's one of the best feelings, and in turn, the garments seem natural and not contrived."
And where the inspiration typically comes from:
"That's a big question. I tend to find a lot of my inspiration from films, but I also pull inspiration from everyday life and travel. In a sense, the lines between my reality blur with those portrayed in the cinema. I like to keep my designs current with the happenings in today's world and pop culture. Mostly I get a feeling in my gut that says,
Use this!
Speaking of film, I am in the midst of collaborating with
NARCOS
. [There are] exciting things to look forward to in the coming months!"
Who he'd like to see the brand collaborate with:
"Within the fashion industry, it would be a dream to collaborate with some of the greats, such as Céline and Margiela. However, I also envision my brand going past fashion and ideally intersecting with other industries such as technology, philanthropy, and entertainment.
"My ultimate goal is to one day take on the role of Creative Director for one of the major houses. In time…"
The best piece of advice he's ever received came from Will.i.am:
"The best piece of advice I have received thus far has been to build a team of members that are all experts in their respective fields. Will.i.am shared this piece of wisdom with me two years ago, as we were sitting in the office discussing the things he learned from his experiences with Jimmy Iovine. It still rings so true and needs to be heard. As creatives, we tend to become possessive and are hesitant to give up certain responsibilities in fear that they will not take it as serious as we do. However, once you allow others to handle certain responsibilities with their personal expertise, it allows you to then focus on purely creating."
Photos: Courtesy of Ih Nom Uh Nit
Want more stories like this?
Wardrobe.NYC Founders Talk Luxury Staples & Hint at What's Next for the Brand
A Jewelry Collection So Good Rihanna Keeps Borrowing It
You'll Lose It Over This New Brand's Woven Bags