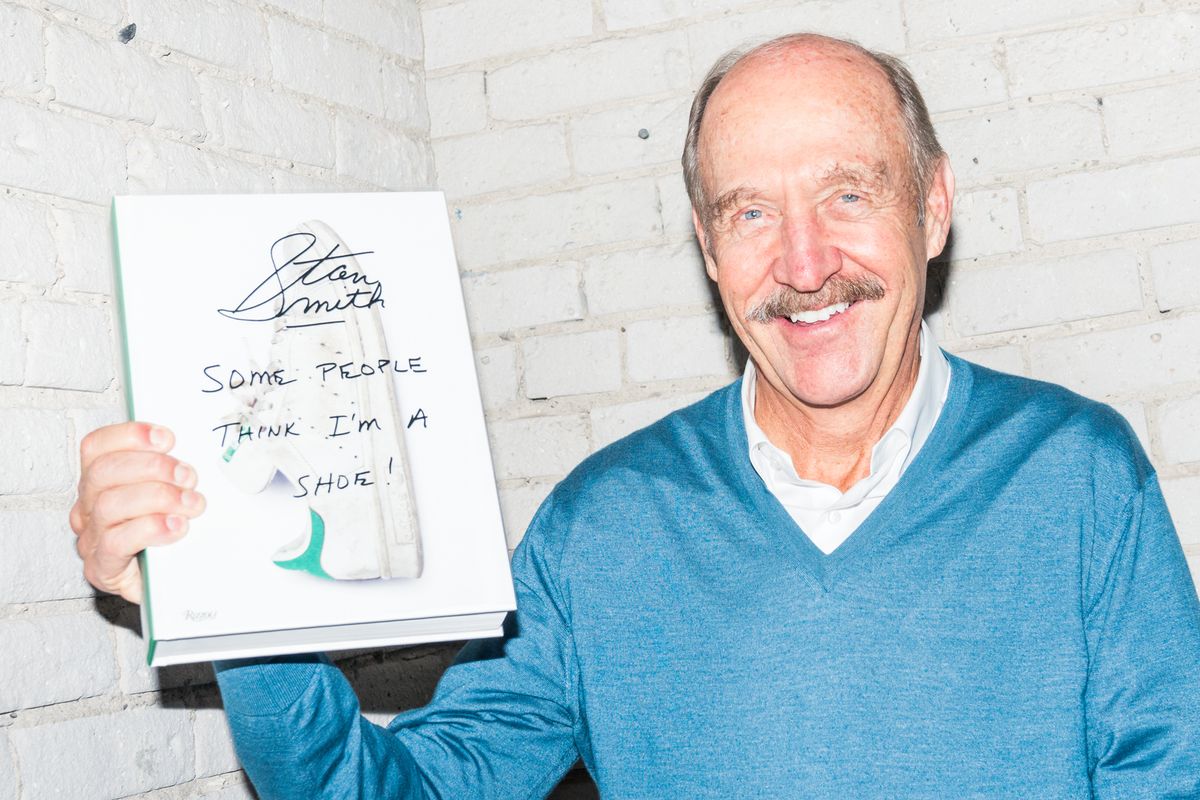 Fashion
Stan Smith on Tennis, Jay-Z, and the Evolution of his Iconic Namesake Shoe
30 minutes with the man, not the shoe.
Renée Rodenkirchen
Not much can excite us first thing in the morning, yet, as we rode in the backseat of an UberX at 6:40 AM last Tuesday, we found ourselves more awake and upbeat than usual (and this was
before
our two-shot latte). Our car headed deep into the downtown core of Toronto, straight into
Toronto International Film Festival (TIFF)
 territory, and pulled up in front of the RBC House. Before we could even open the door to the TIFF hub, we found ourselves staring straight at the very reason we woke up before the crack of dawn: Stan Smith.
The man, not the adidas shoe we
'
ve spotted in just about every closet we
'
ve ever photographed in our existence. Smith, who lends his name to the famed shoe, is quite legendary. He
'
s a
7-time Grand Slam major champion
and the
1972 Wimbledon World champion
 and won every one of his titles wearing that very same shoe that fashion editors just wore to fashion week. He
'
s recently reclaiming his name with his newly released book, 
Stan Smith: Some People Think I'm a Shoe
. A hilariously appropriate title, if you ask us.
When we met Smith, he was wearing a Crayola crayon sky-blue pullover sweater, grey slacks, funky polka dot burgundy socks, and crispy white Stan Smiths (what else?), and even though it was only 7:00 AM, he was already cracking jokes and reminiscing about the days when the Stan Smith sneaker was considered strictly functional. As we settled down with freshly brewed lattes and scones, Smith confessed he owns around 70 pairs of his namesake sneaker and has one particularly hilarious story about Jay-Z.  You
'
ll want to keep reading for his lifetime of stories.
---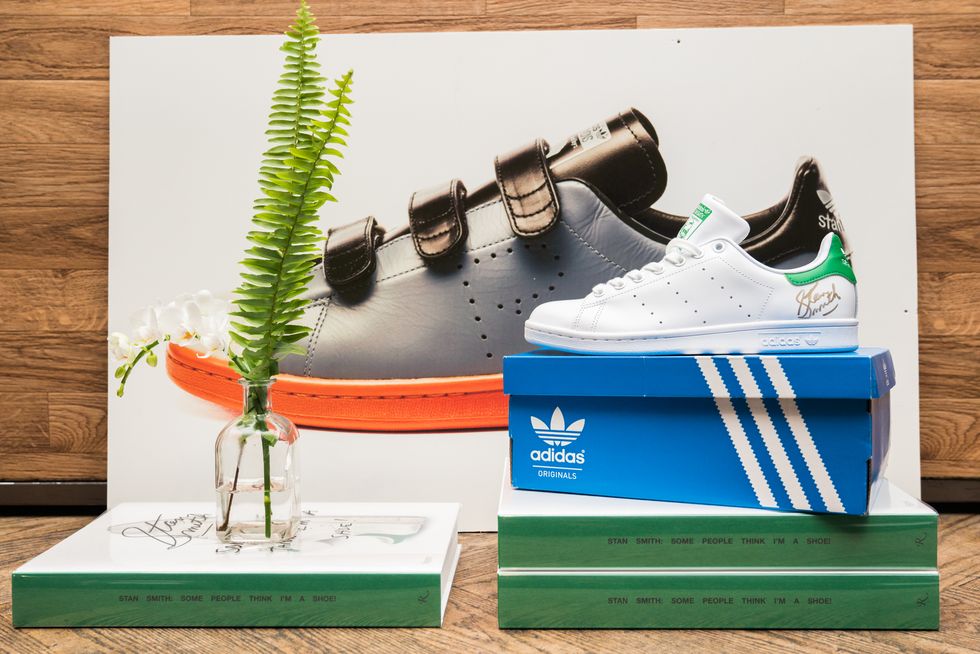 How the book came to be:
"It
'
s exciting to see the book launched. I
'
ve been working on that for two or three years. It was a great adventure. We had a great creative agency in New York called Johannes Leonardo that helped with the creative side of it. It
'
s an unusual kind of book; it
'
s a coffee table book, [and] it documents the shoes which have been around for over 50 years. I wanted to make sure that the shoe had a legacy before all the people who had been involved are not around anymore. There are stories from people that have worn the shoe over those years that are kind of unusual. The shoe has been a part of the fabric of their lives in some cases."
He'd been sitting on the title for a few years:
"I
'
ve been thinking about that title for about five years, and as we got into the whole creation of the book, they threw out some titles—about 20 different titles—and none of them really hit me. I threw it out at them, and they all seemed to like it. It was somewhat appropriate because most millennials would not know my name from tennis, but so many have worn the shoe."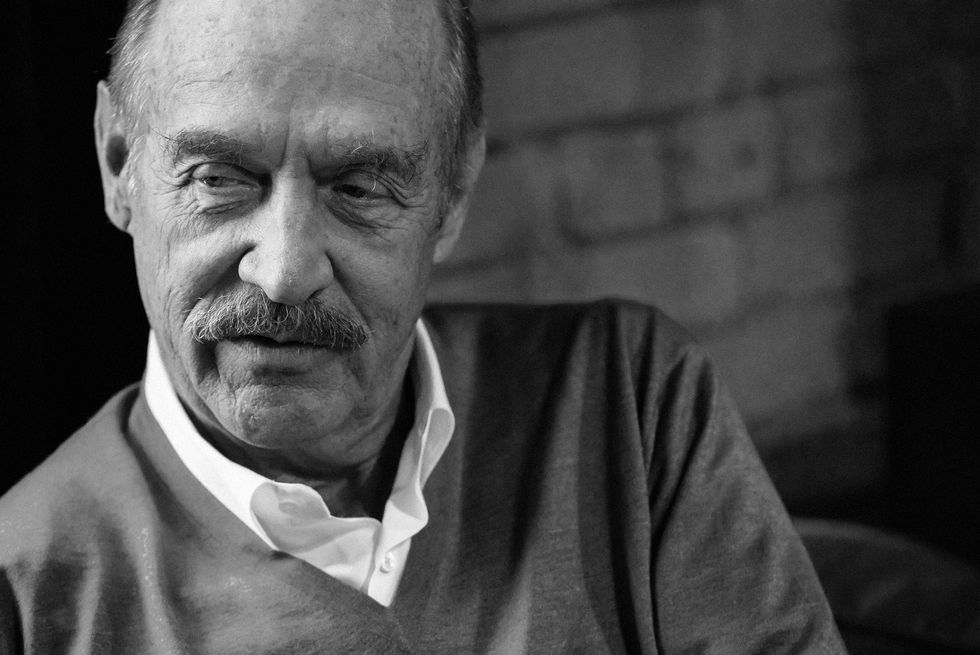 Smith has watched as the sneaker went from functional to fashionable:
"The shoe was really created in 1965, and it was the first leather tennis shoe for tennis. Before that, we had canvas shoes—we wore Converse and Dunlap tennis shoes. All these different companies had shoes that were not very supportive, and this leather shoe was really hi-tech at the time. It was a real honor for me to be affiliated with such a special shoe. It was very popular from the beginning with tennis players. Now the shoe is very low-tech—it
'
s really a fashion shoe now.
"One of the stories that was kind of funny: My niece in London was in her PE class wearing the shoe, and the instructor went, 'You can
'
t wear that shoe for PE.' She said, 'What do you mean?' He says,
'
It
'
s a fashion shoe, not a trainer,
'
and she goes,
'
My uncle won Wimbledon wearing that shoe, so...
'
Hopefully, that won the argument with this PE teacher [
laughs]
."
The collaborations over the years have helped the shoe become what it is today:
"The key to the success of the shoe in the last four or five years has been the collaborations with various artists. Even 15 years ago, Raf Simons got involved with the shoe. It has an 'R' instead of the three lines of perforations, and it went for $375 instead of $75, which I never understood. Pharrell Williams got involved with my shoe—we
'
ve done some things together. Kate Moss has supported the shoe. On Sunday I
'
m going to London to do some things for the book, and Stella McCartney—she
'
s been affiliated with adidas now for seven or eight years—is doing a shoe, and the right is going to have her picture on it, and the left shoe is gonna have my picture on it. I
'
m looking forward to seeing how that looks like."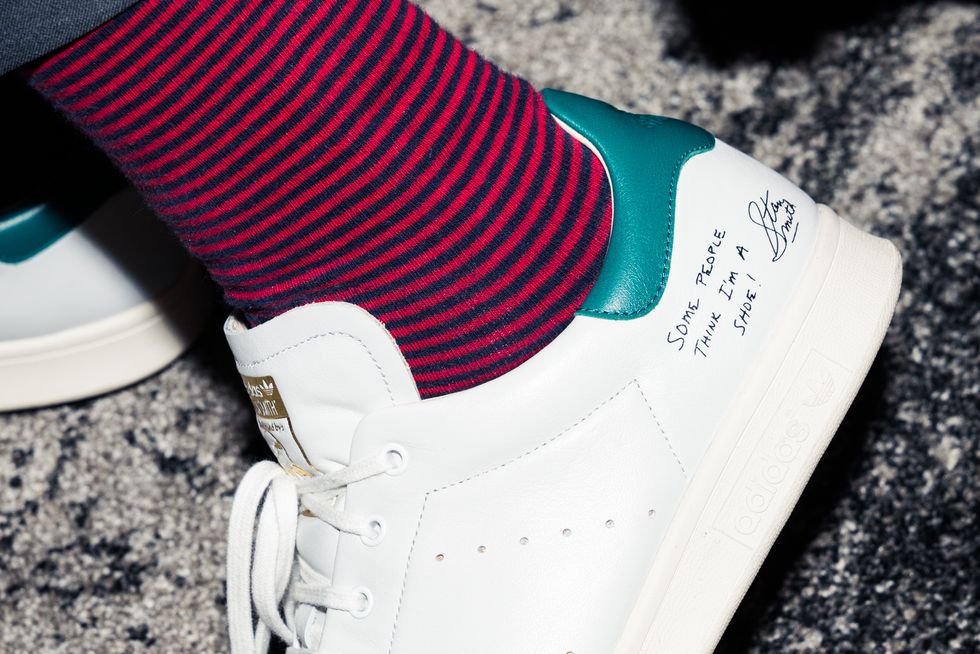 He'll never get sick of seeing people in his shoes:
"It
'
s been amazing to see how the shoe has been received by people. One of the fun things that I see sometimes is, I
'
ll see a teenage girl, maybe thirteen or fourteen years old, wearing the shoe, and her mother is wearing the shoe. I
'
ve got two daughters and two sons, but generally, the daughter would never be caught dead wearing something her mother or father is. At the US Open last week, this 13-year-old girl was there, and she had convinced her father to get the shoes, so they were there together wearing them. It was cute."
And has some hilarious stories around them:
"My daughter is 31, she came home when she was 13 and said, 'Dad, you're famous!' and I said, 'What do you mean?' and she says, 'Well, Jay-Z has you
in one of his songs
!' I said, 'That
'
s great. Who
'
s Jay-Z?' [
laughs
]. Hugh Grant was at Wimbledon last year, and he turned around—we were in the Royal box—and said, 'The first girl I ever kissed, I was wearing your shoe.' I don't know what happened there, but Will Arnett said the same thing in a video when they re-launched the shoe. Changing lives and families all the way!"
The advice he'd give to aspiring tennis players:

"The key thing is that they really enjoy the game. When they first are introduced to the game, it's really important that you talk about what coaches are the most important—the most important coach in a player's life would be the first coach. If they don't have a great first coach that really makes it fun they're going to gravitate towards something else besides tennis. Then get the good fundamentals in the game—if they start with good fundamentals they don't have to keep changing as they progress."

How he's kept himself motivated over the years:

"One of the things I did when I was about 19 is I made a commitment to try to be fitter than the guy on the other side of the net in the finals of the fifth set of Wimbledon, not knowing if I'd get to play Wimbledon let alone get to the finals and get to the fifth set. Ironically, I did get to the finals and I got to the fifth set and I lost. Then the next year I got to the finals again, and the fifth set again, and won. I didn't lose or win just because of fitness, but it motivated me.

"It became a mental thing because, if you're going to the match, you can play as long as you need to. You don't panic because you're in a very strong position knowing you can last as long as you need to."