WWWRN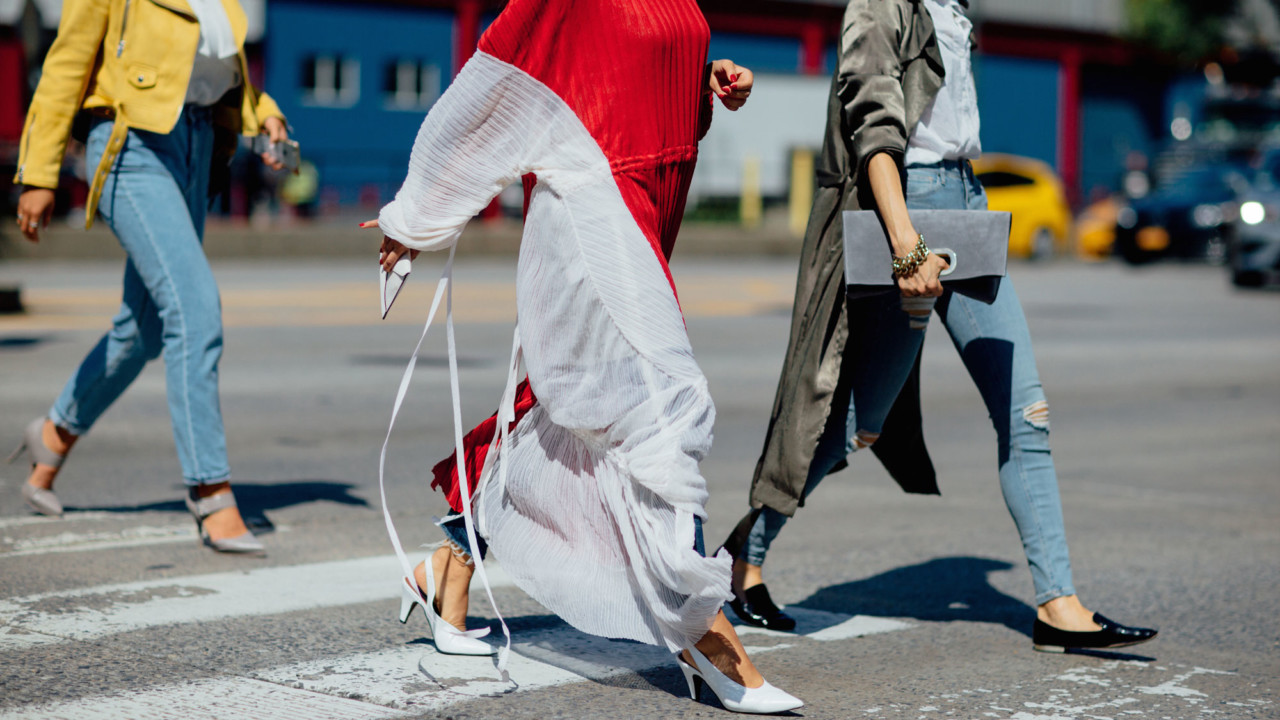 The Outfits Our Editors Are Wearing to Fashion Week
Super stylish yet super comfortable.
Fashion week is officially underway in New York, which means that editors and influencers are running around nonstop to catch the shows. Street style is never better in the city than outside a show venue, where photographers are scrambling to capture the best outfits of the season. With so many events happening, the last thing you want is to stare at your closet wondering what the hell you should wear, which is why we've been planning our outfits for weeks. Plus, comfort is key, especially when you're on the fifth show of the day and you've officially run out of Band-Aids. Check out what team Coveteur is wearing to look and feel their best this season.
---
Hannah Baxter
Editor
1. Rachel Comey Amplus Dress: I tried on this dress over the weekend, and we had what can only be described as a *moment*. It made me feel like a 21st century princess without sacrificing an ounce of cool—like only Rachel Comey can—and if the reaction I got on social media is any indication, this dress was made for creating a fashion week statement.

2. Nicole Saldaña Chris Boot: Because the pink dress is relatively girly for me, I want a shit-kicker boot to toughen it up a bit. Nicole Saldaña just released her new fall collection, and luckily the Chris style is back and better than ever. It has a little bit of height, which I love, but the chunky platform is still comfortable for running around to shows and backstage.
3. Boyy Devin 21 Bag: Flashy bags are all over fashion week, but I prefer a luxe understated style with a top handle and plenty of room for my essentials—portable charger, granola bars, lipstick, Band-Aids, etc. I'm obsessed with the buttery leather on this Boyy bag and plan on wearing it with pretty much everything come fall.
---
Ivanna Martinez-Gonzalez
Social Media Associate
1. Serena Williams x Off-White Nike Air Max 97: After watching Serena win the quarter finals on Tuesday night, I can safely say I'm in desperate need of these sneakers. Not only are they perfect for fashion week (hello, comfort), they have my three favorite colors AND the Serena stamp of approval. Now all I need is that tutu she's been sporting at the U.S. Open. Tennis-chic, anyone?
2. Carlo Carrizosa Eisen Dress: I'm the first to break that "no white after Labor Day" rule, especially when NYC's 90-degree heat is still here. I think wearing a white dress is perfect for pre-fall because you can complement it with cool, neutral-toned accessories (without looking like you're super eager for a pumpkin spice latte). I like treating a white dress like a blank canvas, like this beautiful number by Carlo Carrizosa. It may be a simple color, but the intricate design makes it great for any over-the-top occasion, like fashion week!
3. Hunting Season Mini Lizard Tote: One of my favorite Colombian brands, Hunting Season knows how to nail the mini purse look. I love the bright red color this tote has, and especially love the size of it. No need to schlep with a big bag show by show! This purse will hold your phone, keys, lipstick, and an RX bar (all of which are in my NYFW bag!).
---
Carolina Dalia Gonzalez
Editorial Fellow
1. GANNI Bijou leopard-print cotton-poplin wrap dress: I've had my eye on Ganni since I saw photos from their recent show during Copenhagen Fashion Week. I can't get enough of their effortless yet vibrant designs, and I definitely want in. This simple wrap dress has the trendy leopard detail, but goes beyond the basic print with the red-and-black color scheme. Also, puffy half sleeves are in theme with my faux milkmaid looks from the summer.
2. EYTYS Angel Glossed-Leather Platform Sneakers: I've yet to invest in a pair of chunky sneakers, but these EYTYS have been on the top of my radar. They're clean, somewhat simple, and yet still a statement piece with the level of chunk. And of course, comfort is key during NYFW, and these sneakers deliver.
3. Susan Alexandra The Handbag Bag: A bead bag was very #Summer2k18, but I think it's worth transitioning this trend piece into the fall. Anyway, who can't say no to nice, manicured red nails?
---
Monique Kamargo
Editorial Producer
1. Molly Goddard Pink Gingham Dress: This Molly Goddard gingham dress is as equally appropriate to wear during fashion week as it is to wear while harvesting my favorite seasonal vegetables, which describes my personality quite well. It's also the perfect length to sport during these last weeks of summer before transitioning into cooler days this fall.
2. Tibi Felix Boots: I've never owned a pair of cowboy boots, but these Tibi boots are definitely making me rethink my past shopping habits. The leather detailing and chunky soles makes them way edgier than your typical Western boot, which makes them much easier for me to justify wearing in the city. Paired with my gingham dress, I'm ready for fashion week and the farm.
3. Prada Belt Pouch: Lately it feels like everyone has been sporting a belt bag, and I want in. This pouch is ideal for carrying around the bare minimum when running between shows, not to mention it'll look extremely sleek against my busier printed outfit.
---
Daniella Deutsch
Producer
1. What Goes Around Comes Around Vintage KISS Tee: I borrowed my sister's vintage Paul McCartney tee and quickly adopted it as my own. Ever since I've been on the hunt for the greatest vintage graphic t-shirts out there. The iconic status of this KISS top in particular is bound to catch a street style photographer's attention!
2. MM6 Maison Margiela Paillete-Embellished Tulle Wide Leg Pants: All I want is for fall to be one big '80s disco dance party. Fashion week seems like the perfect time to break out this over-the-top and carefree look. What's great about these pants in particular is while they may be traditionally worn for a night out, they would pair equally as well with sneakers and a tee.
3. Sandro Trainers With Flames: These kicks have flames! Enough said.
---
Katie Becker
Beauty Director
Part of the series:
WWWRN