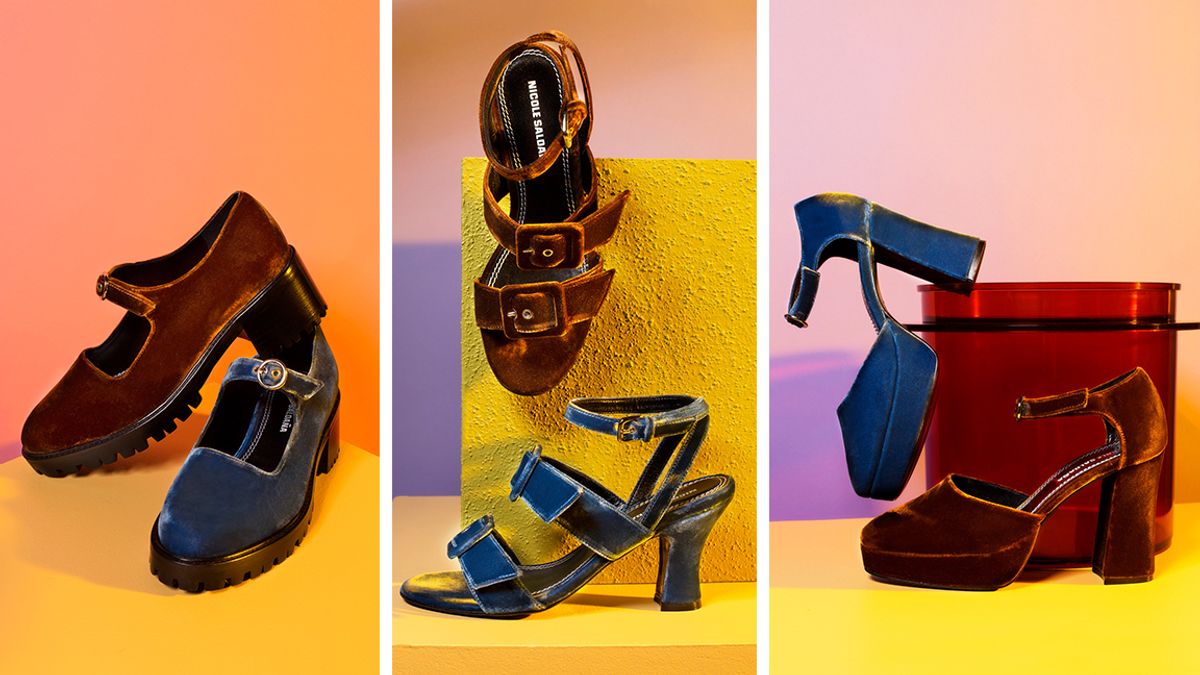 Designers
Plus, the boots every editor has on her wish list.
Few things get us as excited around here as buying a fresh
pair of shoes
. Even better is discovering a new designer whose entire repertoire of styles seems to speak to you on a *spiritual* level (right about the time when your credit card starts screaming). Just remember: Shoes are an investment—a mantra we tell ourselves daily. The latest addition to our designer obsessions is
Nicole Saldaña
, a line of dreamy, architectural creations inspired by the founder's group of girlfriends, and beloved by fashion editors, millennials, and 
Rihanna
.
---
Originally from California, Saldaña honed her design chops by working alongside the creative directors of Opening Ceremony and attending Parsons in New York. "I was able to work on some footwear collaborations, [like] with Repetto, and Robert Clegerie," she explains during our recent phone call. To further perfect her production technique, the then-21-year-old also enrolled in a four-month shoe-making course at the Jewish Community Center on the Upper West Side of Manhattan. "I just got immersed in the process and [learned] how to execute a shoe and how to work with the factory to build it from the ground up."


Armed with skills needed to execute her dream shoe, she soon launched her eponymous label with a handful of loafers, boots, heels, and mules. One of those debut pairs—a periwinkle blue fur-lined strappy sandal—wound up on
RiRi's feet
during
New York Fashion Week
last September, effectively launching her brand into the fashion stratosphere.
"That was so crazy," she says, laughing, of seeing Rihanna in her shoes. "When I had designed that shoe, I oddly had designed it with her in mind. It's such a
Rihanna shoe
. I had planned on gifting it to her, and I actually put together a little custom weed package, too, because she likes to smoke. She wore it within three or four hours of getting it. She styled herself, and it was kind of the perfect outfit. I couldn't have asked for anything more."
Now with multiple collections under her belt—including a cult-favorite pair of
snakeskin boots
that are perpetually sold out—the designer is slowly expanding her offerings. "I've always wanted to do a sneaker, but not in a super sporty way. [For] the spring collection, I'm really excited to see the palladium
sneaker styles
. [They're] a '90s-inspired palladium, and I'm using different materials that are non-leather. So you'll see a tiny gingham, a plaid, canvas, stuff like that." She explains that despite the brand's explosive success over the last year, she will stay true to her process and continue to create
unexpected shoes
that she and her girlfriends would love to wear. "I think because I'm new and a young designer, [my designs] are more pieces [that] you really want to wear that you can't find, [like] a cocktail shoe, or a great boot you can wear in the rain. I'm always evolving, so I might not like something now, but in a season or two I'll end up falling in love with it. I used to hate square-toe shoes, but now it's all I can think about." Get your credit cards ready, folks.
Photos: Tayler Smith / Courtesy of Nicole Saldaña
Want more stories like this?
This Is Officially the Biggest Sandal Trend of the Summer
9 July Sneaker Releases You Need to Set Your Alarm For
The Throwback Shoe Style We're Spotting on Every Fashion Girl