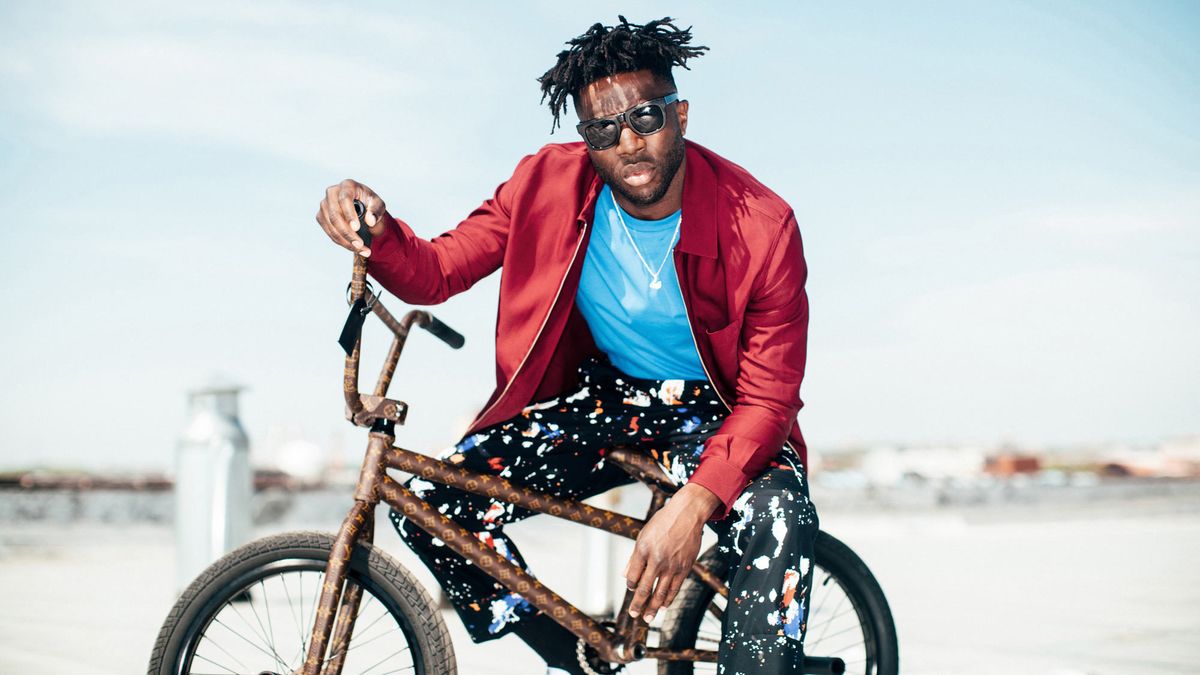 Celebrity
Nigel Sylvester Is a Lot of Things—Professional BMX Rider Is Just One of Them
How the Queens native became one of the sport's most captivating (and fashionable) stars.
Ben Ritter
Mercedes PSL Bass
Ben Ritter
Over the past three months, professional BMX rider Nigel Sylvester has released the latest installment of his wildly popular video series 
GO
, sat front-row at Ermenegildo Zenga's couture show in Milan, and teased the drop of his forthcoming Air Jordan 1. This isn't the type of success his Grenadian immigrant mother, Ann, had in mind for her son (she was thinking more along the lines of college and a traditional nine-to-five), but earlier this summer, among a crowd that filled Manhattan's Samsung 837 space to capacity for the aforementioned
GO
premiere, "Mama Sylvester," the evening's host as 
Mark Anthony Green
 introduced her was beaming with pride. A tearful hug between mother and son conveyed the obvious: that she was his first love. When we first met Sylvester a few weeks prior to that event, we discussed his second: BMX.
"It wasn't the most popular thing to do."
We've just finishing filming Sylvester on a Brooklyn rooftop alongside his Louis Vuitton-monogrammed bike, and this is what he tells us about riding BMX while growing up in Queens—a hobby turned passion he was introduced to as a kid by his older cousins. "In my neighborhood, if you rode BMX you were trying to be white, because, at the time, only white boys rode BMX on that level," he continues. "I hate to always touch on it, but it is what it is. There was a stigma around it."
---
That stigma, he says, is what kept him from outwardly expressing the depth of his interest throughout much of his adolescence. Plus, he didn't see the point in being labeled as the black kid trying to be white if going pro wasn't in the cards for him.
"Of course growing up I thought it would be super cool to be a professional bike rider one day," he says, "but the idea was so far-fetched." No one in his life had any connections to the BMX world, the epicenter of which is in Southern California
—
not very close to Queens. Over time though, as Sylvester spent hours on end riding and following the careers of pros like Matt Hoffman, Ryan Nyquist, and his biggest inspiration, the late
Dave Mirra
, he started to believe that he could stack the deck in his favor.
"At the end of tenth grade I was like, 'Man, if I really put my mind to it, I can do it.' And once that idea became real to me, I really embraced it. I started rocking BMX brands and rocking skate brands. No one was rocking that shit; it wasn't cool at all. But I was like, fuck it, if I'm going to embrace it, this is what I'm going to do."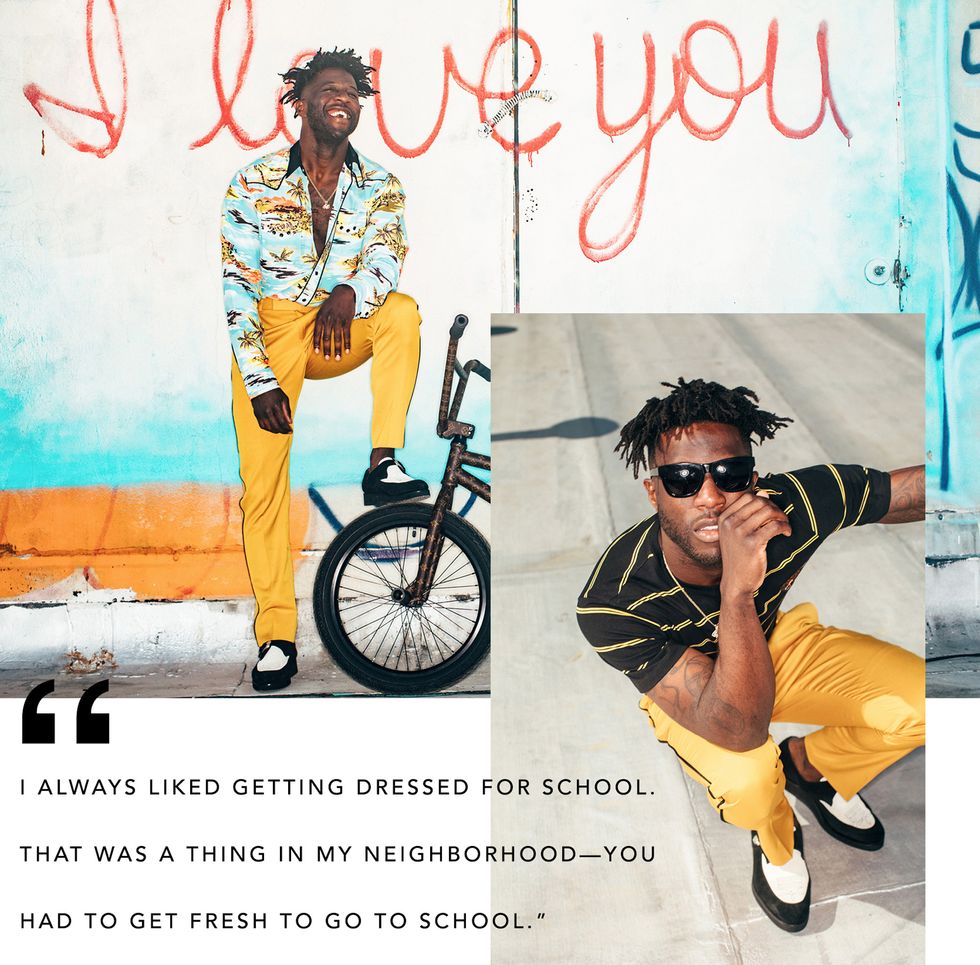 Left photo: Shirt, Coach; Pant and shoes, Ovadia & Sons. Right photo: T-Shirt, The Kooples; Pant and shoes, Ovadia & Sons
.
After high school Sylvester enrolled in Farmingdale University, where he technically studied business but mostly met up with friends to ride, using financial aid money to maintain his bike. During his freshman year, UK-based BMX brand We The People invited him to Europe for a month of riding alongside their pro and amateur teams. "I told my mom, 'I know I'm missing a lot of school, but this is my shot right now, I've got to go—I can't not go,'" he recalls. "And it was crazy, but she let me." Save for one attempt to catch up on work that his professors deemed too little too late, that was the end of school.
Shortly after he returned from Europe, director and producer Glenn Milligan recruited him for 
Flipside
, a DVD which documented Sylvester and three other amateurs riding with pros including Mirra. Within months of filming, he was signed to both Nike and Mirra's company, Mirraco.
While most BMX athletes have found success competing—namely in the X Games, which Sylvester watched religiously growing up—the Queens native has forged a career by collaborating with brands like
Kith
, New Era, and G-Shock, and become a global BMX ambassador through
GO
.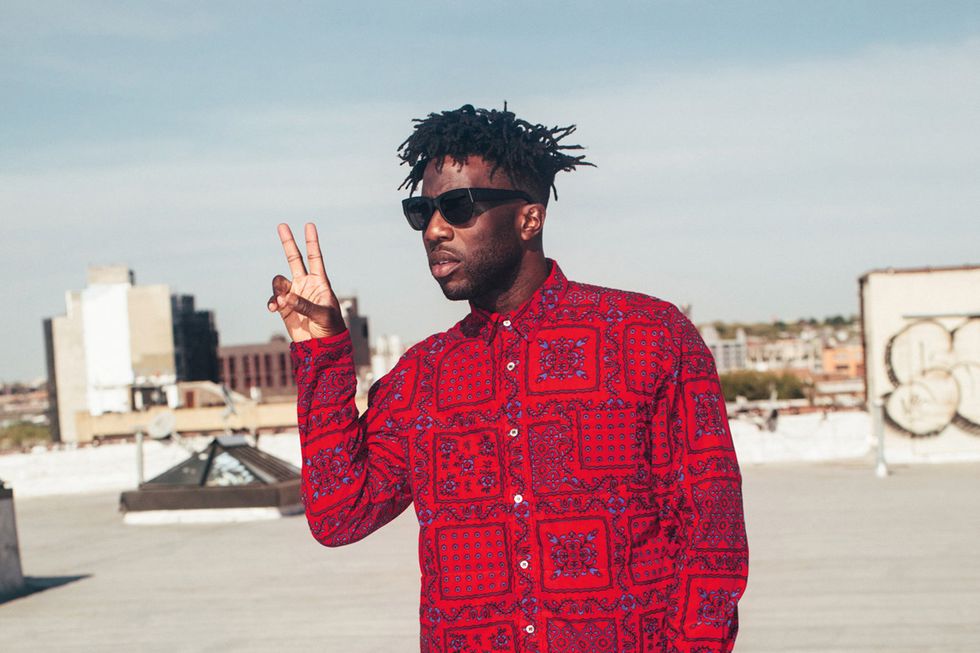 Jacket, Sacai
"During summer 2015, I sat down with my director and one of my best friends, Harrison Boyce, and I told him that I wanted to create something new—something that was ours, that would be cool and different." The two settled on the concept of Sylvester riding through cities around the world, exploring each location's landmarks, culture, and hidden gems from the vantage point of his bike.
"We filmed the first video [in New York] on a shoestring budget," Sylvester says. "We put it out on my YouTube page not really knowing what would happen, and within a matter of days it went viral. People from all over the world were like, 'Man, these videos are crazy.' And that's the beauty of the internet; you can just put something out there and see what happens." Sylvester and Harrison went on to film in Los Angeles, Tokyo, and Dubai, each video getting more complex.
"There's a lot of attention to detail with the
GO
series," Sylvester says. "We really analyze those videos, and it's way more than just me riding my bike. We're telling a story of me navigating through a city and connecting with people, and also showing why I connect with those people." In the latest video,
London to Paris
, Sylvester fences at Somerset House, does goalie drills with footballer Timothy Weah at Parc Des Princes, and enjoys afternoon tea in a chauffeured Rolls-Royce.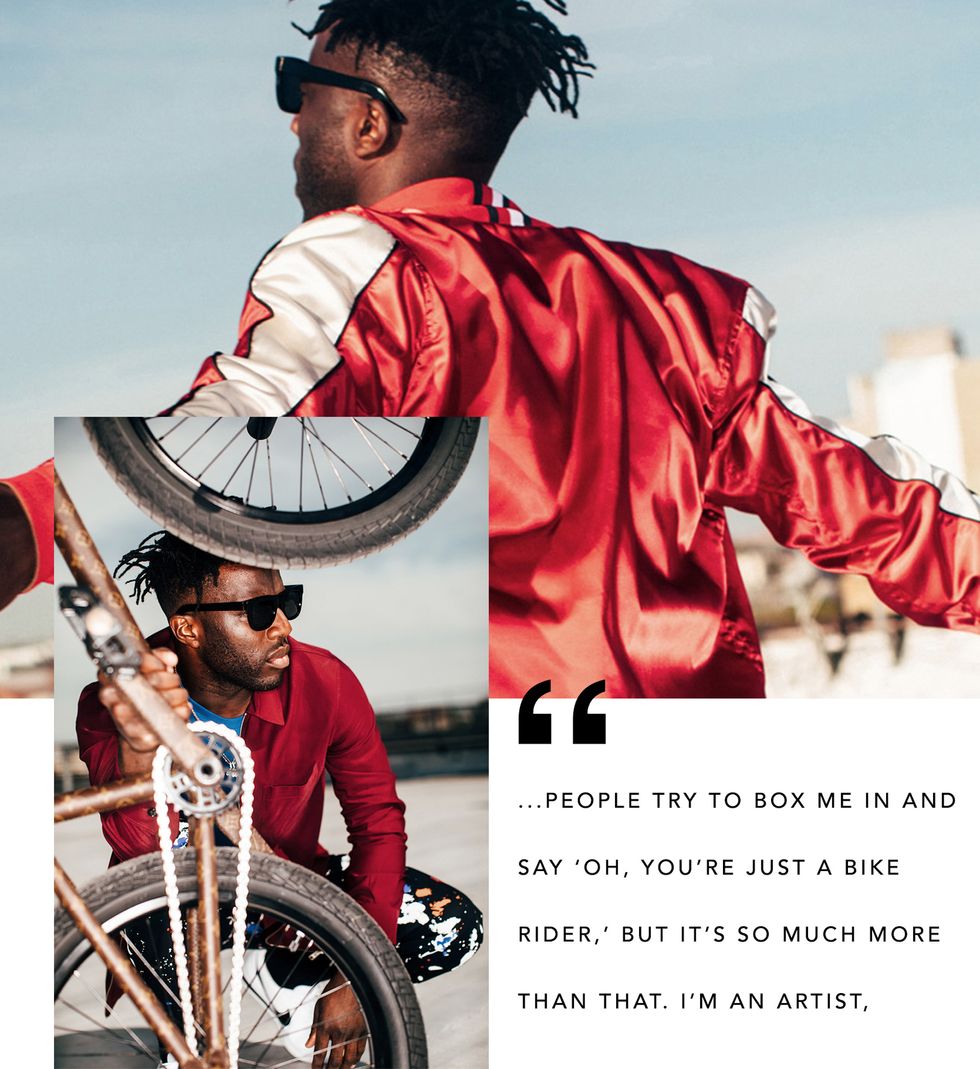 Top photo: Jacket, Hilfiger Collection. Bottom photo: Jacket and shirt, AMI; Pant, 3.1 Phillip Lim; Sneakers, Nike
.
"If there's one thing about being a professional bike rider that I truly appreciate and wouldn't trade for anything," Sylvester says, "it's the opportunity to travel the world on my bicycle. [Traveling] forces you to think differently, especially when you grow up in New York City. We have so much here, and we think 'This is it,' but there's a lot more out there. I've learned that we're all so similar as people. We're all going through the same bullshit. We all have dreams and things we want to accomplish. We're all working to achieve something."
Currently, Sylvester is living in Brooklyn, working to expand the
GO
brand and concepting collaborations across art, fashion, and social media that will continue to change the definition of what professional BMX riders can be. They can be black; they can be from Queens; they can be the subjects of rooftop fashion shoots, dressed in head-to-toe Sacai; they can be more than athletes.
"People try to box me in and say, 'Oh, you're just a bike rider,'" Sylvester says. "But it's so much more than that. I'm an artist, really."
Grooming by Muriel Vancauwen for Exclusive Artists using Schwarzkopf Professional.
Want more stories like this?
Tori Bowie is the Fastest Woman in the World—and a Fashion Star on the Rise
Talking Fashion—and Drinking Milkshakes—with Stefon Diggs
We Need to Talk About Serge Ibaka's Closet