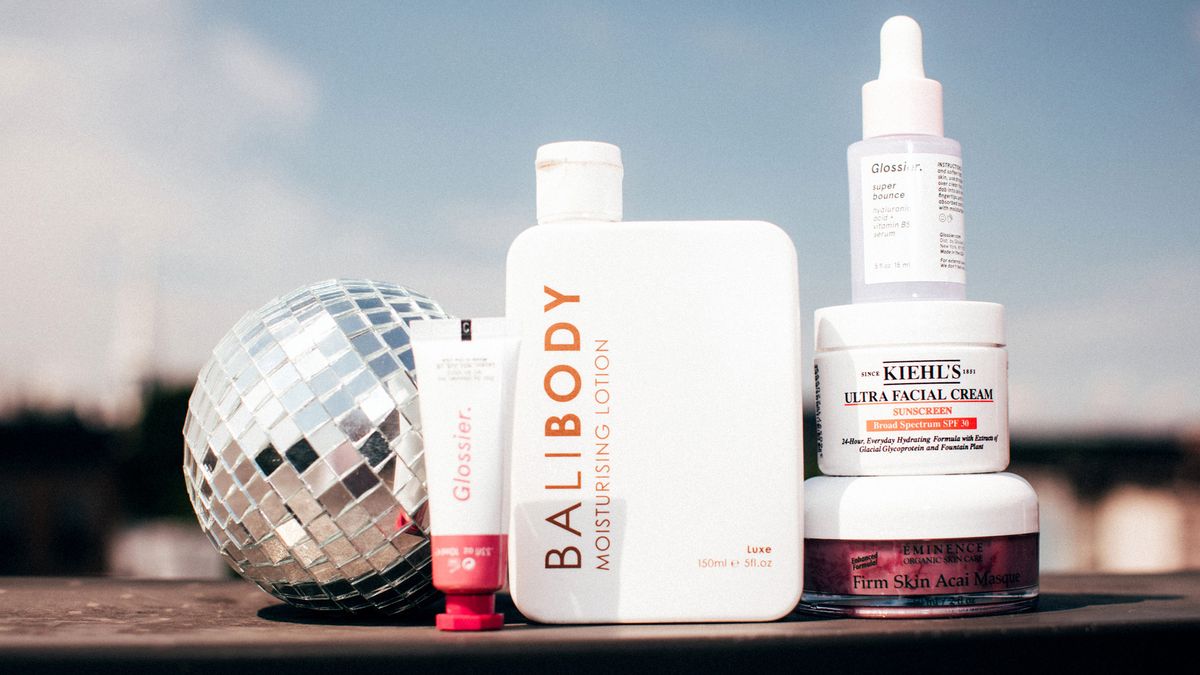 Hair
Protect your skin, and enhance your glow.
Even though we're all very pro-summer around here (beach! vacation! mermaid waves!), there's no denying that it can be tough on your skin and hair. Harsh UV rays and piles of chlorine and salt water for weeks on end means your beauty routine requires a few more products and a little extra care to keep you moisturized and glowy. Luckily, we've gathered some of the best summer beauty advice from Coveteur's alums, including models, dermatologists, and industry insiders. Check out our 10 favorite tips below! 

1. "Cold, fat-free yogurt or skim milk [are] both soothing and protective, as [they are] rich in protein. Dip compresses into the milk or coat the [sunburnt] area with yogurt for 15 to 20 minutes, and repeat every two to four hours. Green tea [also] has anti-inflammatory and pain-relief properties. Soak tea bags in cold water and apply them to the affected area." —Dr. Neil Sadick, NYC-based dermatologist

2. "Patches of skin which become darker in color due to deposits of excess melanin can be seen in three variations [including] lentigines, which are discreet spots caused by sun damage… [Treat them with] over-the-counter products with low-concentration hydroquinones, kojic acid, alpha hydroxy acid, ascorbic acid, retinol, licorice extract, and many botanicals including arbutin, mulberry, flavonoids, soy proteins, and polyphenols… In-office procedures include intense pulse light therapy, Q switched ruby laser, Dual Fraxel laser, microdermabrasion, Dermasweep, and glycolic acid peels." —Dr. Patricia Wexler, NYC-based dermatologist

3. "The best fixer-upper [for self tanner] that I have found is Windex! I keep a container filled with Windex-soaked cotton balls in my makeup kit. Just swipe a little over a self-tanner stain within two hours of application, and it'll remove the stain completely!" —Katie Quinn, body makeup artist for Victoria's Secret Angels

4. "For anyone with oily or combination skin, gel moisturizers are your everything year-round—and especially for summer. The obvious reason comes to mind: Gels offer hydration with no greasiness (because even oily skin can get parched and flaky; just think what happens after a day at the beach or post-flight). But I also find that gels make excellent multitaskers. My skin is the classical combination type, so I like to take a mix-and-match approach to skin care and always keep a few gels in rotation. Storing them in the fridge means I can pull one out and use it as a cool de-puffing mask (lifesaver after a rocky night of sleep) or an instant sunburn soother on face, neck, shoulders, anywhere." —Ying Chu, Glamour Beauty Director

5. "The first step of a summer skin-care routine has to be the double cleanse. People think that they can just use a foam cleanser and it will get everything off, but makeup is oil-based, and everything is so layered that one step of cleansing does not take everything off. We call it the one-one technique: one minute of face massage with the cleansing oil, and one minute of massage with the foam cleanser. That alone will really help with breakouts. Cleansing oil first—you emulsify it with water and rinse. Then a foam cleanser to finish it off. That dual punch will get rid of the grime, all the oil-based stuff, and you'll be completely clean." —Christine Chang, co-founder of Korean beauty company Glow Recipe

6. "One thing you have to do is keep your hair moisturized no matter what! I use coconut oil. I'm also obsessed with SheaMoisture Curl Smoothie. It keeps my curls still going so they're not giving up on me. It keeps them alive! Also, the Gabrielle Union anti-frizz spray helps keep my hair less frizzy." —Gabrielle Richardson, DJ

7. "I'm a believer of fresh air, the ocean, and salt water. I really believe in that for the skin. Less is more." —Yvonne Strahovski, Actress

8. "Make [your lipstick] more orange or coral for the summer months so it works with your swimsuit in the daytime and also shines bright across a candlelit table at dusk. I love the Italian makeup brand Kiko Milano, which is all over Italy and launched in the U.S. a few years ago. Go with the New Unlimited Stylo in Coral Red." —Katie Becker, Coveteur Beauty Director

9. "I have bad skin—I mean, it's not terrible, but I have hormonal acne [on my cheekbones and jaw], which really bothers me, and then I have scarring from it, which also bothers me. I was recommended salicylic acid, and I went and got a lower-grade peel recently. I couldn't be in the sun for a week, which was hard, but it helped for a little bit. But now, I think because I've been sweating so much going to the gym, or just that it's so hot, I feel like I really have to exfoliate. I've been using the Frank Body Creamy Face Scrub." —Chloe Nørgaard, Model

10. "If you are out in the sun, you need to reapply [sunscreen] every two hours or more often if you are in the water or sweating. For the face, use a nickel-size amount that covers your face and a quarter-size amount for your neck and décolleté." —Dendy Engelman, NYC-based dermatologist 

Want more stories like this?

6 Steps to Achieve Glowing Skin According to a Natural Beauty Guru
8 Refreshing Face Sprays to Hydrate Summer Skin
Our *Burning* Sunscreen Questions–Answered!