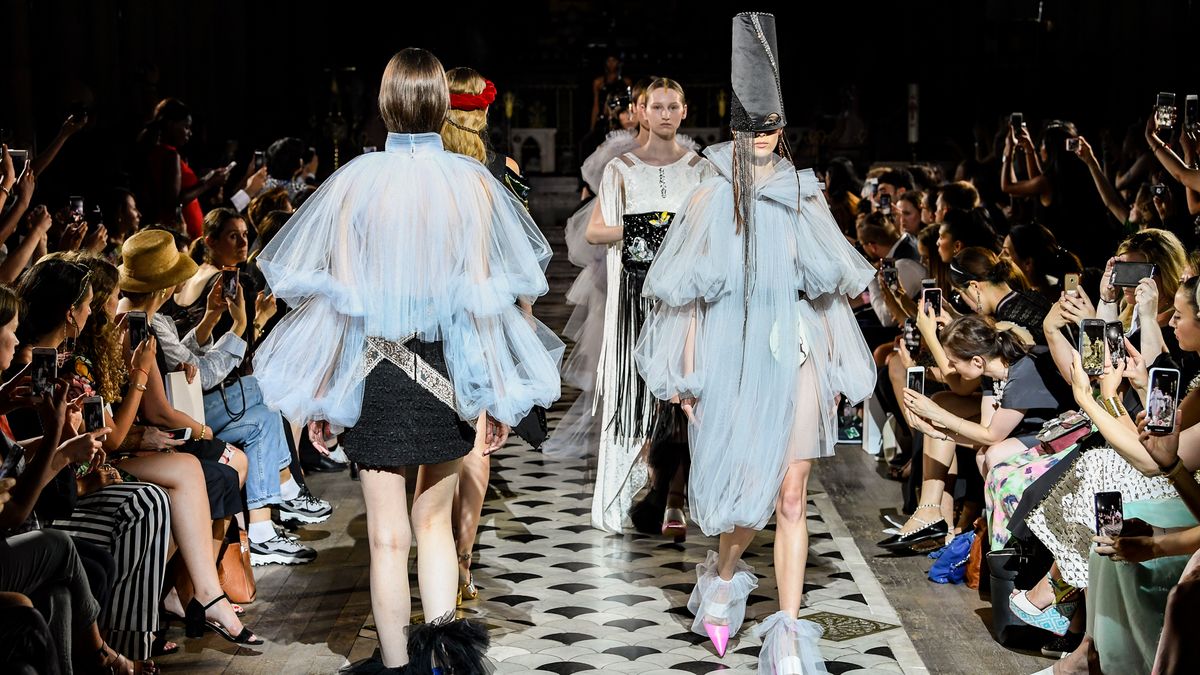 Designers
Meet the Next Generation of Couture Designers
The future of fashion looks very bright.
While most people were enjoying their summer houses,
vacations
, and
Fourth of July celebrations
last week, a cadre of designers came to Paris to put on spectacular runway shows for couture week. And truth be told, seeing all those pretty things definitely beat going to the beach.
The obvious fashion houses like
CHANEL
,
Dior
, Valentino, et al. showed their collections—but there were also a slew of emerging designers on the official calendar. Each season, the governing body of couture known as
Fédération de la Haute Couture et de la Mode
allows for guest members to participate, and of course there's always a few off-schedule gems. (Even big names like Vetements were technically off-schedule.) Here, meet the most interesting new designers fresh off the runway from Paris.
---
Midnight 00 by Ada Kokosar
If you already have major cred as a street-style star and stylist, it seems natural that the idea of launching some kind of cool, edgy fashion line would be on the table eventually. And so it was for the superchic Milanese stylist
Ada Kokosar
, who debuted her first footwear collab last year during couture week in partnership with designer Cesare Paciotti. This time around though, she staged a tropical-inspired presentation to debut a new shoe label with all new styles.
The new pieces from her line, Midnight 00 by Ada Kokosar, merge feminine, pretty details like moon-shaped metallic motifs, crystals, and patent leather ankle straps with the unexpected and ever-trendy translucent PVC in the form of high ruffles (resembling a seashell shape) emerging from stilettos or strategically placed over brogues.
"This collection is about a fairy tale and a dream," said Kokosar during the presentation inside Le Meurice hotel. "I wanted to create shoes that reminded you to keep on dreaming." It's no wonder Kokosar chose to show her collection during couture week—for each style, she fitted fabric directly on the foot "just like a couturier." She added, "The shoes are super unique in shape because they're not coming from a sketch, they're coming from a shape fitted around the body."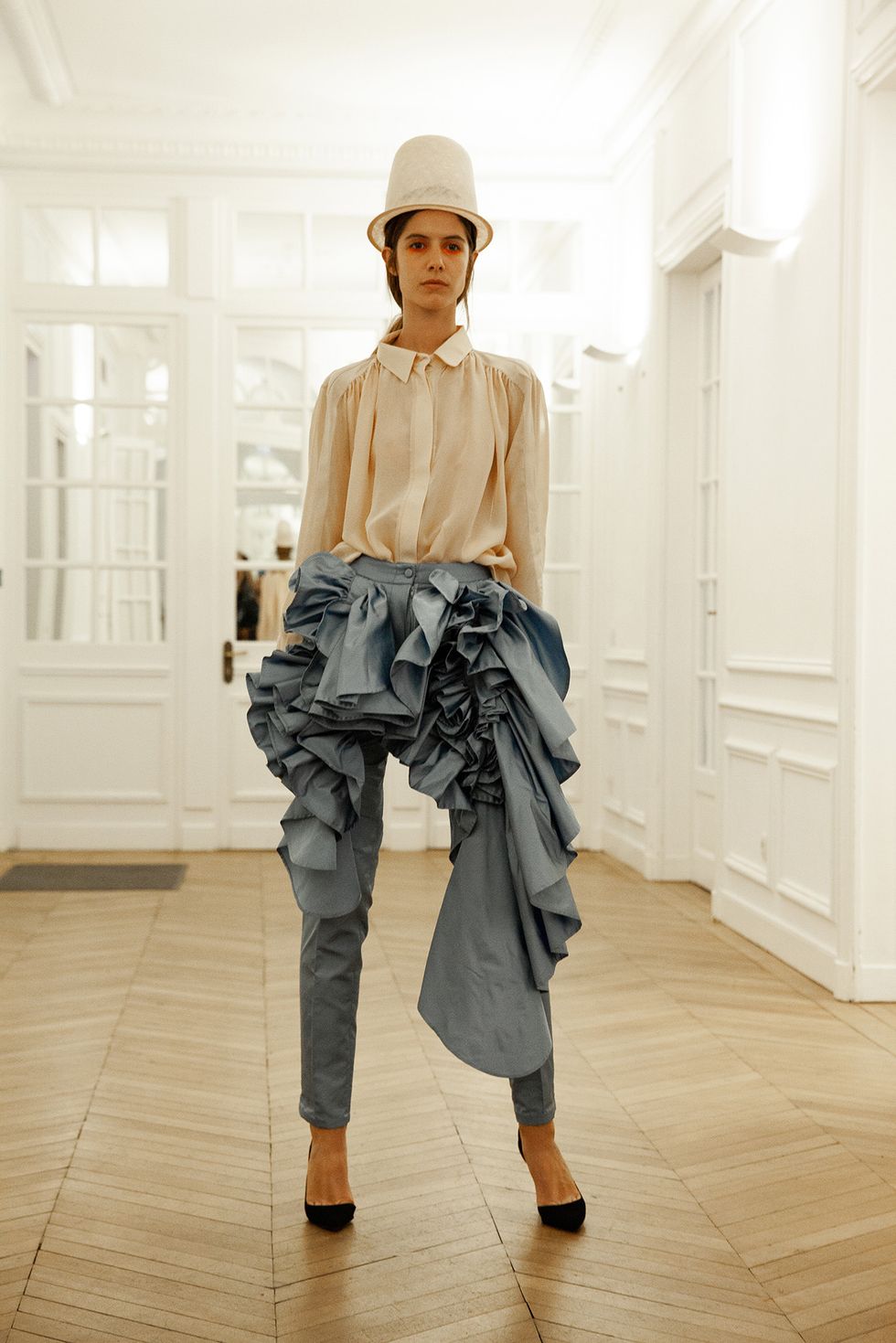 Photo: Courtesy of Xuan
"This collection is about what we want to show and what we prefer to hide," says the designer
Xuan Thu Nguyen
. "Being unveiled while desiring to be covered." The Dutch-Vietnamese Nguyen launched her own label after graduating in 1999 and first showed on the couture calendar in 2008 before taking a bit of a sabbatical and returning to the runway in 2017 by way of an invitation from the official calendar.
Still very much under the radar, her latest collection was a beautifully poetic group of gowns and separates (with some really, really good hats) that proved couture doesn't always have to be super prim and girly. Rather, some darkness and quirkiness is decidedly stunning. Puffed three-dimensional flowers dominated pretty tops and dresses—but in an unexpected way.
"I believe in being yourself," said Nguyen before her show. "To stay true to my own style, I focus on what I believe and what surrounds me and my thoughts. In this world of constant development of new technology, high-tech materials seem to overlook the value of noble materials and organic visions. I wanted make a wink to all this and do my artisan version of it."
Imagine working directly under the avant-garde designer
Iris Van Herpen
immediately after graduating college. Well, that's exactly what the Austrian designer
Flora Miranda
did before launching her namesake line just a few years ago. She's been presenting at couture week in Paris for a few seasons now, and her pieces are unlike anything else any other designer is doing.
Take, for example, the six dresses she created this season, which come in brilliant shades of green, red, purple, black, and white. They look like almost-skeletal forms, constructed of networks of fabrics spun together and then covered in silicone for a futuristic aesthetic. Each dress actually used data from 3-D scans of historical dresses worn during the mid 1800s by European royalty—Miranda scanned the pieces from museums. She has a history of playing with data in fashion, previously creating custom knitwear using data from people's online profiles.
The models wore prosthetic headpieces extending their bald skulls by a good six inches (Miranda's own idea) and also wore a futuristic version of the chunky '90s shoes everyone loves right now. "I think now, avant-garde hasn't actually existed that long in fashion," said Miranda during her show. "I think currently this is where couture gives the best platform. With fashion tech, how do you show that on an established platform?"
What do you get when you combine elements of Mongolian culture and philosophy with traditional French couture techniques?
Liu Chao
's latest couture collection, which included everything from candy-colored tulle puffed dresses to cool-girl fringe leather jackets, and last but not least, dark, sequin-embroidered halter dresses that plunged in the back.
"In my previous couture collections, I was influenced by diversified European cultures," said Chao before his show took place inside The American Cathedral in Paris. "As time went by, I began to progressively integrate oriental colors deep inside me into my collection." Chao came to Paris at 16 to study art and fashion and worked at Hermès and Céline before launching his own line in 2016. This particular collection was a series of intriguing contradictions (and wild accessories like crescent-shaped headpieces and antique-looking bags) that would make anyone ponder what the essence of couture really is. Chao combined embroidery from the prestigious French house of Lesage alongside centuries-old techniques he utilized from China: "GuangDong embroidery that has a thousand-year history, the fabric manufacturing technology called Xiang Yun yarn, and the wood printing and dyeing technology called 'The Ten Bamboo.'"
"Beauty has never been my ultimate pursuit," Chao explained. "What I am going for is interesting, which is far more attractive to me than a simple beauty."
The Australian brand
Romance Was Born
had two major firsts during couture week: the brand's debut fashion show in Paris and its premiere experimentation with couture. The colorful, girly label previously only focused on ready-to-wear since it launched in 2005 by co-designers Anna Plunkett and Luke Sales.
But with the designers' penchant for sequins, hand-beading, and heavy embellishment, it's honestly no wonder they opted to show their resort collection on the couture calendar. According to the designers, the many hand-worked garments firmly fell under the label of modern-day couture.
Through brightly colored dresses and kitschy knitwear covered in koalas and wild birds, the designers paid tribute to their own Aussie heritage while in Paris. What's more, this particular collection was culturally intensified by the fact that the designer duo collaborated with designer Jenny Kee (an Australian fashion designer with a cult-following in the '80s).
Top photo: Courtesy of Liu Chao
Want more stories like this?
5 Styling Tips You Can Take from Couture
The Best Street Style Looks from Paris Couture Fashion Week
Couturier Iris Van Herpen on the Future of Sustainable Fashion