Nutrition
Your skin will thank you...by looking extra glow-y.
Think of this one as the smoothie your Instagram will love. And when we say love, we mean it. Allow us to demonstrate: coconut water? Check. Rose water? Check. A pretty, pastel-y pink that can easily be poured into a bowl and topped with bananas, chia seeds, and anything else that makes for a symmetrical swirl? Check, please! That, and as it turns out, strawberries are a lesser-celebrated superfood (blueberries take all the shine, we guess)—they, too, are filled with anti-cancer-y and pro-glowifying antioxidants, vitamin C (again: good for your skin; the C might as well stand for collagen, actually), inflammation and blood-pressure busters, all while being relatively low in sugar in comparison to some of their fruit brethren. The genius combination comes courtesy of the girls behind
How You Glow
, who also introduced us to last week
'
s obsession—their pitaya and passion fruit yogurt bowl. You can also totally toss some kale or spinach in here, too, or other good-for-you-but-annoying-to-eat greens, and you won
'
t taste a thing, thanks to the whole banana-strawberry-coconut-everything combination. In other words? You need to make this for breakfast tomorrow. It might just turn you into a morning person (!!).
---
INGREDIENTS:
1⁄2 cup frozen strawberries
1 banana (frozen or unfrozen)
1⁄4 cup coconut milk from a can 
1⁄4 cup coconut water
⅛ tsp rose water (add more to taste)
1 handful of ice
1 date for sweetness (optional but recommended!)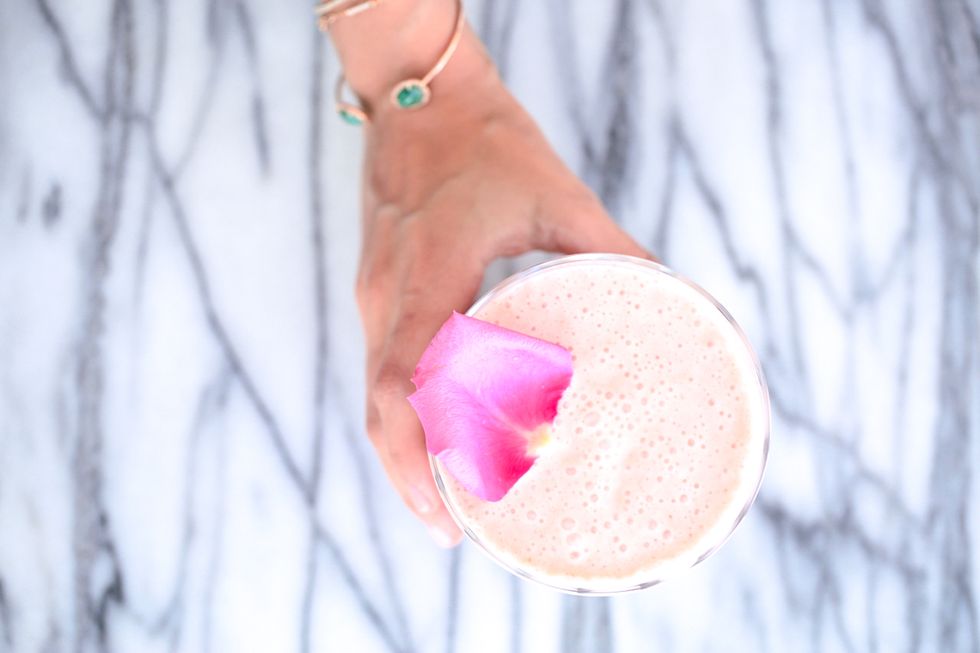 DIRECTIONS:

1. Place all ingredients in a high-speed blender and blend until smooth.

2.Enjoy!