Sutton Foster on Season 5 of Younger and What Really Makes People Look Old
It's all in your head.
Celebrity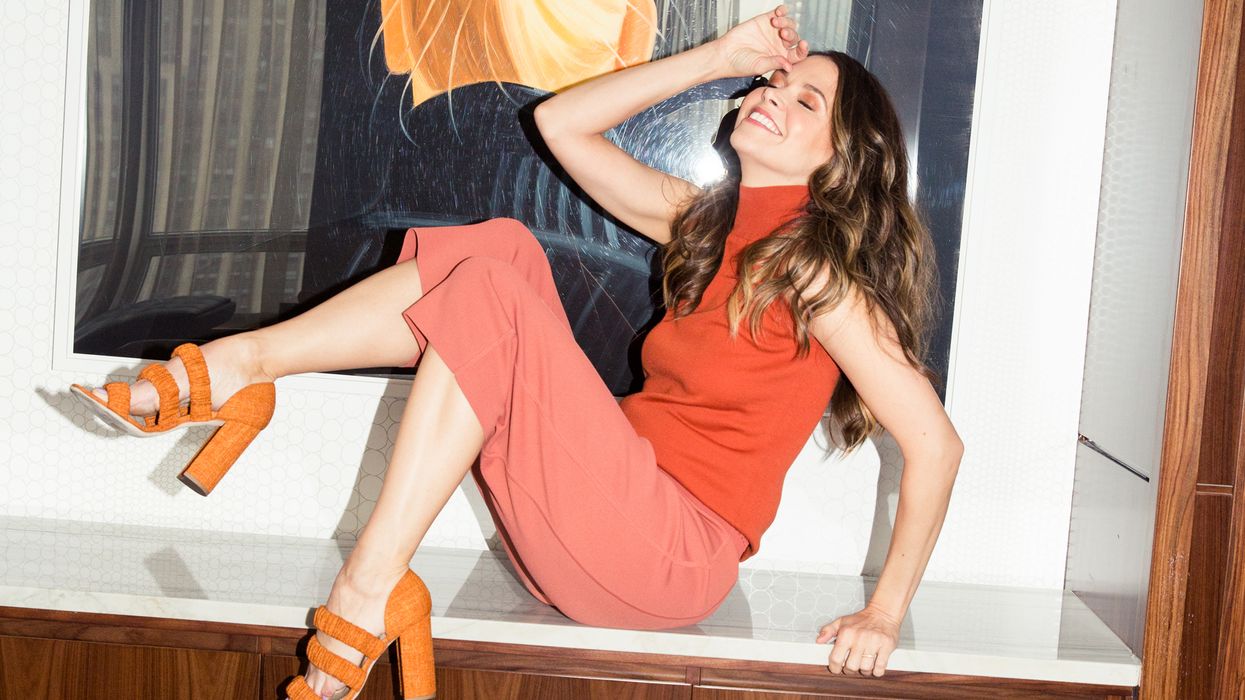 Everything I know about morning television suggests that Sutton Foster has been awake for hours by the time I meet her in a suite at the Langham Hotel in midtown Manhattan first thing in the morning. Nothing about her appearance or mood, however, would suggest the same.
Foster
is as bubbly as I'd expect anyone with a Broadway background to be—she is a two-time
Tony winner
, after all.
I find Foster singing along to top hits (which, she tells our photographer, she only knows from Pilates) and gamely posing in a bathtub, four-inch mules sticking out. It's a big week for the actress. The fifth season of her hit TV Land show,
Younger
, premiered last night—a date that has been in my calendar for at least a month. She's also just released her second album,
Take Me to the World
, not to mention the fact that she has a 15-month-old at home.
---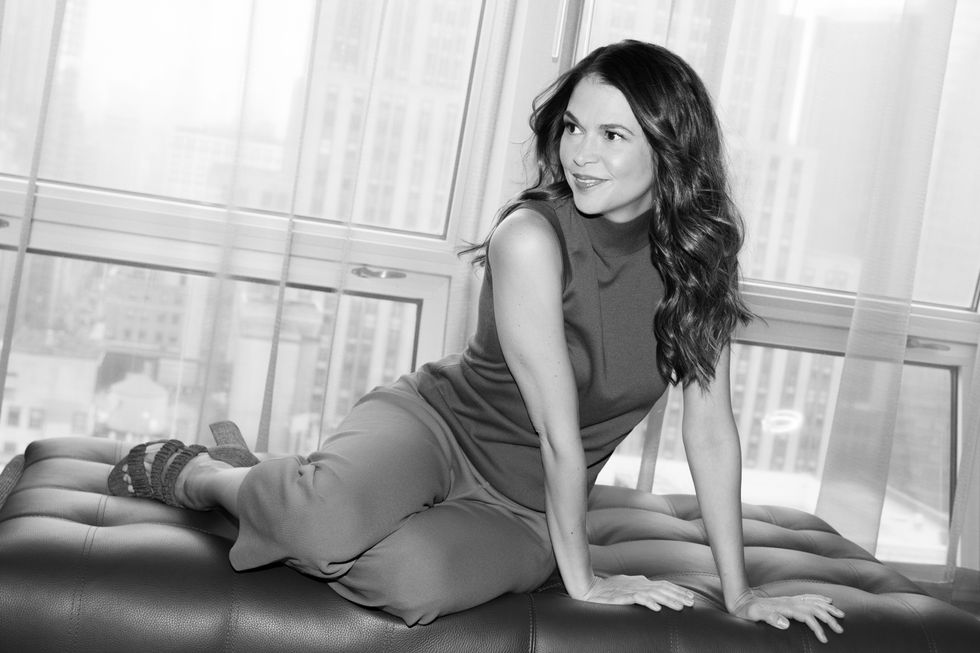 Younger
, if you haven't already watched it, is pure fun. The frothy show—perhaps the 
best follow-up to
Sex and the City
that TV has seen (thanks to the creator of both shows, Darren Star), features Foster as Liza Miller—a recently divorced 40-year-old mom who finds herself forced to play 26 to get back in the job market, and ends up an assistant at Empirical, a publishing house. There's a love triangle, Hilary Duff as a co-star and Foster's onscreen BFF, and, of course, we can't forget the always whimsical, next-level stylings of
Patricia Field
. (Her co-star,
Nico Tortorella
, has quite the closet at home, as well.)
We caught up with Foster about season 5 (she unreservedly calls it the best one yet), the #metoo movement, and her crafting obsession.
What are you most excited about for season 5?
"I can honestly say that it's been the most fun to shoot, and as a cast and crew, now that we've been together for five seasons, there's so much love and respect and fun that we have on set. I think that's reflected in the show. Moments that happened in season 5, we've been leading up to for four seasons, so all of a sudden, everything feels super
earned
. I'm so excited for fans to see it."
By the looks of some of the teasers, the show is responding to these cultural shifts like the #MeToo movement.
[Pauses and nods] "
Yeah, it definitely comes into play, because it's a tricky situation! You've got a boss-and-assistant relationship. Things are viewed differently now. It's tricky with Charles and Liza, because [you] think they genuinely fall in love with each other, and then you're like, where are the rules? There's always the buts."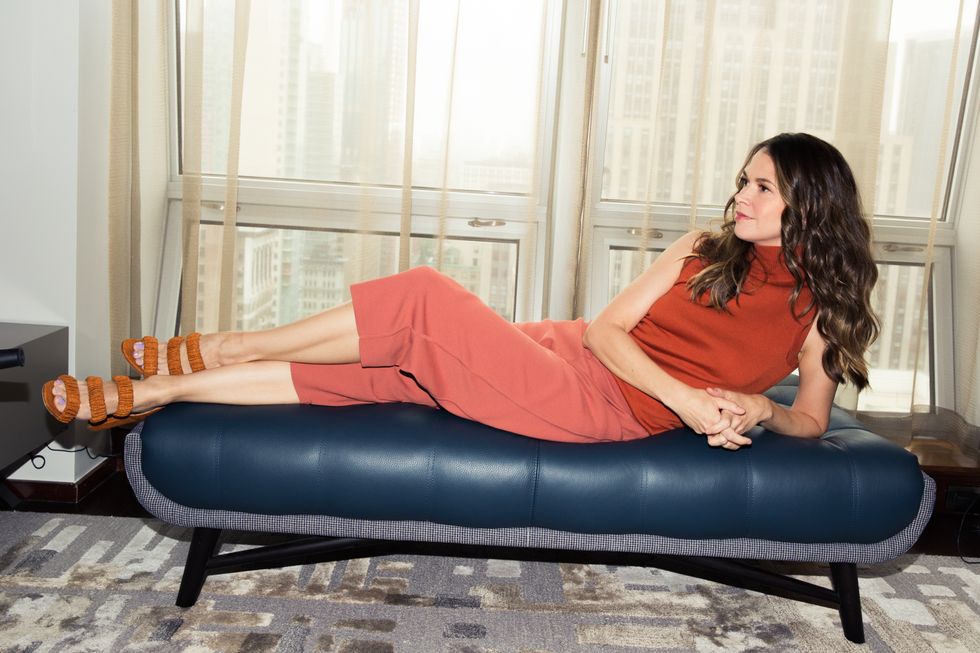 You sound a little like Team Charles:
"I'm Team Liza. It's so tricky because I play this character who did all this not to find a husband or to get married. She was trying to re-invent her life and start over. But I don't know what her end game will be. Everyone's always asking me what it will be, and I don't know. I kind of go back and forth between those two options
[Josh and Charles of the aforementioned love triangle]. Then I go back, and then I kind of end up with her being like: Bye, guys. I always end up [thinking] that maybe she's on her own. I don't know."
Obviously, Hollywood is an industry where you're "old" way before you're old. Have you faced ageism? 
"It is an interesting thing. Before
Younger
, I was on a show called
Bunheads
, which was all about a woman in her 30s transitioning. She was a dancer and was coming to terms with realizing she was aging out of that industry and transitioning into becoming a teacher. When I was auditioning and looking at roles, I was actually reading young for things. That was one of the reasons, when I was doing
Younger
, I thought, 'Oh, I can sort of play this. I feel like I have my foot in both worlds.' Looking younger than I was then, but also thinking, 'How do I navigate getting older in this industry?' I think I have a very realistic view of getting older in this industry. It is an interesting thing because as Sutton, I do not feel the need to hold on to my youth. I'm totally secure with getting older and even aging. It's such a delicate thing. I want to age. I don't want to stay 25 or even stay looking 25.
"In season 5, Liza's age becomes an issue. It's less about her trying to be in her 20s, and we tackle age in a different way. Why does someone have to be successful for their age? What is this idea that, 'Oh, well, they're successful because they're women.' Everything's being justified or qualified by how old they are. I don't understand that."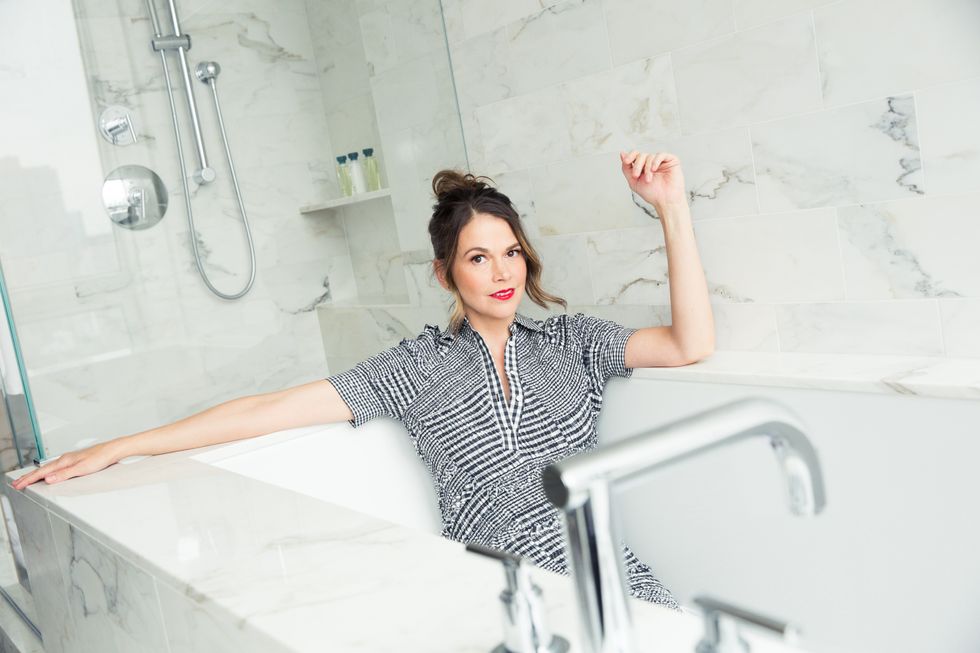 How has Liza changed since last season?
"This season, Liza really has some boss moments, which I think are kind of great. She kind of grows up; the irony in that. I don't know. She really starts to own her power, which I think is really great. We always joke that there were enough moments to fill an episode of Liza watching a man walk away, Charles or Josh or whatever. This season, they get to watch her walk away."
On another note, you're clearly doing something very right. Do you have a crazy skincare regimen?
"No, I really just drink a lot of water and I try to sleep. I just try to take care of my skin as much as I can and try not to be too crazy about it. In my real life, I never wear makeup. I'm a fan of natural. I also think the idea of youth comes from within—a youthful, optimistic, positive outlook is my idea of youth. Seeing things as new for the first time and appreciating the little things. I feel like the weight of the world can stress anybody out and make them pessimistic. I'm not a cynical person. I'm incredibly hopeful and optimistic. I think that reflects on the outside. I hope so. I think Liza is that way too. That's something that we share. Liza's not cynical at all. If anything, she's incredibly trusting and loyal to her friends. Even though she has this crazy lie. I do feel like cynicism and anger and bitterness and all that stuff can age you more than anything."
Now that you're done filming for now, what are you up to?
"I have a new album out on June first. It's something that's been in the works for a while, and I'm super proud of it. I'm doing concert work here and there. Little irons in the fire
—
some theater stuff. All very early stages. I have a 15-month-old daughter, so I'm spending as much time with her as possible. I'm doing a lot of crafty things, like crochet. That's like my little side passion."
What are you making?
"I made a New Year's resolution to make 10 baby blankets. Now I've started designing my own patterns on them—giraffes and dinosaurs and all sorts of things. My goal is to make 10 baby blankets and then at the end of the year, probably around Christmastime, I'm going to auction them off for an adoption charity, so I can raise money for other families who need financial assistance to be able to adopt. That's sort of like my little side project. My dream is to open an Etsy store. I made the first seven during breaks on set. The crew knew about my project, so I always had a little spot where I could work on the blankets."